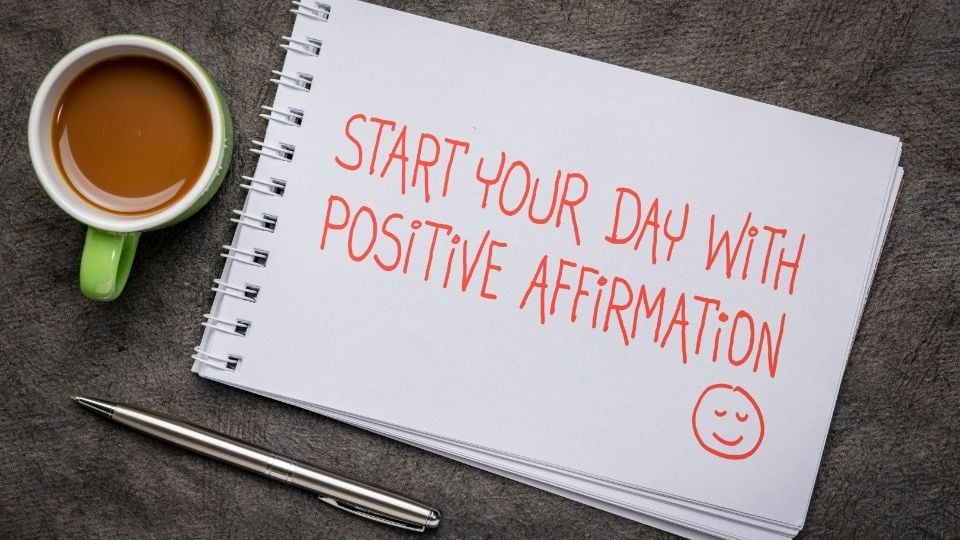 Our daily life has become quite chaotic and challenging in recent times. There is a need for some powerful words and statements that can change the way we think and feel about various things in life. A positive affirmation does just that.
These are optimistic statements of hope that can transform your internal state of consciousness. When you say these statements with conviction, you align your beliefs and perspectives towards a positive change.
So, let's begin by communicating and unveiling the power of positive thought, and belief in mitigating stress and develop a cheery mental attitude that can fight all odds with grace and happiness.
What are the Positive Affirmations?
SUMMARY
Positive Affirmations are words, phrases, or sentences that motivate and encourage you to think and feel in hopeful ways.
When you repeat your affirmations; it helps you overcome obstacles and negative thought patterns. Powerful affirmations strengthen beliefs and thought process. It is a form of self-empowerment that helps to achieve success in anything you do. It is always written in present tense.
Positive affirmations work by undoing negative self-talk and a self sabotaging mindset. Words are healing and it reminds you that you are good enough and flexible to adapt to different circumstances.
Why do we need Positive Affirmations?
Positive affirmations are brain feeds that fill you with hope and optimism. These self reminding statements can change you for the better. They act as an antidote to negative thoughts and feelings. When you feed positive elements into your mind; it gets conditioned in happy and desirable ways.
Studies show that if you practice saying positive words regularly in everyday life, it changes the negative outlook that you might have with more positive ones. Thus, the human mind needs nurturance with positive self-talk to feel abundant and produce innovative results.
It is important to dwell on hope by using positive affirmations and create a joyous and fulfilling life, filled with happiness and success.
It's time to remove negativity and limitations and start saying positive things about you. Positive affirmations are internal dialogues that change beliefs and opinions. You have the power to create a reality that defines your existence.
---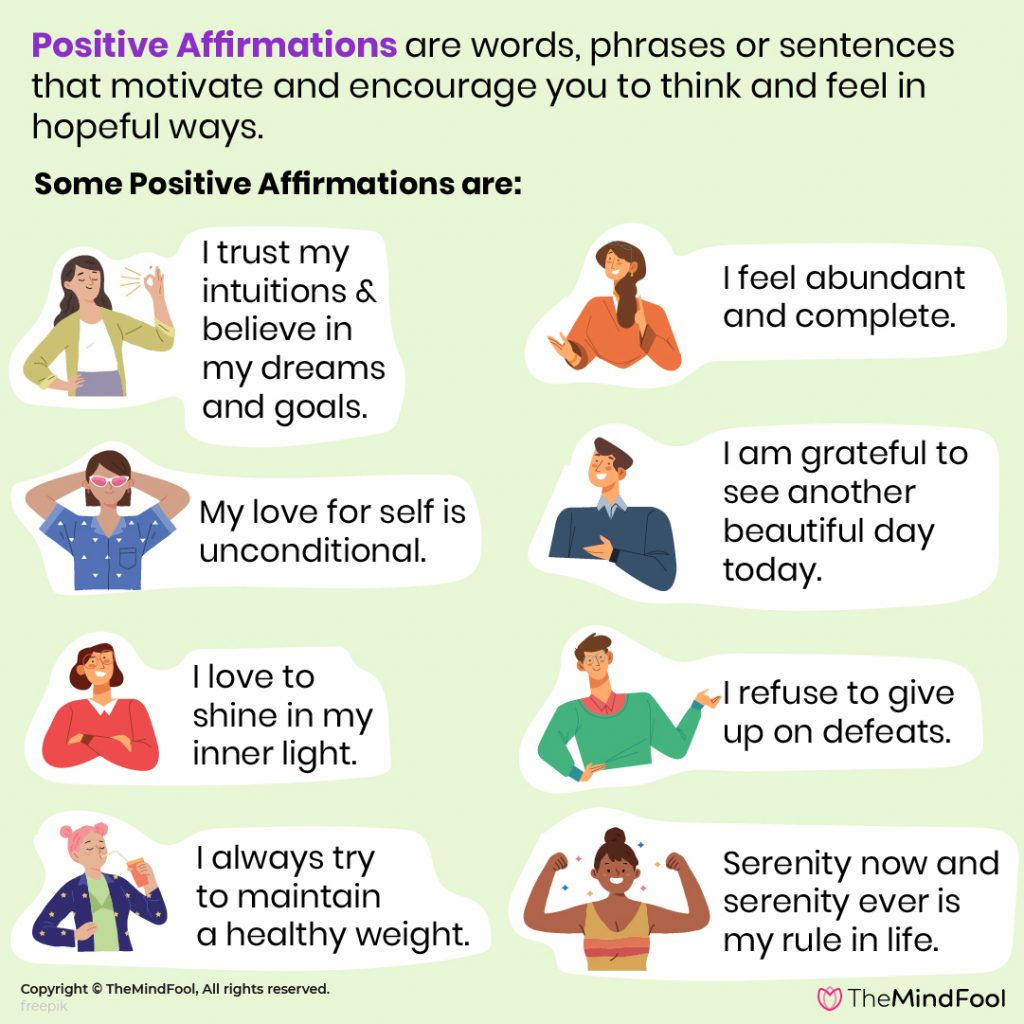 300 Positive affirmations to reckon
Positive self affirmations
The positive self affirmations are a list of positive self accepting strategies that inspire you to learn more about yourself. When you repeat them, believe in them, you kick start to bring positive changes within your 'psyche'.
I am good enough and make my life better every day.
My talents and potential are endless that help me to achieve my goals.
I am grateful to have supporting parents and caring friends in my life.
I always leave space for new learning.
I know that I can get through difficult situations.
I shall always support myself and defend my priorities.
I love the way I am.
My mistakes and challenges help me to learn, grow, and evolve over time.
I trust my intuitions and believe in my dreams and goals.
My love for self is unconditional and I do not engage in negative self-talk.
I have soaring self-confidence that is brimming with positivity.
I deserve love, kindness, empathy from others, as I offer the same to them.
I am free from worries and agonies.
Peace of mind is a choice, so I choose to be peaceful always.
I am a unique being capable of facing all odds.
I prefer to say no to things that I do not like. That is the way I am.
I have learned to let go of negative feelings as it doesn't serve me well.
On a daily basis, I do certain things that make me happy.
I have learned not to give up until my goal is reached.
I do not compare myself with others; because I know, I deserve to live my life in a unique way.
---
Positive affirmations for kids
Positive words work wonders for a child. It motivates them to achieve accolades with hard work and a positive mindset. Home is a great place to start positive self talk. By using affirmations in your home, you teach your child to overcome challenges. If your child practices these regularly, it works in their subconscious mind and helps to build confidence and self esteem.
I am capable of doing amazing things.
My mummy tells me that I am perfect.
I am good at studies and sports.
I forgive myself for the little mischief that I do.
I feel it is okay that I do not know many things.
I can always do better the next time.
My parents tell me that "I am the best".
I live by happiness.
I do not feel jealous of my friends.
I am confident and brave.
I do not have fear of failures; as I know life will give me more chances to prove myself.
My mom told me to surround myself with kind and loving people.
I always try my best to achieve good results; no matter how hard it is.
I am thankful for all the nice toys that I possess.
My abilities are endless.
I am a beautiful girl; whom everyone likes.
I am smart and handsome.
I love to help others; who need me.
I am powerful enough to overcome all challenges in life.
I have innovative ideas that I wish to work on.
Positive affirmations for men
This can bring a feel good factor and boost confidence. An optimistic declaration about your abilities can help to overcome problems and achieve things easily.
I am confident to achieve professional success.
I am grateful for the things that I have; hopeful to achieve things that I do not have.
My opinions are dear to me.
I have a good body built.
My focus in life never goes unattended.
I try to become compassionate and benevolent toward others.
I have enough money to live a superfluous life.
I am resilient and confident to handle adverse situations.
I appreciate my strengths and weaknesses equally well.
My family and friends value me. It gives me immense joy.
I live my life with my terms and conditions.
Challenges motivate me to achieve excellence.
I come out strong and can bounce back easily in difficult situations.
I always appreciate the best in others.
Learning from past errors is my habit. I do it regularly to get better.
I feel worthy of myself.
I am good at my work; every obstacle is a learning opportunity to make myself better.
I am innovative and possess great ideas.
I am flamboyant, magnetic, and women chase me.
My emotions are dear to me. I manifest them without apprehensions.
---
Positive affirmations for women
If you are not feeling worthy deep within, practicing positive affirmations will act as a powerful tool to stay strong and motivated always, forever.
I am a confident woman and accept myself as I am.
I deserve to feel safe and secure; wherever I go.
I trust my abilities.
I rejoice every moment that I live.
I hardly self-doubt because it makes me weak from within.
I am graceful and talented.
I am a perfect combination of femininity and intelligence.
My femininity is my greatest strength that makes me a high value woman.
I am a wonderful daughter, a caring sister, a loving wife, and a compassionate mother.
My feminine body radiates love, affection, and kindness to the entire world.
My womanhood is brimming with confidence that attractive men awe.
I fill my heart with gratitude and inner peace.
I am blessed by the divine Lord every day and all goes well in my life.
I do not dwell on past hurts; rather have learned to let go of negative feelings.
My motherhood has taught me that life is precious and creative.
I live by happiness and joy; no matter what happens.
I hardly dwell on others' opinions about myself.
I am free from pleasing others.
Arguments over unnecessary matters don't interest me.
I do not compare myself with others.
---
---
Positive affirmations for teens
A growth mindset is needed for teenagers to become successful. It is a tool that helps in building self esteem.
I love to make faults because I know nobody is perfect in this world.
I am open to work on my flaws and become the best version of myself.
I love myself, the way I am.
Nobody can dictate me as I know I am good; if not the best.
I am happy with myself.
For me, failure is an opportunity for new learning.
I can achieve things easily if I believe in it.
My problems have solutions; so I need to work on it.
I forgive those who sin against me; not harboring harsh feelings for anyone.
I am beautiful inside out.
I never allow others to hurt me; as I know how to let go of negative emotions.
I fine-tune my relationships to keep it long-lasting and free-flowing; be it, friends or family.
Positive people help me to grow well; so I remain surrounded by them.
I do not self-pity because I feel I am complete just the way I am.
I face all challenges with a big fat smile.
I allow myself to feel sad, get angry, and be scared at times.
My body is strong, healthy, and full of life.
I belong to a kind and helpful family. It helps me to grow well each day.
I am determined and enjoy being challenged by adverse circumstances.
I am accountable and responsible for my words and actions.
---
Positive affirmations for work
Affirmations at the workplace are symbolic of positive attitude towards self, colleagues, work set-up and the job in general.
My boss values my work and appreciates me for being a committed worker.
I feel proud; when my colleagues love to be with me.
I find out new solutions for my work-related problems.
I further my career path with hard work and dedication.
I focus on learning new ideas every day in my work.
I have limitless opportunities to pursue my dream job.
I have learned better ways of coping with job stress.
Letting go of worries and finding happiness is my strength.
I enjoy and love doing my work. Boredom does not sulk me at all.
I accept my bad days at work.
My job allows me to express my unique talents.
I trust my inner call while taking important decisions at work.
My hard work helps me accomplish difficult tasks.
I feel free to deliver my opinions in team meetings.
I have financial abundance and I am happy about it.
My career goals are well defined and I know what I am doing.
I positively influence and motivate people to bring out their best talents.
I respect the value of time and I am always punctual at work.
I keep calm in challenging work situations.
I am always open to criticisms; as they help me to learn more.
My ability to work under pressure and deadlines is immense.
---
Positive affirmations for anxiety
Everyday we come across countless situations; where anxiousness and worry take a toll on our psyche. Positive self-talk reduces stress. To swap negativity, affirmations can work wonders.
I know I feel worse at times, but so what? It is a natural response and I shall overcome this through.
I would focus only on positive things in life.
Deep breathing calms me down; so I practice it regularly.
I am rooted in reality and that helps me a lot.
Living in moments helped me to realize that life is not worthy of anxiety and depression.
I am happy with my life, so my stress levels are always low.
My mind is poised and I enjoy my inner serenity.
I believe that my future is bright and prosperous. So, why to worry?
I shall find joy in everything that I do.
To surround me with positive people helps me lessen stress.
I am multi-talented and I have the ability to get through tough times.
In face of anxiety, I will work hard to overcome my deepest fears and insecurities.
I fill my mind with optimistic thoughts to let go of anxiety.
I am in charge of my thoughts and anxiousness does not bother me.
My body breathes in relaxation and not in tension.
I never ruminate over past happenings or future issues. I keep my anxiety far away from me.
Nothing can weigh me down. I feel happy within.
Even if I am anxious; I am capable of overcoming all odds in life and be happy again.
I am safe and secure from within, no matter what happens
I feel more in control of my anxious thoughts.
Emotional healing of my past wounds helps me to relax and feel better.
---
Positive affirmations for Success
Success affirmations have incredible power to improve your life.
I attract success towards me.
I know all my dreams shall come true one day.
My mistakes teach me to work hard and achieve success.
I am booming with confidence and I know. I can do it.
I am always motivated to give my best in everything that I do.
I believe in my abilities and it motivates me to be successful.
My skills and talents serve me well and fulfill my mission in life.
My open-minded attitude helps to explore new avenues for success.
I make my goals my passion and live by it.
My ambitions are aligned with my values and character traits.
Every challenge and obstacle is a new learning opportunity for me.
I can see my performance getting better each day.
My work skills are updated with the latest trends.
I have a good and fulfilling relationship with my superiors and co-workers.
I know I can create the life of my wish.
I am enjoying my financial independence.
Success gives me higher self-esteem.
I can handle workplace stress with ease and patience.
Positive affirmations for self esteem
Positive worth affirmations can do much in boosting your self-esteem, personal value, and worth.
I accept my success and failure with grace and positivity.
I never dwell on failures rather work hard to get better every day.
I am worthy of doing anything and everything.
I love myself.
I am powerful enough to face any difficulties.
People love me the way I am.
I feel grateful for my life.
People treat me with trust, respect, and honor.
I think that my life has given me incredible moments to cherish forever.
I am a flexible person.
I do not expect myself to be the best always.
My life is filled with joy and happiness.
I appreciate my efforts and hard work.
I often forget and forgive my mistakes. It's okay.
I show kindness to myself.
Life has taught me wonderful lessons that I appreciate.
Moments of peace and happiness come to me naturally.
I radiate confidence in whatever I pursue.
I embrace myself.
I move with the flow of time and accept things as they are.
I have enough self-validation for the way I think and feel.
I praise myself and others without criticisms.
I prefer to learn new things and evolve every day.
The goodness in my life starts and ends with me and I believe in it.
I control my emotions and have mastered my negative thoughts.
I never try to fit in somebody else's frame.
My skill gap helps me to learn more every day.
My life is my own, so I live it fully.
The strength of my soul is 'peace of mind'.
I never hesitate to try out new things; even if I fail.
---
Daily positive affirmations
These are daily affirmations that inspire living. A dose of daily positive thought to start your day is awesome. Saying daily affirmations few times a day fosters positive thoughts.
I am in charge of my happiness and inner peace.
I am grateful to see another beautiful day today.
Today is my day. I shall live it fully.
Every day is a new start to new learning.
I am feeling good today.
I give myself the care that I need.
I shall not ask for other's attention as I am good with myself.
Every day I vow to become a better person.
I will always put my precious energies into doing things that matter the most.
I resonate well with my intuitions and thoughts.
---
---
Positive affirmations for healing
If you are carrying an emotional baggage that hurts, you need to experience a deep love within. This can happen by saying positive statements about healing and forgive those who sin against you. Positive affirmations for healing are self-help propositions to let go of emotions that do not serve the purpose of mental well being.
Positive affirmations for self love
'How to love yourself?' is an art in itself. When you fall in love with yourself; you accept unconditionally. You release the need to judge yourself negatively. Self love affirmations are all about self care. It reduces self doubt and improves confidence. It also allows you to reach your full potential.
---
Health and wellness affirmations
These affirmations bring improved physical wellness and mental health. This is key to attain happiness and contentment.
I am physically fit and mentally agile.
I love my body and feel confident about it.
I follow a healthy diet and exercise regime to be in proper shape.
I accept my inner cry and angry outbursts. These are normal parts of being 'me'.
I sleep 8 hours daily to feel relaxed and refreshing.
I have enough physical vitality to do tough sports.
My body feels good with an ideal weight.
A healthy mind can thrive in a healthy body, so I live by this saying.
I love and accept my body.
I eat healthy foods and fuel my body well for rigorous workouts.
My body functions at its optimum because I look after it.
Every day I nurture my body and mind with compassion and care.
I love to shine in my inner light.
I am open to exploring new ways to improve my body fitness.
I am so grateful to see another great day in my life. After all, 'I am alive'.
I am willing to take a pause and slow down, to do some more self-care.
I avoid harsh diet plans and tough workouts to stay fit and healthy; rather look for pleasant alternatives.
Doing exercise has become my daily routine.
Exercise helps me to unwind and relax.
Diet and exercise tuned with a positive mindset are all that I need to remain healthy.
---
Positive Morning Affirmations
It feels great to start your day with a calm mind and happy heart. The morning affirmations help to attract abundance in your life.
Positive affirmations for depression
Depression carries self-defeating thoughts coupled with guilt and pity. It is the most disturbing part of the illness. A list of positive affirmations helps to eliminate weak feelings. It reminds you of your self-worth and value. It gives hope amidst darkness.
I will be loved and valued despite my weaknesses.
Each day I try my best to let go of negative thoughts and replace it with positive ones.
I am not worthless.
It is okay to feel low at times.
I have endured a lot. It made me more tenacious.
My efforts for well being make me a silent warrior who can survive all odds.
My emotional discomforts are transitory.
Life has given me so many reasons to feel happy and joyous.
I am freeing myself from all past hurts.
I know I can change myself positively.
I easily get rid of tension and stress.
I can defeat my sadness and grief.
My life is healing and me too.
I do not ride onto my mental disabilities rather would defy it.
I have a loving family who cares for my well being.
My mistakes deserve to be forgiven.
I shall not allow my disturbing past to haunt me.
I vow to remain happy and healthy; inside out.
I refuse to give up on defeats.
My life is worth living with love, kindness, and peace.
---
Weight loss affirmations
The affirmations for weight loss helps make better life choices to remain fit and fine. To achieve your weight loss goals, you need motivation and a positive attitude.
I always maintain a healthy weight and my body image is perfect.
I wish to lose weight and be in shape.
Exercising regularly keeps me fit.
I eat only healthy and low-calorie food to reduce weight.
I always set achievable weight loss goals.
Physical activity helps me to reduce the extra weight that I have put on.
I practice deep breathing to increase body metabolism.
I burn up extra fat to maintain an ideal weight.
I am physically active with lots of positive energy.
I banish junk food from my daily diet, to avoid weight gain.
I wish to have perfect body weight.
This month I lost 7 kilos. I am happy about it.
I feel good to see my toned body.
I listen to my body and do not overdo things.
I chose to go for regular morning walks.
I am committed to a healthy weight loss challenge.
I never criticize my body.
I wish to share my weight loss success story with others.
Going to the gym is fun. It makes me feel proud of myself.
It is easy to choose a healthy food plan every day.
---
Happiness and Joy affirmations
A daily dose of happiness is what you need the most for stress relief. Happiness affirmations are a great way to enjoy precious moments in life.
I always feel happy.
Happiness and joy are a part of my self-identity.
I chose to remain happy under all circumstances.
I nurture positive thoughts and beliefs that radiate happiness.
Happy coincidences keep coming to me regularly.
All is going well in my life.
I forget and forgive the mistakes done by others, so I am always happy.
Joy lies within me. I do not look for it anywhere else.
Happiness uplifts my spirits.
Each moment of my life is filled with happy memories to cherish.
I feel abundant and complete.
Peace and harmony dwell in me, to make me feel happy each day.
I do not show off, so I am happy with myself.
I am a joyous person full of positivity.
I make myself and others happy.
I am open to a big smile and a loud laughter today.
I have abandoned my old habit of sulking; rather prefer to remain happy.
My life feels good and worth living.
I feel great being me.
I let go of bad feelings that hurt me.
---
Positive affirmations for calmness and inner peace
Peace affirmations can act as daily motivation to remain calm and composed.
I prefer to remain quiet and relaxed in every situation.
I usually avoid heated discussions.
I leave my thoughts and go to a sound sleep.
When I sit quietly, I become free of negative thoughts.
My mind is tuned to peace.
Being calm makes me feel fresh and rejuvenated.
I can't quiet my mind whenever I want.
I always enjoy peace in and around me.
Nothing can take away my bliss and serenity.
A relaxed mind nurtures good thoughts; so I dwell in it.
Peace is my inner strength.
Serenity now and serenity ever is my rule in life.
My mind is still and calm as always.
I can experience poise all around me.
I embrace calm moments and live by it.
I can handle all situations peacefully.
I have learned to ignore things and enjoy peace.
I practice calming exercise as part of my daily routine.
A peaceful mind and attitude is a habit.
I am relaxed because I know 'who am I'.
---
10 Positive Affirmation Quotes
These inspirational quotes of wisdom are good enough to be practiced in everyday life to stay tuned positively and create the life of your choice.
1. "Don't be pushed around by the fears in your mind. Be led by the dreams in your heart."

— Roy. T Bennet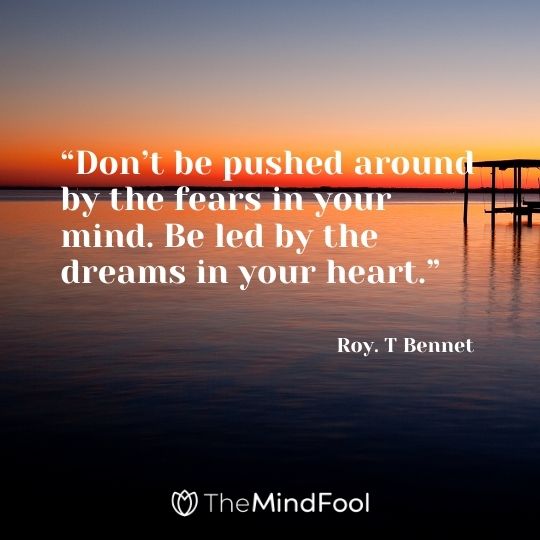 2. "Instead of worrying about what you cannot control, shift your energy to what you can create."

— Roy T Bennett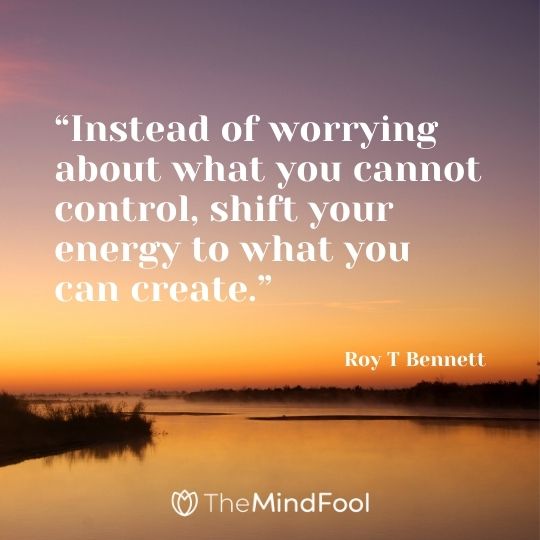 3. "I cannot change another person. I let others be who they are. And I simply love who I am."

— Louise Hay
4. "If you really think small, your world will be small. If you think big, your world will be big."

— Paulo Coelho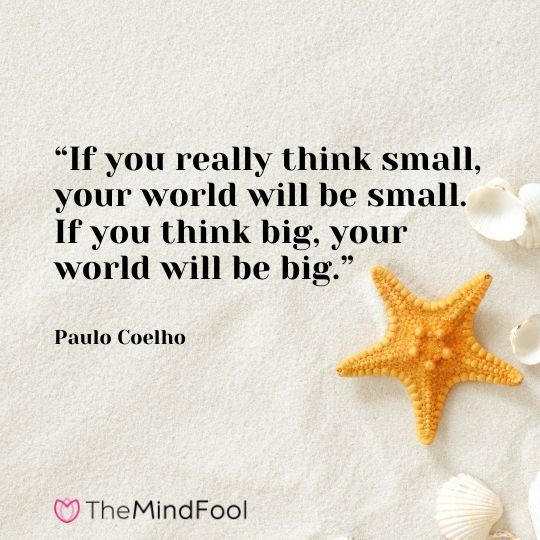 5. "Nothing can dim the light that shines from within."

— Maya Angelou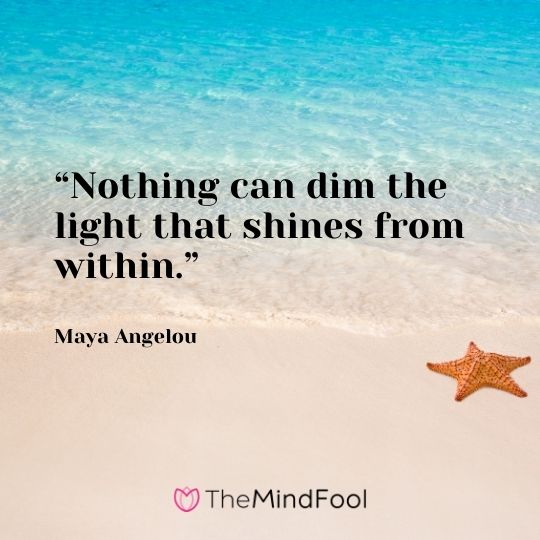 6. "Be mindful. Be grateful. Be positive. Be true. Be kind."

— Roy. T Bennett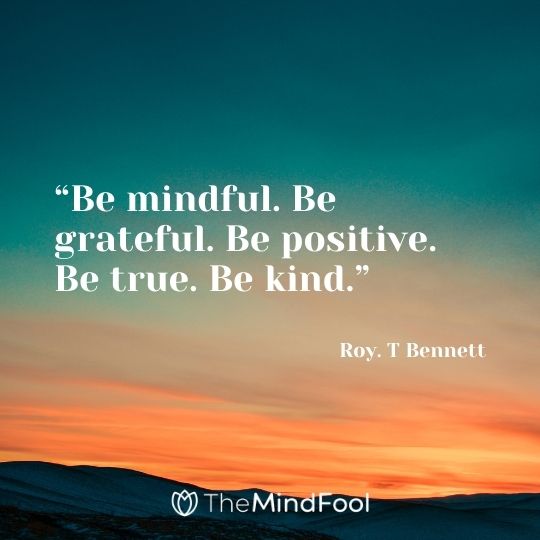 7. "I breathe in confidence and I exhale fear."

— Anonymous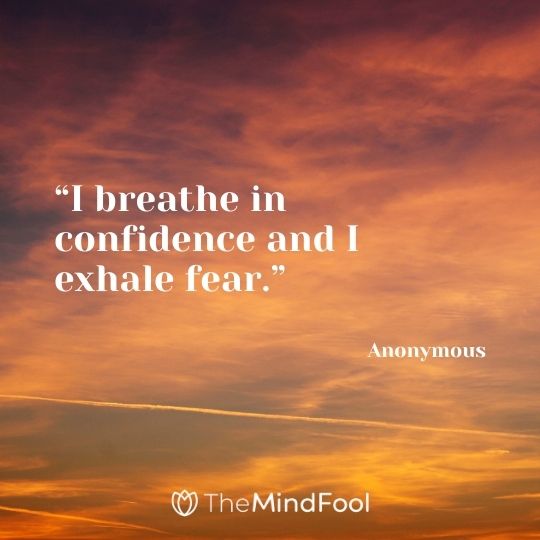 8. "Failure is just another way to learn how to do something right."

— Marian Wright Edelman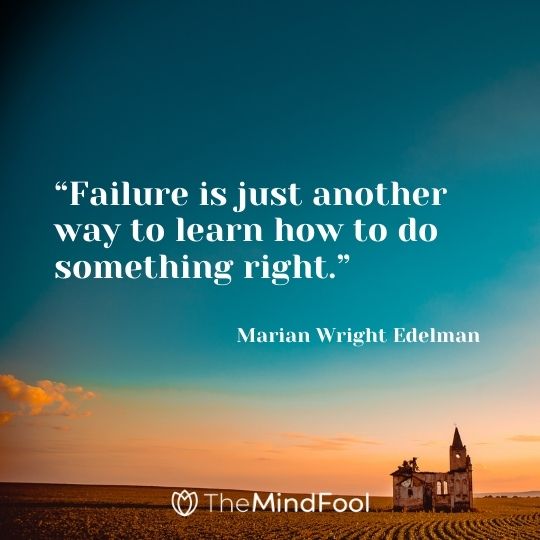 9. "I'm better than I used to be. Better than I was yesterday. But hopefully not as good as I'll be tomorrow"

— Marianne Williamson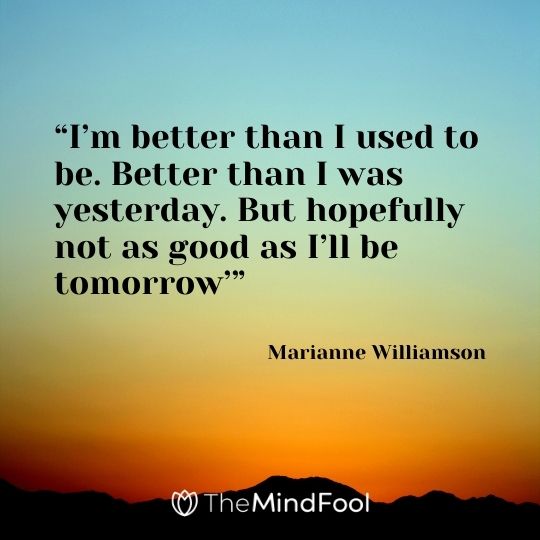 10. "Tough times never last, but tough people do."

— Robert. H. Schuller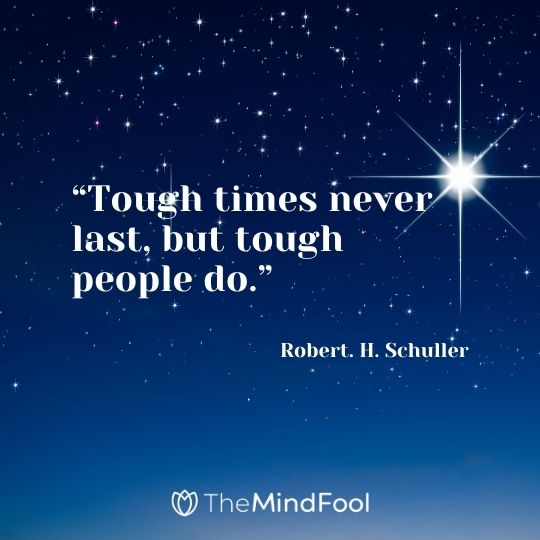 ---
Closing Thoughts
Don't you think it's time to shed old habits and let go of limiting beliefs? If yes, then hold on to some great affirmations that can make life easy going and free flowing. It changes the way you perceive things and make it happen.
Telling yourself how good you are every day can bring profound changes in your life. Science backs this practice. The hopeful narratives will guide you to create a real-world of optimism and good cheer.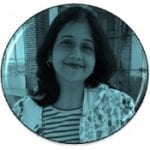 Chandrani Mukherjee
A Psychologist with a master's degree in Psychology, a former school psychologist, and a teacher by profession Chandrani loves to live life simply and happily. She is an avid reader and a keen observer. Writing has always been a passion for her, since her school days. It helps to de-stress and keeps her mentally agile. Pursuing a career in writing was a chance occurrence when she started to pen down her thoughts and experiences for a few childcare and parenting websites. Her lovable niche includes mental health, parenting, childcare, and self-improvement. She is here to share her thoughts and experiences and enrich the lives of few if not many.