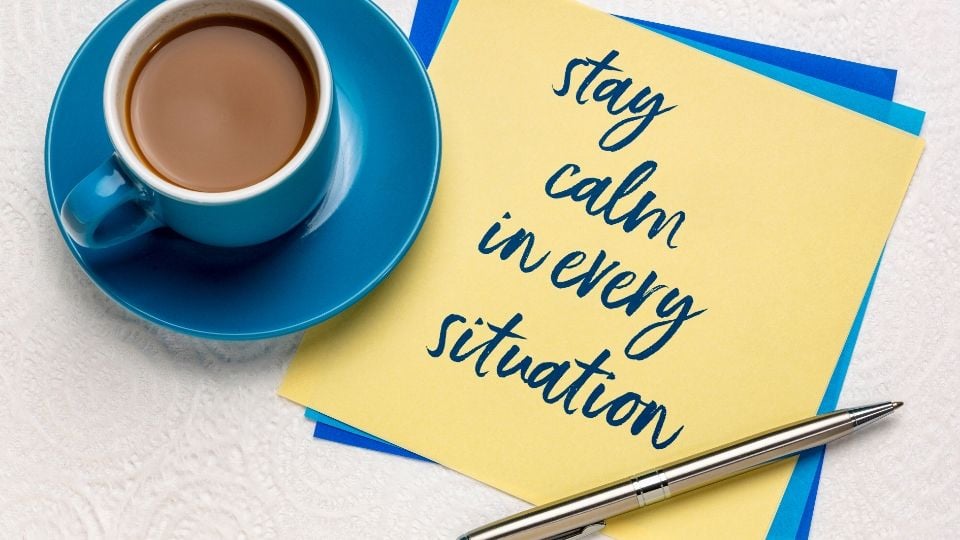 We are always advised to stay cool and composed in times of stress. It is easier said than done. Today's hectic pace of living, with so much to do, leaves you in a state of agitation and mental restlessness. You may resort to reading some calm quotes for an inspirational life. It reminds you of the benefits of staying calm in turbulent times, and always.
Why Calm Quotes?
---
Being calm is a mental state, where you feel peaceful, composed, and quiet. It is without any mental restlessness or uneasiness. Calmness is all about a placid state of conscious existence. You are serene, always in command of situations. Calmness helps you to keep the mind at peace and take the right decision in life.
With the above-discussed pros of being calm, it's importance is quite clear. Now, the following quotes will make you understand and realize the importance of calmness in your life.
101 Calm Quotes
---
Keep Calm Quotes
1 "The nearer a man comes to a calm mind, the closer he is to strength."

–Marcus Aurelius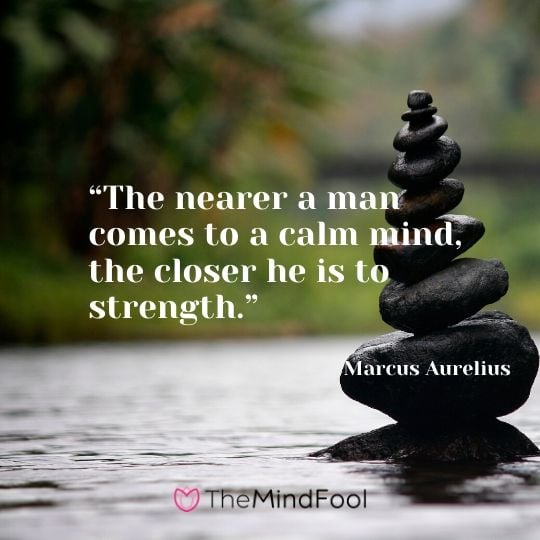 A calm mind is a symbol of strength.
2 "Listen to silence. It has so much to say."

–Rumi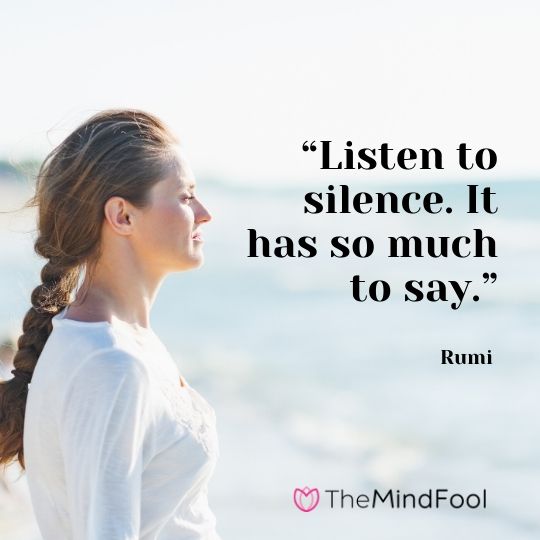 Silence is without words and only feelings.
3 "Always ask yourself: what will happen if I say nothing."

–Kamand Kajouri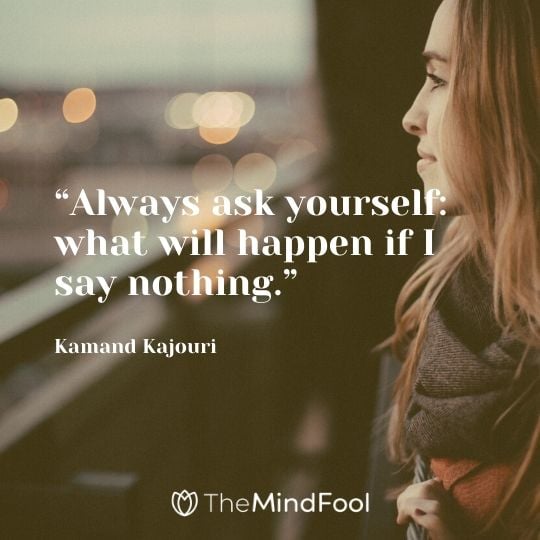 Silence speaks for all.
4 "Calm mind brings inner strength and self confidence, so that's very important for good health."

– Dalai Lama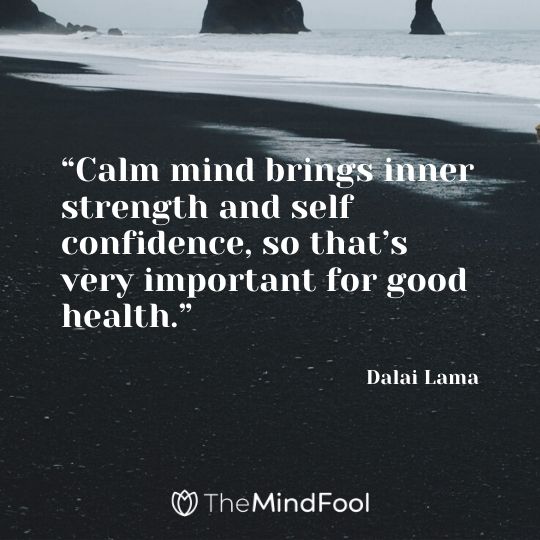 A calm mind is an epitome of mental strength, resilience and confidence.
5 "The only order in the Universe is just a cycle of calm and chaos."

– Toba Beta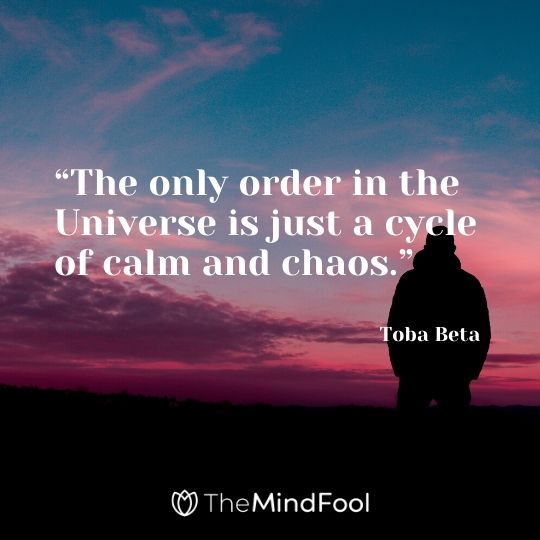 Life can either be peaceful or chaotic; choice is yours.
6 "I breathe in calmness, I breathe out stress."

– Anonymous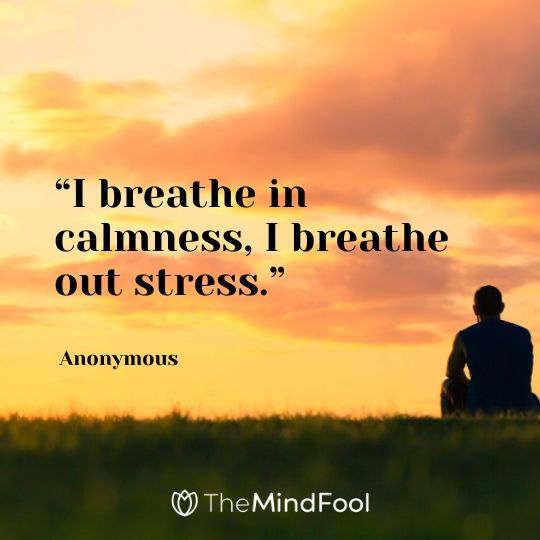 Calmness can release all mental agonies and restlessness.
7 "Learn to calm down the winds of your mind; and you will enjoy great inner peace."

– Remez Sasson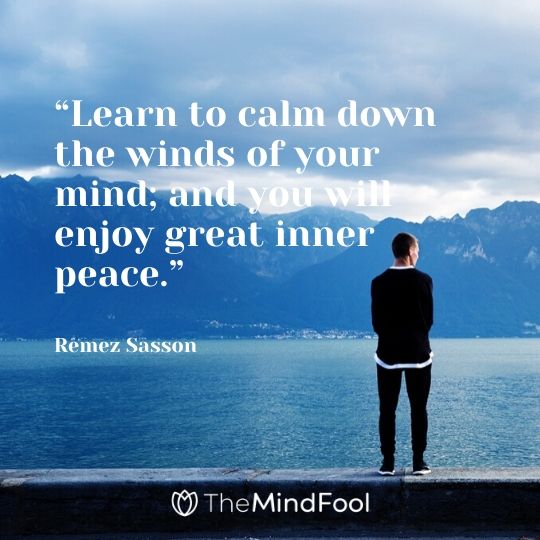 Control of your wandering thoughts gives you an experience of peace and satisfaction.
8 "Set peace as your highest goal, and organize your life around it."

– Brian Tracy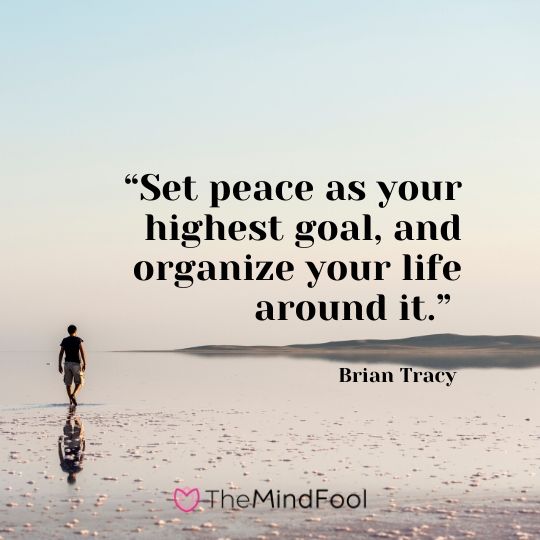 The ultimate goal of life is to move your life around peace.
9 "Nothing can bring you peace but yourself."

– Ralph Waldo Emerson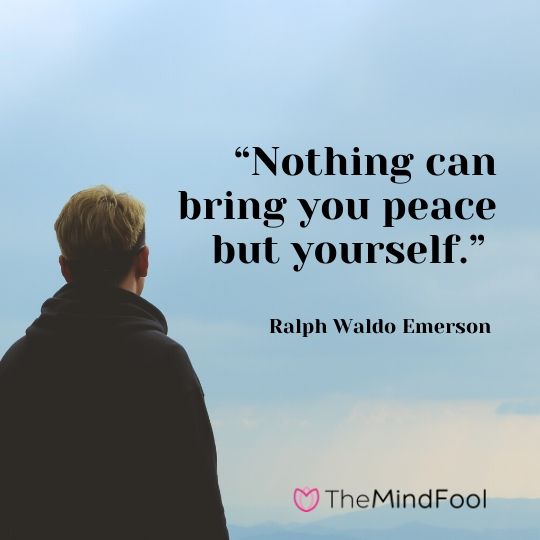 You are the one capable of bringing peace to yourself.
10 "Do not learn how to react. Learn how to respond."

– Buddha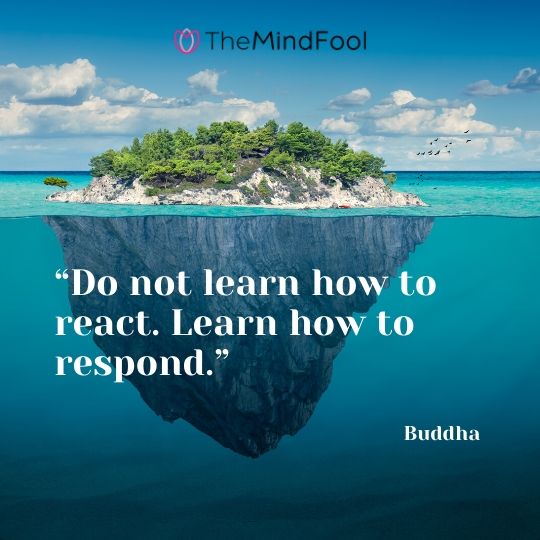 It is important to learn how to respond more and react less for a happy and forgiving life.
11 "The one who had the power to calm the elements of the Earth has power to calm our souls."

Elder Robert D. Hales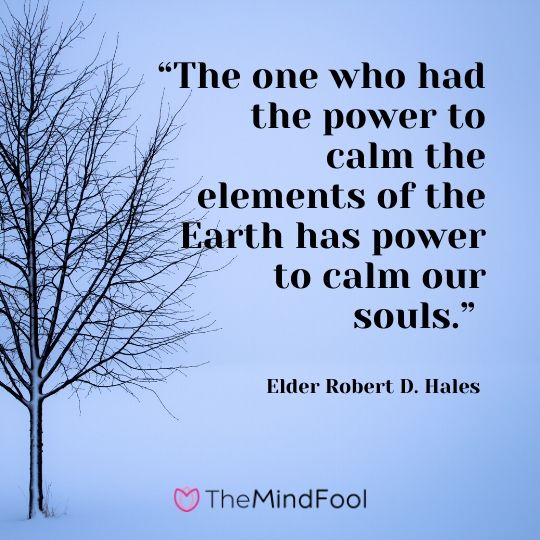 When you are able to let go of earthly temptations and desires, you attain the strength to pacify your spirits.
12 "Remain calm, serene, always in command of yourself. You will then find out how easy it is to get along."

– Paramahansa Yogananda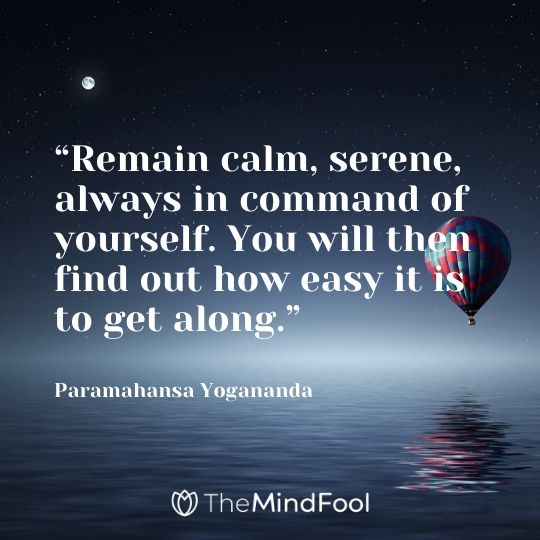 It is important to be calm and self-controlled to get going with everything in life.
13 "Freedom from desire leads to inner peace."

– Lao Tse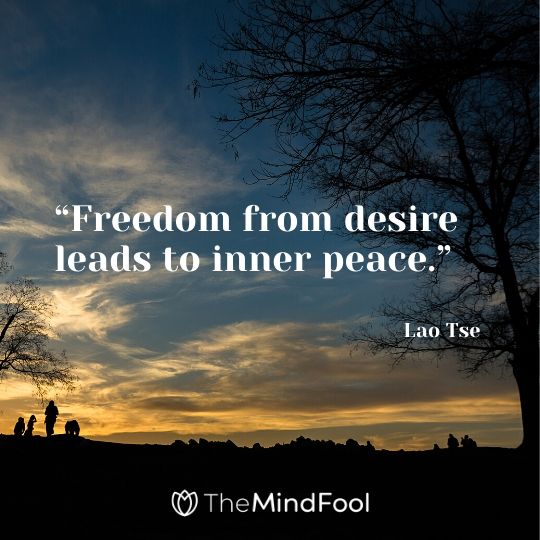 Shun your desires to attain peace within.
14 "Let peace be your middle name."

Ntathu Allen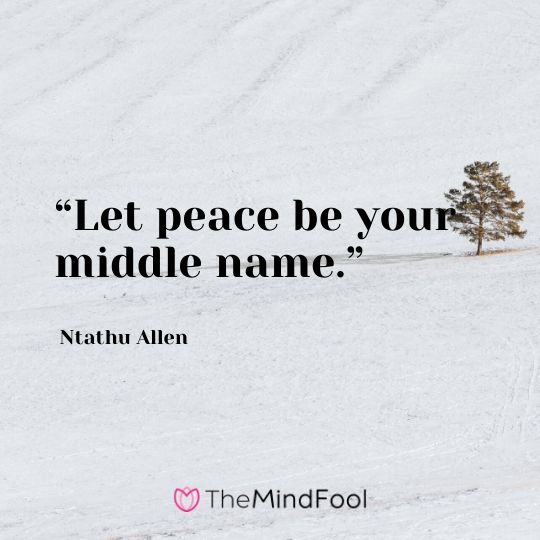 Always carry an armor of peace within you and with you.
15 "A fit body, a calm mind, a house full of love. These things cannot be bought. They must be earned"

– Naval Ravikant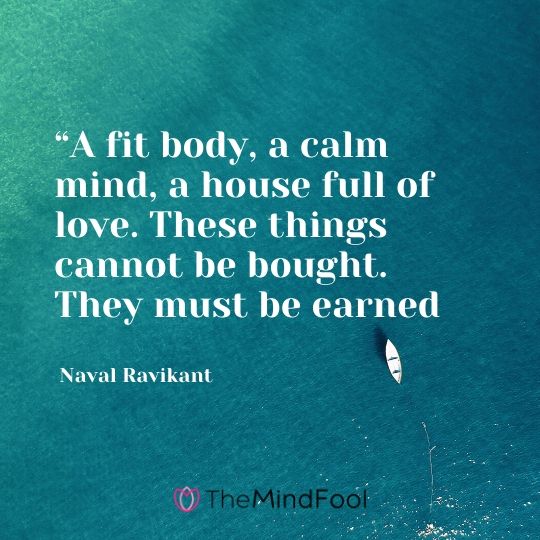 All beautiful things in lifeare earned and not bought. A calm state of mind is not an exception to this.
16 "You can't force raging water to be calm. You have to leave it alone and let it return to its natural flow. Emotions are the same way."

– Thibaut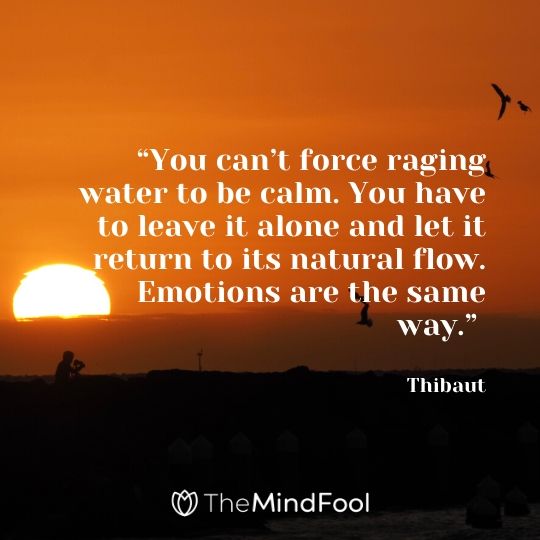 Let not your emotions control your well being. You should leave it as it is, till it thwarts it's upsurge.
17 "Insight emerges out of silence."

– B.D Schiers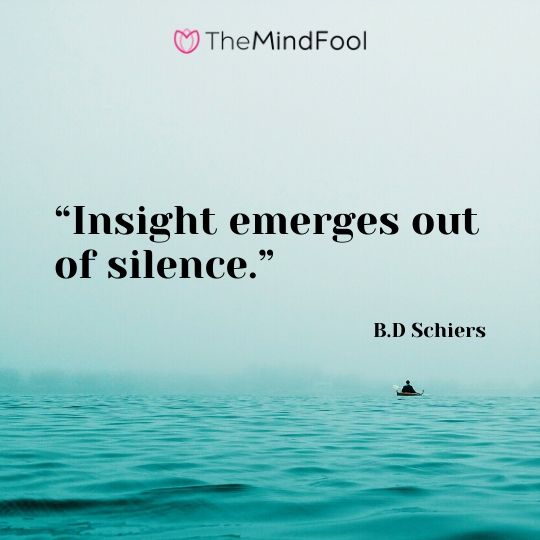 A deep thought and understanding comes from a state of quietness.
18 "Those who act with few desires are calm, without worry or fear."

– Buddha
People who desire less are happy, calm because they are not fearful and worrywart.
19 "To be calm is the highest achievement of the self."

– Zen proverb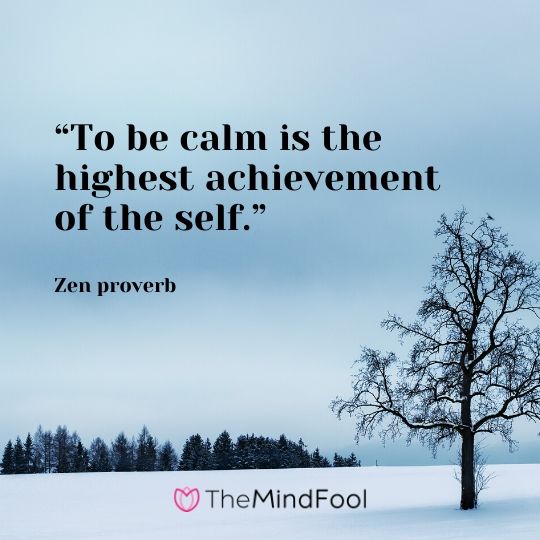 You can achieve complete realization of self, only with a calm state of existence.
20 "No state is so bitter that a calm mind cannot find in it some consolation."

– Seneca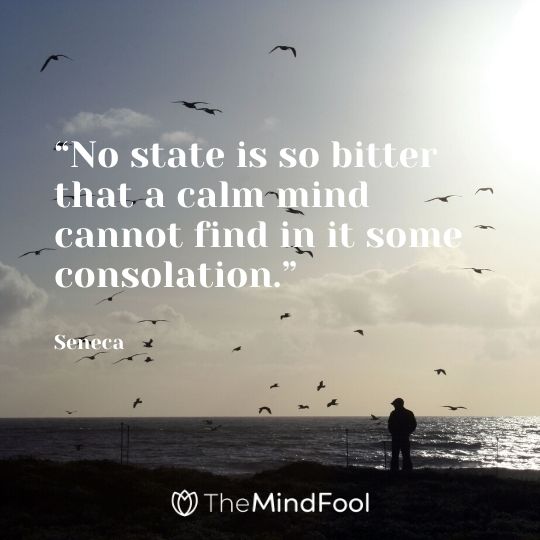 Bitterness dwells in heart, when your calm mind cannot get comfort in itself.
Stay Calm Quotes
21 "If you relax, it comes. If you relax, it is there. If you relax, you start vibrating with it."

– Osho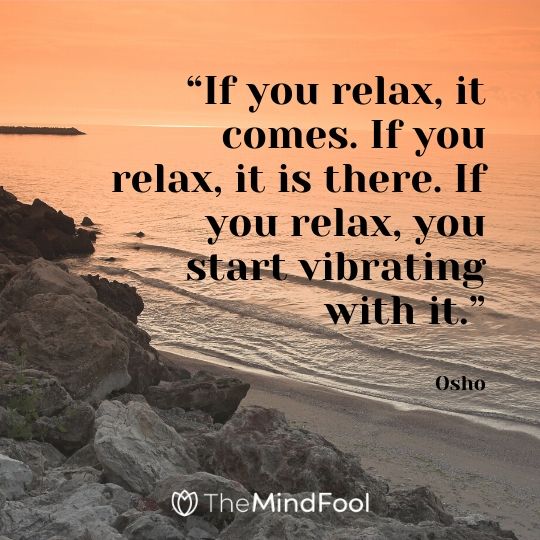 Peace comes when you are relaxed. You can live a life with positive vibes.
22 "On average, the deeper people's knowledge of a topic, the more calmly they talk about it."

– Paul Graham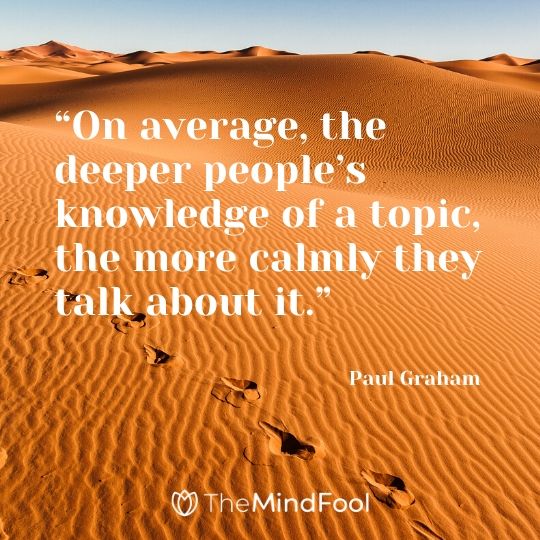 A calm and composed individual usually holds in depth knowledge that can guide purposeful actions.
23 "You don't have to control your thoughts. You just have to stop letting them control you."

– Dan Millman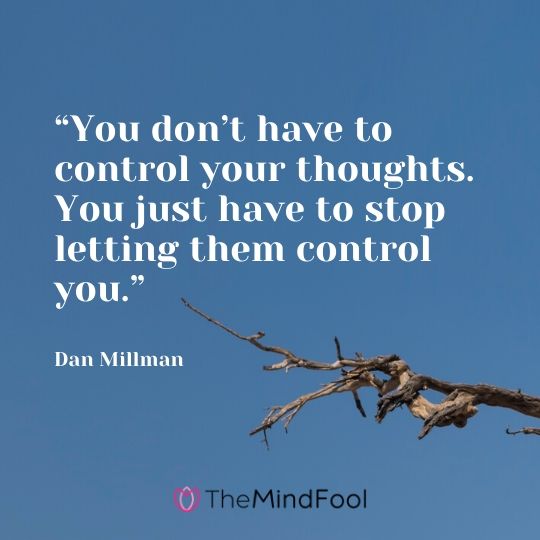 Never allow your thoughts control you. It deprives you of inner peace and happiness.
24 "Keep calm because pain makes you stronger, fear makes you braver and heartbreak makes you wiser."

– Ritu Ghatourey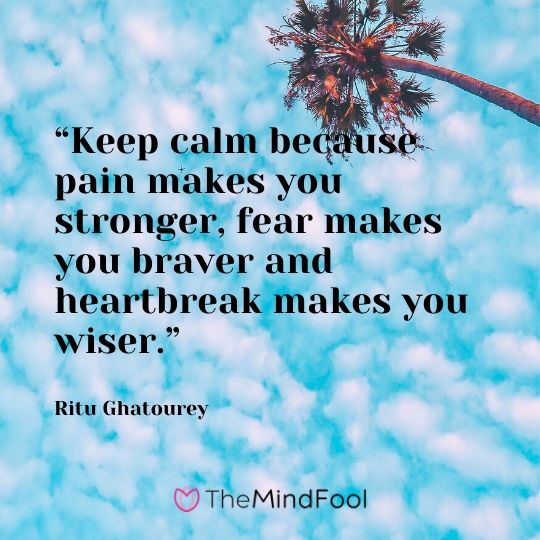 Life lessons are all blessings in disguise. It teaches you things that help in self growth. Thus, be calm and take challenges as opportunities to learn more.
25 "Peace is the result of retraining your mind to process life as it is, rather than as you think it should be."

– Wayne W.Dyer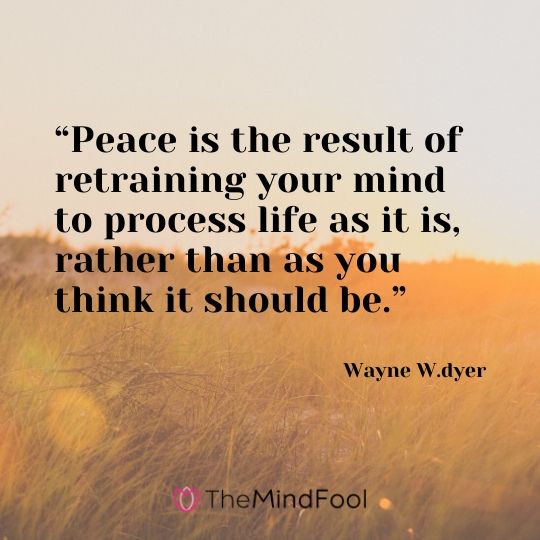 Accept life as it is, not as the way you want it to be. Then only, you can nurture peace within.
26 "Serenity comes when you trade expectations for acceptance."

– Buddha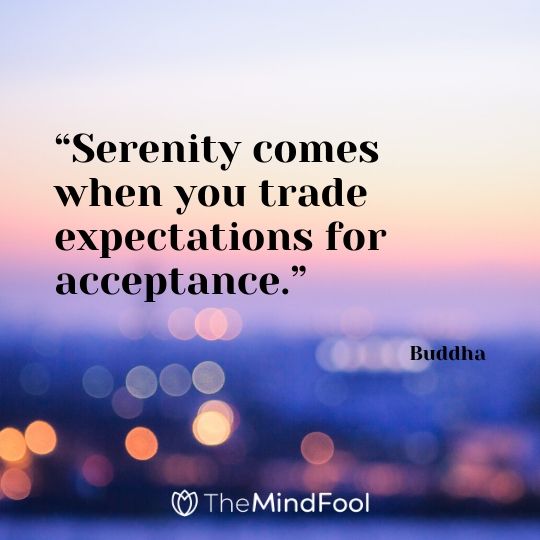 Life gets better and peaceful, when you expect less and accept more.
27 "To experience peace does not mean that your life is always blissful. It means that you are capable of tapping into a blissful state of mind amidst the normal chaos of a hectic life."

– Jill Bolte Taylor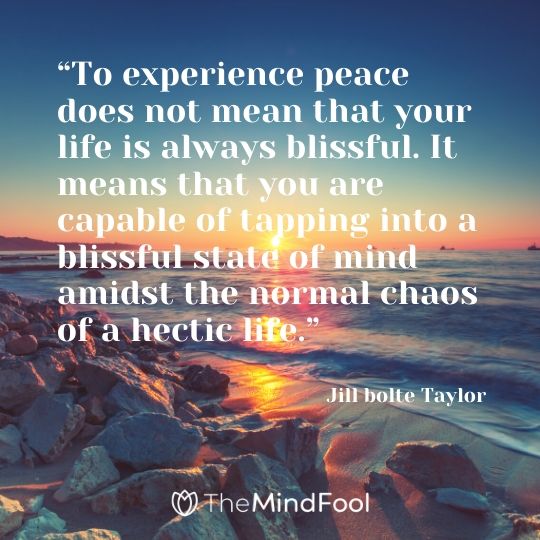 Peace of mind doesn't mean you are without worries, in your daily life. It only means you are strong enough to deal with problems peacefully.
28 "Close your eyes shut your mind for a while, for there is a tranquil land that awaits your presence."

– Anonymous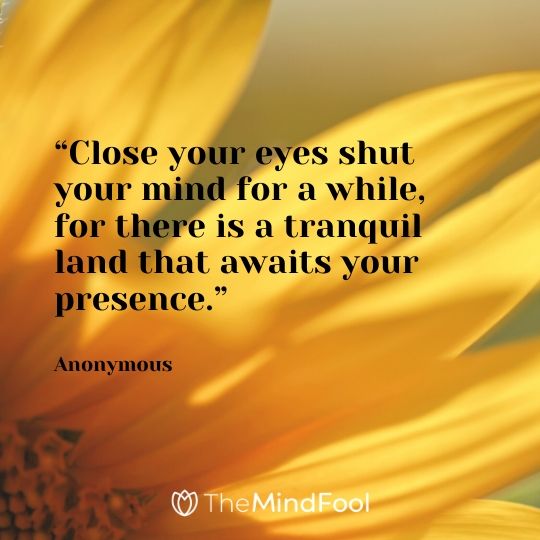 At times, retreat your senses from this hectic world and experience the picture of a serene land with cool breeze and silence around.
29 "Your mind will answer most questions if you learn to relax and wait for the answer."

–William S. Burroughs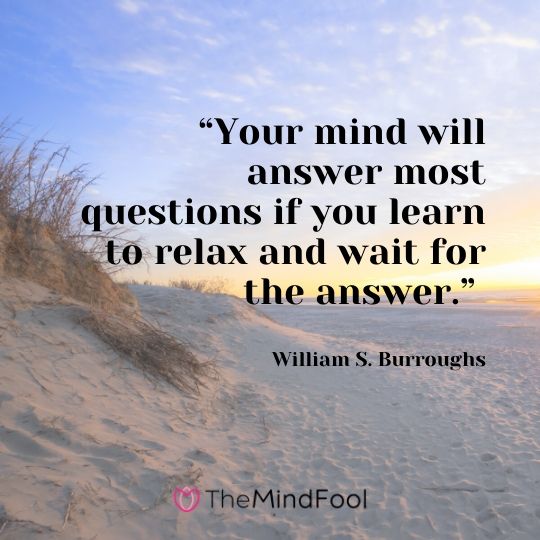 Thoughtful answers are a product of a relaxed mind.
30 "Peace of mind is attained not by ignoring problems, but by solving them."

– Raymond Hull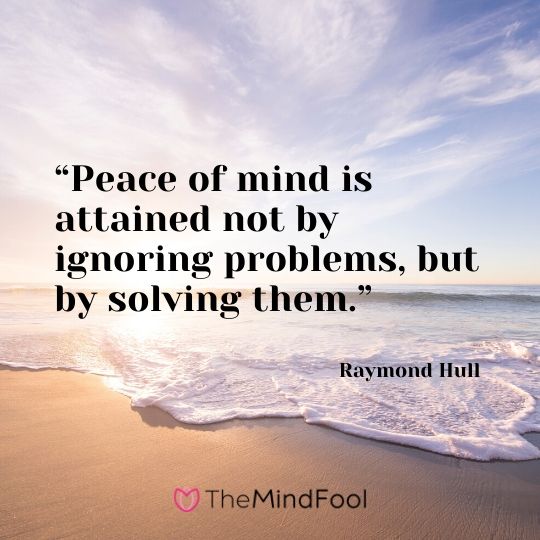 It is virtuous to solve problems rather than ignoring it. It gives the power of calmness.
31 "They sicken of the calm who knew the storm."

– Dorothy Parker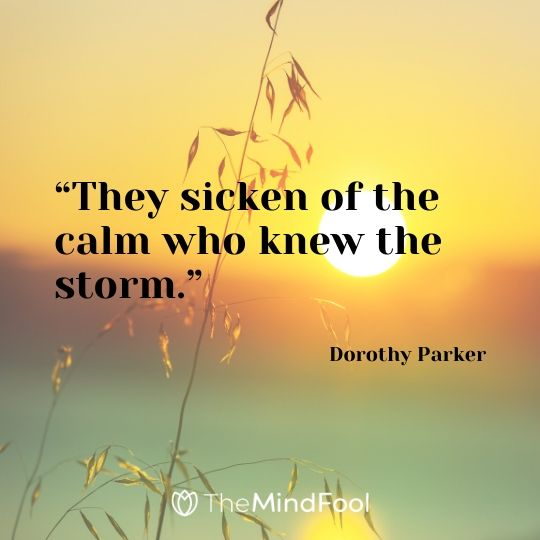 People who have experienced the turmoil of life usually get bored with a calm life.
32 "Whenever something bad happens, keep calm, take a few deep breaths and shift the focus to something positive."

– Roy T. Bennett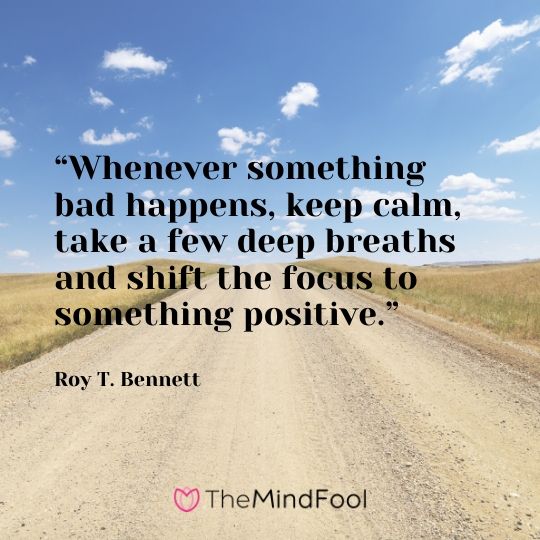 Worries and bad life situations give utter pain. Think and stay positive by practicing mindfulness. Slowly, you will embrace a calm state of existence.
33 "There is a calmness to a life lived in gratitude, a quiet joy."

– Ralph H. Blum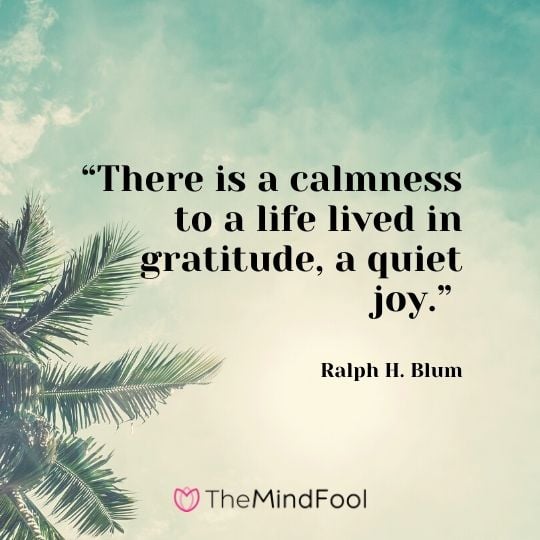 Gratefulness and happiness dwells in a calm and peaceful life.
34 "Mistakes and pressure are inevitable; the secret to getting past them is to stay calm."

– Travis Bradberry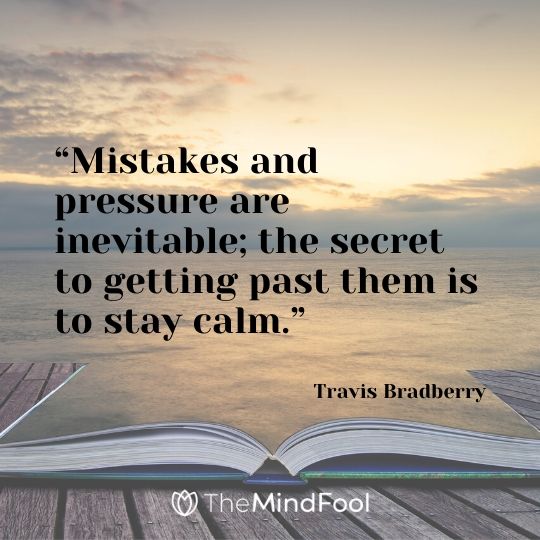 No one can avoid mistakes and pressure but the best way to deal with it is to be calm and let go.
35 "Keep calm and let your heart sing the song of kindness."

– Debasish Mridha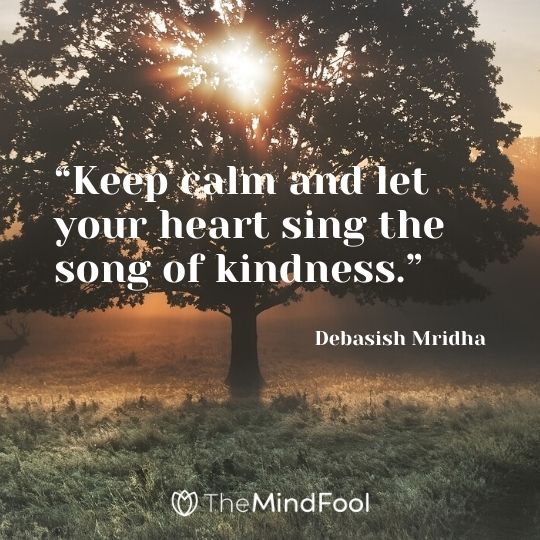 A kind and understanding heart results from absolute peace.
36 "The important thing for you to learn in any emergency is, stay calm, keep cool, and think!"

– Brad Jones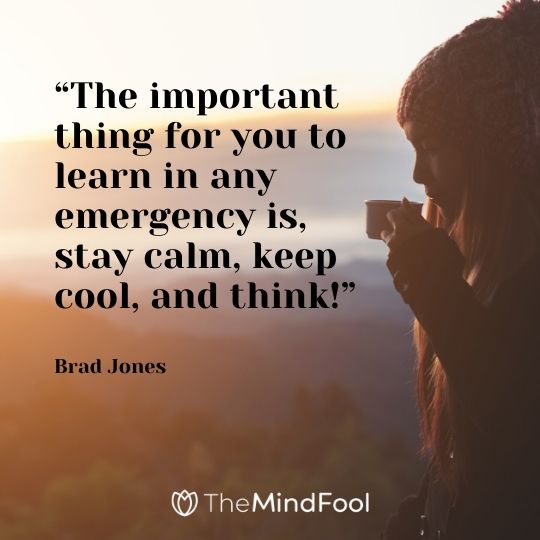 Being calm and composed in an emergency situation teaches the biggest life lessons.
37 "It feels like there's no place to land. Just keep calm, that's the safest plan."

– Jared Cement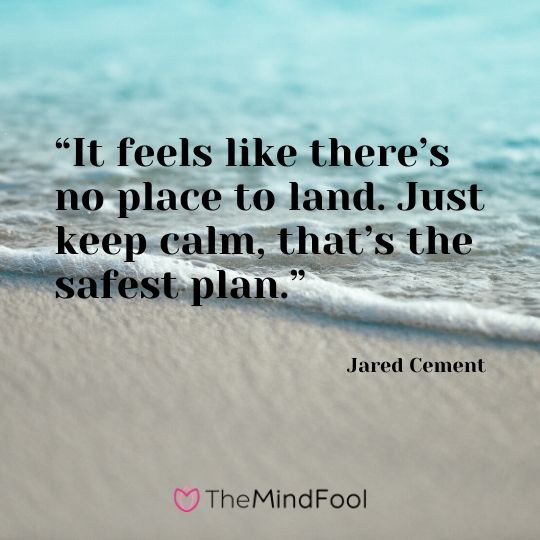 When there is no place to go and reside, dwell in calm. It is a safety net to land on in adverse times.
38 "I don't wanna burnout, I'll keep it calm, cool, collected."

– Syretha Smith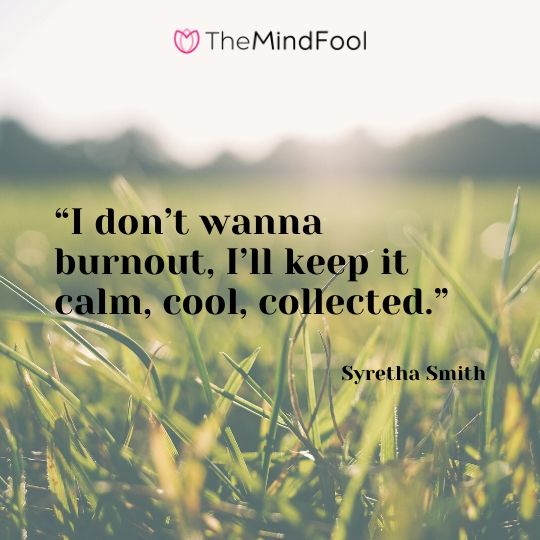 Always remain calm in tough times. It helps to reduce stress.
39 "Keep calm means being able to choose his emotion."

– Jonathan Forrest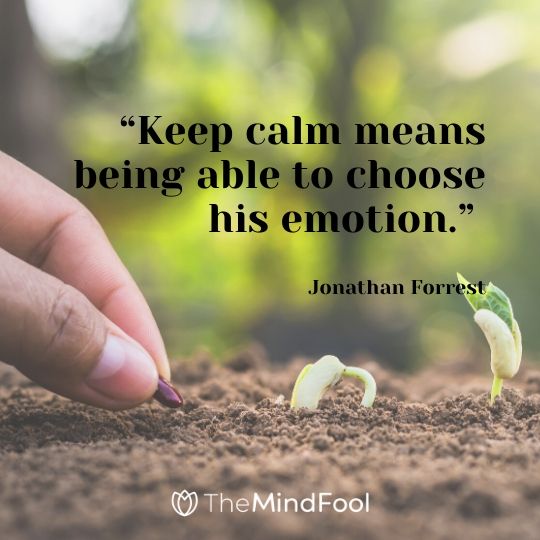 If you are calm and cool you know how to respond to situations. You can choose to be happy, sad, angry or fearful.
40 "Feeling frustrated is okay. I will try to learn to stay calm, when I am frustrated."

– Carol Gray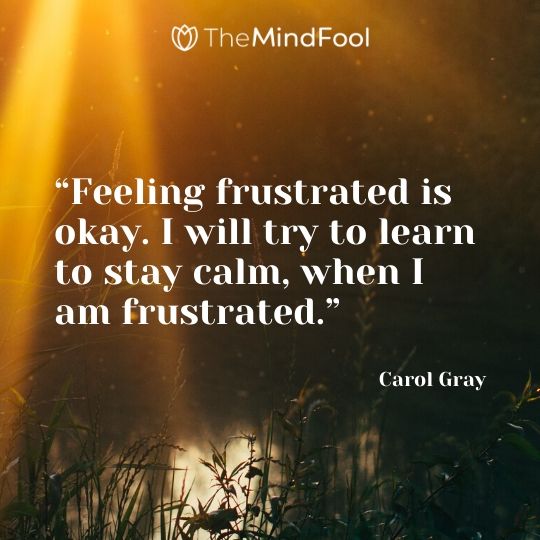 Be calm, if you are embittered . it's okay to be wrong at times.
Calm Down Quotes
41 "When everything around you is crazy, it is ingenious to stay calm."

– Mehmet Murat İldan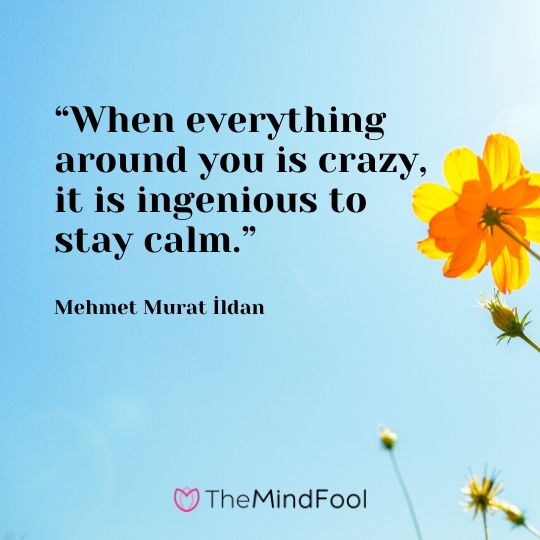 Amidst all hassles, the art to live happily is to be calm and peaceful.
42 "A man of calm is like a shady tree. People who need shelter come to it."

– Toba Beta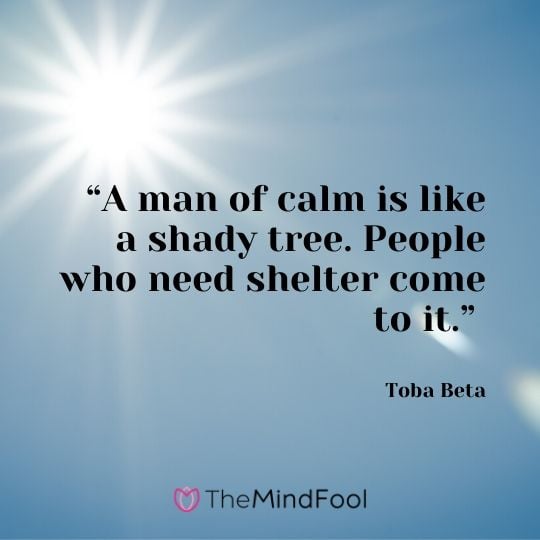 A calm being is a virtuous and wise person who guides others through examples.
43 "When you can no longer count the peaceful moments in your day, and life becomes a wonderful place of clear thoughts and calm. You know things are as right as they should be."

– Ron Baratano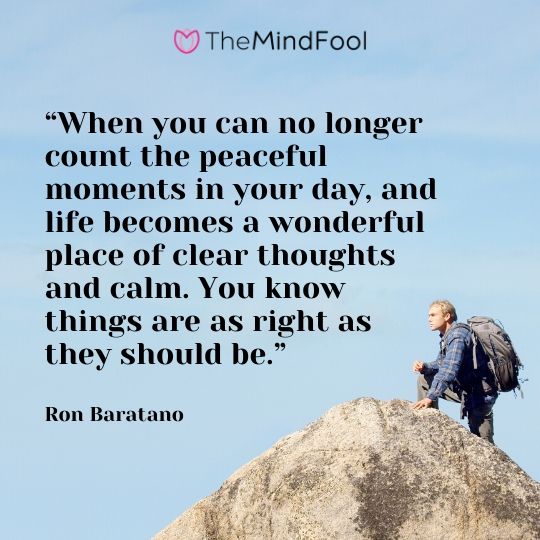 All things fall in their right place, if you dwell in calmness that brings clarity of thoughts and feelings.
44 "Tranquility is a state of the mind, desired by the soul, to calm the spirit, and make the body free from stress."

– Steven Redhead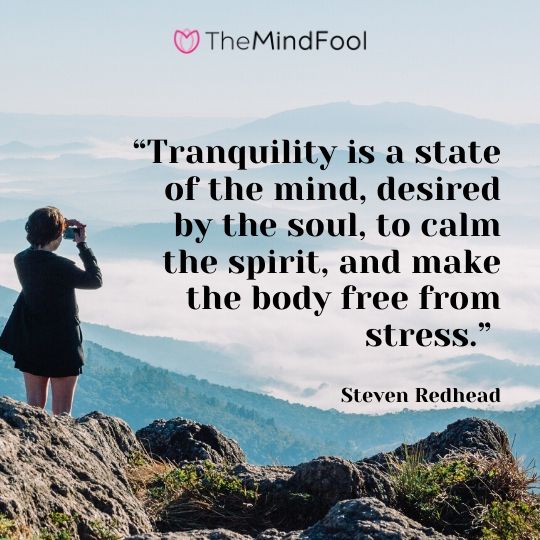 A peaceful existence is a desire of the soul to free you from all agonies.
45 "Quiet mind, Quiet soul."

– Lailah Gifty Akita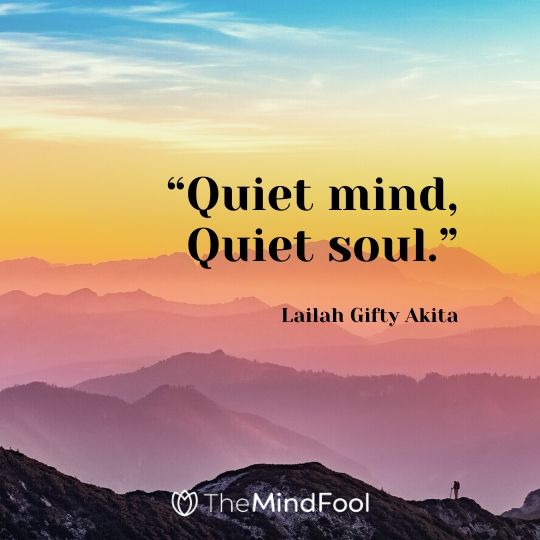 Peaceful soul can reside in a peaceful mind.
46 "A calm mind is like an invisible coat that shields you from negativity."

– Emmanuel Paul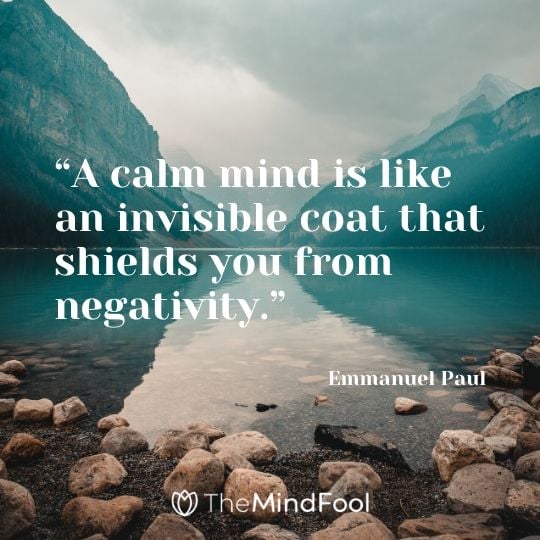 Calmness is a weapon to remove negativity and bring back a growth mindset.
47 "Calm people are not attached to outcomes. They have learned to do their best and let go."

– Sarah Schewitz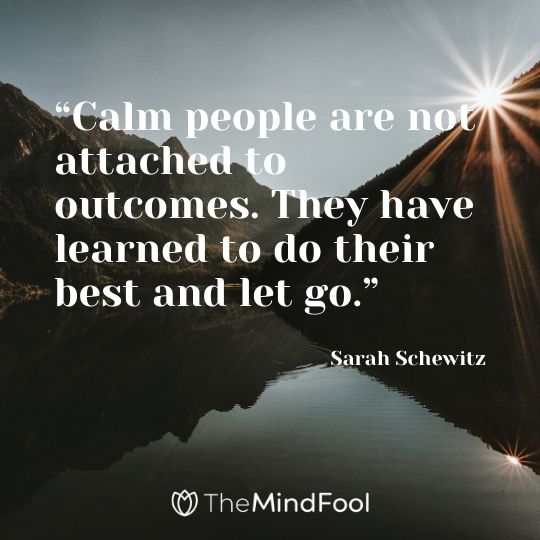 Letting go of those things in life that doesn't serve a real purpose is found only in peaceful people.
48 "Staying cool and keeping your mind calm always pays off for the better."

– Penelope Holmes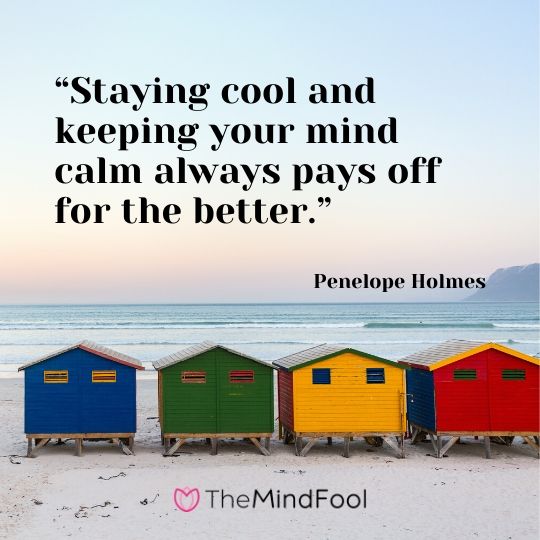 If you are free from stress and can maintain calmness within, you will definitely reap its good effects.
49 "Calm is the major elixir that brings you to a place of balance, harmony, and peace."

–Donald Altman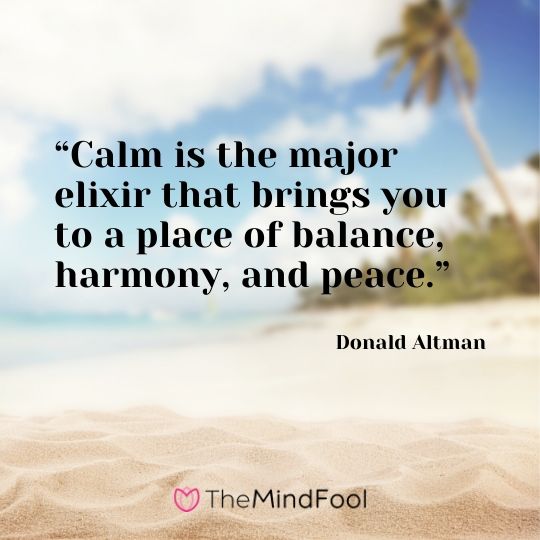 Calmness brings peace and harmony.
50 "It's a simple idea, but one that goes deep: a truly calm mind can weather any storm."

– Christine Easwaran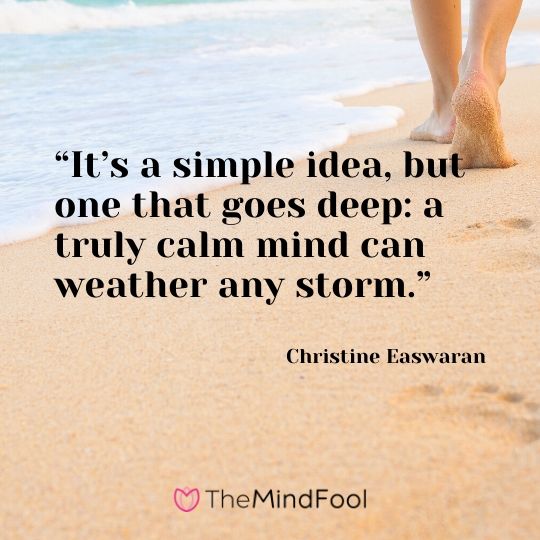 A calm mind can withstand all stress and negativity with happiness and bliss.
51 "Worries and tensions are like birds, we cannot stop them from flying near us, but we can certainly stop them from making a nest in our mind."

– Rishika Jain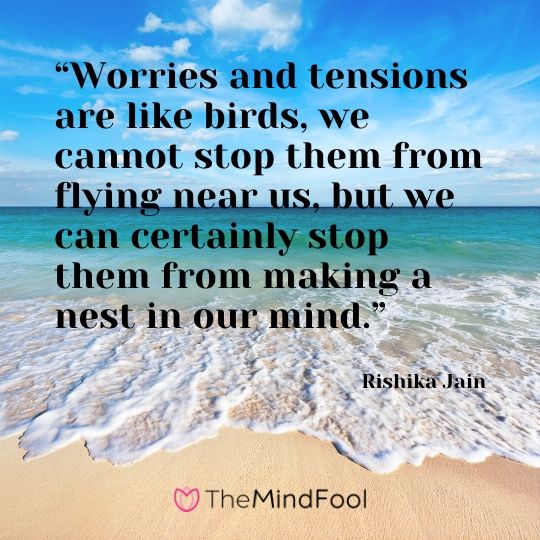 Never allow worries and tensions to take away your peace of mind.
52 "You practice mindfulness, on the one hand, to be calm and peaceful. On the other hand as you practice mindfulness and live a life of peace, you inspire hope for a future of peace."

– Thich Nhat Hanh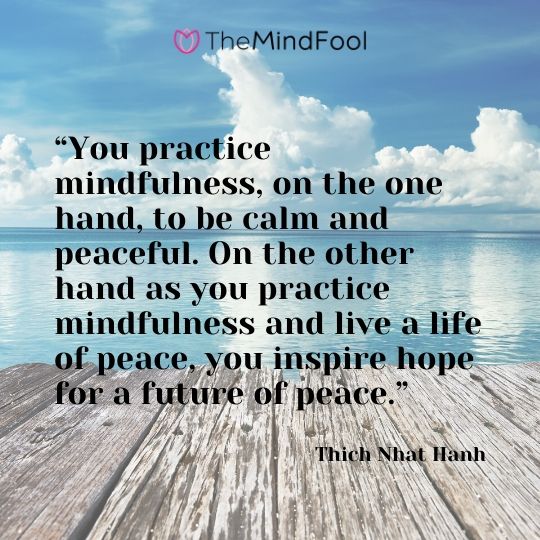 Mindfulness practice opens the door to poise and tranquility and assures a better future for yourself.
53 "Romance is tempestuous. Love is calm."

– Mason Cooley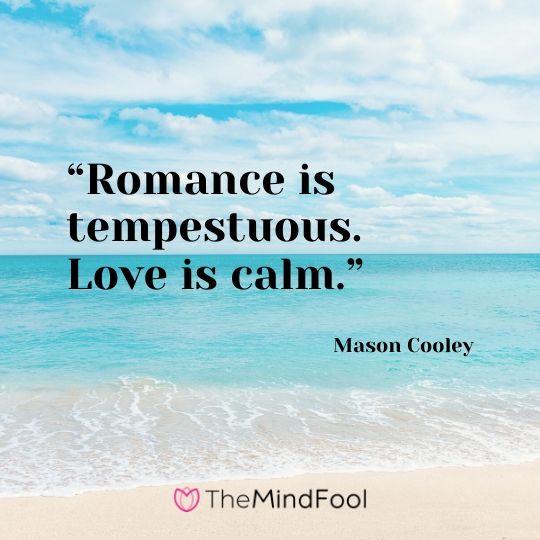 To love someone means being kind, humble, and understanding. It's an epitome of calmness; unlike romance which is full of desires, needs and lust.
54 "Be calm in arguing; for fierceness makes error a fault, and truth discourtesy."

– George Herbert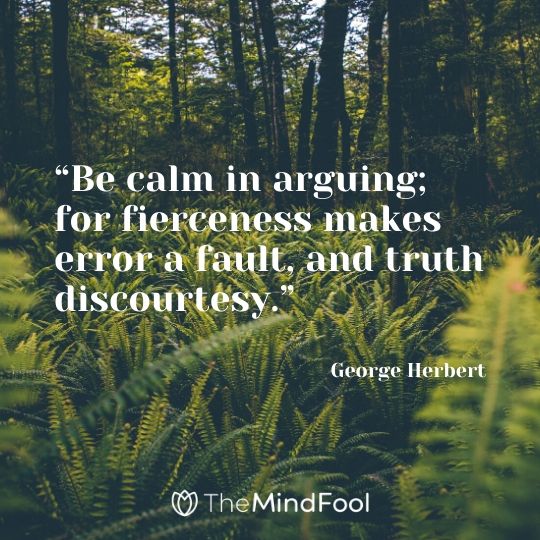 When you argue, resort to peaceful discussions. You will make fewer errors.
55 "Life goes by fast. Enjoy it. Calm down. It's all funny. Next. Everyone gets so upset about the wrong things."

– Joan Rivers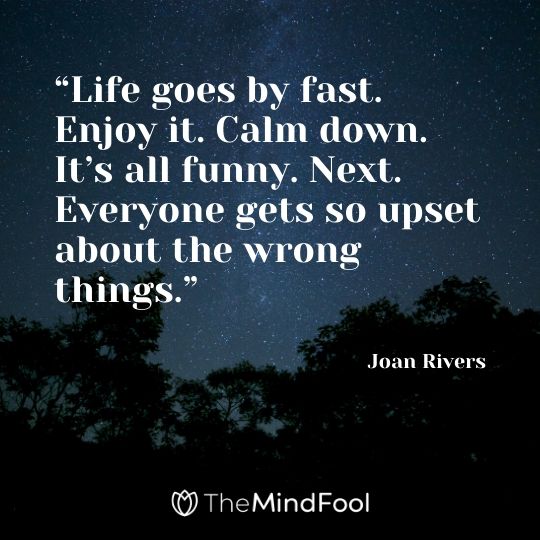 Life is too short, avoid taking things seriously. Enjoy life and do not get upset easily. Stay cool and embrace what's happening.
56 "I practice staying calm all the time, beginning with situations that aren't tense."

– Martha Beck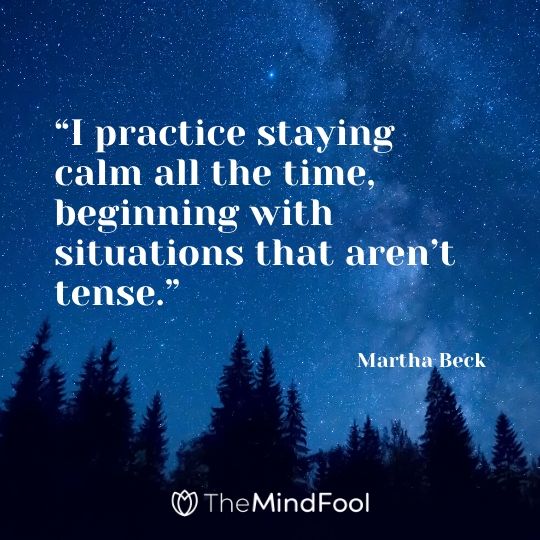 Practice calmness always, in every situation that you might be in.
57 "A desire arises in the mind. It is satisfied immediately when another comes. In the interval which separates two desires a perfect calm reigns in the mind. It is at this moment freed from all thought, love or hate. Complete peace equally reigns between two mental waves."

– Swami Sivananda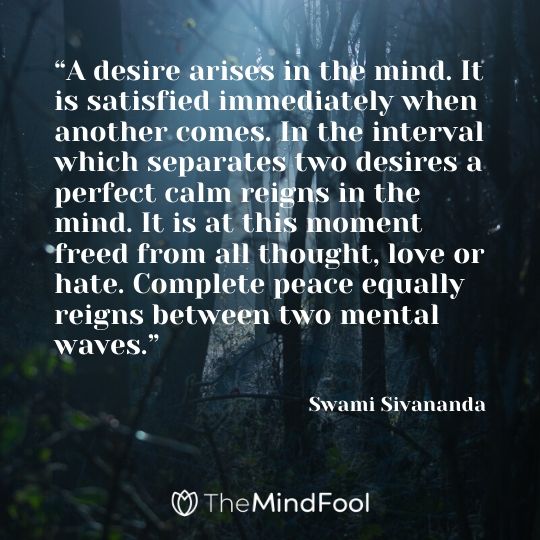 We have endless desires to satisfy. It robs you of calm moments. A perfect peaceful moment can only happen when you remain happy and satisfied with whatever you have.
58 "There are some things you learn best in calm, and some in storms."

– Willa Cather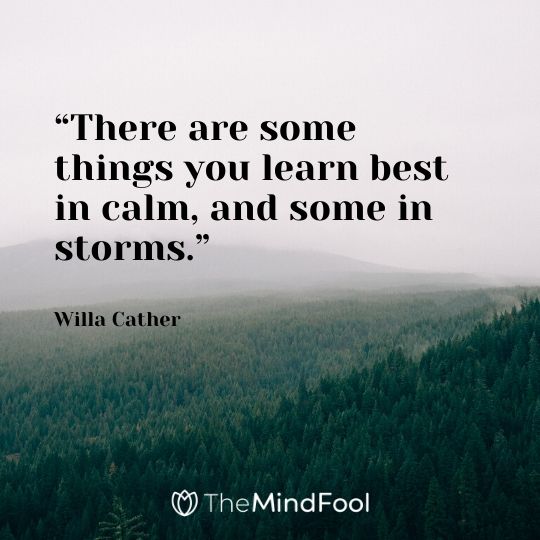 Life lessons are varied in nature. You can learn the efficacy of calmness and stress at the same moment.
59 "It's all about finding the calm in the chaos."

– Donna Karen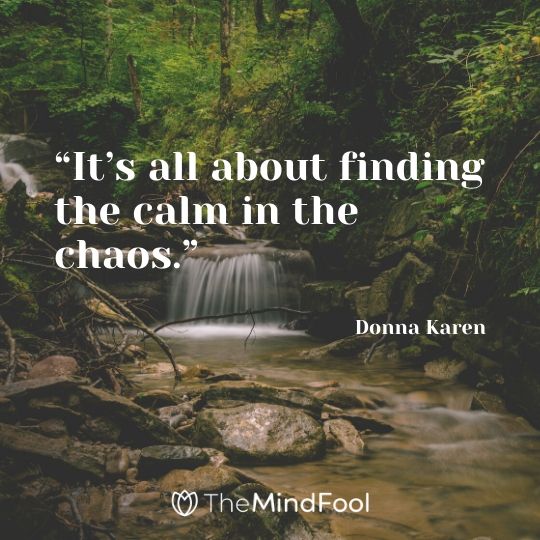 You can be a winner, if you find calmness amidst all chaos and confusion around.
60 "The less you respond to negative people, the more peaceful your life will become."

– Buddha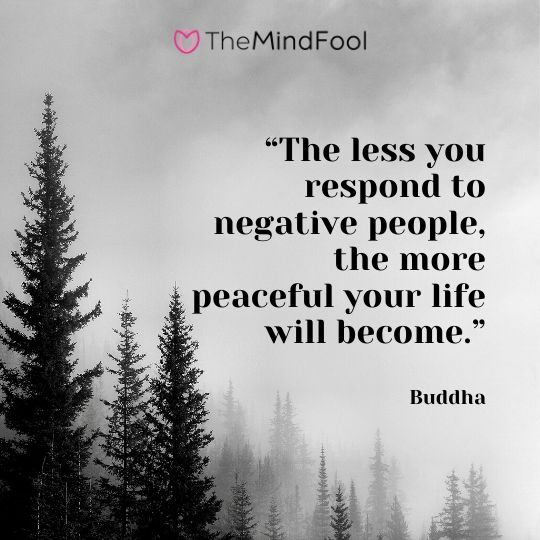 Stay away from negative people who follow the path of blame and criticism. You can never get a peaceful seat beside them.
Calming Quotes
61 "Be like a duck, paddling and working very hard inside the water, but what everyone sees is a smiling and calm face."

– Manoj Arora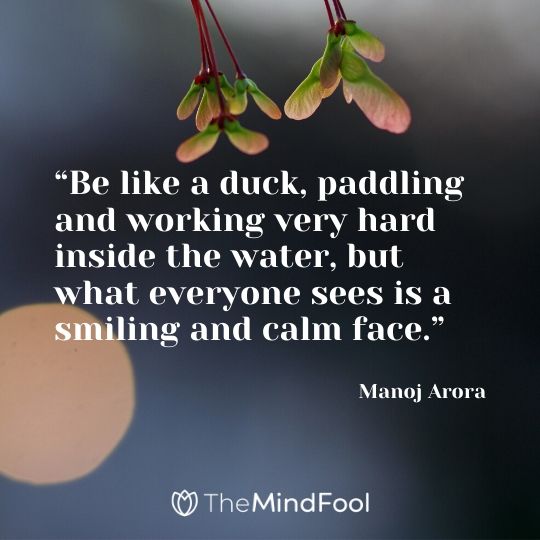 If you look calm from outside, you are thoughtful from within. Slowly contemplating over your thoughts with insight.
62 "Make your heart like a lake with a calm still surface, and great depths of kindness."

– Lao Tzu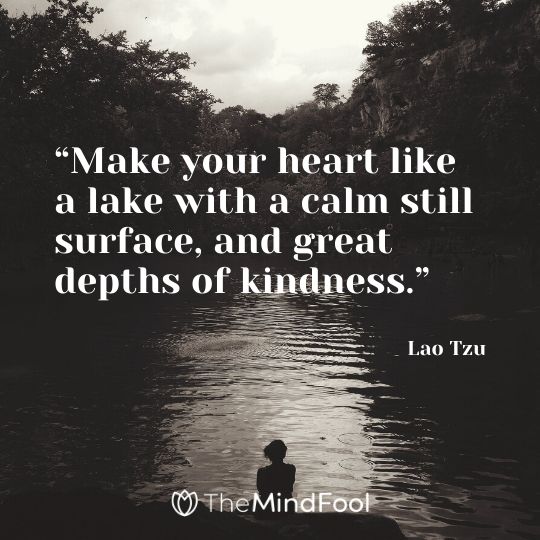 Depths of kindness and happiness symbolize a lake within you, filled with tranquility.
63 "The mind is like water. When it's turbulent, it's difficult to see. When it's calm, everything becomes clear."

– Prasad Mahes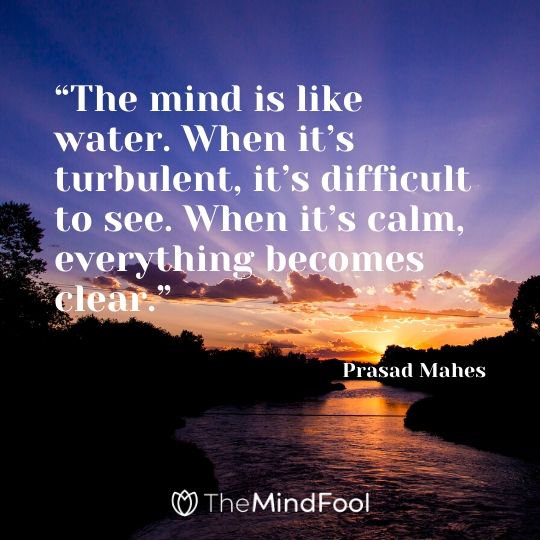 Human mind is like water. The more peaceful it is, the easier is to experience the depths beneath.
64 "The true strength of a man is his calmness."

– Leo Tolstoy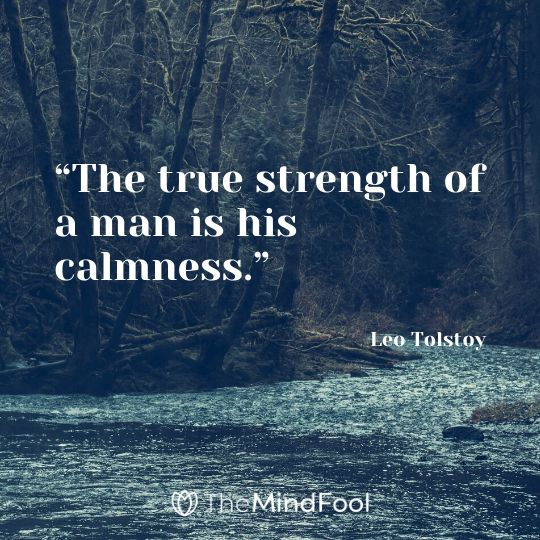 Being calm gives strength. It is super powerful.
65 "Calmness is a huge gift. And once you master it, you will be able to respond in a useful way to every difficult situation that decides to walk into your heart."

– Geri Larkin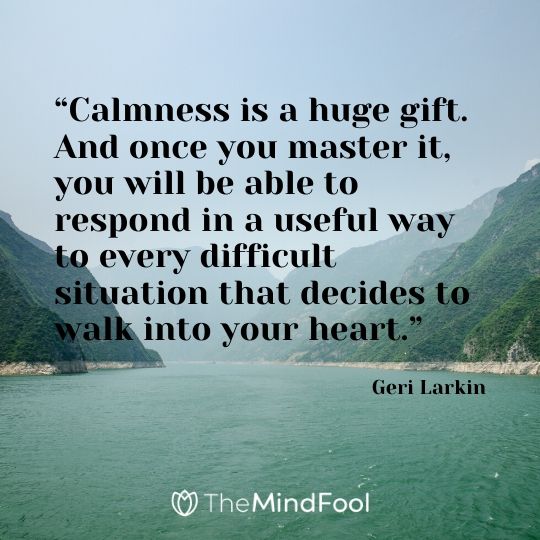 Calmness is a lifetime treasure because it teaches you the art of responding right in every situation that you may be in.
66 "Today start your day with a smile, calmness of mind, coolness of emotions and a heart filled with gratitude."

– Anonymous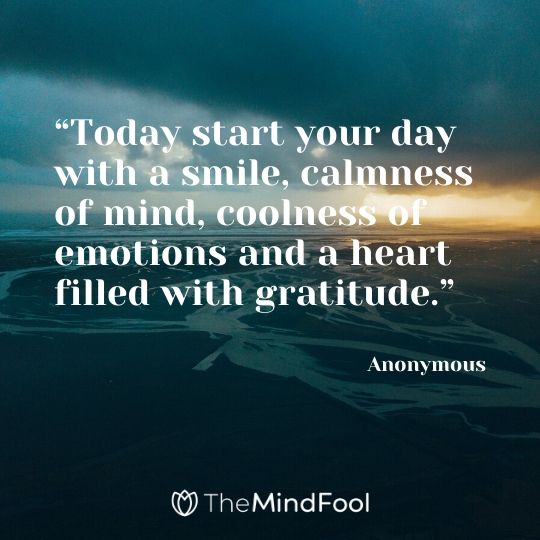 Start your day by being calm and grateful with a big fat smile to adorn you.
67 "Retire to the center of your being, which is calmness."

– Paramahansa Yogananda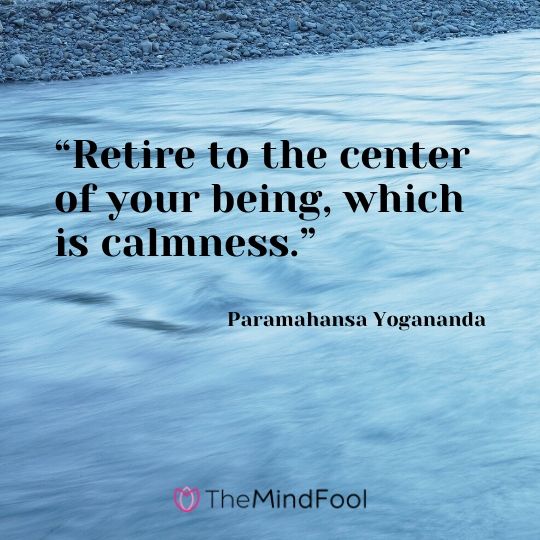 The essence of your existence is calmness. Relish it every moment.
68 "There will be calmness, tranquility when one is free from external objects and is not perturbed."

– Bruce Lee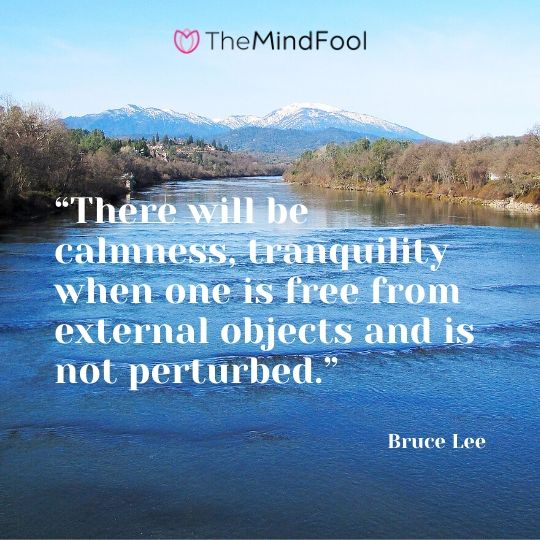 Calmness comes; when you do not get disturbed by desires and temptations.
69 "Respect your calmness because it is the loudest voice of your strength."

– Anonymous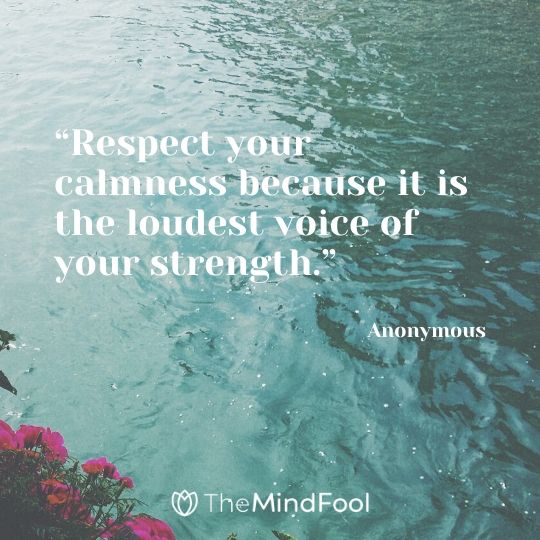 Calmness is strength. Respect it and incorporate it into your life.
70 "Open the door of your calmness, and let the footsteps of silence gently enter the temple of all your activities."

– Paramahansa Yogananda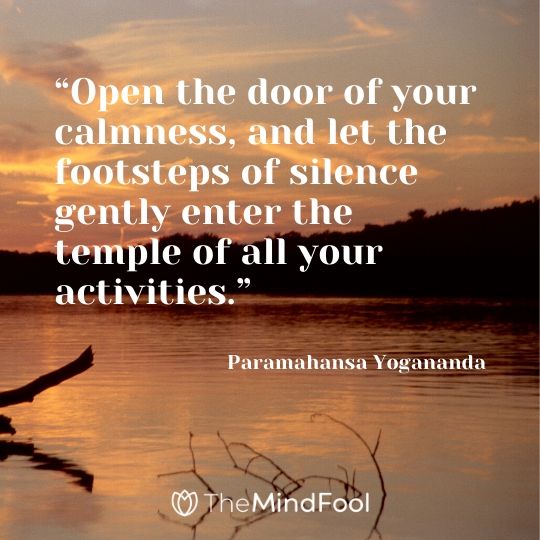 Let silence be your greatest power.
71 "A calm mind is able to see things logically and with clarity. Stillness of mind can only be achieved by relieving it of negativity, it becomes necessary to rid it of waste and fill it with nothing but positivity."

– Anonymous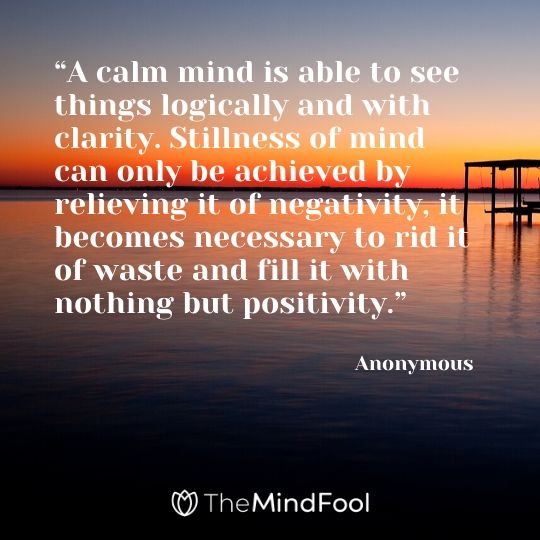 A peaceful mind can harbor positive thoughts and pure feelings. Quietness of the mind is a storehouse of insight and understanding.
72 "When you have inner calmness then you automatically succeed in what you do. The more silent you are from inside, your thoughts and actions become more powerful."

– Sri Sri Ravi Shankar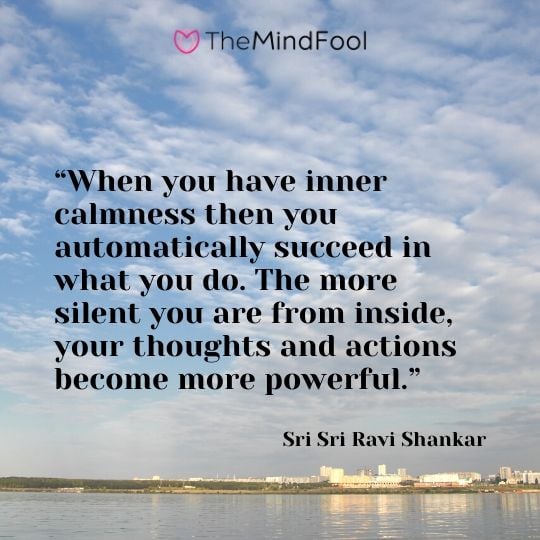 Your inner calmness gives you immense success in whatever you do.
73 "Within you, there is stillness and a sanctuary to which you can retreat at any time and be yourself."

– Hermann Hesse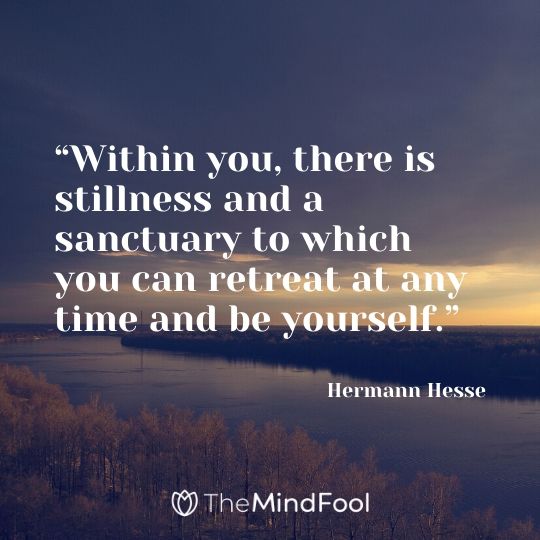 Calmness resides within, you can easily tap into it, in times of trouble.
74 "Many a calm river begins as a turbulent waterfall, yet none hurtles and foams all the way to the sea."

– Mikhail Lermontov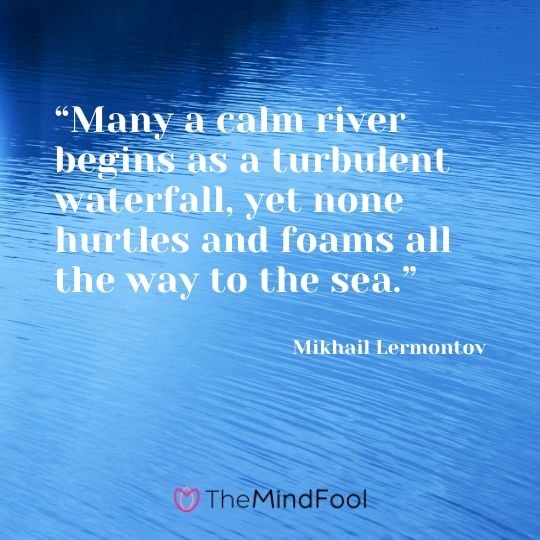 Human mind is full of wandering and turbulent thoughts. It changes its course while you move on to take guided actions. Thoughts cool down on its journey towards accomplishment of goals.
75 "The more tranquil a man becomes, the greater is his success, his influence, his power for good. Calmness of mind is one of the beautiful jewels of wisdom."

– James Allen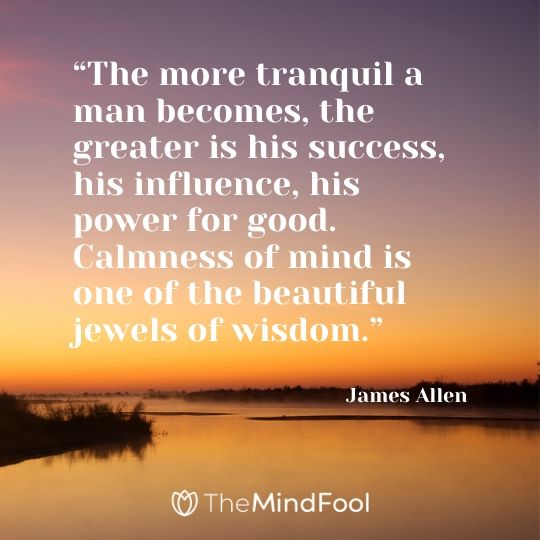 Tranquility gives birth to success and achievement. Calmness is a jewel that beautifies your soul.
76 "Do not ever get agitated by provoking thoughts and actions. Always keep your calm. This will shame the alien."

– Lailah Gifty Akita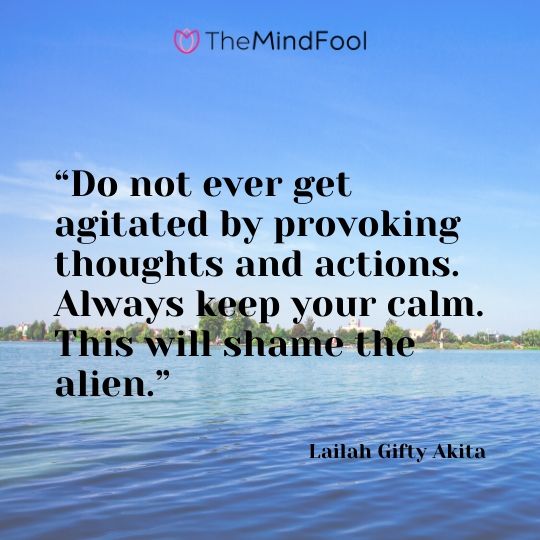 Never get bothered by provoking thoughts and feelings. it will rob you of inner peace.
77 "A wild person with a calm mind can make anything."

– Eric Maisel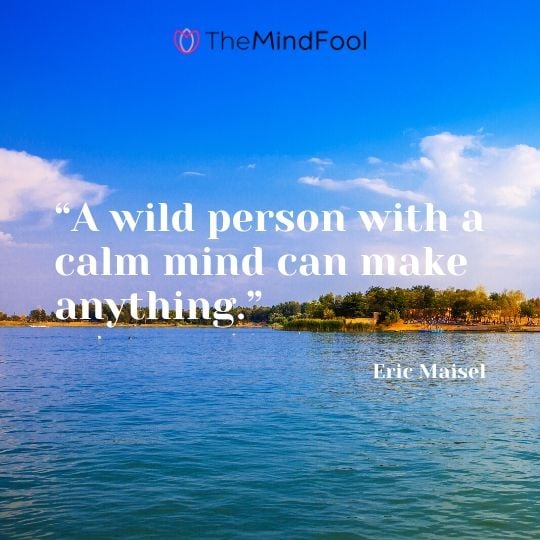 Calmness can conquer all evils and deliver the best outcome.
78 "Calm your mind, life becomes more crystal clear."

– Anonymous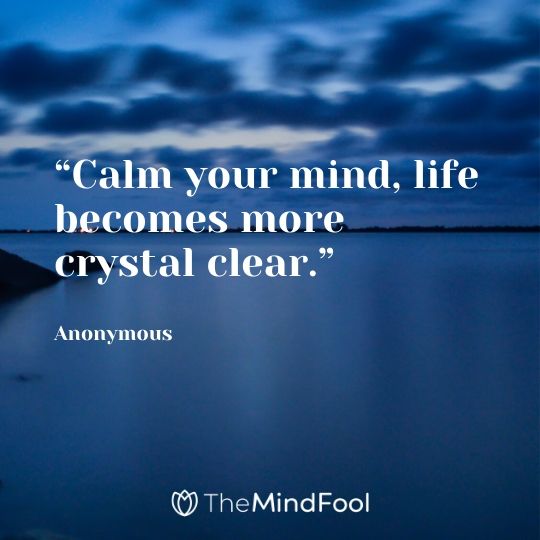 Pause for a while and you will be able to see things clearly amidst all chaos going around.
79 "Make peace with mind, it's your best ally."

– Anonymous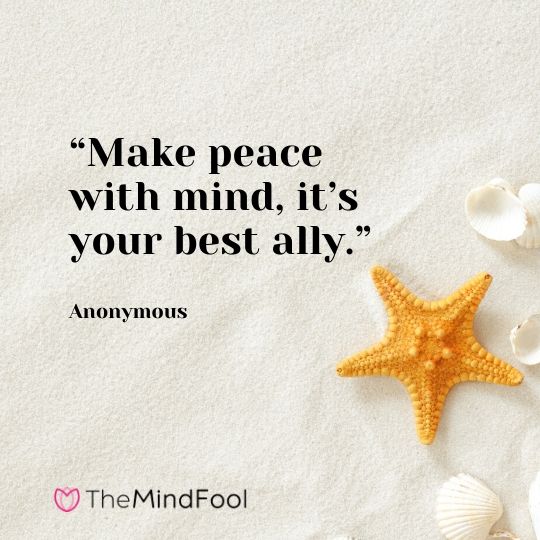 If you are peaceful, you can tame your wandering mind and make it your best support.
80 "Calmness is the cradle of power."

– Josiah Gilbert Holland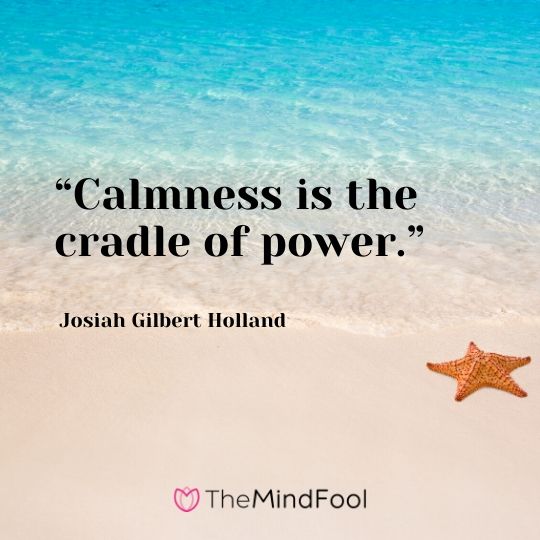 Nurture calmness within you and experience it's amazing benefits.
Quotes about Being Calm
81 "Those who are free from resentful thoughts surely find peace."

– Buddha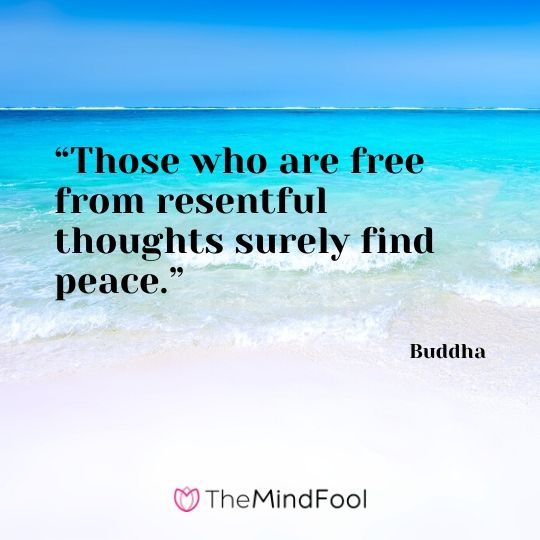 Harboring resentful thoughts against others can take away your inner peace. Forgiveness is strength, do it and feel it.
82 "Silence is true wisdom's best reply."

– Euripides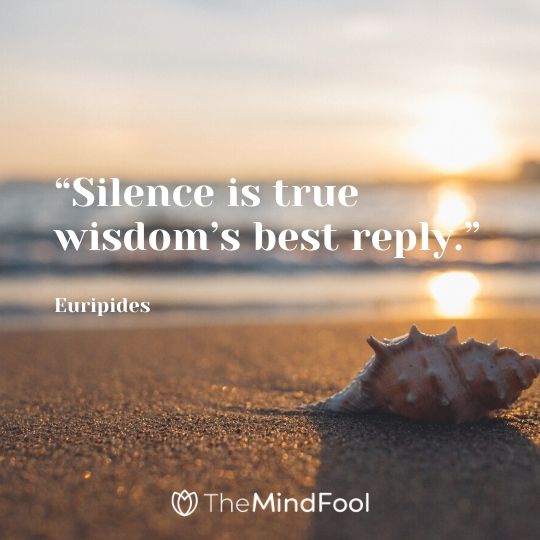 Being quiet doesn't mean submissiveness. It just means to borrow more time to think and contemplate the right thoughts and gain more knowledge.
83 "Peace begins with a smile."

– Albert Einstein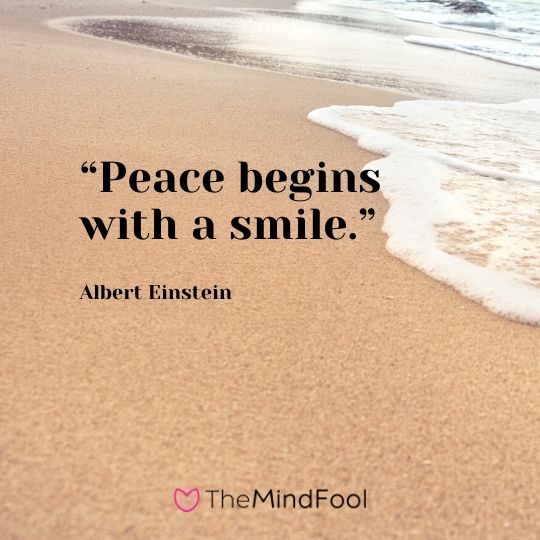 When you are happy, put a big smile on your face to show that you are peaceful within.
84 "If it comes, let it come. If it goes, it's Okay, let it go. Let things come and go. Stay calm, don't let anything disturb your peace, and carry on."

– Germany Kent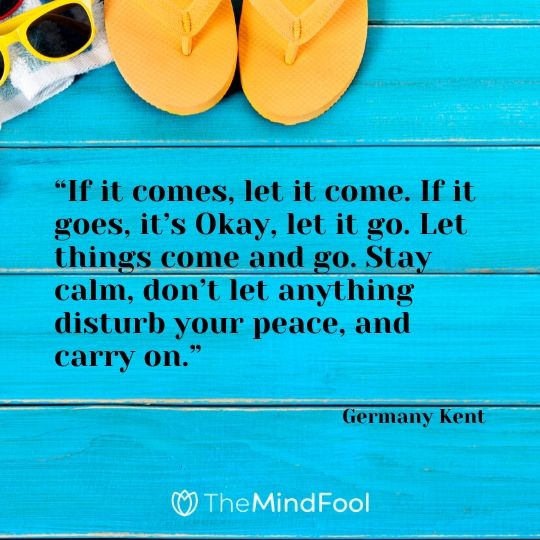 Let not external circumstances bother you and disturb your peace of mind.
85 "He who is content is rich."

– Lao Tzu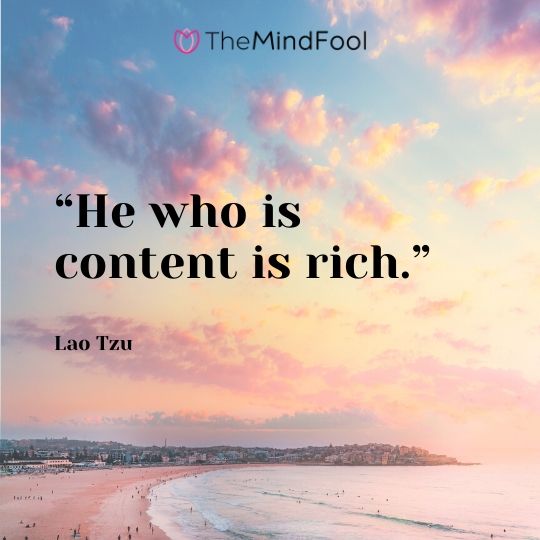 Content brings satisfaction and peace of mind.
86 "Peace comes from within. Do not seek it without."

– Buddha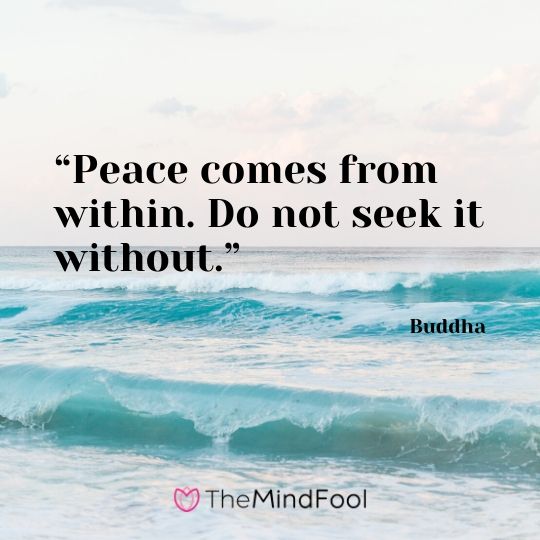 Search for your inner realm of peacefulness. It really works.
87 "The day she let go of the things that were weighing her down, was the day she began to shine the brightest."

– Katrina Mayer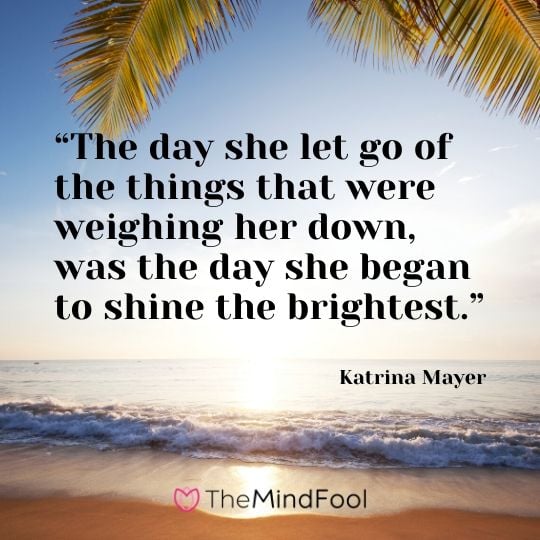 Shine in your own light by being calm and happy.
88 "Learning to ignore things is one of the great paths to inner peace."

– Robert J.Sawyer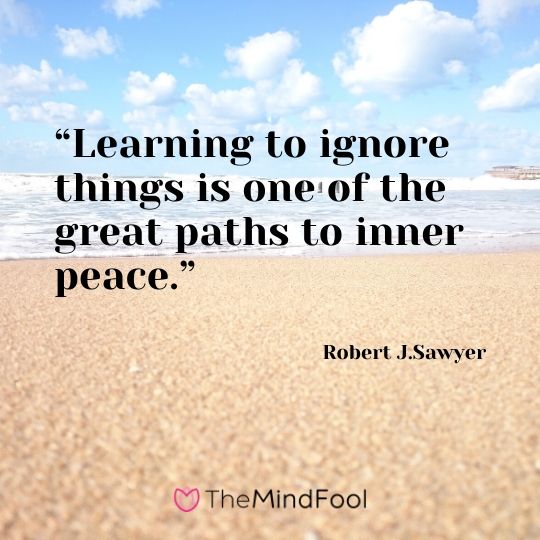 Let go of things and see the magic created within you.
89 "Inner peace is beyond victory or defeat."

– Bhagavad Gita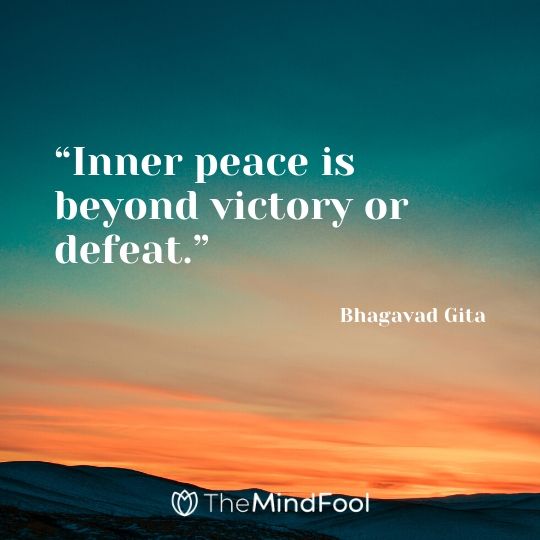 Inner peace resides in you. it starts with you and ends with you.
90 "Everything can be done better from a place of relaxation."

– Stephen C.Paul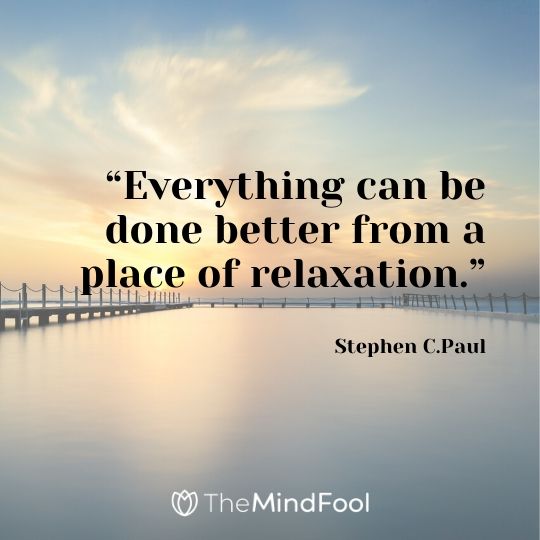 You perform well, if you are in a relaxed state of mind; at peace with yourself.
Calm Mind Quotes
91 "Fair peace becomes men; ferocious anger belongs to beasts."

– Ovid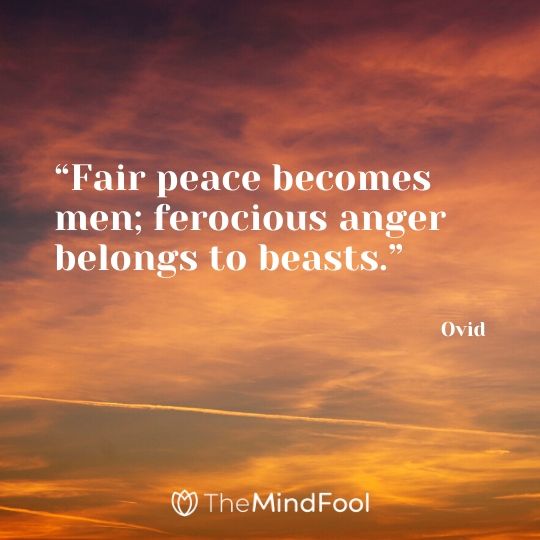 Stop reacting to anger. It makes things worse. Peace is the armor of the wise.
92 "Panic causes tunnel vision. Calm acceptance of danger allows us to more easily assess the situation and see the options."

– Simon Sinek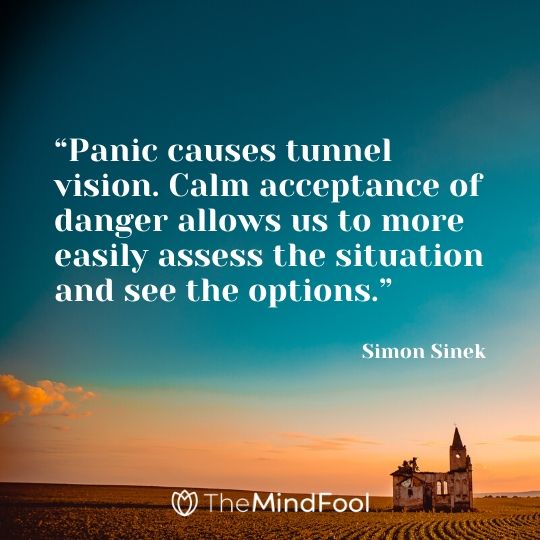 A calm mind has the power to assess things before responding to it; panic is weakness; calmness is strength.
93 "Peace can become a lens through which you see the world. Be it. Live it. Radiate it out. Peace is an inside job."

– Wayne Dyer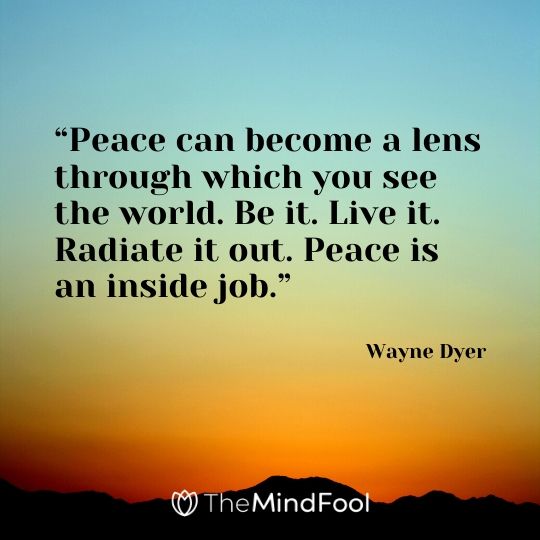 Peace within can do wonders. It is the mirror that reflects things happening within you and around you.
94 "The life of inner peace, being harmonious and without stress is the easiest type of existence."

– Norman Vincent Peale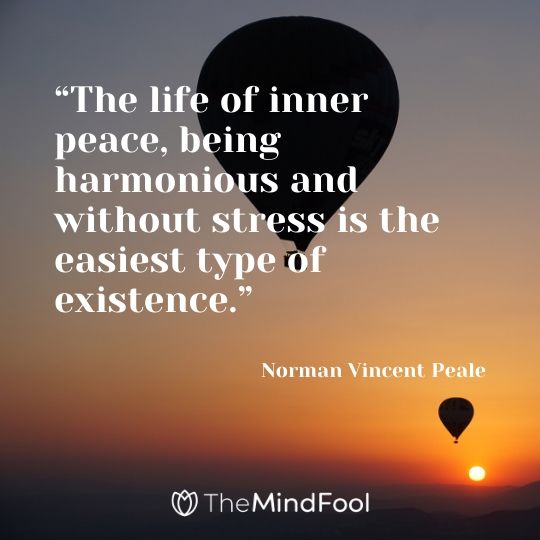 A peaceful and harmonious life is a symbol of your authentic existence.
95 "Patience is not the ability to wait. Patience is to be calm no matter what happens, constantly take action to turn it to positive growth opportunities, and have faith to believe that it will all work out in the end while you are waiting."

– Roy.T Bennett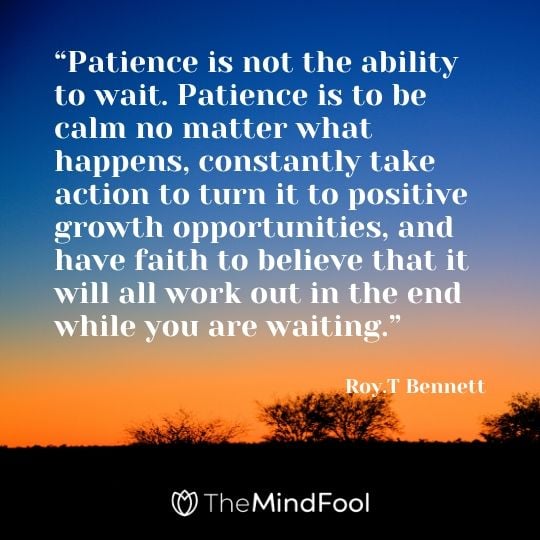 Be patient in all circumstances. It turns opportunities into actions. Have trust in your intuitions to keep going.
96 "We must go beyond the constant clamer of ego, beyond the tools of logic and reason, to the still, calm place within us: the realm of the soul."

– Deepak Chopra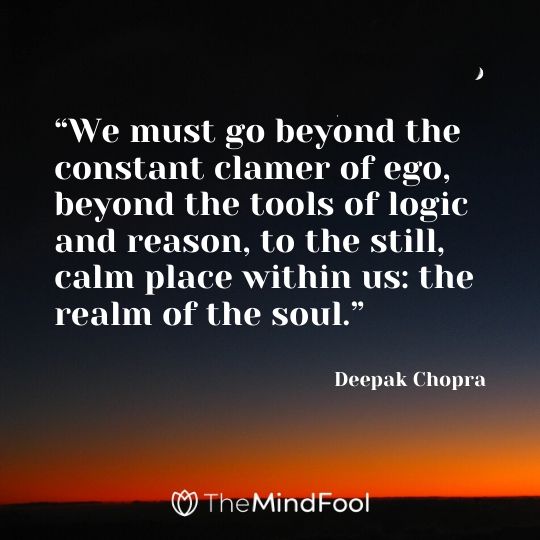 Peace is the hallmark of all endeavors. Leave aside your ego and tap a peaceful place in your heart to reside and evolve.
97 "Sometimes you can find peace of mind by transferring yourself to different situations. They're just reminders to stay……..calm."

– Yves Behar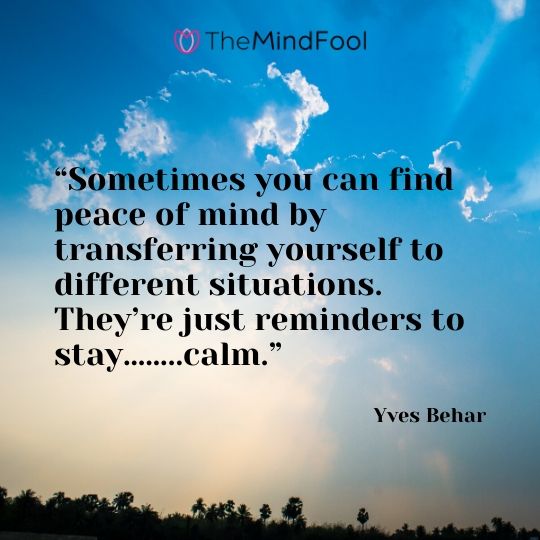 Confronting various life experiences teaches you ways to remain calm.
98 "Attain peace with self understanding. Attain self understanding with silence."

– Maxime Lagace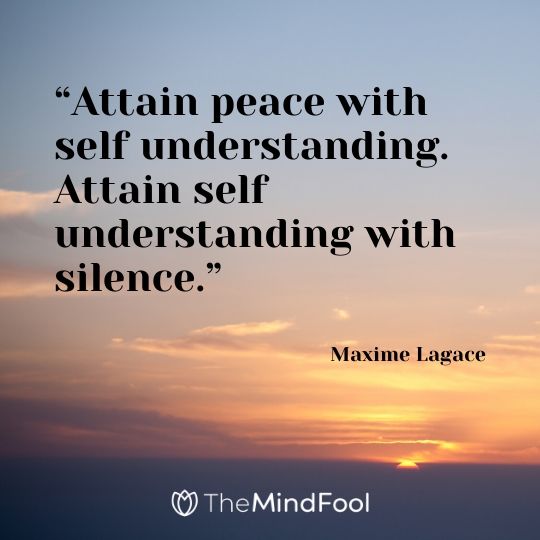 Peace comes from understanding 'self'. You know yourself well, when there is inner silence.
99 "Each one has to find his peace from within. And peace to be real must be unaffected by outside circumstances."

– Ralph Waldo Emerson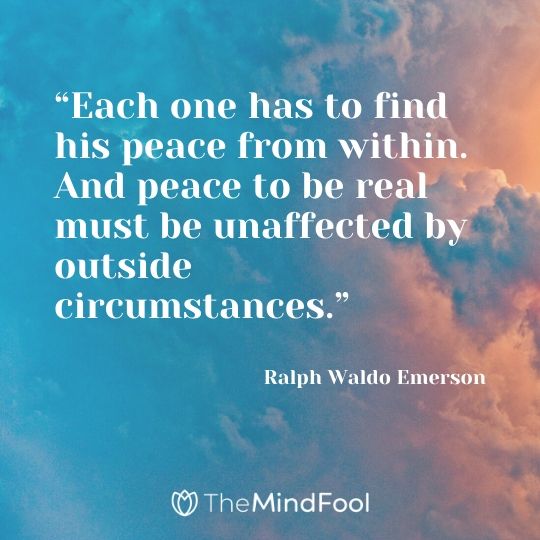 Find peace within you that is authentic and unaltered by outside situations.
100 "Never be in a hurry; do everything quietly and in a calm spirit. Do not lose your inner peace for anything whatsoever, even if your whole world seems upset."

– Saint Francis de Sales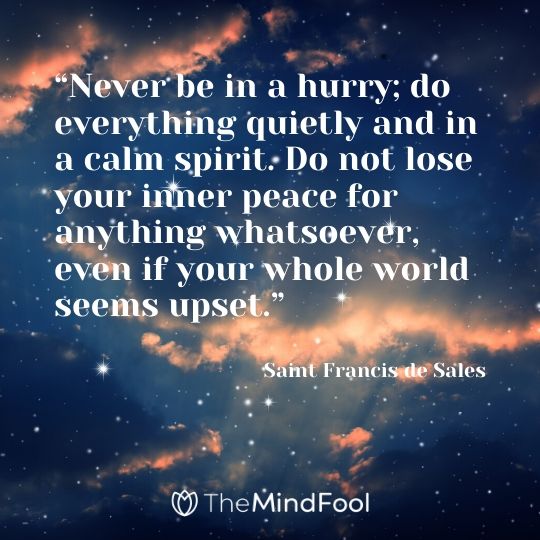 Even if everything seems to go wrong, remain calm and serene.
101 "The pursuit even of the best things ought to be calm and tranquil."

– Marcus Tullius Cicero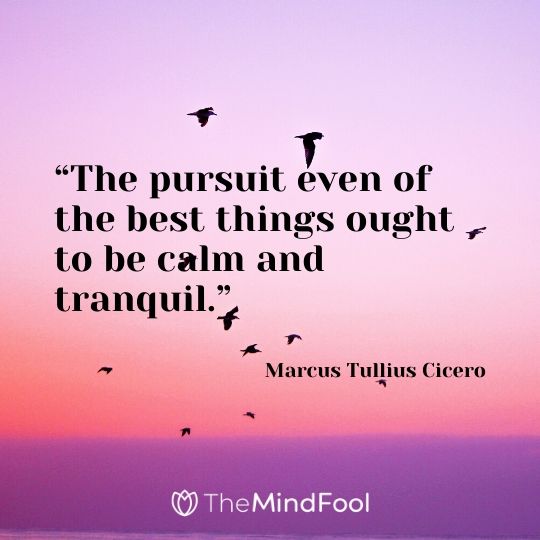 Anything that you pursue to accomplish should be in a calm state of mind.
Benefits of Staying Calm
---
As already said, being calm is a state of peace. So it is evident that calmness can bring good things in your life. It is your strength and a weapon to combat all evils like anger, frustration, and jealousy. A calm and peaceful person can think logically. He responds more and reacts less.
If you are peaceful within, you can handle various life situations with tact and logic. There will be no place for anguish or bitterness.
The importance of this lifelong asset is –
A free and relaxed mind can think with clarity. If you are calm, you can provide better solutions to many of the problems.
Calmness is important for developing good concentration and focus. If you are restless, you can't be focused.
Being calm helps you to make meaningful and well thought out decisions.
Calmness gives you relief from anxiety and negative emotions. It improves your happiness quotient.
You are able to develop a positive mindset that is free from bitterness and negative energies.
It saves you from creating chaos in various situations that you come across regularly.
You can discuss things with others peacefully without fights and arguments.
A calm state of mind enhances your physical and mental health.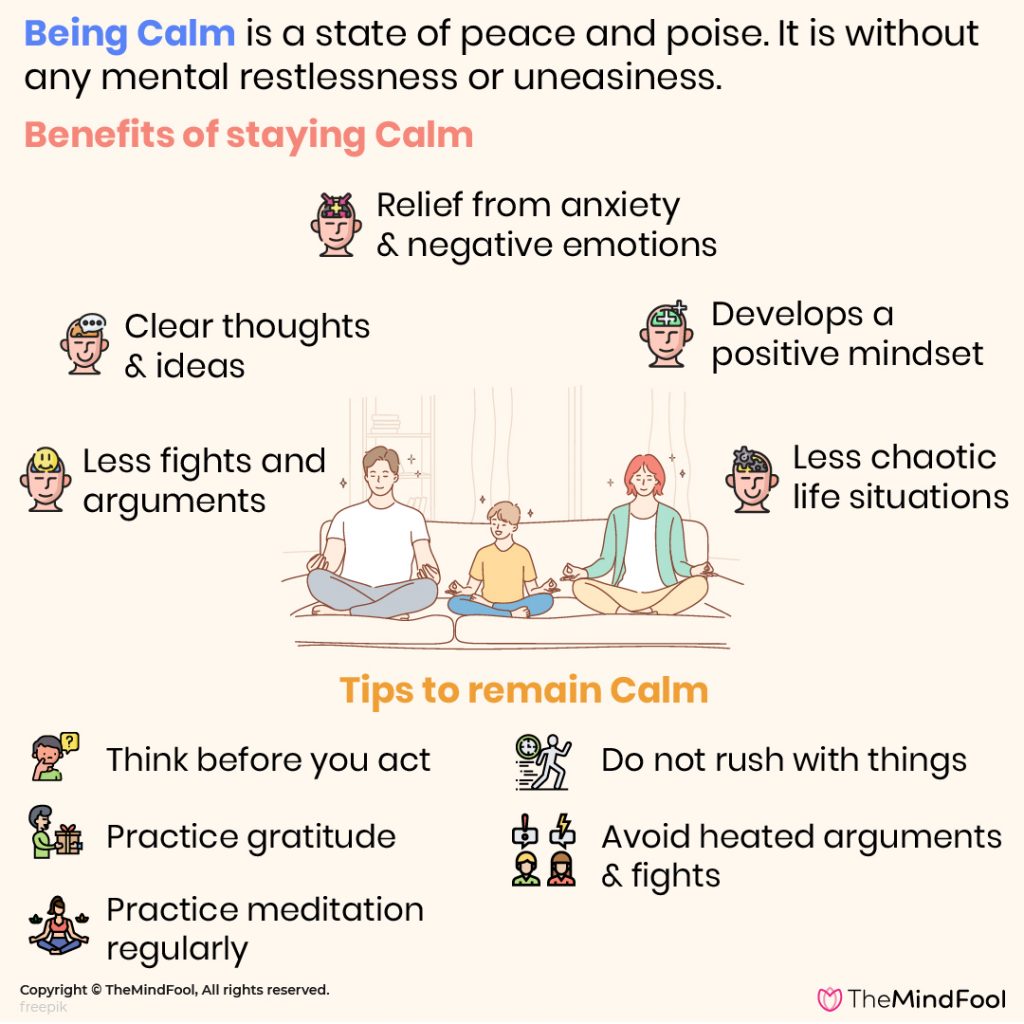 Closing Thoughts
A deep sense of silence within can become your greatest strength of all times. Why not explore it too often? Calmness is a habit that needs to be nurtured, so that you can hear your thoughts and rediscover your feelings.
Staying calm is important today and every day. Build your life around it.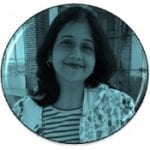 Chandrani Mukherjee
A Psychologist with a master's degree in Psychology, a former school psychologist, and a teacher by profession Chandrani loves to live life simply and happily. She is an avid reader and a keen observer. Writing has always been a passion for her, since her school days. It helps to de-stress and keeps her mentally agile. Pursuing a career in writing was a chance occurrence when she started to pen down her thoughts and experiences for a few childcare and parenting websites. Her lovable niche includes mental health, parenting, childcare, and self-improvement. She is here to share her thoughts and experiences and enrich the lives of few if not many.