Our mind is a tricky domain, as we are always troubled by the wandering thought that keeps us away from attaining serenity. The everyday chaos makes it impossible to experience the calmness that we need the most. Peace of mind quotes empowers you with resilience and mental strength to experience inner calmness amidst the chaos.
51 Peace of Mind Quotes
---
Peace quotes are inspirational messages to experience inner calmness and silence.
1 "You will never find peace of mind until you listen to your heart."

– George Michael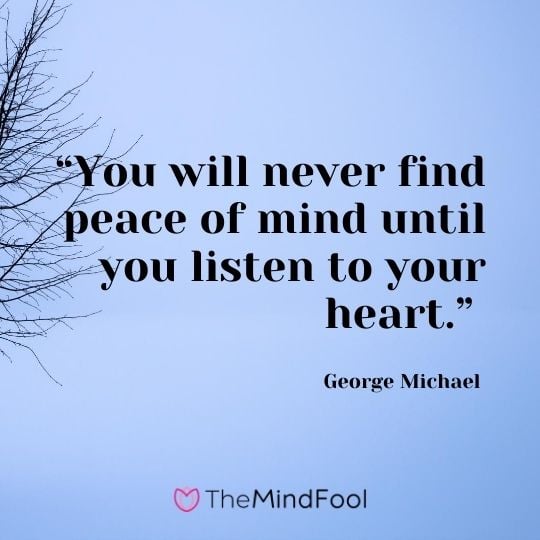 Explore your heart and find peace within.
2 "Do not let the behavior of others destroy your inner peace."

– Dalai Lama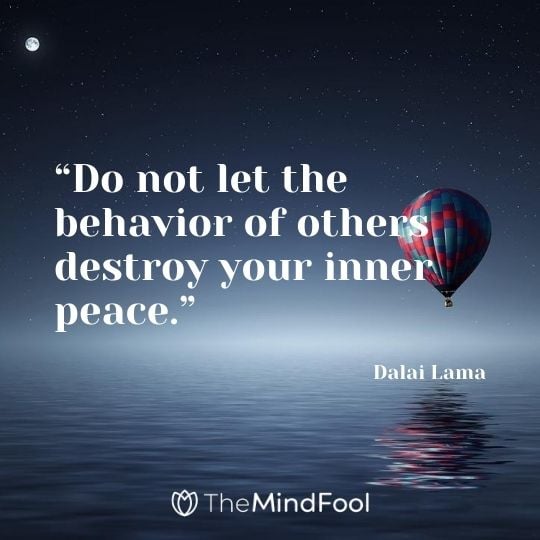 Ignore people who take away your inner peace.
3 "Peace is the result of retraining your mind to process life as it is, rather than as you think it should be."

– Wayne. W. Dyer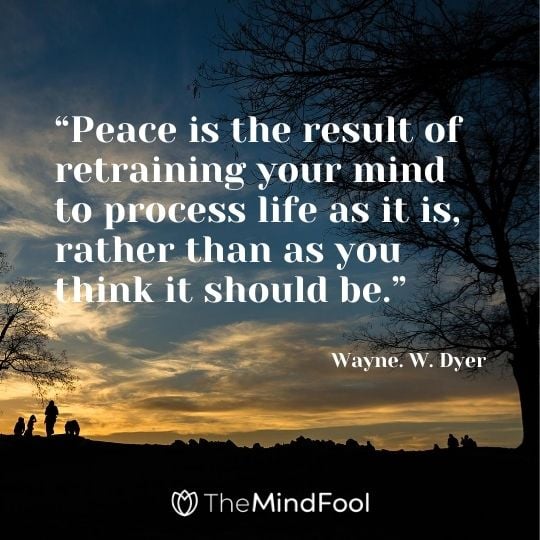 Accept life as it is, without judgments and evaluations. Then only peace of mind is made possible.
4 "To find peace not by rearranging the circumstances of your life, but by realizing who you are at the deepest level."

– Eckhart Tolle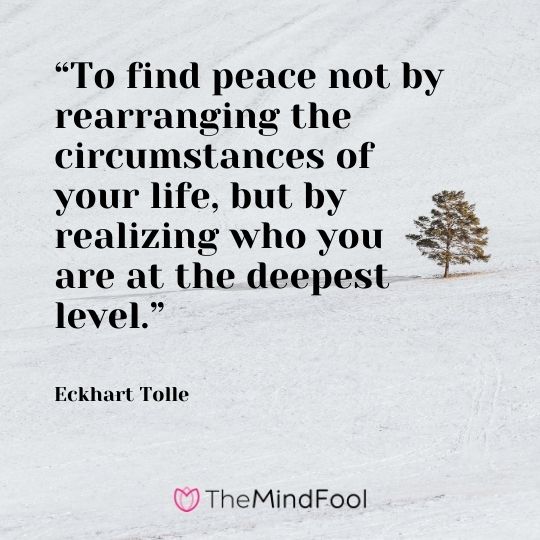 Self-introspection and self-awareness is the only way to determine peace of mind.
5 "If there is no inner peace, people can't give it to you. The husband can't give it to you. Your children can't give it to you. You have to give it to you."

– Linda Evans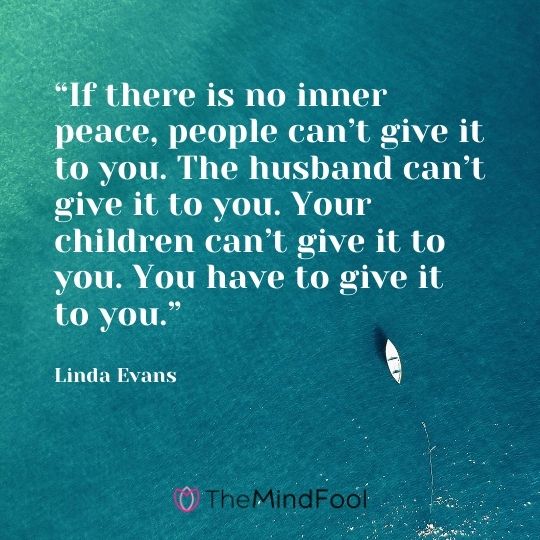 Nobody can give you inner peace, except you.
6 "It isn't enough to talk about peace. One must believe in it. And it isn't enough to believe in it. One must work at it."

– Eleanor Roosevelt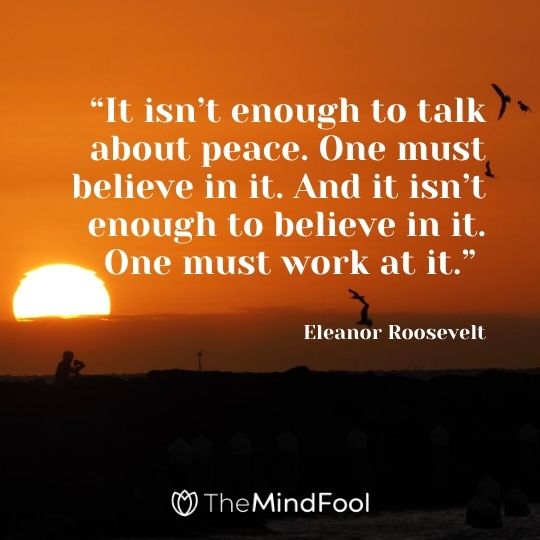 Peace of mind requires dedicated thoughts and efforts to make it happen.
7 "Nobody can bring you peace but yourself."

– Ralph Waldo Emerson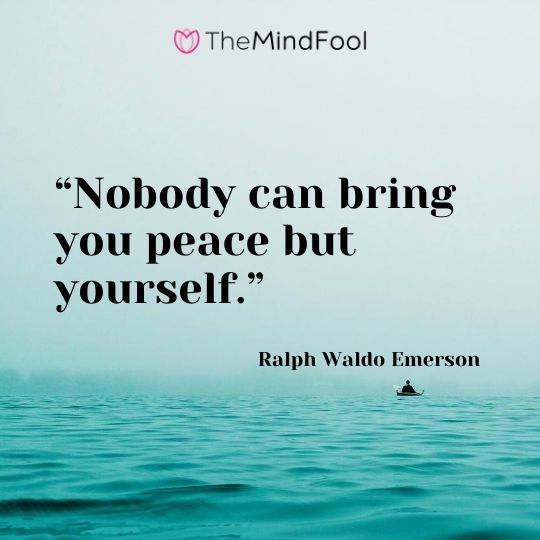 It's you and only you, responsible for inner peace.
8 "Peace is liberty in tranquility."

– Marcus Tullius Cicero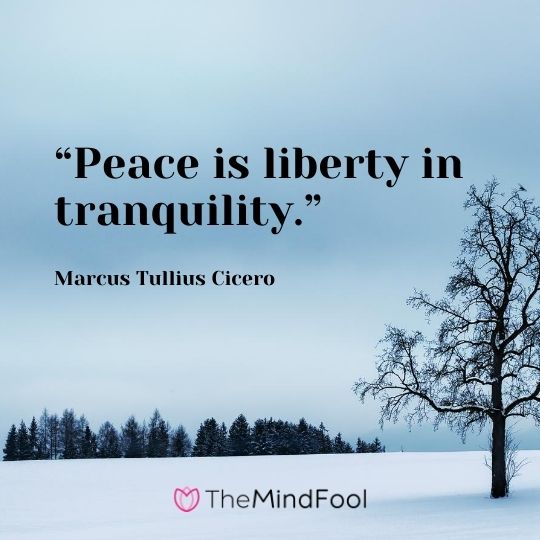 A peaceful state of existence is all about freedom from worries and anxieties.
9 "Peace is its own reward."

– Mahatma Gandhi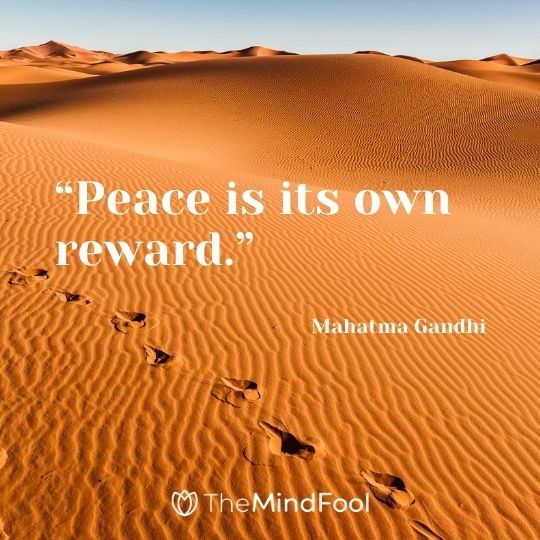 A rewarding life starts and ends with peace.
10 "The life of inner peace, being harmonious and without stress is the easiest type of existence."

– Norman Vincent Peale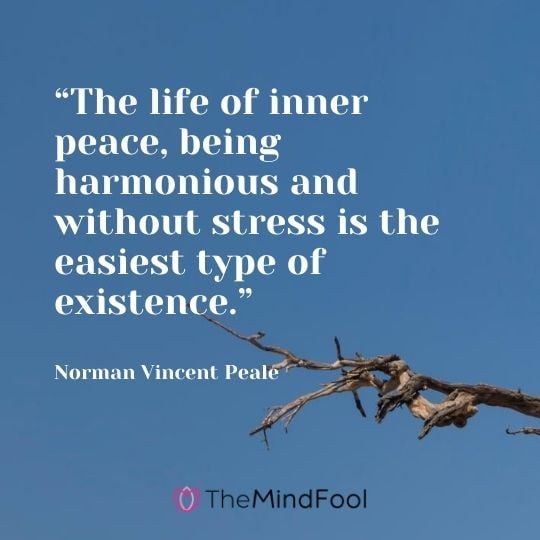 A peaceful state of existence is harmonious, free from worries and stress.
11 "If you cannot find peace within yourself, you will not find it anywhere else."

– Marvin Gaye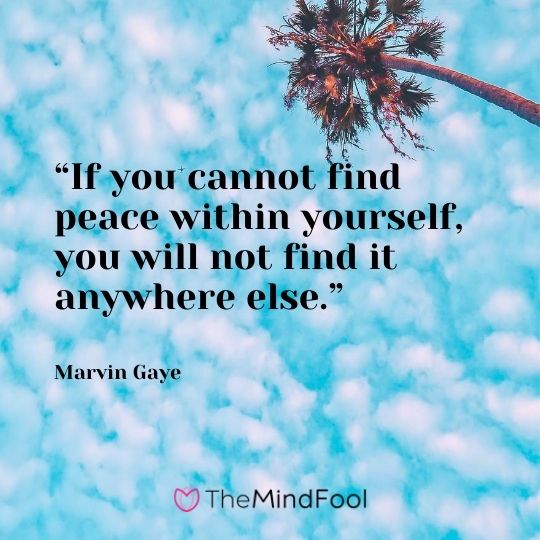 Find peace of mind within you; not without.
12 "Peace is always beautiful."

– Walt Whitman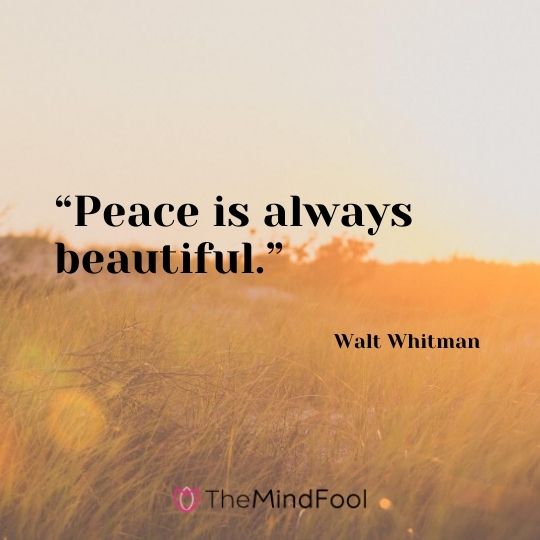 Peace is ever beautiful because it brings happiness and serenity within you.
13 "For every minute you remain angry, you give up sixty seconds of peace of mind."

– Ralph Waldo Emerson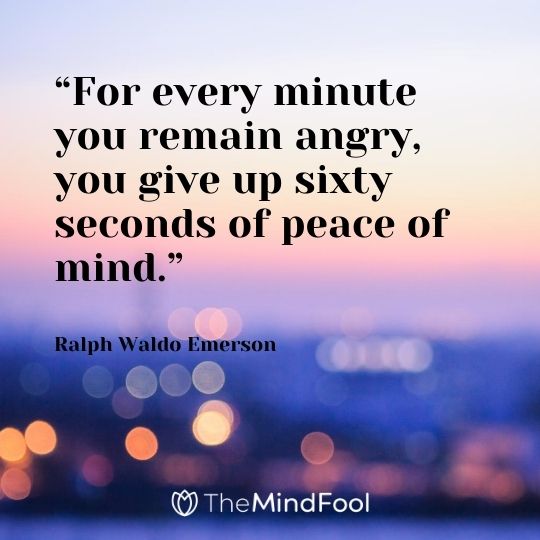 Anger robs you from enjoying peace of mind.
14 "Negative emotions like hatred destroy our peace of mind."

– Matthieu Ricard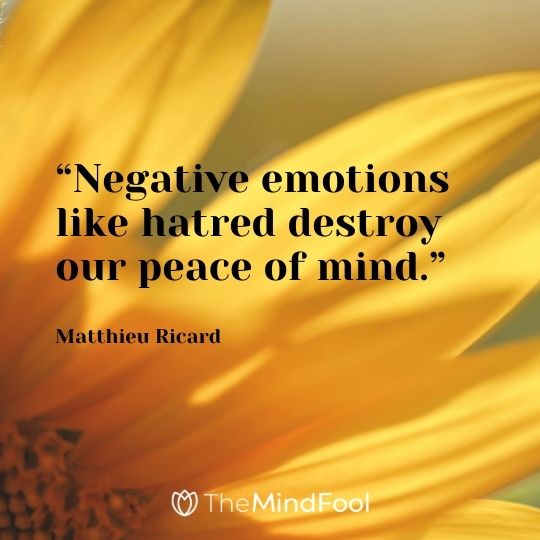 Negative emotions are detrimental to peace of mind.
15 "Nothing is more conducive to peace of mind than not having any opinion at all."

– George C.Litenberg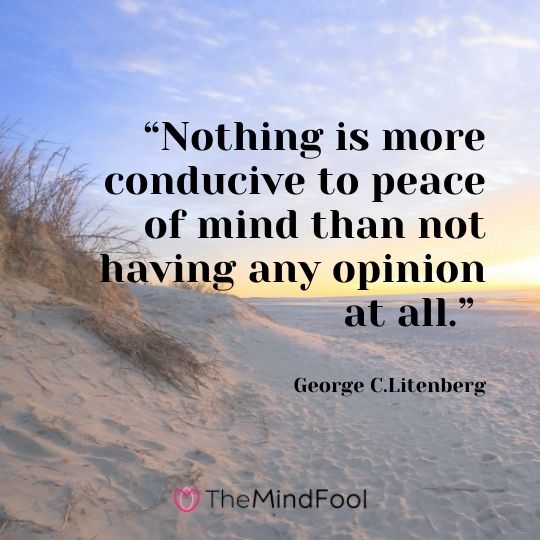 Avoid giving opinions to maintain peace within you and around you.
16 "I can have peace of mind only when I forgive rather than judge."

– Gerald Jampolsky
Peace of mind is possible when you learn to forgive more and judge less.
17 "Dedicate yourself to the good you deserve and desire for yourself. Give yourself peace of mind. You deserve to be happy. You deserve delight."

– Mark Victor Hansen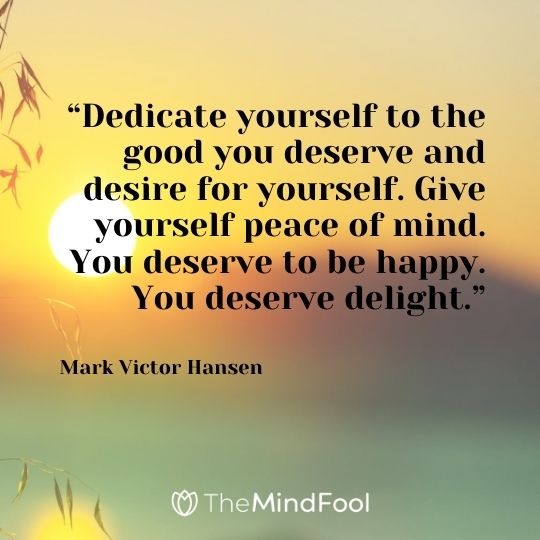 Happiness and delight comes with peace of mind.
18 "Peace of mind for five minutes, that's what I crave."

– Alanis Morissette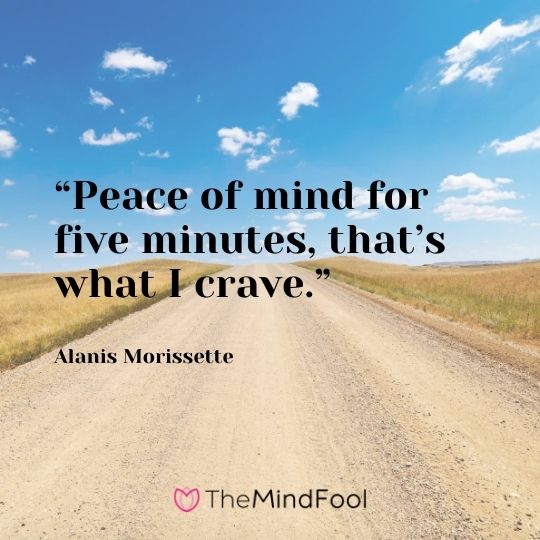 Everyone craves for a peaceful state of mind, even if for five minutes.
19 "You will find peace not by trying to escape your problems, but by confronting them courageously. You will find peace not in denial, but in victory."

– J.Donald Walters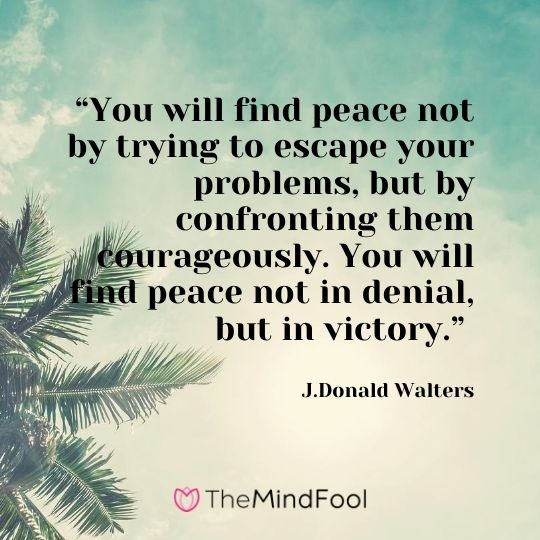 Accept and solve your problems to attain peace of mind. Avoidance and denial leads to failure and destroys serenity.
20 "Peace cannot be kept by force. It can only be achieved by understanding."

– Albert Einstein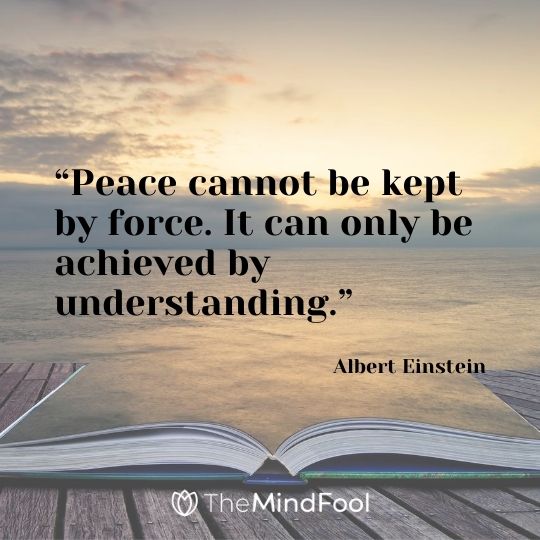 Peace is a matter of understanding and not forceful application of one's endeavor.
21 "Peace is not absence of conflict. It is the ability to handle conflict by peaceful means."

– Ronald Reagan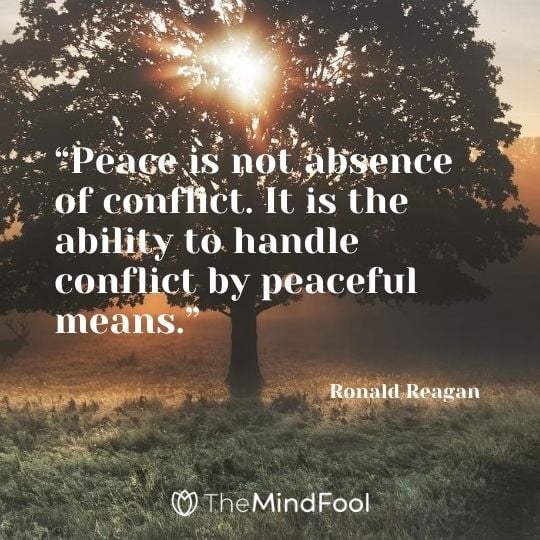 Conflicts are a part of our living. Peaceful ways to handle conflict is the best form of learning.
22 "When you make peace with yourself, you make peace with the world."

– Maha Ghosananda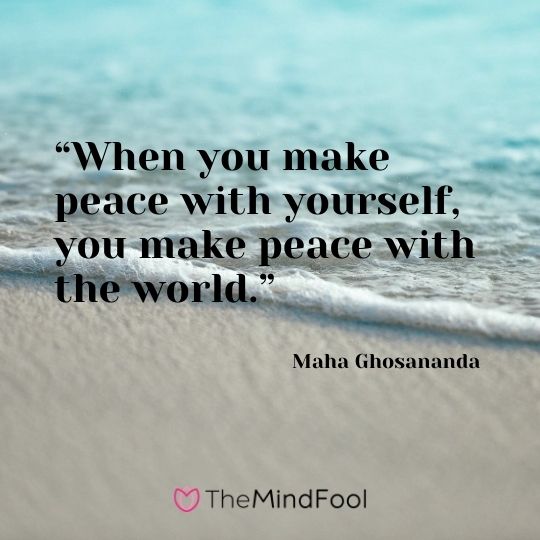 Peace within means staying in a peaceful world.
23 "Nothing can disturb your peace of mind unless you allow it to."

– Roy. T. Bennett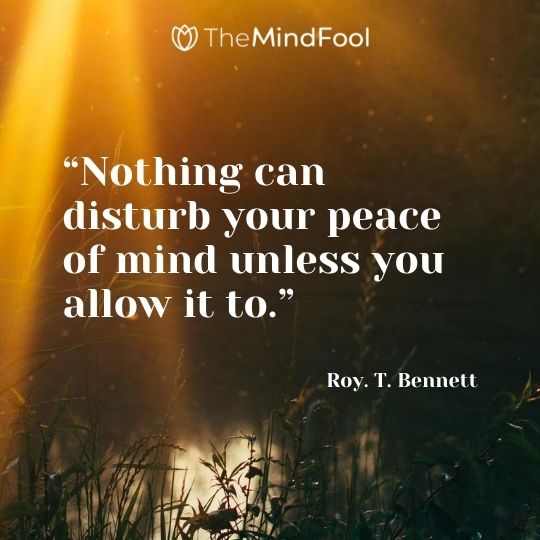 No one can take away your peace; if you do not allow it.
24 "Anger is the ultimate destroyer of peace of mind."

– Dalai Lama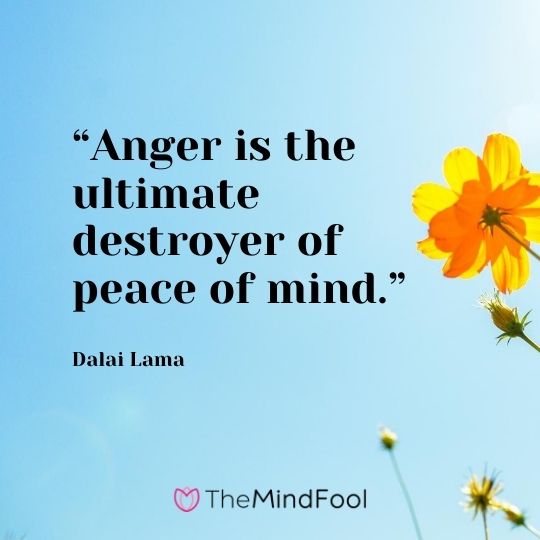 Anger sabotages peace of mind.
25 "Make peace of mind your priority."

– Anonymous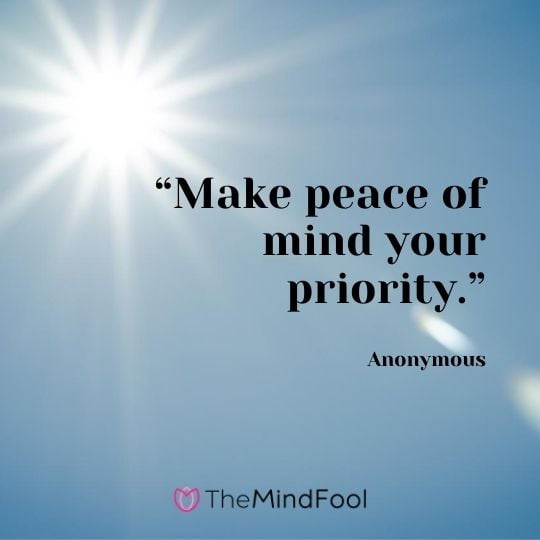 Peace of mind should be your highest goal in life.
26 "If you want peace of mind, stop fighting with your thoughts."

– Anonymous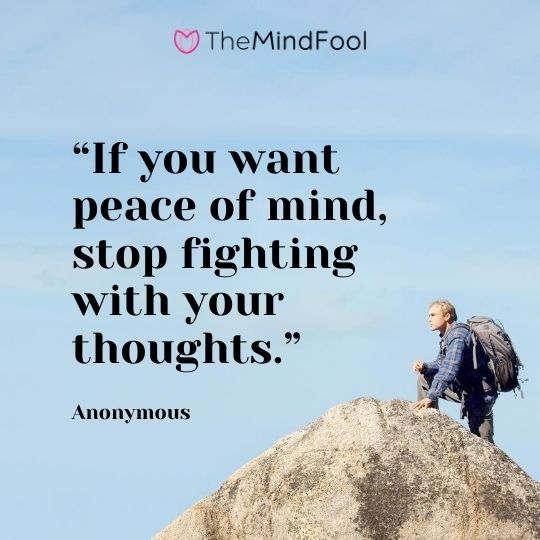 Your disturbing thoughts bother your peace of mind. Keep it at bay.
27 "Gratitude is one of the sweet shortcuts to finding peace of mind and happiness inside."

– Anonymous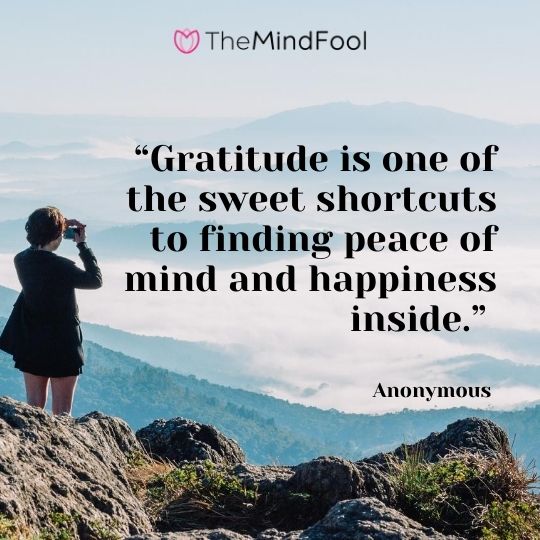 Peaceful state of existence comes when you are happy and grateful about your life.
28 "Whoever values peace of mind and the health of the soul will live the best of all possible lives."

– Marcus Aurelius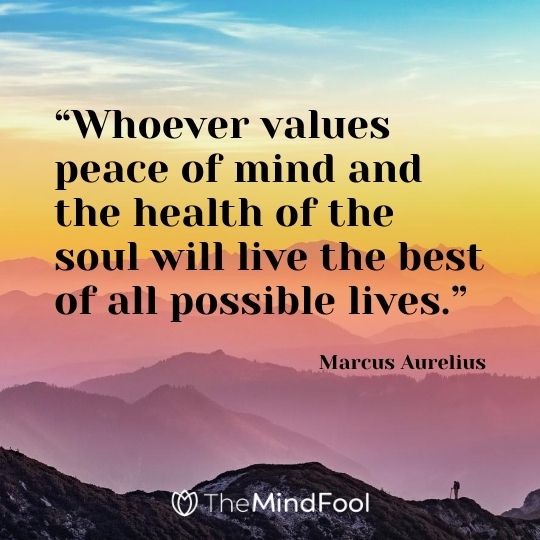 Attaining peace of mind should be a goal for successful living.
29 "Promise yourself to be strong that nothing can disturb your peace of mind. To talk about health, happiness, and prosperity to every person you meet. To make all your friends feel that there is something in them."

– Christian D. Larson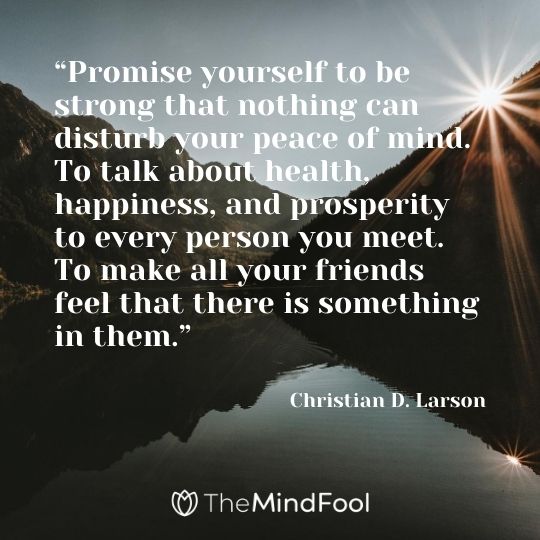 Be strong, stay strong and influence people in good ways to nurture peace of mind.
30 "Only the just man enjoys peace of mind."

– Epicurus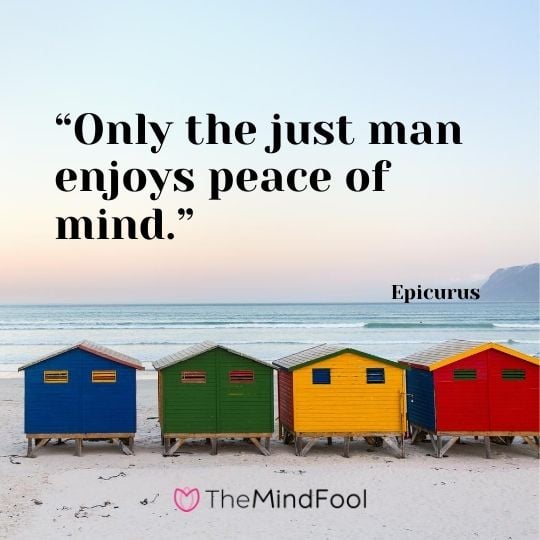 A fair-minded person always enjoys his peaceful state of mind.
31 "When you've seen beyond yourself, then you may find peace of mind is waiting there."

– George Harrison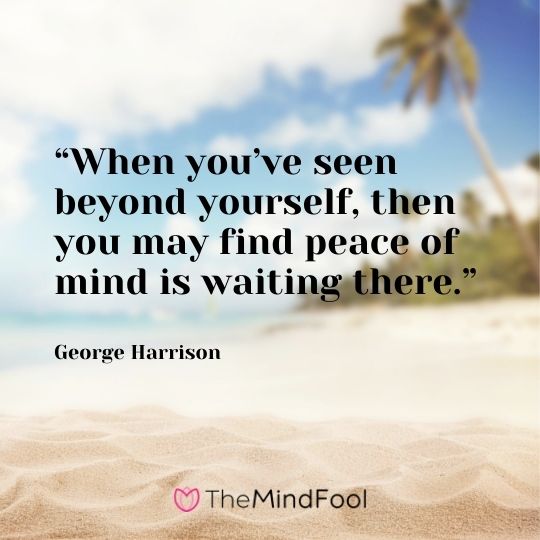 Realizing self to the highest level brings serenity and poise.
32 "Peace of mind comes from not wanting to change others."

– Gerald G. Tampolsky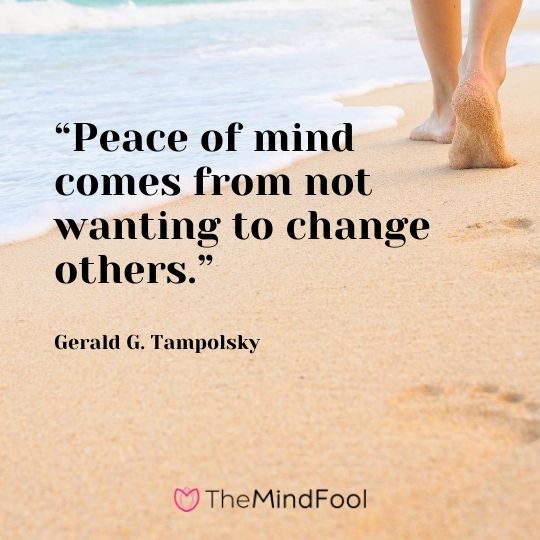 Never try to change others. Accept them as they are. You will be in utmost peace.
33 "Peace of mind is that mental condition in which you have accepted the worst."

– Lin Yutang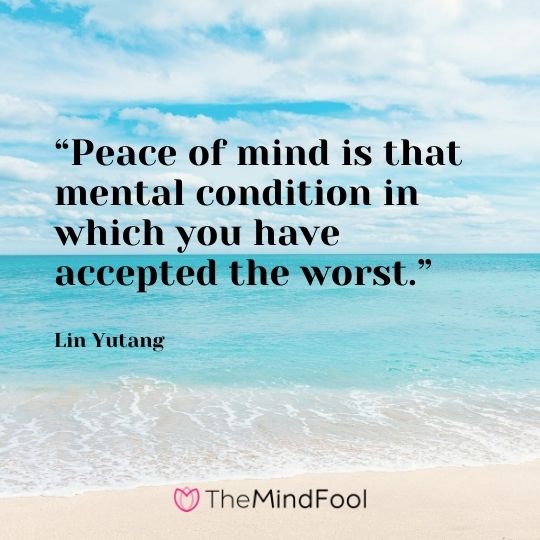 When you have learned to accept all adversities with open arms, you have mastered peace of mind.
34 "Real peace of mind is the companion of the silence of the mind."

– Romez Sasson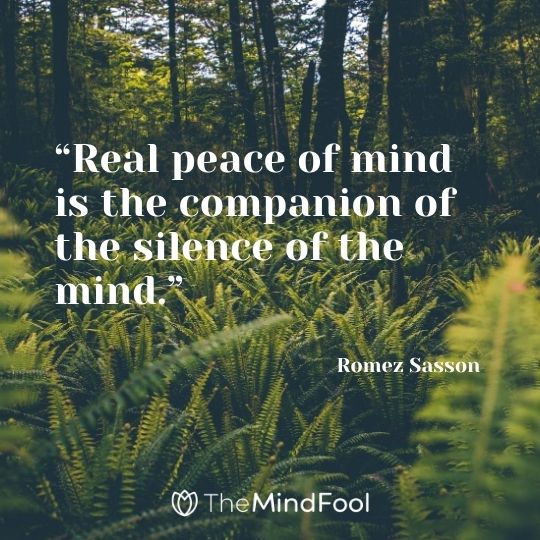 When the mind is devoid of negative thoughts, real peace begins with mental quietness.
35 "Never seize to constantly remind yourself that your positive thoughts and beliefs are the pillars of your peace of mind."

– Edmond Mbiaka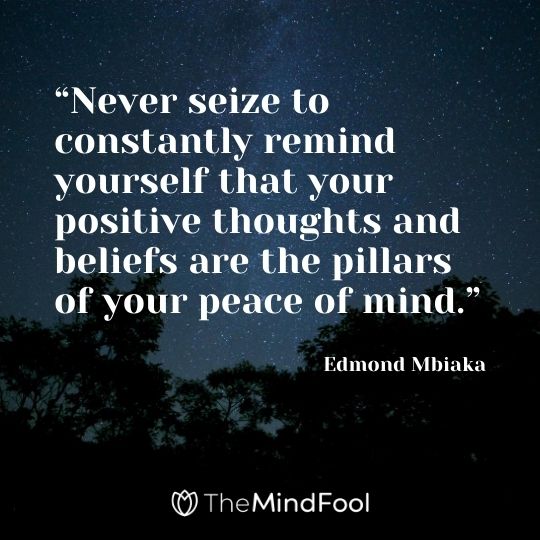 A positive perspective towards life can bring peace of mind.
36 "The world will be at war as long as the mind is at war with itself. If we can't find peace within ourselves, where is the hope for peace in the world?"

– Byron Katie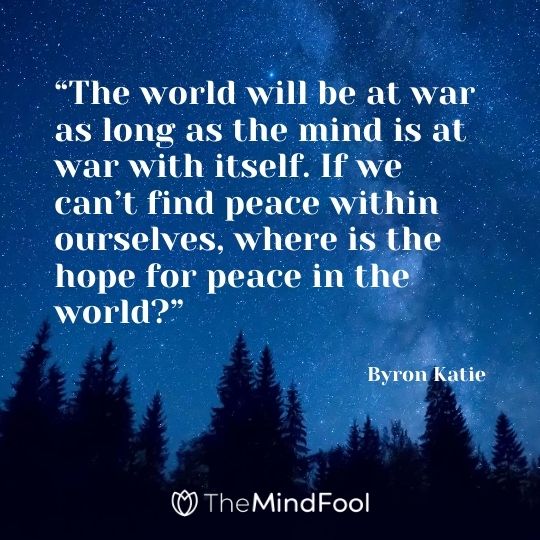 Peace resides within you. Peace with self can bring peace in the world.
37 "Living a life of honesty creates peace of mind, and peace of mind is priceless."

– Marc And Angel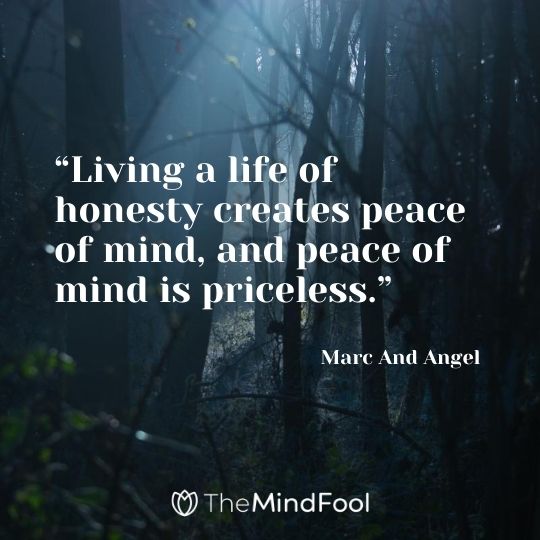 Peace of mind is an asset. Embrace it with honesty and integrated living.
38 "Peace is letting it be. Letting life flow, letting emotions flow through you."

– Kamal Ravikant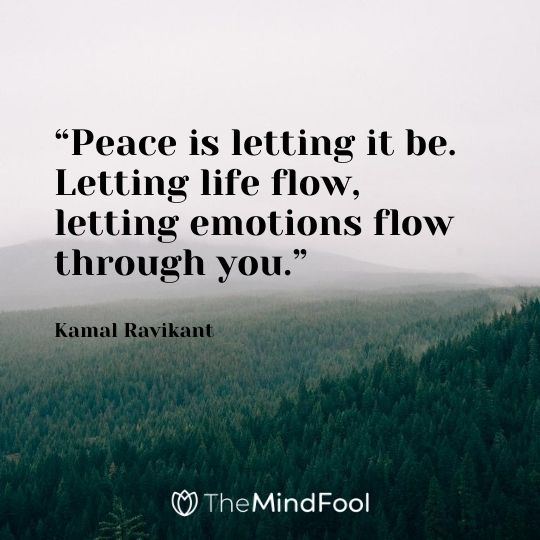 Allow things to happen slowly at its pace; you will find inner peace.
39 "We seek peace, knowing that peace is the climate of freedom."

– Dwight D. Eisenhower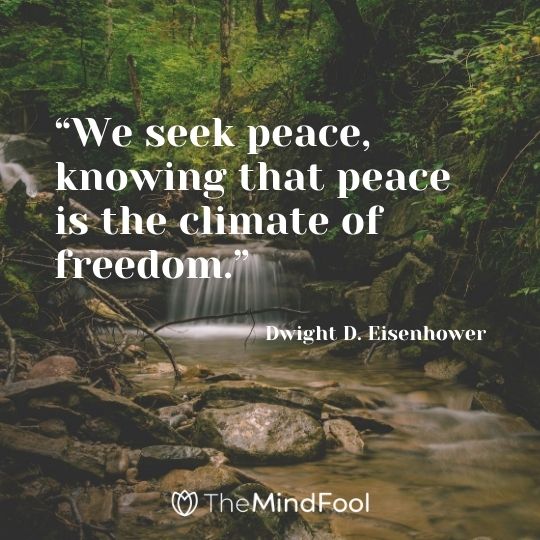 Do not seek peace outside of you. It lies within.
40 "Without peace, all other dreams vanish and are reduced to ashes."

– Jawaharlal Nehru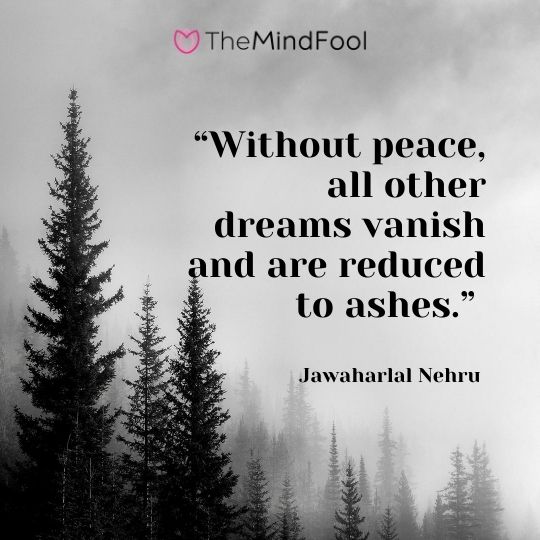 Dreams can become real only if you are calm and peaceful.
41 "Peace is a journey of a thousand miles and it must be taken one step at a time."

– Lyndon B. Johnson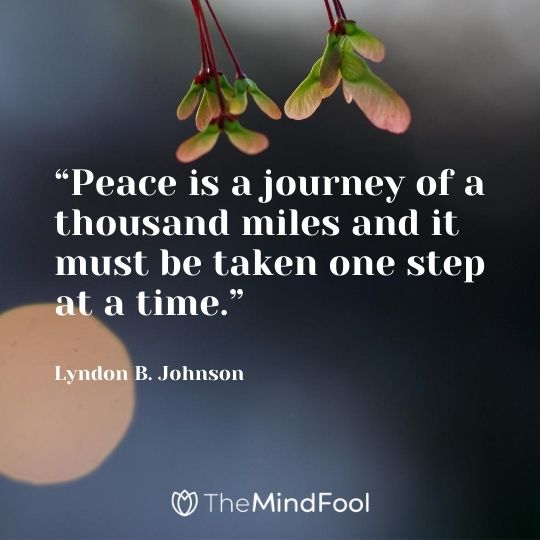 A small step towards attaining inner peace can make your life a successful one.
42 "The measure of success is happiness and peace of mind."

– Bobby Davro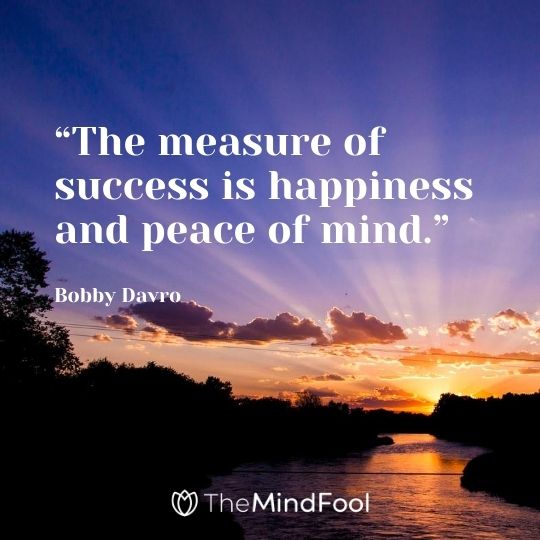 Success in life is all about being happy and peaceful.
43 "Learning to ignore things is one of the great paths to inner peace."

– Robert J. Sawyer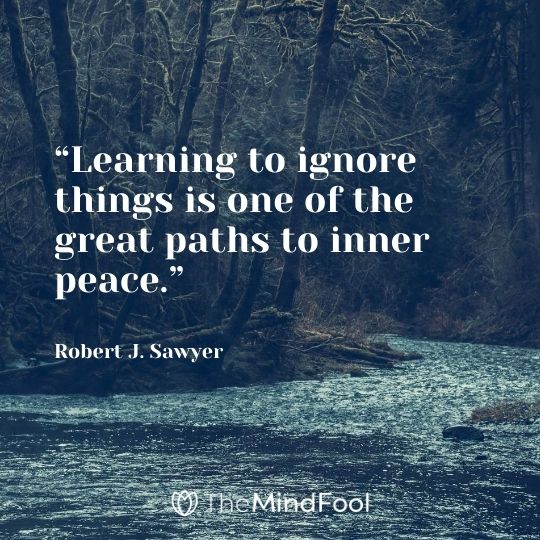 Let go of unnecessary things in life to attain inner peace.
44 "Peace rules the day where reason rules the mind."

– Wirkie Collins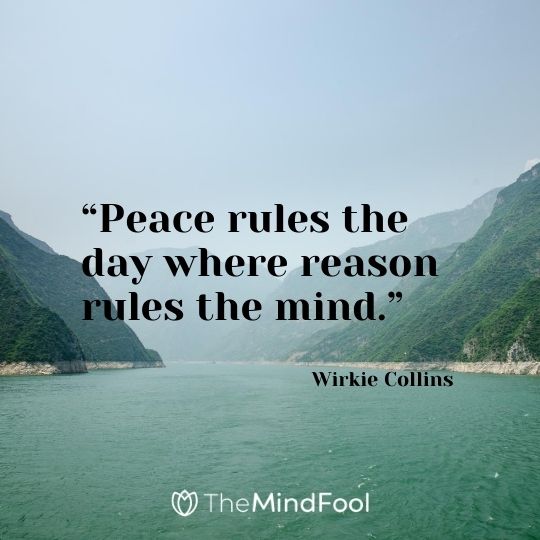 Make each day a peaceful endeavor; by insight and reason.
45 "Never be in a hurry; do everything quietly and in a calm spirit. Do not lose your inner peace for anything whatsoever, even if your whole world seems upset."

– Saint Francis De Sales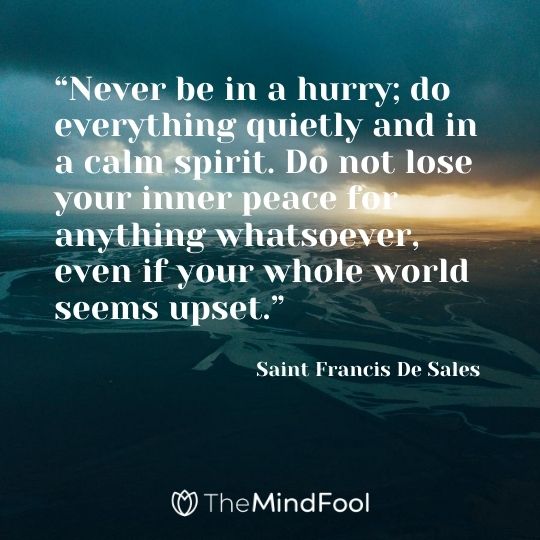 Do all things quietly and in a poised state to achieve great success.
46 "When the power of love overcomes the love for power, the world will know peace."

– Jimi Hendrix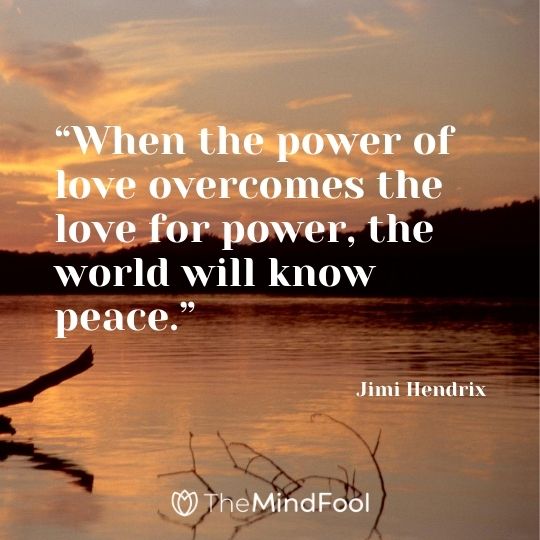 Believe in the power of love and experience peace within you and around you.
47 "Peace comes from within. Do not seek it without."

– Buddha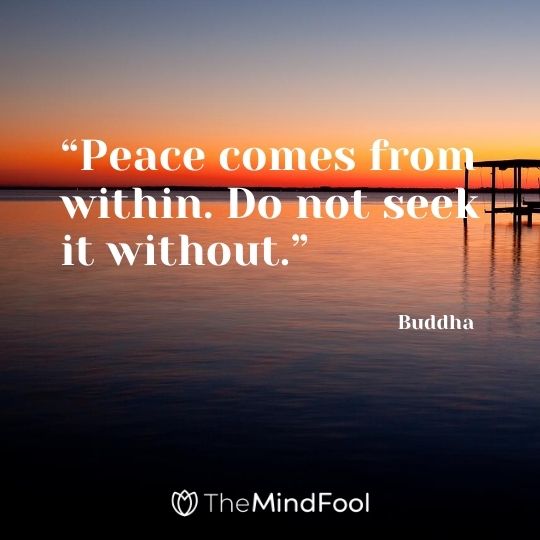 Peace is an internal process. It is futile to search it elsewhere. It's nowhere there.
48 "Set peace of mind as your highest goal, and organize your life around it."

– Brian Tracy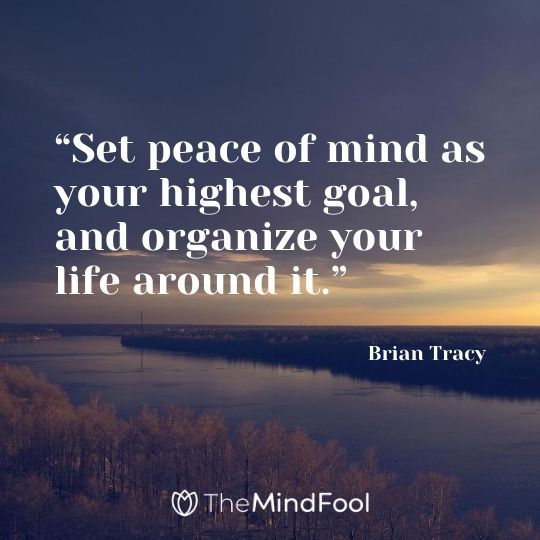 Inner calmness and serenity should be your goal in life and surround yourself with it.
49 "Peace is not absence of war. It is a virtue, a state of mind, a disposition for benevolence, confidence, and justice."

– Baruch Spinoza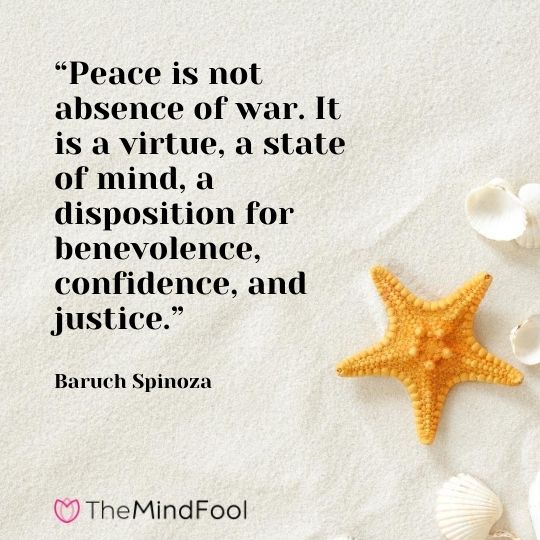 If you are at peace, you are virtuous and confident to face harsh realities of life in a kind and non-judgmental way.
50 "Empty your mind of all thoughts. Let your heart be at peace."

– Lao Tzu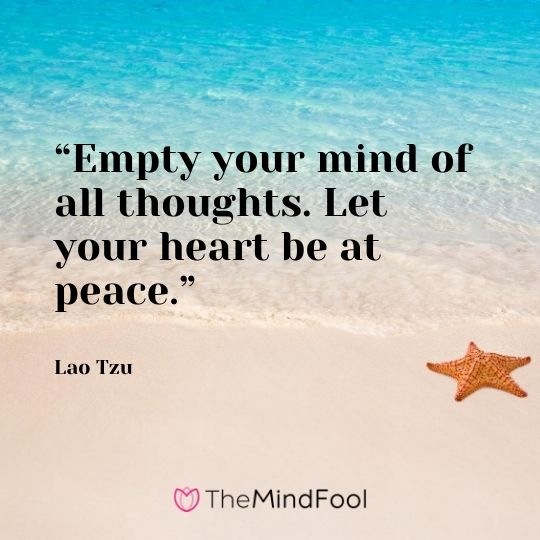 When the mind is without troubling thoughts, peace resides within.
51 "It is inner stillness that will save and transform the world."

– Eckhart Tolle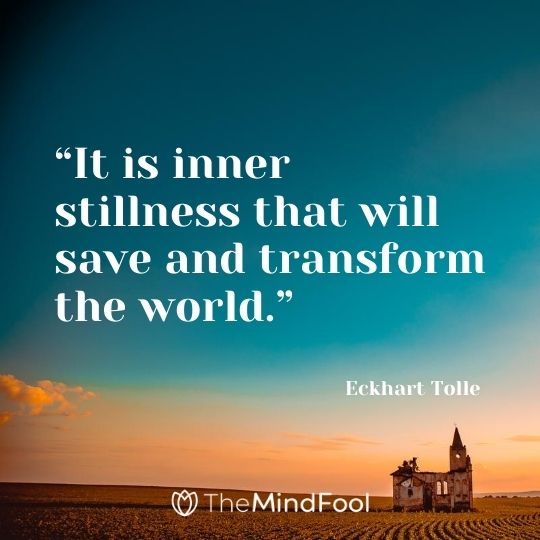 If you can maintain inner peace, you can contribute towards a peaceful world.
Peace of Mind – Meaning
---
A peaceful state of mind is an alert and deliberate state of inner bliss and silence. It is a psychological calmness that keeps you away from stress, anxiety, and worry that you face in your daily life. You should make it a habit and enjoy it always, even in times of difficulties and ordeals.
Finding inner peace is a hard job because you have a long to do list that keeps you busy and mentally restless all the time. To experience poise and serenity within you and around you, conscious practice and meditation is needed.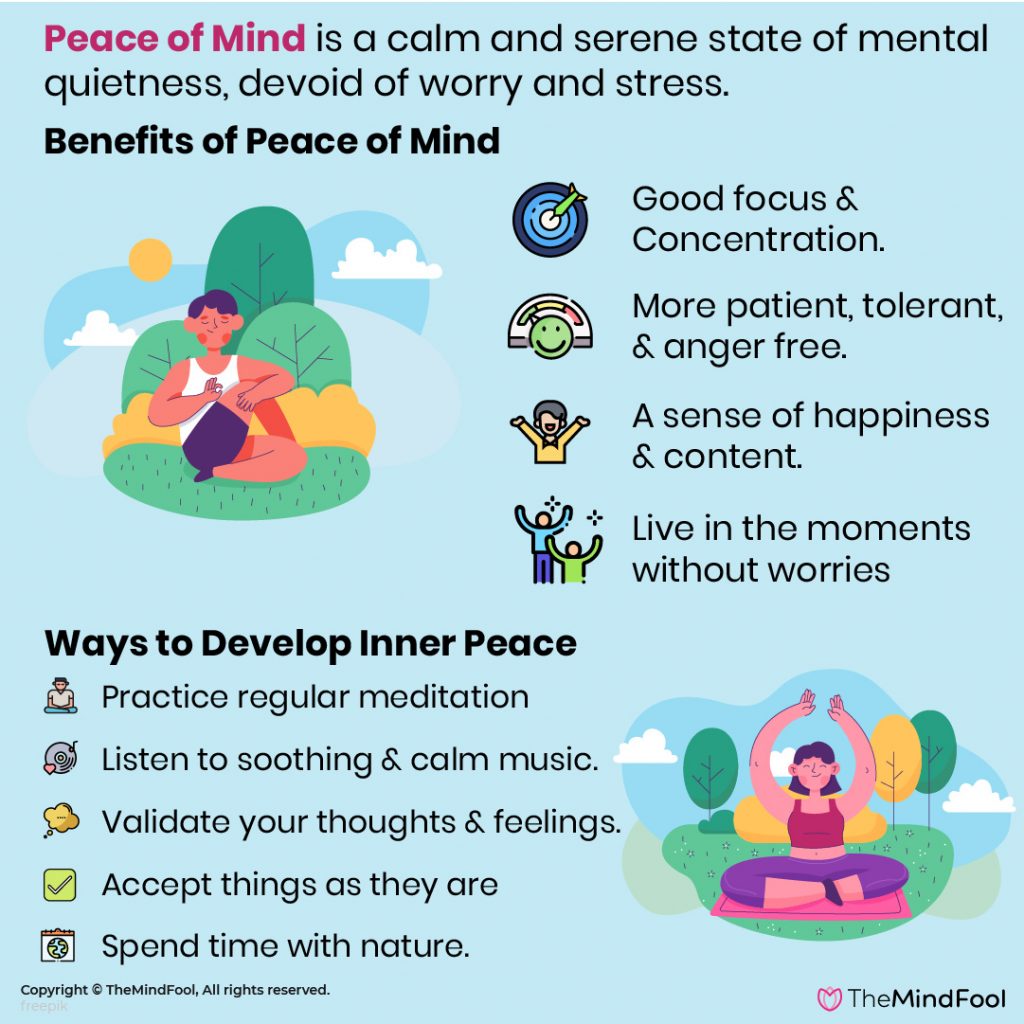 Benefits of Peace of Mind
---
Peace of mind is a private domain, as every one of us achieves it differently. It is attained when the mind feels completely relaxed and happy. There are no thoughts or negative emotions that might bother you.
It is an integral thing to be achieved in today's world where we are burdened with so much stress and complexities around.
Being poised has amazing benefits.
Improved ability to focus and concentrate.
You can become more patient, tolerant, and anger free.
A sense of happiness and content.
Peace of mind helps you to live in the moments.
No restless thinking.
You are less bothered by what people say and think about you.
Clear judgments and good decision making are possible in a peaceful state of mind.
Peace of mind can lift your mood and deliver happiness.
There is increased emotional stability.
You can improve your relationships.
It reduces aggressiveness and rage.
You can ignore and let go of petty matters in life.
It improves empathy and listening ability.
There is increased compassion and gratitude towards life as a whole.
Increased acceptance and love for you.
Peace of mind helps you to realize your higher self that is beyond the narrowness of your ego.
It develops your will power and mental vitality.
10 Simple Ways To Nurture Peace of Mind
---
Few ways to obtain peace of mind are:
Practice regular meditation and yoga for a calm and composed mind.
Develop self-love strategies to validate your thoughts and feelings. You will learn to accept things as they are and not as you want.
You can listen to soothing and calm music to pacify your restless mind.
Spend time with nature and experience serenity around you.
Try to develop better acceptance of people and situations around you. If you learn to tolerate well, negative emotions will not clutter your inner peace.
Be present in your moments. Mindfulness facilitates focus and keeps away your anxieties and worries. It renders a calm state of existence.
Enjoy life and do not take everything seriously. Learn to let go of things that are not worth doing.
Engage in activities that you like and enhance your creative pursuits. It gives solace and inner peace.
Set realistic goals that can give proper direction and purpose to your life.
Take success and failure equally well. It will help you to know your strengths and weaknesses. Makes you less restless emotionally.
Closing Thoughts
Peace of mind is an inner reflection to delve deep within you. It's a harsh truth that serenity amidst all chaos around is a hard find. To reconnect with it, you need to resonate with positive mental vibes and let go of restless and anxious emotions that bothers you on a day to day basis.
Peace starts with you and ends with you. Little moments of solitude is what you need for a peaceful mind and a blissful life.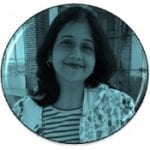 Chandrani Mukherjee
A Psychologist with a master's degree in Psychology, a former school psychologist, and a teacher by profession Chandrani loves to live life simply and happily. She is an avid reader and a keen observer. Writing has always been a passion for her, since her school days. It helps to de-stress and keeps her mentally agile. Pursuing a career in writing was a chance occurrence when she started to pen down her thoughts and experiences for a few childcare and parenting websites. Her lovable niche includes mental health, parenting, childcare, and self-improvement. She is here to share her thoughts and experiences and enrich the lives of few if not many.