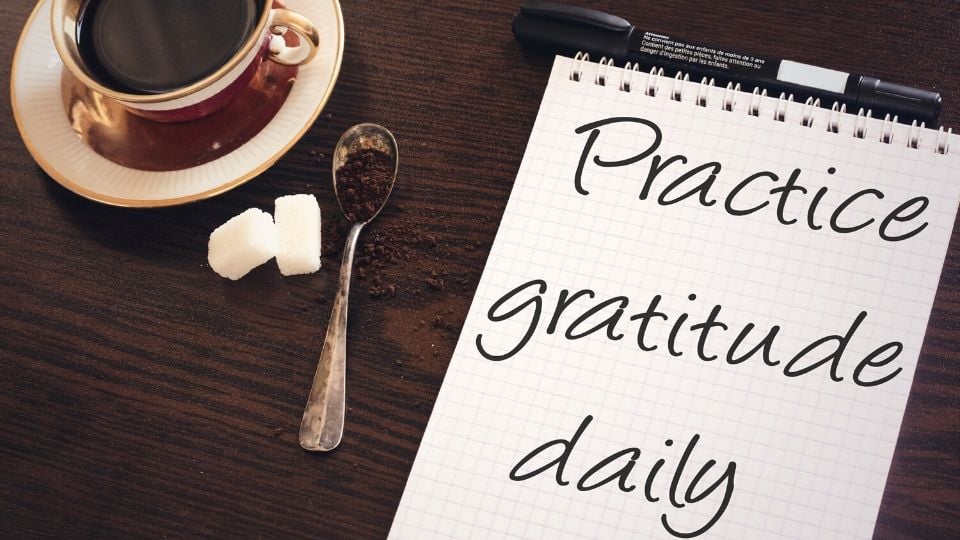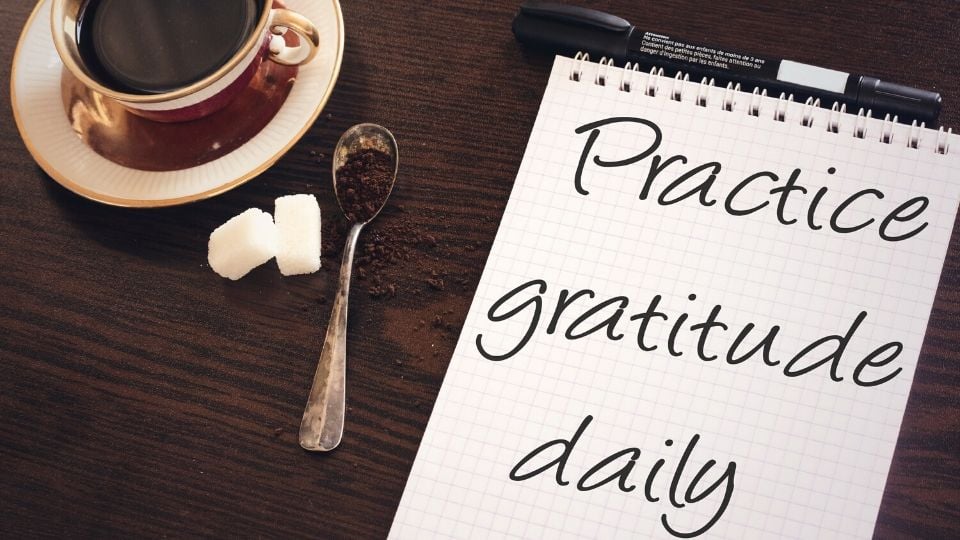 When you start counting and appreciating all the little things that have happened to you, you feel complete and fulfilled from within. Being grateful for what life has given you is the key to ultimate happiness. Practice Gratitude is an art in itself.
It allows you to become aware, recognize, and appreciate all the wonderful and not so wonderful things that have happened to you. The custom of being grateful enhances your positive emotions. It changes the way you see yourself and others.
It guides your experiences towards a positive feeling. A more optimistic depiction of life comes in front of you. You feel connected to others. Count your everyday blessings and experience the everlasting happiness it brings in.
Practice Gratitude Meaning
SUMMARY
Practice Gratitude is all about a conscious effort that you make to be thankful, humble, and obliged for something done or received.
The feeling of gratitude is a complex process that plays a very significant role in human happiness and content. Robert Emmons, a pioneer in the study of gratitude from the University of California once said, "Gratitude empowers us to take charge of our emotional lives and, as a consequence, our bodies reap the benefits."
Robert Emmons explained that practicing gratitude is an experience of goodness. You acknowledge that there are good things in life that you should always appreciate. Gratitude allows you to celebrate the tiny joys of life.
It helps you to give value to something and you are less likely to take things for granted. Paying attention to the positive aspects of everything brings immense pleasure. Gratitude symbolizes happiness, joy, and life satisfaction.
Practicing Gratitude makes things easier for you in times of adversity and emotional distress. It empowers you to feel satisfied and self-sufficient in your potential.
You do not deny life's hardships but affirms it as good and positive. People who regularly practice gratitude can turn adversities into opportunities.
When you practice gratitude, you live a life with kind words, humble behavior, and grateful actions.
As Oprah Winfrey rightly said, "Be thankful for what you have; you will end up having more. If you concentrate on what you don't have, you will never ever have enough".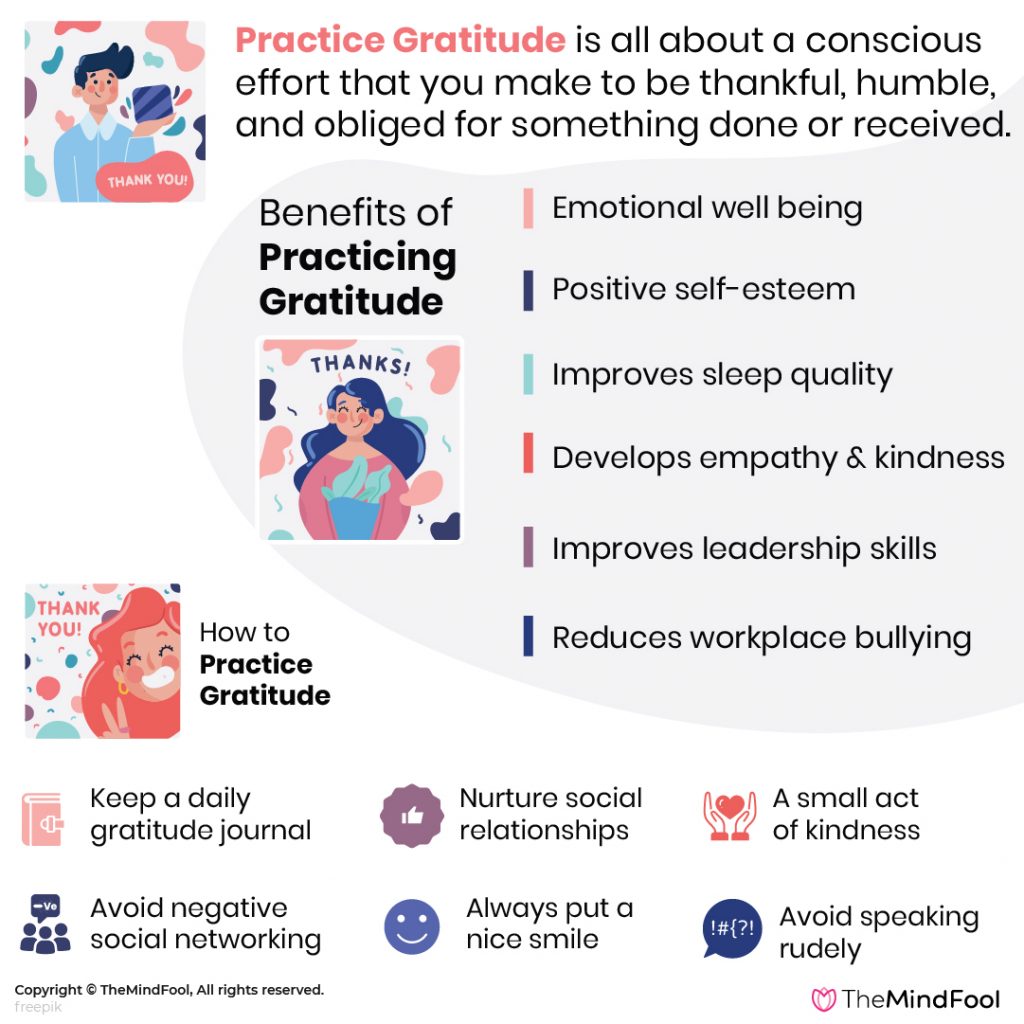 Why Should We Practice Gratitude?
---
Gratitude brings in a feel-good factor in your behavior and actions. Moreover, this practice develops the power of appreciating the things that you have. You build on your happiness quotient by being grateful for everyday good.
In gratitude practice, attitude towards life is optimistic. You do not ponder upon things you do not have, rather be happy with the smallest of things that you possess.
At times, feeling grateful happens on its own. Sometimes you need to put some effort into increasing the number of times you do it. The importance of practicing gratitude is as follows
You can easily move through tough times.
Express gratitude to appreciate and be aware of all the goodness that life has offered you.
Practicing this simple value in your life is important to improve your mood and emotional well being.
A regular user of gratitude can notice and reflect on the various things and situations that they are happy about.
Gratitude builds up your positive emotions.
It gives you time to reflect, relish, and relive moments of happiness.
It helps you to be present in your moments and not to think about what you do not have.
Gratitude is a display of your positive feeling towards a person or thing. It is a human touch that acts as a social norm in several life situations.
The various acts of gratitude can be used to show thankfulness, kindness, and unconditional regard to others.
It creates selflessness within you. You can create your 'best self 'by imbibing the value of gratitude.
Being grateful is a delightful experience. It changes the way you perceive other people and situations around you.
Incorporating gratitude encourages optimism. You celebrate life by sharpening your social skills.
It develops ethical boundaries needed for healthy social interactions.
Practice Gratitude Examples
Martin Seligman, the founder of "positive psychology" considered gratitude as a lifelong virtue. It has a positive impact on our behavior and life in general.
He said that gratitude practice reduces your stress levels in daily life. It is an immune booster that improves your mental health.
Few examples of gratitude that many of you must have practiced in your day to day life are as follows:
Being thankful and obliged to your parents for the life they have given you.
Thanksgiving to a friend for a lovely birthday greeting and gifts.
When you thank Mother Earth for bestowing upon you the beauty and elegance of nature.
Showing gratitude to someone for an act of kindness does the greater good to you.
Express your gratitude and regard to someone to improve your bad mood.
A thank you card or a post-it note to friends and family is a simple way to say it all.
Writing a gratitude letter to your near and dear ones are the best way to express thanks.
Saying phrases such as "I am touched and elated beyond words"
"You made my day. Thank you for being a part of my life"
"I am fortunate and grateful to have you with me today"
Does Practising Gratitude Reduce Stress?
---
A daily practice of gratitude has been proved to improve mood and elevate happiness. People who regularly feel grateful have a general tendency to feel good, positive, and optimistic. They are less likely to have toxic negative emotional patterns.
Expressing gratitude in daily life improves physical and mental health. It is a detox process to reduce negative emotions. Gratitude makes you stress-resilient. It reduces envy, anger, jealousy, and feelings of resentment.
Gratitude exercises for depression have given the best results. Feeling thankful allows you to relish the goodness around you.
It reduces anxiety because you feel fulfilled from within. You become happy with whatever you have. The tension and expectation to achieve more are not there.
You feel less frustrated about the things that you don't have. It enables you to learn the basics of happy living. Stress can be reduced by cultivating gratitude.
A positive attitude regardless of all the problems that one is having is a way to practice gratitude. It helps you to keep going in adverse situations.
If you try some gratitude exercise every day, you may notice some improvement in your emotional wellness. You will dwell less on negative emotions.
There will be a greater appreciation for people in your life. Grateful people are happy and adjustable. They have better control over negative thought patterns and emotions.
The Concept of Gratitude Tree
---
A Gratitude tree is a reminder that teaches us the value of being thankful. We need to be thankful for all the good things and endless opportunities that life has given us. Usually, a fun gratitude tree is meant for small children, school going kids, and young adults.
It is a method to teach them the necessity of being thankful for others. It resembles a fun activity where children make a tree with colorful origami paper. In the leaves of the tree, children draw or write about the various things about which they feel thankful.
Through this art, children develop the secret to happiness. They learn the virtues of life and can make use of it in their daily regime.
Benefits of Gratitude Tree
---
The benefits of a gratitude tree are as follows
Children learn to appreciate the little joys of life.
They remain happy with the things they have.
It teaches positive qualities and values of life.
Children become heart-warming and compassionate.
It improves their social interactions.
They develop a positive mindset.
It makes them happy and satisfied with their present life status.
How to Practice Gratitude? – 32 Ways
---
Gratitude can change the way you experience life in general. It is a positive emotion that fills your life with a positive outlook. It opens the door of endless opportunities to explore. There are some simple ways to show gratitude towards yourself, spouse, friends, and family members.
1. 'Self' Gratitude Practice
A gratitude practice can be started with 'Self' also. You just need to recognize and be aware of all the positive things around you. By doing so, you appreciate their importance in your life.
You can keep a gratitude journal. Keep a record of all the small things that make you feel happy and thankful.
Appreciate Nature and thank Mother Earth for giving you numerous resources to thrive on.
Make a gratitude collage and put pictures of people, things, and situations you are grateful for.
You can think of one positive thing in times of emotional distress.
Thank you notes are a good way to appreciate things.
Social media posts on how you are grateful for various things might be helpful.
positive thoughts should be nurtured every day to nurture gratitude.
Avoid exposure to negative media as it gives you negative vibes.
Always put a nice smile on your face, whenever you meet someone.
Make a gratitude list and add to it every day.
Avoid complaining about things that do not meet your expectations.
Practice 'Be Present' and stop worrying about the past or future.
Say kind words even to people you do not like. Practice it consciously and see the changes you feel.
2. Gratitude practice with Spouse or Partner
You and your partner do a lot more things together than you realize. Partners become more forgiving and caring if they practice a daily gratitude exercise.
A small act of help for your partner every day can be beneficial.
You can relish the beauty of life by sharing jokes and spending time with each other.
A handmade gift to celebrate their special days will say it all.
Surprise notes of love and kindness to them is an easy way to convey your heartfelt feelings.
Make time for your partner and discuss each others' day.
You can make charitable donations together to feel happy and grateful.
Thank 'him' or 'her' for all the little joys that they have given you.
You can cook their favorite meal and show them your care.
Thank them for being a part of your life.
3. Gratitude practice with friends and family
Your family and friends have done so much for you. It's your turn to make them feel wanted and special.
You may offer help whenever they need it.
Invite them for a lovely dinner at your place.
You can make handmade cards and gifts to celebrate their birthdays and Anniversary.
Volunteer for a noble cause and strengthen your bond.
Spend time together at the end of the day, like having a family dinner.
Give regular compliments for their smallest achievements.
You may go out together for a coffee or a bite of ice cream.
Text messages to someone who helped you is a good way to be grateful for.
Do small acts of kindness with your family members.
Avoid being rude to them. Thank them for their immense support.
Daily Gratitude Practice
---
A daily gratitude practice reminds you that life is beautiful and worth living. You should notice all the good things in your life. Appreciate what you have and do not ponder about things that you don't have. It improves your self-satisfaction.
Embrace each day of your life as a blessing. When you reflect upon the good things in your life, you become happy and joyous. You can conquer your negative vibes by daily gratitude practice. There are a few ways to improve your gratitude skills. They are as follows.
Share gratitude quotes and messages with people in your life.
You can make a gratitude collage depicting all the things about which you are thankful.
Be mindful and meditate pure thoughts about all those things you are grateful for.
Pause for a while and practice being thankful, at least once every day.
Call people, you love and think about.
Send a text message to someone who helped you in tough times.
Consider each day of your life as a gift. Do not concentrate on what is lacking and see the goodness that the world has.
Appreciate everything that you experience, even the worst of thoughts and emotions. You train your mind to embrace the worst of things.
Set reminders to say thank you to one person in your life every day. It can be your parent or spouse as well.
---
Practice Gratitude Quotes
Gratitude deepens your connection to the people, places, things, and the world around you. Few gratitude quotes that may inspire your everyday life are as follows.
1. "The attitude of gratitude is the highest way of living"

– Yogi Bhajan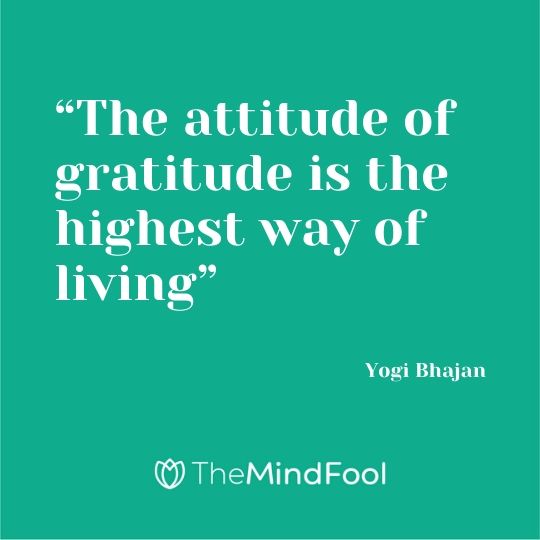 2. "Gratitude unlocks the fullness of life"

– Melody Beattie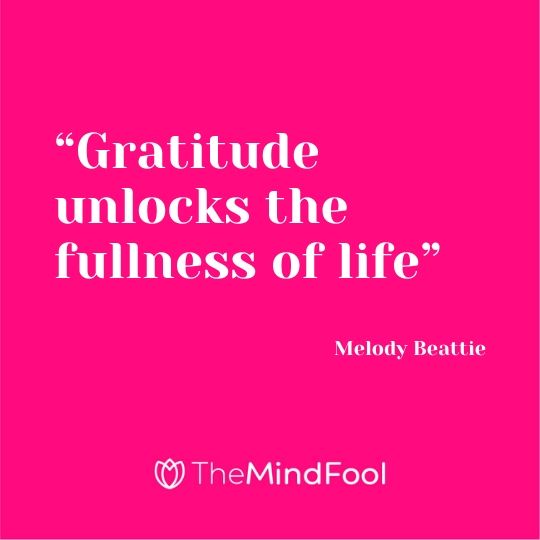 3. "Practicing gratitude doesn't have to be difficult. It will take effort"

– Jessi Richardson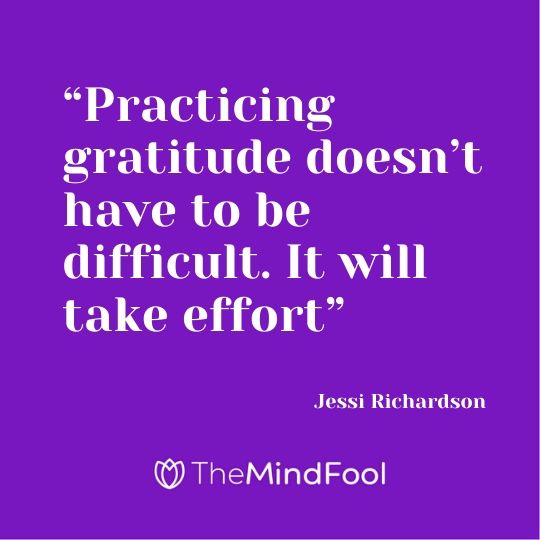 4. "It is impossible to feel grateful and depressed in the same moment"

– Naomi Williams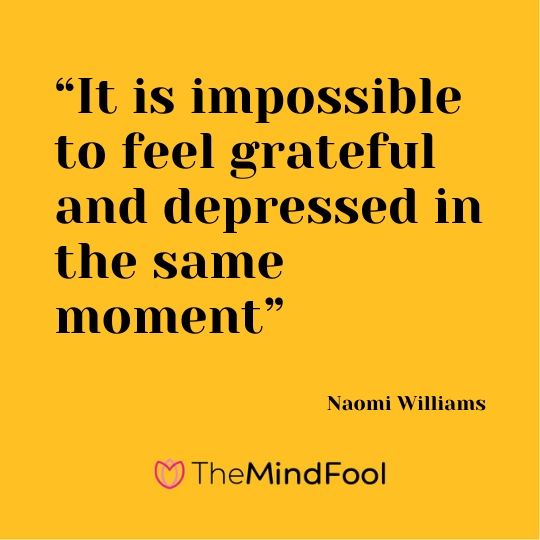 5. "When you are grateful, fear disappears and abundance appears"

– Tony Robbins
6. "Enjoy the little things, for one day you may look back and realize they were the big things"

– Robert Brault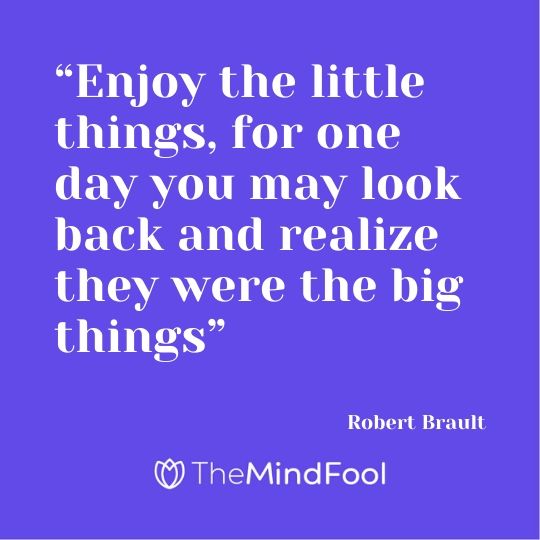 7. "Learn to be thankful for what you already have while you pursue all that you want"

– Jim Rohn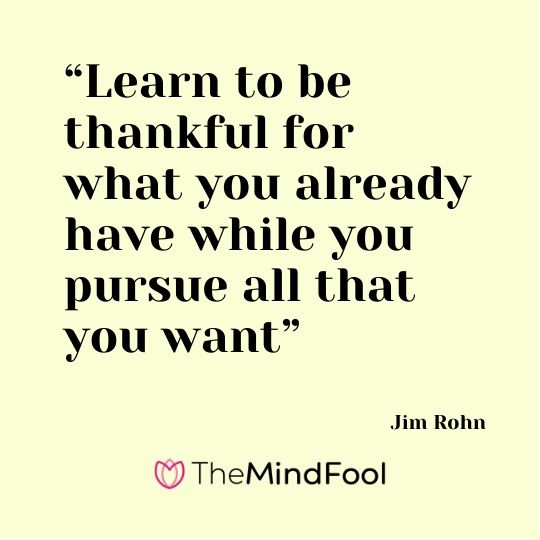 8. "Joy is the simplest form of gratitude"

– Karl Barth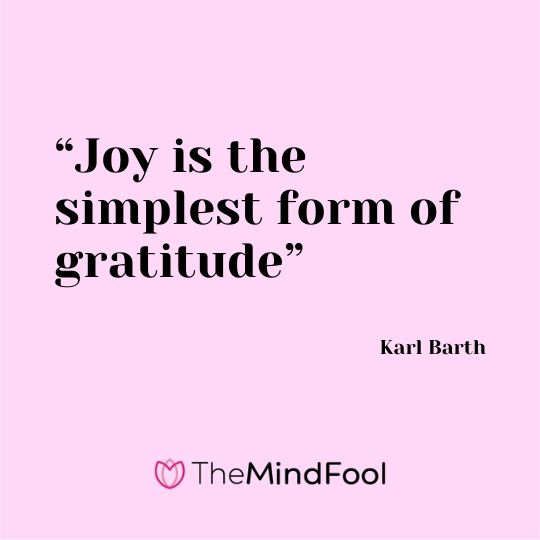 9. "Gratitude is not only the greatest of virtues but the parent of all others"

– Marcus Tullius Cicero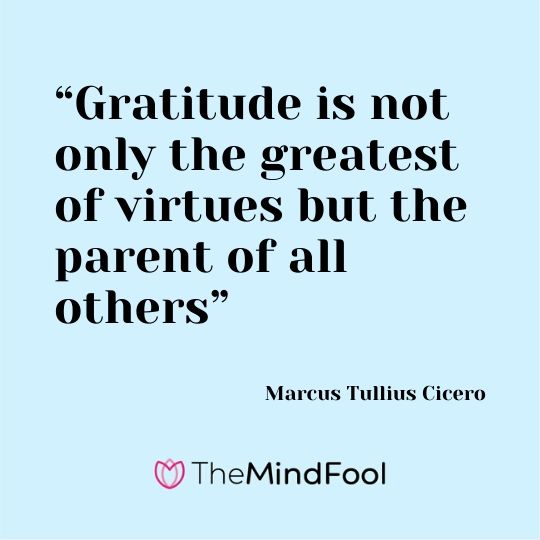 10. "Gratitude is the most exquisite form of courtesy"

– Jacques Maritain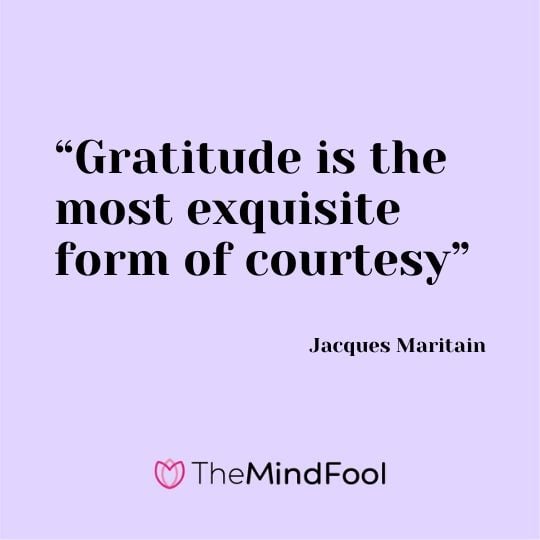 Thanksgiving Yoga – What is it?
Thanksgiving yoga is a program that many people engage in to experience inner happiness. It is a mindfulness practice to embrace nature and your life in general. Thanksgiving Day can be celebrated by giving thanks and kindling gratitude and humility.
You feel hopeful for the future and happy for your present state of existence. This yoga inspires you to get close to the beauty and fullness of life. This process serves a positive purpose in life.
---
The link is given below that shows the ways to practice gratitude in daily life.
Practice Gratitude Benefits
---
The art of showing gratitude is something that we have learned since our childhood days. We have been taught to say thank you while receiving a gift or an act of kindness.
They can transform their thoughts and feelings accordingly and create their own reality. 'Thank you' teaches you good social manners. It is the best way to turn denial into acceptance of other people's contribution to your lives.
Positive psychology emphasizes an attitude of gratitude. The benefits of practicing gratitude are as follows:
1. Psychological and emotional benefits
Gratitude improves your emotional well being by making you happy and pleasant.
It lowers negative emotions of jealousy, fear, anger, and guilt.
Gratitude helps to build positive self-esteem.
It improves the self-validation process.
You can develop a positive self-image.
Forgiving others come to you naturally.
It reduces depressive symptoms.
Grateful people can handle trauma and stress in a better way.
It gives you a positive and growth mindset.
2. Physical benefits
Gratitude lowers blood pressure and improves your physical health.
It improves your sleep quality.
You can recover from physical illness easily, as you remain positive.
Less fatigue and more energy.
3. Social benefits
It improves prosocial behavior.
You become kind, compassionate, and helpful.
Other people easily get attracted to you as you are humble and polite.
You will feel loved and cared for by everyone
It improves your love relationships by making you understand.
Empathy develops out of gratitude.
You become kind and learn to care for others.
It reduces your materialistic obsessions. You are less likely to seek happiness from tangible things.
4. Career and professional benefits
Gratitude increases your chances of achieving a successful goal.
You can become an effective leader by practicing gratitude in workplace set-ups.
Workplace bullying is reduced by practicing gratitude.
It improves your quality of work, by increasing efficiency and productivity.
Develops good friendships and healthy social behaviors.
Closing Thoughts
A daily gratitude practice makes you focus less on your needs and wants. You realize and cherish all the good things that happen within you and around you.
Embracing the small joys in your life empowers you with a positive attitude. Life seems beautiful, when you move ahead without envy and negative emotions.
It broadens your mental frame and you connect with others through praise and appreciation.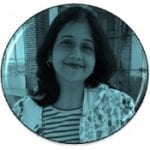 Chandrani Mukherjee
A Psychologist with a master's degree in Psychology, a former school psychologist, and a teacher by profession Chandrani loves to live life simply and happily. She is an avid reader and a keen observer. Writing has always been a passion for her, since her school days. It helps to de-stress and keeps her mentally agile. Pursuing a career in writing was a chance occurrence when she started to pen down her thoughts and experiences for a few childcare and parenting websites. Her lovable niche includes mental health, parenting, childcare, and self-improvement. She is here to share her thoughts and experiences and enrich the lives of few if not many.