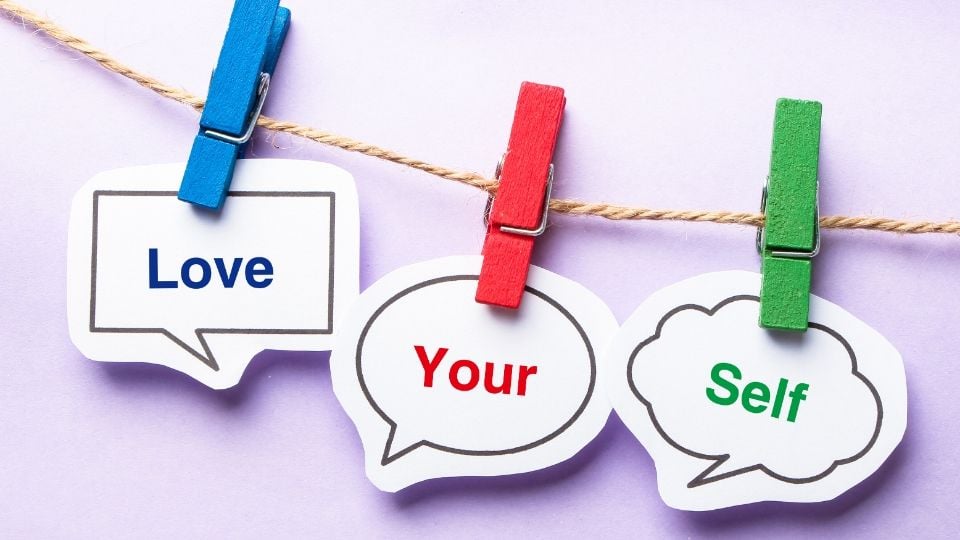 How to love yourself has been a topic of discussion for quite some time now. It is a well-accepted fact that you do not care for yourself as much as you do for others. You were not taught to think and act in such a manner.
Our parents and society have taught us to please other people. We became caring and helpful to others. You have never learned to love and accept yourself unconditionally and non-critically.
Various reservations, social stigma, and critical evaluation by others have made it difficult for you to practice self love.
Unconditionally loving and taking care of your interests are an integral part of your overall well being. If you love yourself, it is easier to love others.
What is Self Love?
---
SUMMARY
Self-love simply means 'loving yourself'. It is unconditional positive regard and respect for one's happiness and worth. It is a state where you appreciate, accept, and feel worthy of 'who' and 'what' you are.
Self love doesn't happen out of the blue. Rather, you learn to love and appreciate your inner goodness and fulfill your needs and aspirations to make it happen. Loving yourself is a unique thing to do. It is not as easy as it sounds.
When you learn to self-love, you start regarding your happiness and well being. You can acknowledge your thoughts and feelings as they are.
Your thoughts, emotions, and actions are well aligned with your dreams and goals in life. Feeling good and worthy of yourself is important for self validation. Practicing self-love makes you confident. Your relationships, health, career will flourish with positivity and without criticism.
Loving yourself is an art in itself that needs to be practiced and nurtured over time. It is a steady and progressive growth towards self realization. You cultivate a caring relationship with yourself and can become your own best friend.
In the words of Oscar Wilde, "To love oneself is the beginning of lifelong romance."
Key Elements in Self Love
---
The key elements of self-love are –
Loving oneself comes from acceptance. You learn to embrace your authentic self and feel happy about it.
When you know how to love yourself, you stop comparing yourself with others and can shine in your light.
You learn to fulfill your emotional needs.
Easily develops those potentials that lie within you.
Learn to give value to yourself and take pride in your feelings and actions.
Your smallest achievements become your strengths and help you evolve as a positive human being.
It changes your mindset and you realize that occasional uncertainty and self-doubt are always acceptable.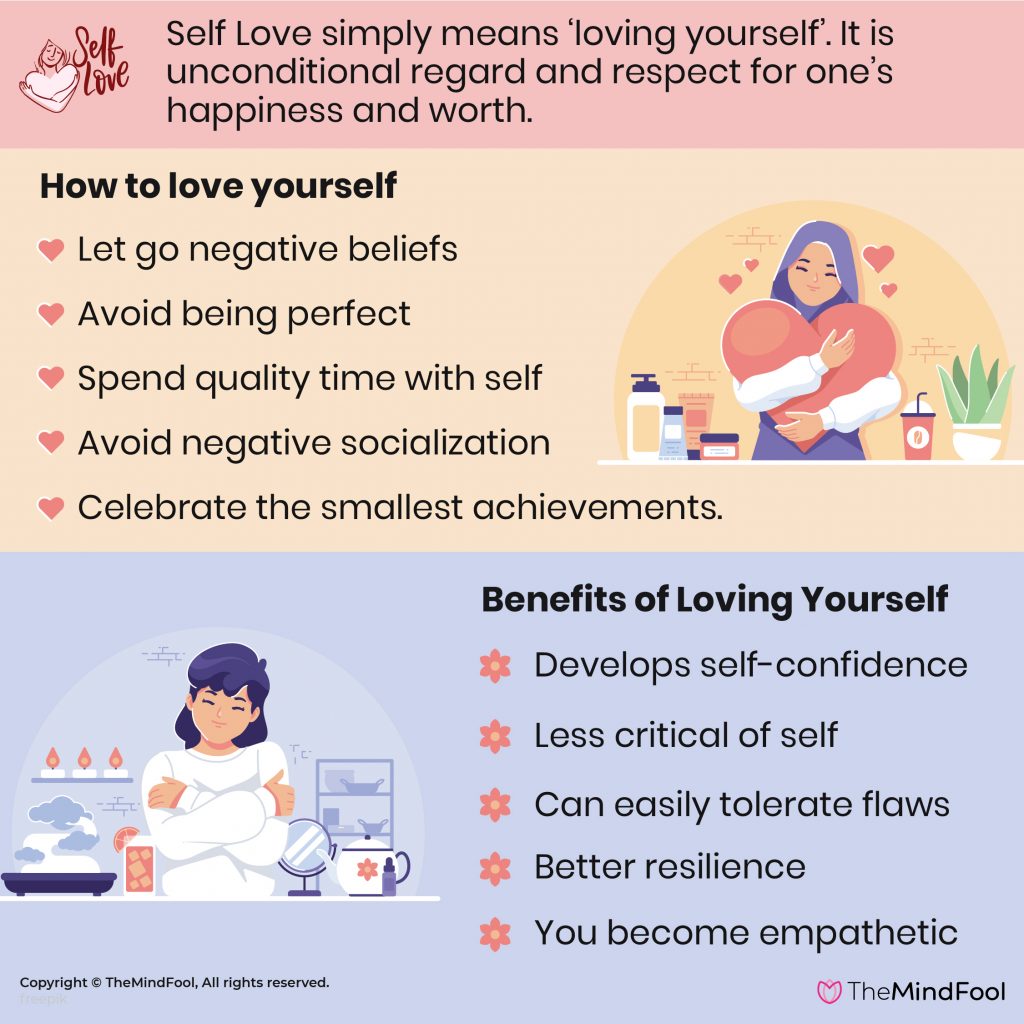 Why To Love Yourself?
---
Loving yourself can be an uphill task, especially in a society where you are pulled back to acknowledge and embrace yourself. A self-loving person is emotionally secure and knows his purpose in life. He is also loved and cared for by others.
Various reasons justify the concept of 'how to love yourself' in a better way.
When you love yourself, others will follow you. You will be loved, cared, and appreciated by others.
Spending some time with yourself will enable you to understand your value and worth as an individual.
Making self-love affirmations can boost your self-confidence.
People who love themselves are aware of their emotional boundaries. They are less emotionally dependent on others to fulfill their emotional needs.
Loving yourself brings you a satisfying life, as you feel good enough about your circumstances and your abilities to change those the way you want.
When you love yourself, you create your own reality based on your thoughts, beliefs, and perspectives.
Learning to love yourself helps you to make healthy choices regarding relationships, careers, jobs, etc. you realize that you are potent enough to achieve your desired goals.
You are less bothered by the opinions of others if you feel loved within yourself.
You also realize that your happiness is not dependent on others, but you.
When you love yourself, you can easily say no to people and situations that do not match your values.
You can make good decisions. There is no fear of getting rejected by others.
Loving yourself helps to develop your communication skills. You can easily speak your heart out in front of others.
You can embrace your vulnerabilities and work on them to become the person you wish to be.
Love Yourself First – The Importance
---
We know that love is interactive and mutual in nature. Thus, the concept of 'loving yourself first' was contrary to this popular belief.
To love yourself first is to put you ahead of others and accept with all imperfections. To become loving and caring towards others, you need to do it with yourself first.
As Brene Brown said, "Daring to set boundaries is about having the courage to love ourselves, even when we risk disappointing others."
When you learn how to love yourself first, you tend to develop a deep internal connection. You learn to embrace those dark sides of your personality that you cannot change. Developing a positive self-image helps you to show respect towards self and others.
It is important to consider that nobody is perfect. Your flaws and imperfections make you as you are. To love yourself first doesn't mean being selfish. It means having a healthy regard for being a healthy individual.
You are born with specific abilities that are unique. To love yourself is an art in itself that is powerful and enriching. It promotes personal growth.
Ways To Love Yourself First
---
When you adopt self-love, you develop an attitude of positive regard towards yourself. Spend time each day with yourself to improve self-esteem and celebrate your everyday living.
There are a few simple ways that you can do to love yourself first.
Be kind to yourself.
Avoid harsh self-talk and indulging in negative emotions.
Take out some 'me' time, where you can enjoy moments of solitude and bliss with yourself.
Embrace your positive character traits that are your strengths.
Learn to celebrate your smallest achievements and feel happy about it.
Accept your biggest mistakes and try to rectify them.
Do not try to meet life's challenges on your own. Take help from others, when needed. It is crucial in self-care.
Stop competing with others. Know your weaknesses and take pride in it. Always remain open to improvements.
Do not deny your personal needs and wants, as it is a form of personal negligence.
14 Biggest Constraints in Loving Yourself
---
There are a few obstacles that keep you away from fully loving yourself.
Lack of self-love comes from comparing with others.
Much bothered about what others think about you.
Poor self-esteem leads to lack of self-love.
Ignoring your needs and desires.
You try not to make mistakes and even when you do, you cannot accept it as normal.
Poor self-regard.
You are emotionally needy and insecure.
Never try to analyze your strengths and weaknesses.
You have tried to follow others blindly, only to seek approval from them.
Believing that you are not good enough to do the things you want.
Incapable of handling failures and moving ahead in life with a positive mindset.
You always look for perfection from yourself.
Always put others before self.
You were quick to criticize yourself.
The Grey Side of Loving Yourself
---
In psychology, self-love has its own cons because of its malign qualities. The harsh truth is, when you start to practice self-love, you are alone in the journey. Society doesn't support you. you are considered self conceited and people start pouring in toxic comments about your behavior.
You are considered a misfit into a frame already made by others. As such, you are challenged emotionally to reconsider your choices and actions.
Self love makes you thrive on pity and social obligations, people consider you selfish and someone who doesn't care about the interests of the larger community.
You find yourself at crossroads, a position where you will have to choose either the well being of yourself or the beneficiaries of the society of which you are a part.
The journey of self love is lonely at times because you are bombarded with negative remarks such as "You are a misfit, as you do not fit in a group."
Thus, the bottomline is, the onus lies with you whether to follow the crowd or to be 'Just You'.
Scientific Perspective on Loving Yourself
---
Research studies have highlighted the merits of loving yourself. It shows that self-compassionate individuals are known to have reduced levels of anxiety and depression. They are bold enough to face all odds with courage and optimism.
Self-acceptance makes you happy and blissful, as you are aware of your strengths and weaknesses.
It encourages you to reach goals easily.
When you regard yourself positively, you become self-dependent and accountable for the various happenings in your life.
You stop being a procrastinate and put in directed efforts in solving problems that matter.
Loving yourself makes you strong and sails you smoothly through life's adversities.
4 Stages in Self-love
---
Self-love requires you to look into both the positive and negative aspects of yourself. You should be honest and open-minded to embrace the good ones and try to change the not so good ones. But, do not get into self-doubt.
When you doubt your abilities, you decrease your chances of accepting imperfections. Be proactive to build on your happiness quotient.
The stages in self-love are a continuous and time taking process that teaches you how to love yourself unconditionally.
1. Find out your vulnerable areas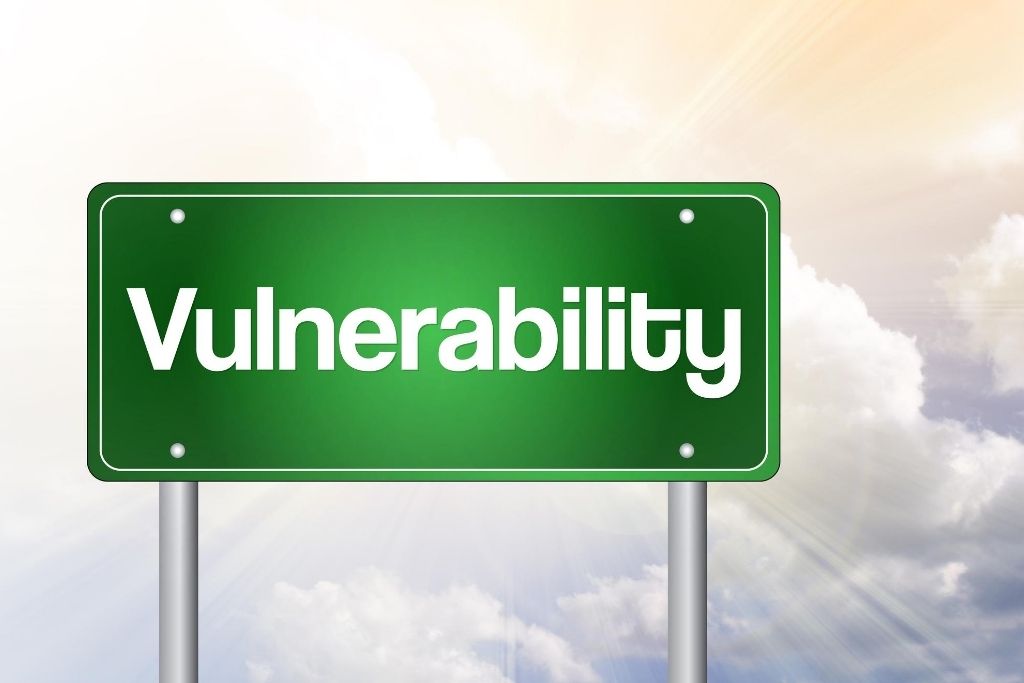 The first step is to identify those aspects of yourself that are unstable, insecure, and vulnerable. These areas are the ones that lead to self-blaming tendencies. Identify your areas of struggle.
It can be an old emotional wound, a relationship discord, roadblocks in career, poor achievement, etc. When you know your weak areas, you try to rectify it and make space for self improvement.
If your improvement strategies are successful, you start to feel confident and worthy.
This is important in loving yourself. This is a type of emotional healing that helps you to forgive yourself.
2. Listen to your inner voice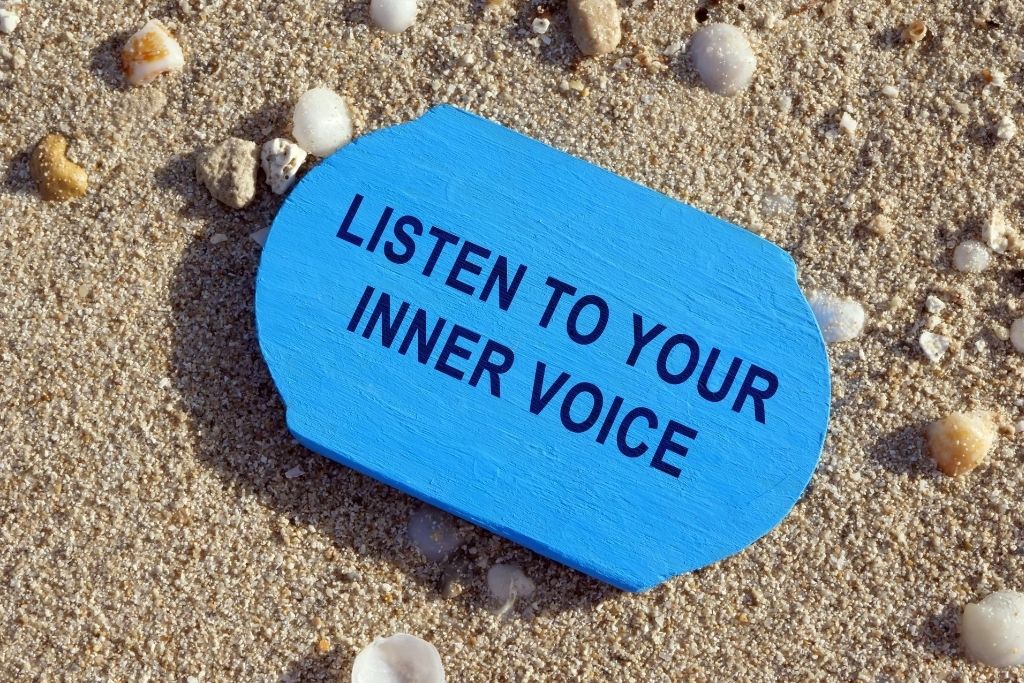 In this stage, you pay attention to your needs, desires, wants, and aspirations. Your inner voice is a mirror of your soul. It defines your purpose in life.
Listening to oneself is a must for self-love. It gives you an idea of self nourishment. This is not a selfish act. You develop 'self' in such a manner that you can take care of all others.
3. Make a self-love routine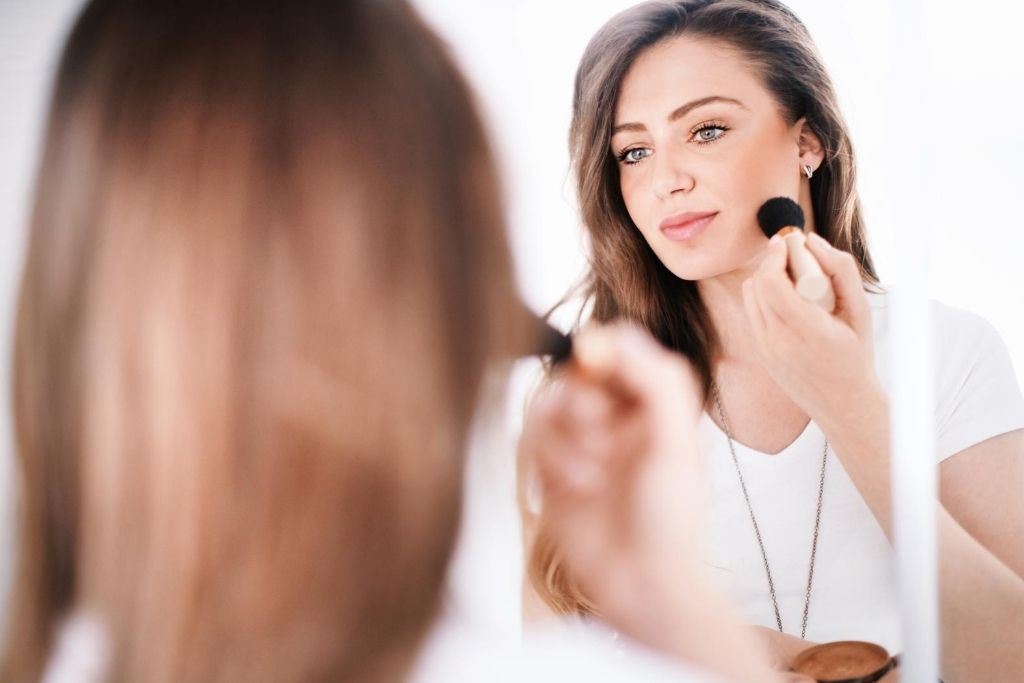 You pamper yourself by doing things you like. It brings happiness and fulfillment. Spending time with oneself helps to focus on the good things in life. Examples can be
A weekly visit to a spa to allure yourself and feel good about it.
You can get a digital detox by not attending to the phone for 30 minutes to 1 hour daily.
'Me' time where you can enjoy cooking, reading books, listening to music or anything that your heart says. Just do things that give you genuine happiness.
For this purpose maintain a journal and note down your to-do list. When you act on them, they become a joyful activity. You can keep track of your progress. This helps to build a growth mindset.
4. Get help, when required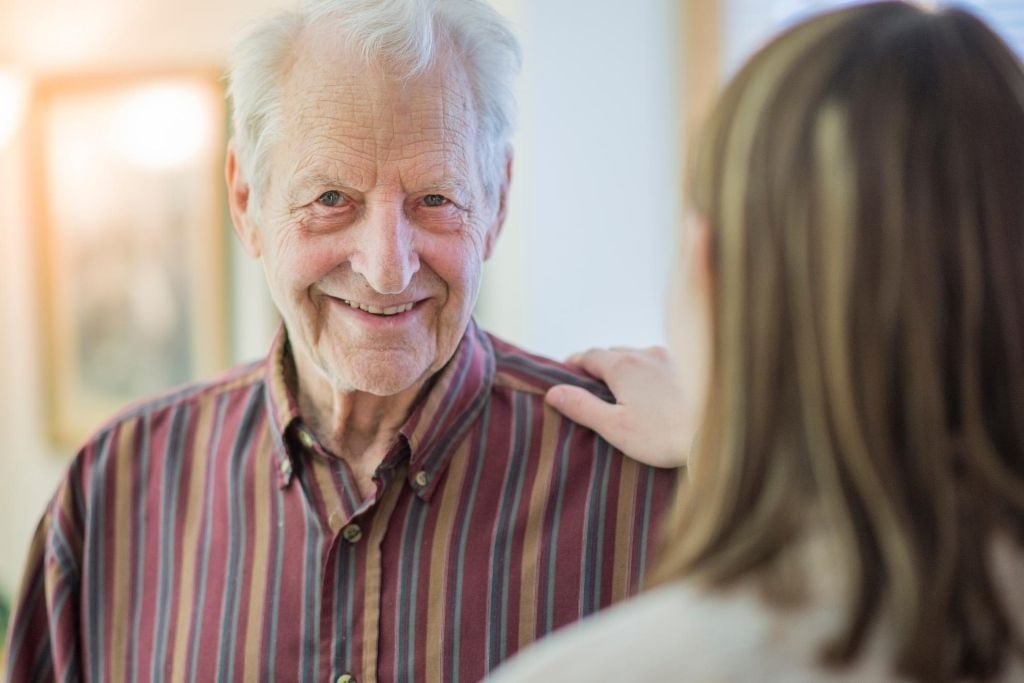 True love starts when you feel the need to seek help from others. You should not feel that you are alone. Your family and friends are your support system who can help and guide you in difficult times.
You should not act like a victim of circumstances. The journey to self-love changes its needs and priorities from time to time. So, get help to feel better.
If you are feeling down and quirky about certain things, speak your mind. Share things with others. It relieves your pain and makes you a confident being.
Thus, the bottom line is taking small action steps towards a love journey can be self-satisfying and fulfilling in nature.
How To Love Yourself More (10 Helpful Tips)
---
We all struggle to love ourselves. Practicing self-love requires little practice. We can learn this art more effortlessly. Few tips on how to love yourself more –
Let go of negative beliefs and a feel bad attitude about yourself. These beliefs come from the judgments of others around you. Be yourself and learn to focus on your priorities.
Do not try to be a perfect individual. You can master your mental health only if you accept both good and bad sides equally well.
Never call yourself negatively such as "I am a failure", or "I am not good enough to do certain things." These phrases make you critical of yourself and make you less self-confident.
Keep a journal and write positive self-love affirmations. This makes you feel positive.
Spend time with yourself by doing some leisure activities. This improves self -loving skills.
Celebrate all the little joys of life by rewarding yourself with a good treat.
Practice meditation to inculcate positive feelings and maintain calmness within you.
Surround yourself with positive people who are less critical and more encouraging. It motivates you to become your best self.
Embrace your daily you by taking good care of your physical and mental health.
Become your own best friend to develop self-loving skills. Treat yourself with kindness, respect, and compassion. Consider your weaknesses as a way to explore new opportunities for self-growth.
---
The link given below shows the various ways of how to love yourself
15 Benefits of Loving Yourself
---
As you learn to practice self love, you become super powerful. Loving yourself just needs your time and unconditional regard for all your imperfections.
Self love is empowering. It enables you to conquer all obstacles and accomplish your goals.
Learning to consider oneself as a valuable individual.
There is an increased sense of love, acceptance, and forgiveness for oneself and others.
You become empathetic.
It helps to develop good self-confidence.
Self-love helps in maintaining a better work-life balance.
It improves happiness and helps to practice gratitude daily.
You tend to love important people in your life, like family and friends.
Loving you helps to tolerate flaws.
You can make healthier life choices and decisions.
Self-love enables you to maintain healthy boundaries in relationships.
You develop stronger resilience, as you recover from setbacks more easily.
Loving yourself brings competence and makes you self-reliant, a must need for a happy adult life.
You have mental satisfaction in whatever you do.
Loving yourself makes you just the way you are, without any pretensions.
Self-love opens diverse opportunities for personal growth.
How is 'Loving yourself' Different from 'Narcissism'
---
A prominent question that developed in recent times is that 'Does self-love the same as narcissism?" "Can you love yourself without developing narcissistic qualities?"
These two concepts are used interchangeably but they are very much different. Let's see how.
Narcissism
Narcissism is excessive self-interest and admiration of oneself. It is self-adulation and concerned with good physical appearance. All narcissists are people pleasers.
This behavior involves selfishness, lack of empathy and a strong need to be recognized by others. It is not self-love at all. They are emotionally insecure and always blow their own trumpet to feel happy and worthy of themselves.
Self-Love
Self-love is about unconditional love that you do by admitting all aspects of you, both good and bad. It is a positive regard that is not selfish. There is no excessive need to get admiration and recognition of one's abilities by others.
| | |
| --- | --- |
| Self love | Narcissism |
| Self love is loving unconditionally. It is the regard and recognition of one's happiness and overall well being. | Narcissism is too much admiration of self that is critical and not unconditional. |
| Self-love is confident and realistic. Doesn't depend upon others' approval. | Narcissism is unrealistic and relies on people pleasing for getting approved. |
| It is an unapologetic act of self-acceptance. | It is a personality disorder, where the person develops inflated self importance and superiority complex. |
| Strong self-esteem with healthy emotional boundaries. | Fragile self-esteem with poor emotional boundaries. |
| People who self-love accept their flaws and work on them. This is a kind of self -improvement. | They do not accept their flaws and imperfections. Always feels better than others. This is pride. |
| Happy and content with who they are and what they have. | Never happy with who they are and what they have. Lacks gratitude and self-respect. |
| Strong sense of humility, compassion, and empathy. | They are selfish and cannot see others doing well. No humbleness. Unkind and jealous. |
| Self lovers have a growth mindset. | Narcissists have a fixed mindset. |
| You know the deep depths of yourself | You know yourself only superficially, marked by the recognition of physical appearance. |
Difference between Self love and Narcissism
How To Love Yourself Quotes
---
Few inspirational quotes on loving yourself are –
1. "When you make a mistake, respond to yourself in a loving way rather than a self-shaming way."

– Ellie Holcomb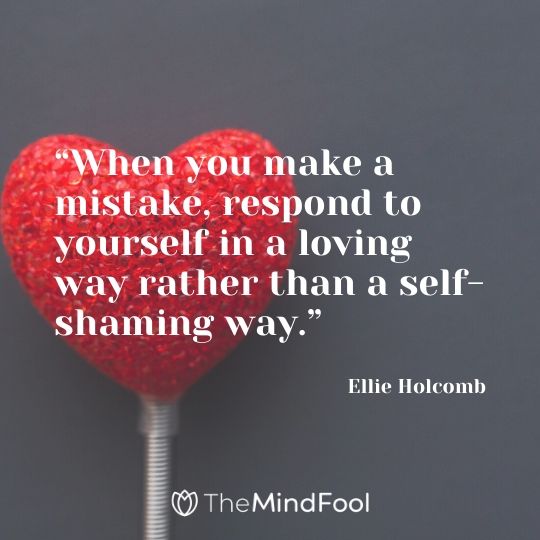 2. "We just need to be kinder to ourselves. If we treated ourselves the way we treated our best friend, can you imagine how much better off we would be?"

– Meghan Markle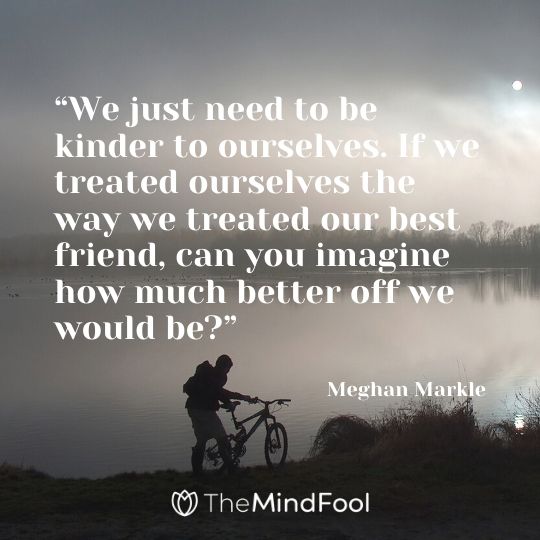 3. "Until you value yourself, you won't value your time. Until you value your time, you will not do anything with it."

– M. Scott Peck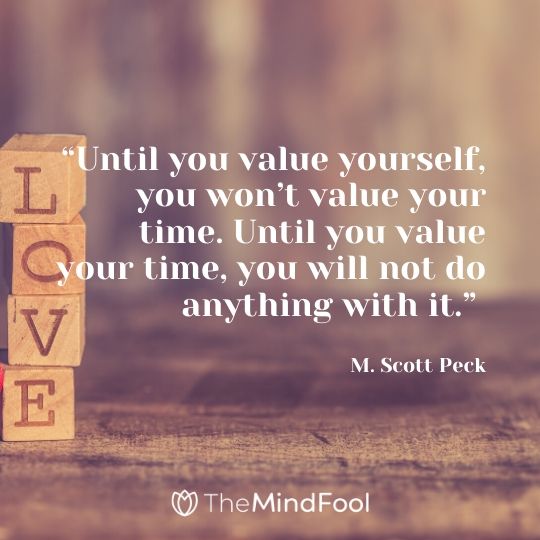 4. "A man cannot be comfortable without his own approval."

– Mark Twain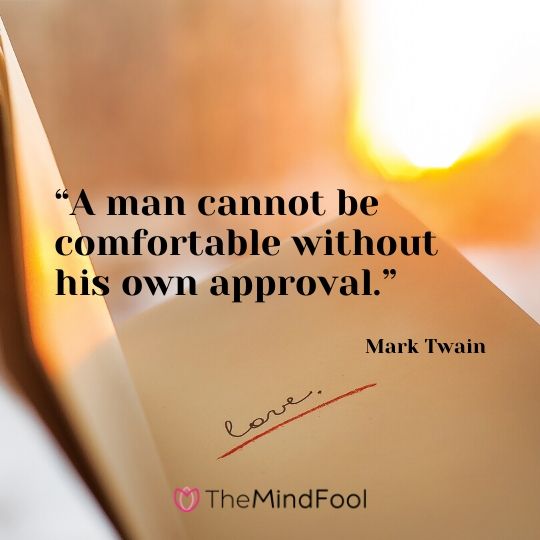 5. "Compassionate toward yourself, you reconcile all beings in the world."

– Lao Tzu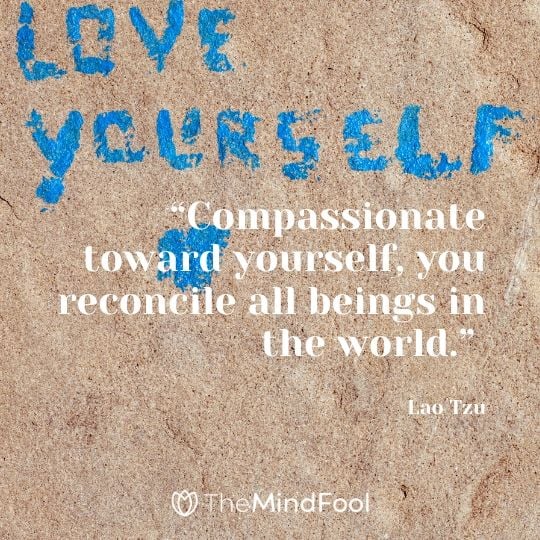 6. "Your problem is you're too busy holding on to your unworthiness."

– Ram Dass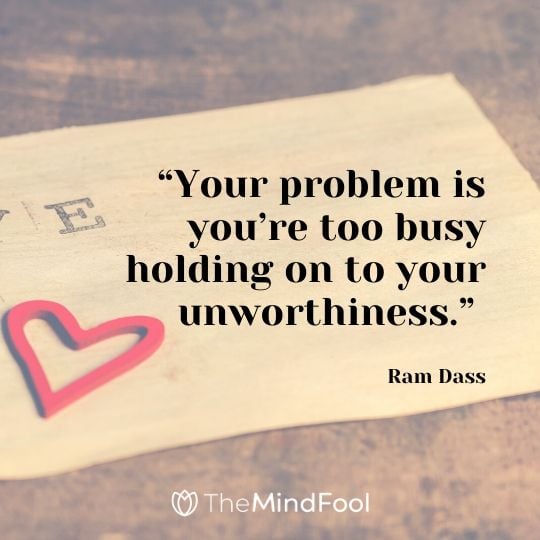 7. "You alone are enough. You have nothing to prove to anyone."

– Maya Angelou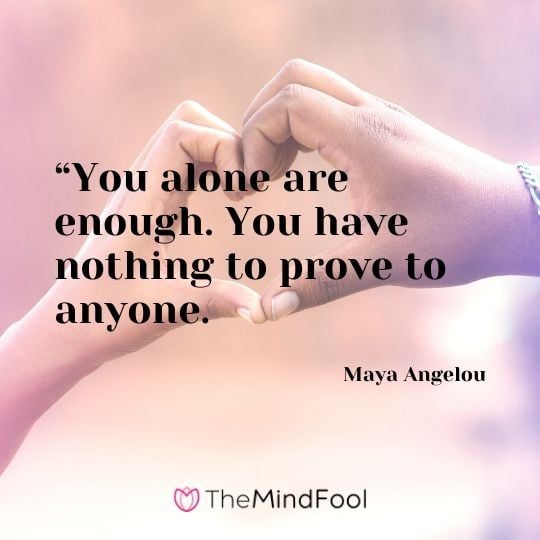 8. "Loving yourself isn't vanity. It is sanity

– Katrina Meyer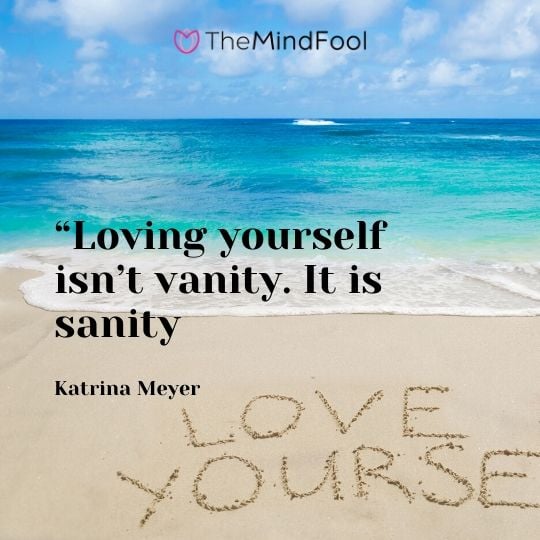 9. "The relationship with yourself sets the tone for every other relationship you have."

– Jane Travis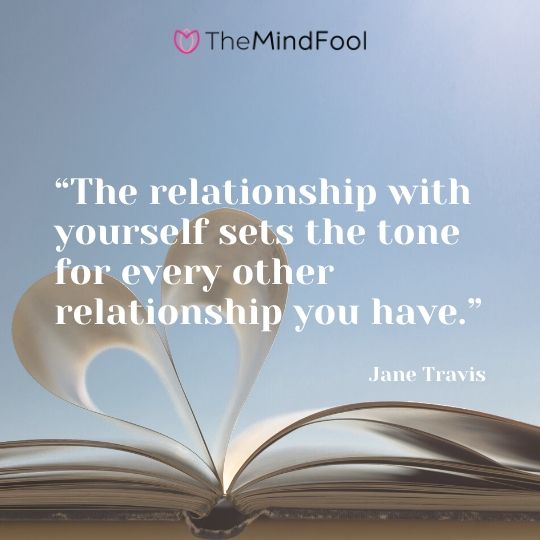 10. "I now see how owning our story and loving ourselves through that process is the bravest thing that we will ever do."

– Brene Brown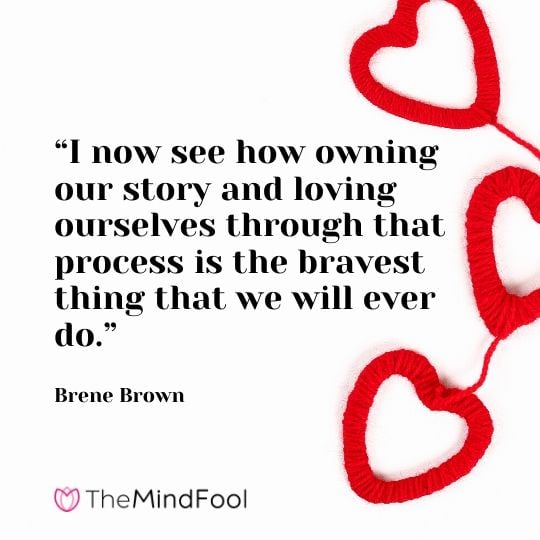 11. "You can't really love someone else unless you really love yourself first."

– Fred Rogers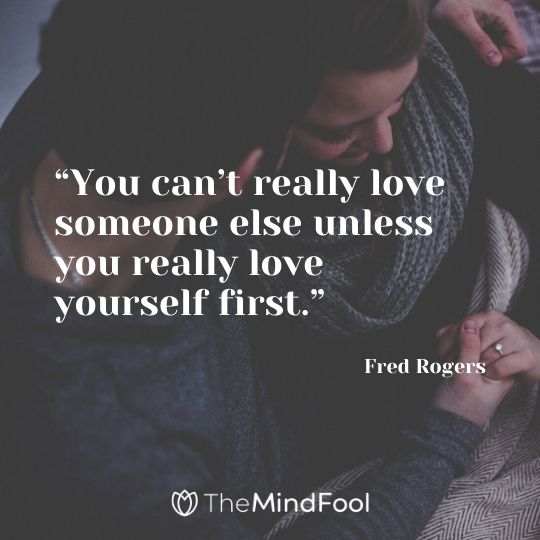 12. "If you don't love yourself you'll never feel like anyone else does either."

– Bridgett Devoue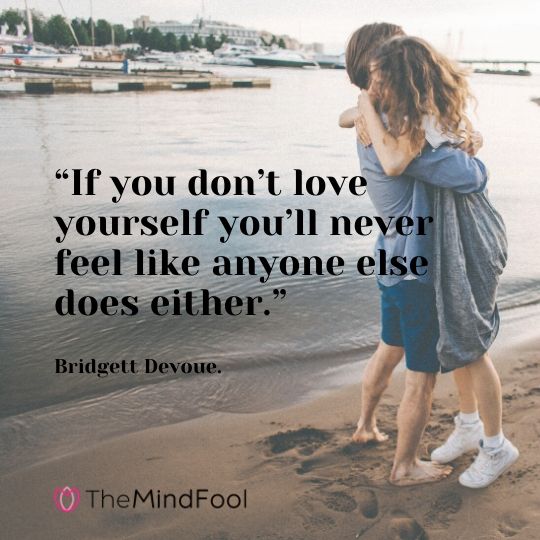 13. "Loving ourselves works miracles in our lives."

– Louise L. Hay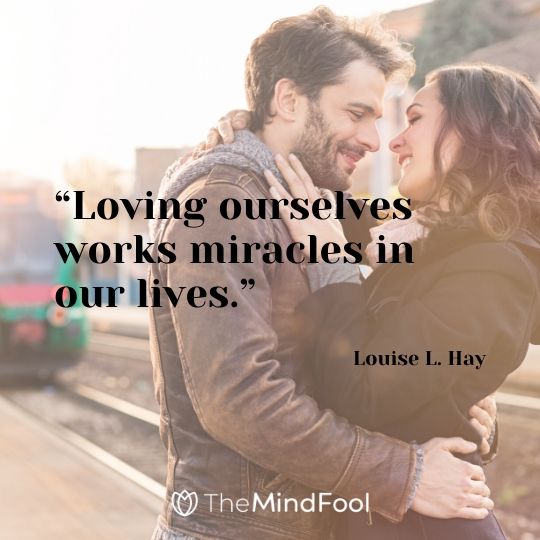 14. "If you have the ability to love, love yourself first."

– Charles Bukowski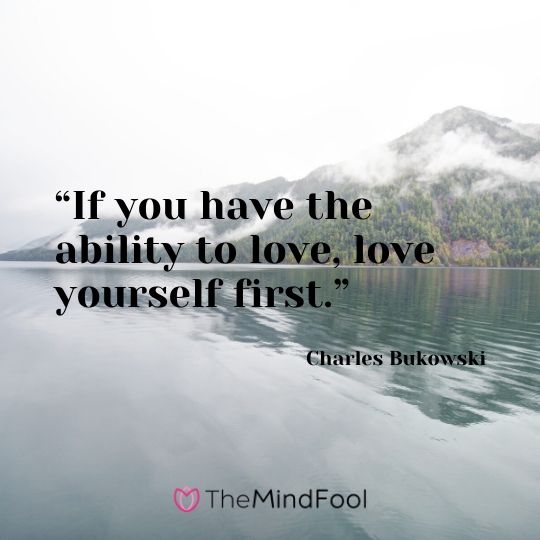 15. "Loving yourself starts with liking yourself, which starts with respecting yourself, which starts with thinking of yourself in positive ways."

– Jerry Corsten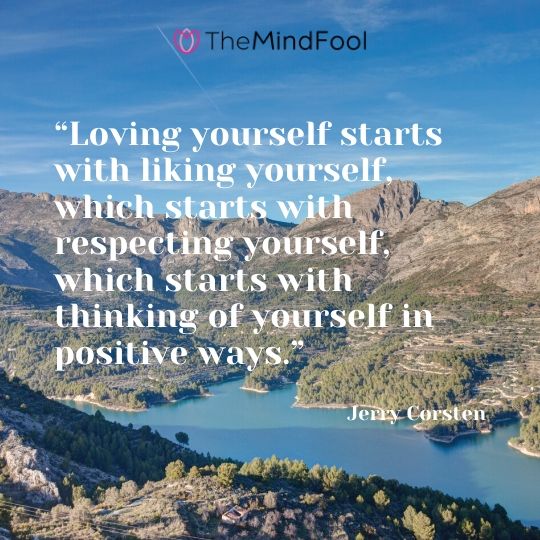 Closing Thoughts
Knowing how to love yourself is like unfolding a new 'you' that remained hidden and lost under societal pressure. When you start loving yourself each day, it brings amazing changes. Your life gets better. You become the power you have been seeking for so long.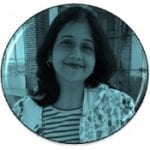 Chandrani Mukherjee
A Psychologist with a master's degree in Psychology, a former school psychologist, and a teacher by profession Chandrani loves to live life simply and happily. She is an avid reader and a keen observer. Writing has always been a passion for her, since her school days. It helps to de-stress and keeps her mentally agile. Pursuing a career in writing was a chance occurrence when she started to pen down her thoughts and experiences for a few childcare and parenting websites. Her lovable niche includes mental health, parenting, childcare, and self-improvement. She is here to share her thoughts and experiences and enrich the lives of few if not many.