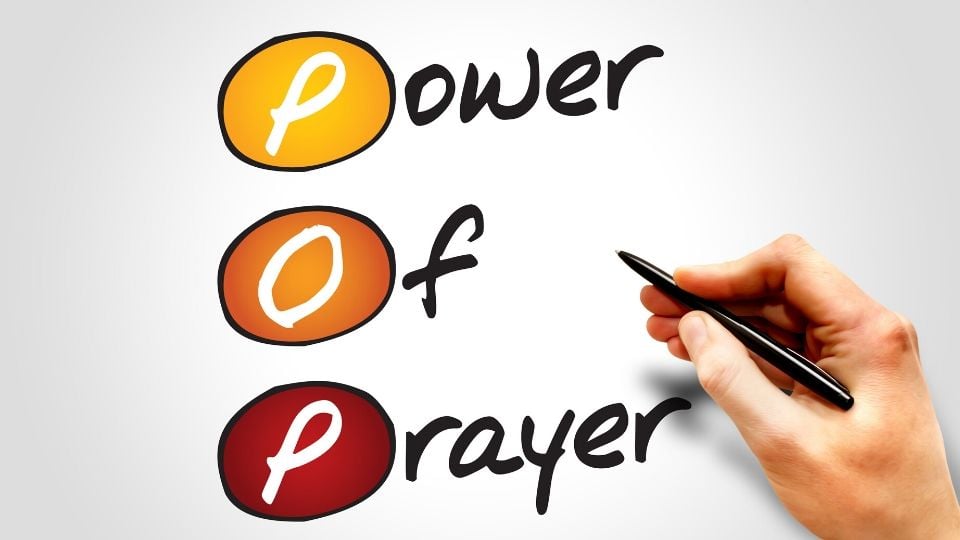 In many communities and cultures, worshipping God is an integral part of their daily living. Man has always bowed down before the Lord for protection and well being. The power of prayer is acknowledged during adverse life situations when we seek help and guidance to solve our problems.
The act of worship signifies the strength of your trust and belief in a specific way. Praying is a way of relating to the Almighty, the creator. We kneel in front of him to receive his mercy and grace.
The magic of praying lies in receiving endless love, humility, and patience. It empowers you to become a strong, confident, and self-reliant individual.
What is Prayer?
---
SUMMARY
Prayer is a solemn request for help and protection from a supreme power.
Prayer is an invocation or act that builds a strong communion with God. It is a spiritual bond that gives absolute bliss and happiness. It is a personal experience of internal connection between you and your Almighty Lord, who is always there to protect you from all odds.
The Power of Prayer gives a sense of emotional security. You know divine powers are guiding you in your life's journey. When you pray you develop a deep connection with an ever-powerful soul that is strong enough to bring desirable changes in your life.
While praying, you open your heart and talk to someone who loves you unconditionally. He knows you better than yourself. There is no criticism and blame, but pure love, enlightened wisdom between you and the Lord.
All religions have specific ways of praying. Praying is an eternal connection between you and the Almighty. Thus, it should be simple and authentic. If you are honest and possess a righteous lifestyle, you can come closer to God.
Why Do We Pray?
---
Prayers are done with faith to serve a righteous purpose. You want God to fulfill your wish or bless you to attain success in life. Moreover, prayers are the best way to seek protection, help, and guidance to sail through tough times in life.
There are various reasons for doing a prayer.
You pray because it is a form of service to divine power, worth worshiping. A Prayer is a form of spiritual practice that connects you to your higher self.
If you pray, you find peace within.
It is an act of obedience. Prayer makes you follow rules of kindness and social service.
You pray because you are in search of solutions to your varied problems.
Praying helps in the emotional healing of past wounds. You learn to forgive those who sin against you.
Prayers are performed to show gratitude to God, who has bestowed endless opportunities your way.
When you pray, you communicate with God and seek his blessings in your various pursuits.
Daily prayer can make you a wise and generous being.
You pray because it gives you mental strength and resilience to meet various life challenges.
Through prayers, you seek God's forgiveness for all your sins and wrong actions.
You ask for God's blessings to render protection to you, your family and friends.
Prayers can bring you closer to God. It paves the path for spiritual ascension.
Studies showed that if you spend a small time praying every day, it lowers your stress levels and anxiety to a great extent.
Prayer gives you hope to see better things in life.
When life throws problems your way, you may feel disappointed and lose heart. At this time, prayers give you the confidence to keep going and fight back with courage.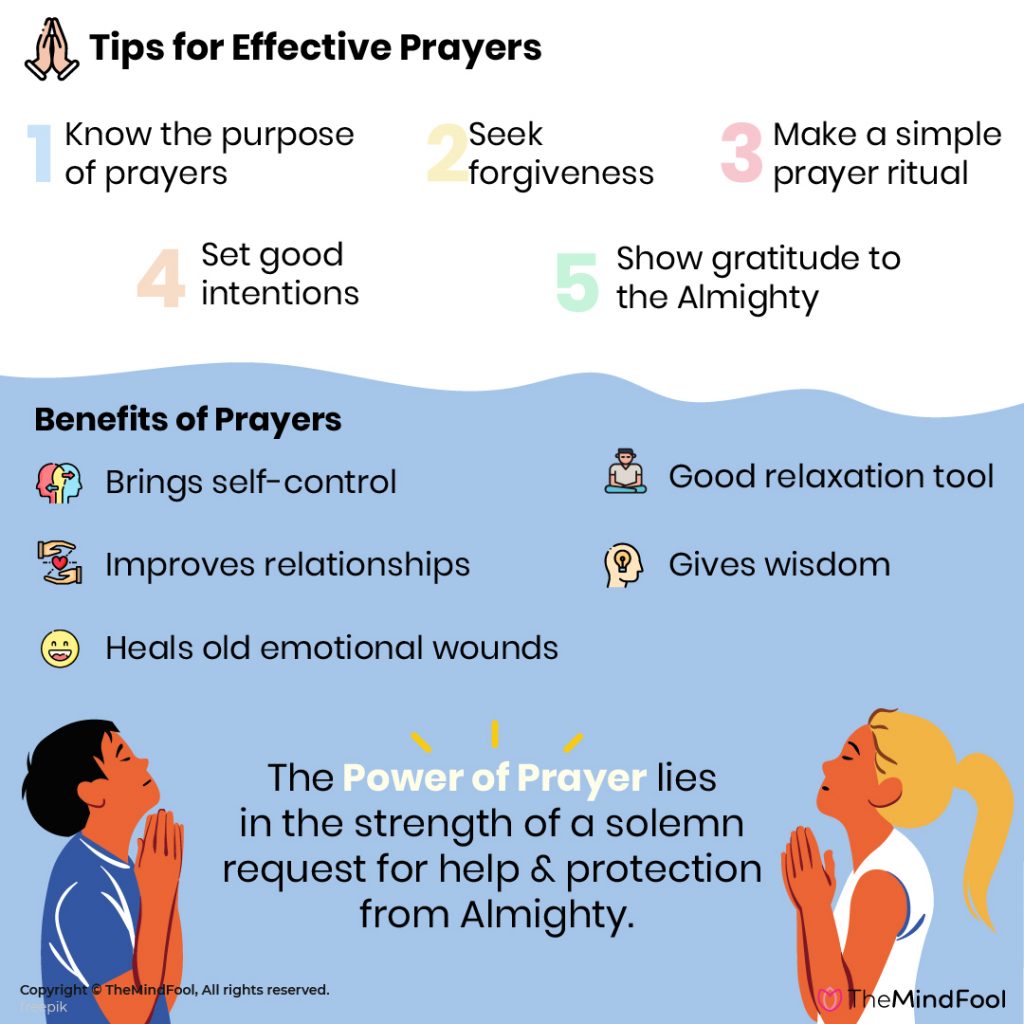 Importance of Power of Prayer (12 Points To Reckon)
---
At times, you may feel crushed and defeated from within. There is no hope anywhere and you feel stuck in a rocky territory without an aid. This is the time you hold on to prayers as a lender of the last resort.
Praying is strength. It encourages you to meet all adversities with courage and confidence. The importance of prayers lies in its healing powers.
The power of prayer lies in the fact that you draw yourself near to the creator who is ever powerful. He will take away all your problems and is going to bestow you with endless happiness and bliss.
Prayer is a tool to win tough battles in life. You can win over your negative thoughts, evil feelings, and unkind actions toward self and others.
It brings light to the in-depth darkness that lies within you. It could be the darkness of your ego, pride, selfishness, jealousy, and anguish.
Prayer changes you as a person. The divine light of wisdom enlightens your intellect towards righteous and purposeful living.
Prayers help to set good intentions that motivate you to accomplish your goals.
Through an honest prayer, we seek God's blessing to get the best things in life.
It helps in understanding those divine powers that protect you from all dangers. You can feel God's existence in your body, mind, and intellect.
Prayer teaches faith, love, respect, humility, and devotion for the deity whom you follow.
Daily prayers give peace. You attain a state of serenity after offering a prayer.
You can attain the desired success in any task undertaken.
Prayers take you from a gross to a subtle realm of spiritual existence. It teaches authentic self-realization.
A Prayer teaches you values and develops good character traits needed for rightful living.
8 Types of Prayers
---
There are various types or forms of prayers that you may practice to seek God's blessings. Through dedicated prayer, you learn to pour out your deepest fears and insecurities in front of God.
The different types of prayer offerings are as follows:
1. Prayer of Faith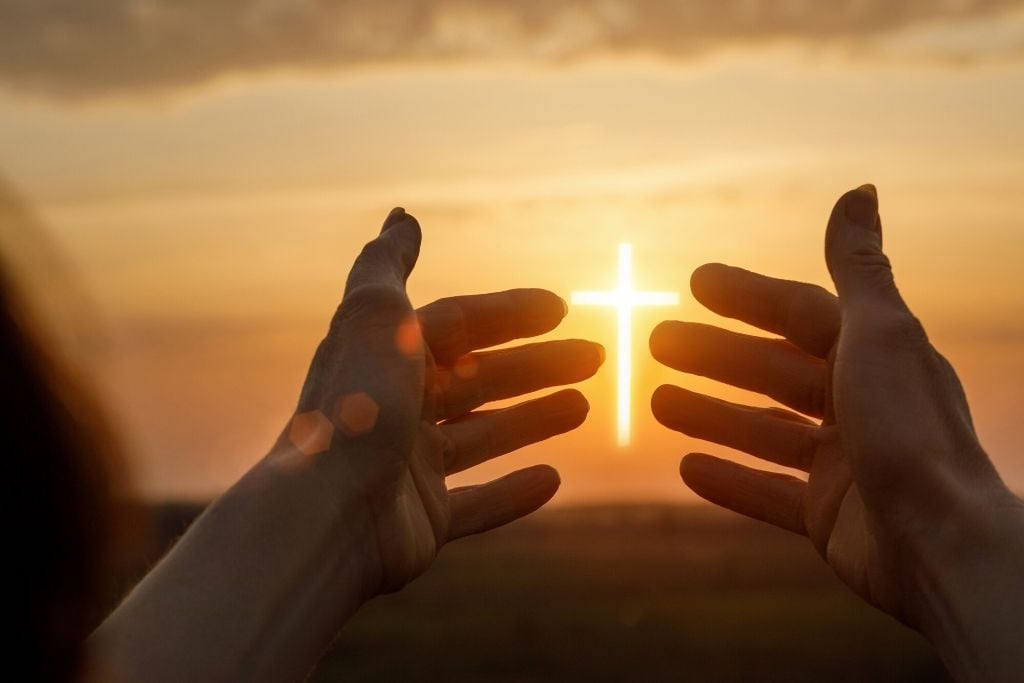 Most of the prayers are based on faith and devotion to the Almighty. You surrender yourself to the divine power knowing that you will be taken care of. Dependency and submission to the Lord is the basis of this kind of prayer.
This faith prayer symbolizes absolute trust towards the Lord. You know whatever be the circumstance is God will show you the right path of choice and wisdom.
2. Prayer of worship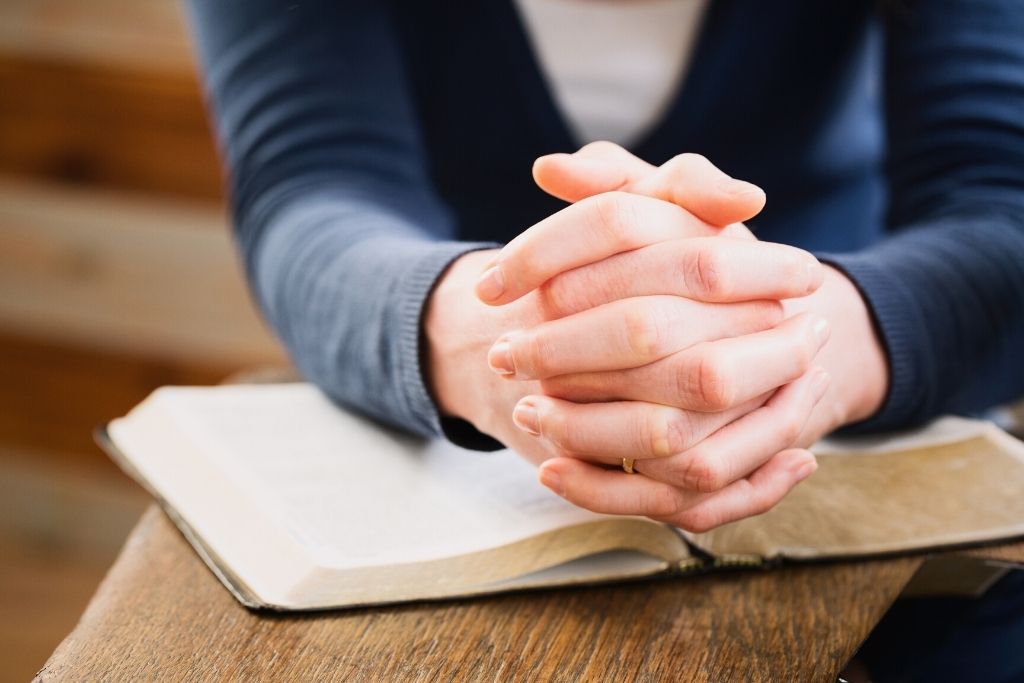 You think highly of a supreme being who is bestowed with so much power. In this prayer form, you adore the Lord for who he is. You praise him for his endless love, mercy, and grace.
Worship lets you bend your knee before him in humility and gratefulness. Prayer of worship strengthens you and makes you confident to serve him better.
3. Thanksgiving prayer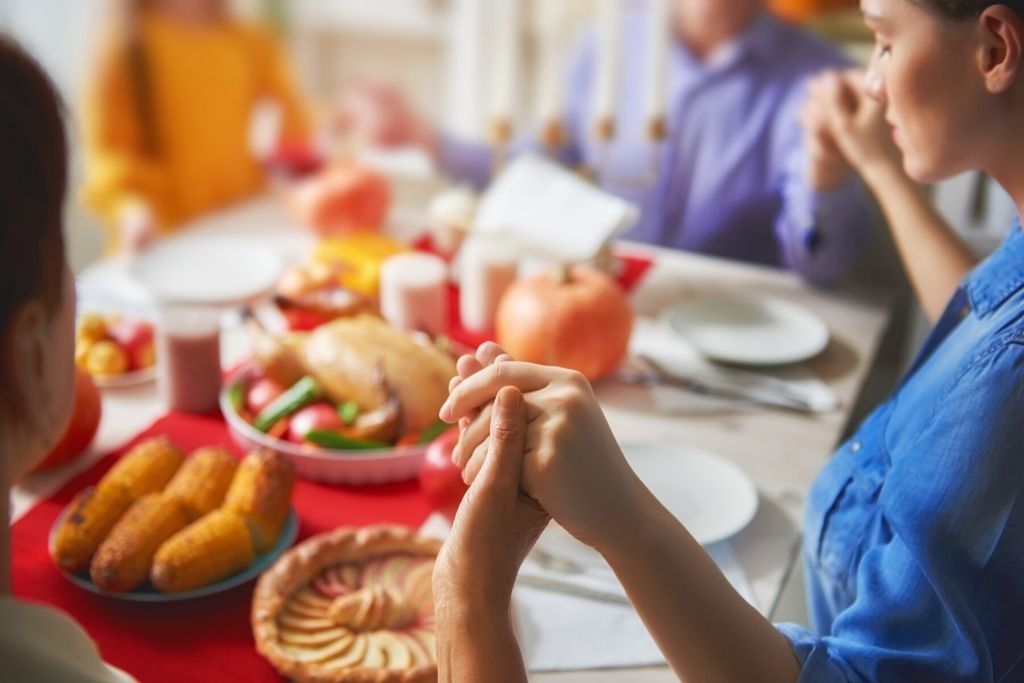 In this form of prayer, you thank Lord for whatever he has given you. You are grateful for your endless love, kindness, and mercy. It is about recognizing and acknowledging that every good and bad thing happening to you has a purpose.
You thank God for all the miseries and sufferings too because they helped you to become strong and courageous. You have learned to deal with problems patiently.
This form of prayer helps you to approve your virtues and vices equally well. You learn to work on your dark sides to become a better being.
4. Prayer of confession
When you have learned to repent and admit your faults, you offer a prayer of confession. You confess your bad deeds, sins, misbehaviors that made you bow down with guilt and repentance.
You feel shameful and seek God's forgiveness. It is an expression of remorse and disgrace. When you confess, you want the Lord to forgive you and enlighten your intellect with truth and wisdom.
5. Prayer of petition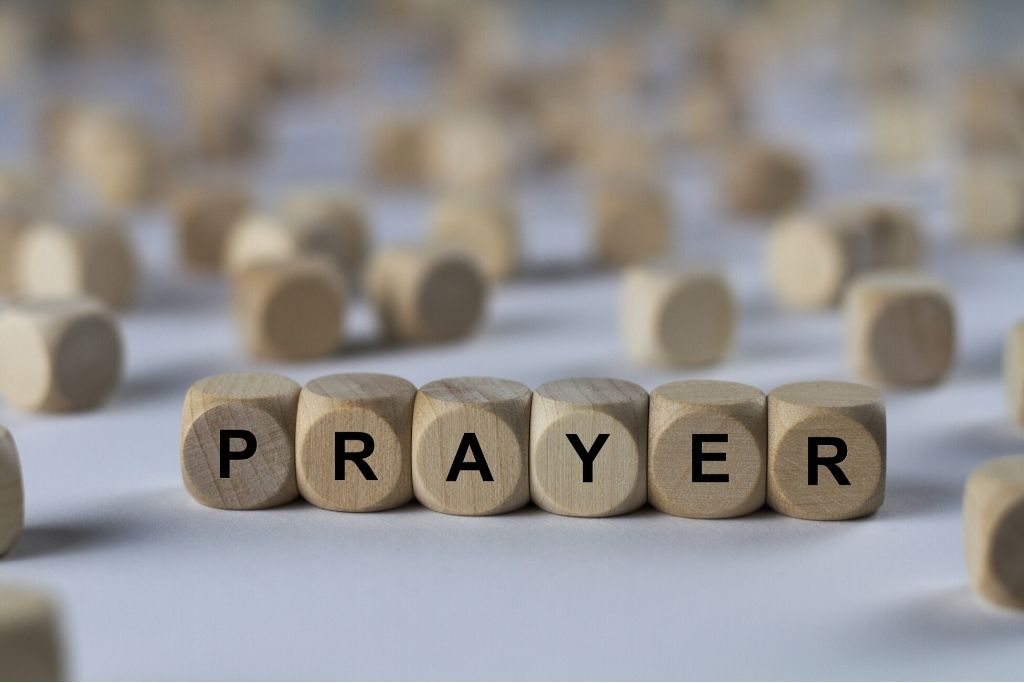 These prayers are like humble requests that you make to fulfill desires, wants, and wishes. These prayers are meant for wish fulfillment. As you know and believe in the power of prayers, you know that your requests will be kept and fulfilled.
6. Intercession prayers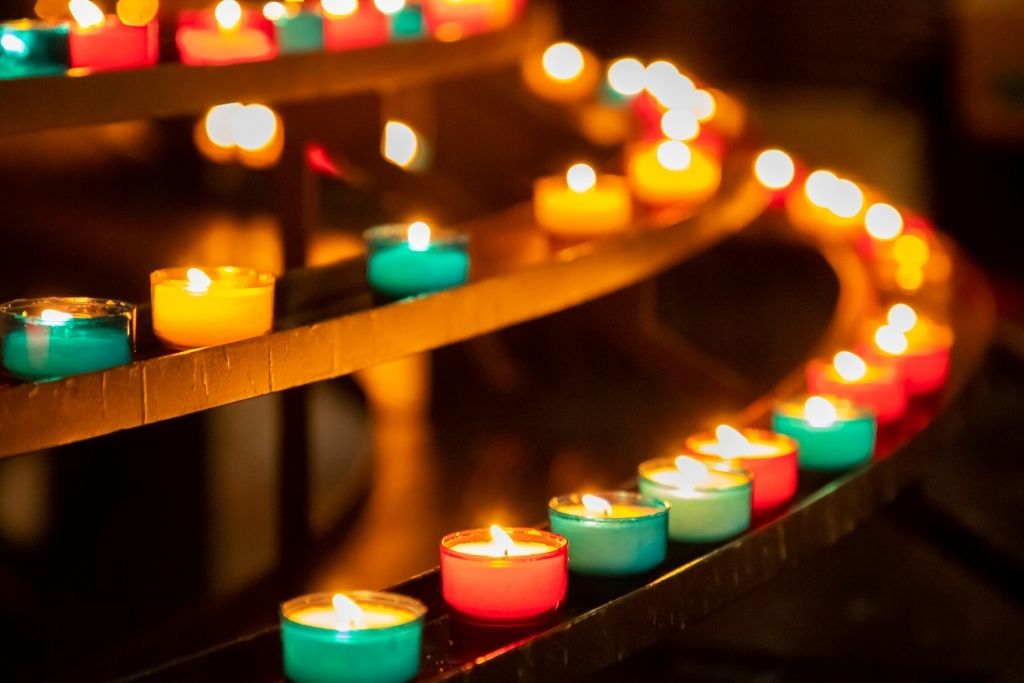 In this type of prayer, you pray on behalf of others. It is done for the benefit of a community or religious clan as a whole. Examples are a prayer for peace, prayers for religious tolerances; prayers done for warfare between countries, etc.
These are mass prayer offerings meant to seek God's intervention in solving mass problems and national calamities.
7. Individual prayer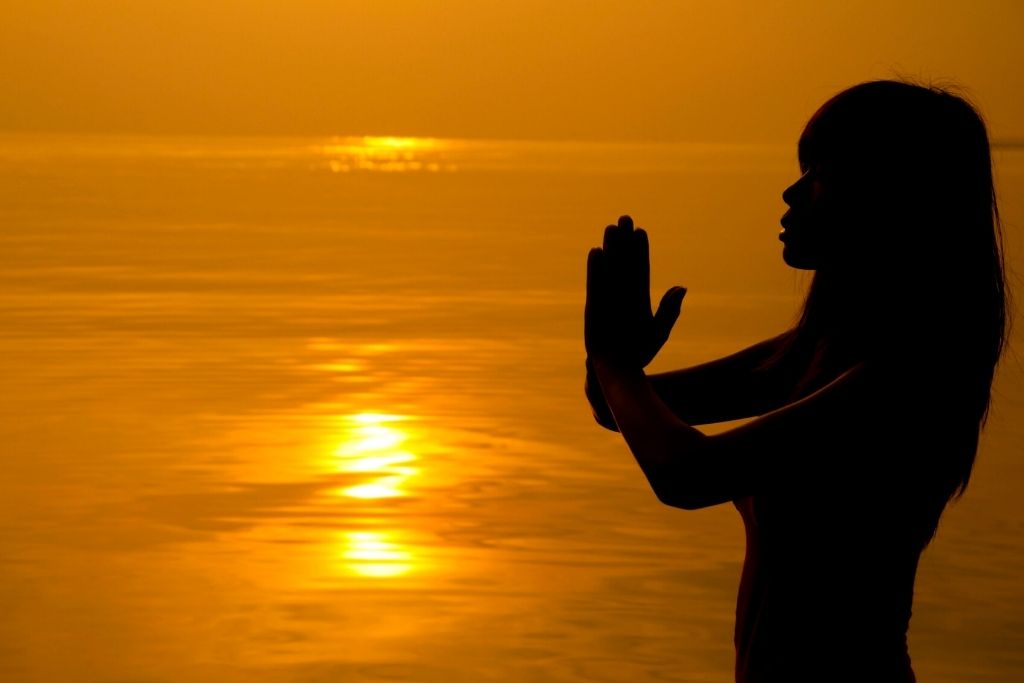 It is a personal form of prayer done by an individual to meet his specific needs. These are set on clear intentions such as seeking protection for self and family, wise decisions that you may need to take, or deliverance from worldly temptations.
These prayers work positively as you are aware of 'what are you praying for?'
It involves self-discipline and dedication towards the lord. It is a good way to vent out unresolved emotional tensions. Individual prayers can be done at home or by visiting religious places of worship.
8. Group or collective prayer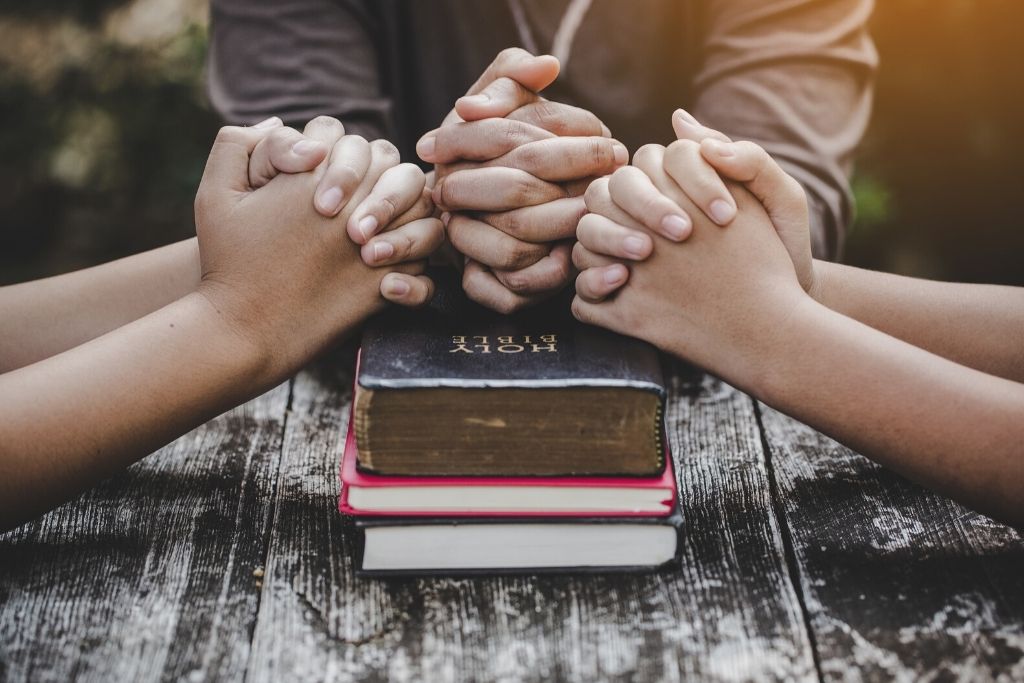 These prayers are offered by many people with a common purpose and intent. It is usually offered in religious places by members of a particular faith or religion. These prayers are held at times to influence various social orders.
It has a clear purpose that all members of the group follow. Examples are Baptist congregation or Islamic Salat.
Significance of a Morning Prayer
---
Starting a new day with a prayer is a wonderful thing to do. Morning Prayer is a way to connect with the Lord, who reminds us of our purpose in life. Prayer is a tool for strength and determination to do things right. It also reminds you of your mission for a particular day.
You can start your day with a positive mindset. Prayer holds the power to guide you into the flow of the day. It keeps you calm and renders emotional wellness.
When you thank God for another beautiful day in your life, you show your gratitude towards him. You seek his guidance to move ahead in tough times.
God renders guidance and gives you spiritual and emotional power to get through each day. You are prepared to face whatever comes your way.
Benefits of Morning Prayer
---
Morning devotional prayer is a source of inspiration and insight.
You become motivated and optimized to move on with your daily chores.
Your day will be calm and balanced.
Faith in God gets reinforced and you start realizing his presence and blessings in whatever you do.
It strengthens your beliefs that you are not alone. There is some divine force to protect and guide you throughout the day.
The power of prayer gives you the courage to avoid temptations. It keeps you away from making the wrong choices.
Morning prayers align you with God's will. You understand the things that he wants you to do.
A morning prayer makes you kind, humble, and forgiving. You become holy and wise.
Prayer is a subtle force that connects you to your maker, for a few minutes in a day. It is the best way to seek pure love and truth that guides your life towards rightful living.
You cleanse your heart from wrong thoughts, impure feelings, and sinful deeds and start things afresh.
A little room for daily morning prayer is a habit that you cannot do without. Let it become an everyday ritual. The power of prayer is immense. It is a purging process that makes you 'One' with the Universal forces.
How To Pray To God? (10 Powerful Tips)
---
Sincerity and devotion are the two keys to pray it right. Praying is an individual offering and it varies from one person to the other. When you pray, have faith in God's omnipresence. A divine belongingness to the Supreme Lord helps you to surrender to him with trust and faith.
Few tips on how to pray in the right way are as follows:
You should know the purpose of your praying. Purpose gives you direction and focus.
Thank God and be grateful for all the good and bad things you have got in your life. Do not complain rather acknowledge his kindness and help. A heartfelt thanks to the Almighty for the unanswered prayers, the healings, and overcoming impossible situations are an important part of praying.
Say what you need with kindness and humility. A humble and grateful request will always be answered.
Ask God to forgive you for all the sins. Forgiveness brings peace and happiness. It makes your spiritual journey an easy one.
Pray for the well being of your family, friends, and well-wishers. This helps to develop empathy.
Make a simple prayer ritual every day to feel good. It may not be an elaborate one. Almighty even listens to your shortest requests, if done sincerely.
You can make your prayer guide. It is a list of things about which you should pray.
Setting intentions is important before praying. Creating good thoughts is a guiding force for peaceful prayers.
Be authentic while you pray. Do not hide your deepest secrets in front of God.
Continue praying under all circumstances. Do not lose hope and faith. Your answers can come at any moment.
Difference Between Prayer and Worship
---
There is an appearing similarity between prayer and worship. Thus, they are used synonymously. But, there are a few differences between them, with regard to meaning and connotations.
| | |
| --- | --- |
| Prayer | Worship |
| A communication between you and lord. It is a devout petition and a spiritual homage. | It is the honor and adoration of a sacred entity. It is performed through ceremonies. |
| Prayer is based on mindfulness and spirituality | Worship is based on various religious rituals. |
| It doesn't involve procedures. It is individualistic and may or may not involve rituals. It is an individual request. | Worship follows ceremonies based on a specific religion. It is a religious praise of a particular deity. |
| Prayer can be offered daily or regularly. | Worship is not done daily. It is offered during specific religious events and ceremonies. |
| This may not need the guidance of a priest and can be pronounced individually. | Worship generally requires the guidance of a priest. |
| It is done to fulfill your intentions. | Mainly done as a community activity for the betterment of all. |
| Prayer is a simple practice of showing love and respect to God. It usually doesn't involve chanting hymns, songs, and ceremonies | Worship is an intense adoration that is elaborate with songs, hymns, mantras, and various rituals. It is glorified in nature. |
difference between prayer and worship
Benefits of the 'Power of Prayer'
---
Prayers can guide you through a process of spiritual awakening. It is an intense yearning for your happiness and well being. You meditate in the name of Lord and relish his presence within you. Prayers are a powerful tool to empower your intellect. It guides emotions and actions in desirable ways.
Research studies indicate that the power of prayer is insurmountable. It benefits your physical, mental, and emotional well being.
1. Prayer brings self-control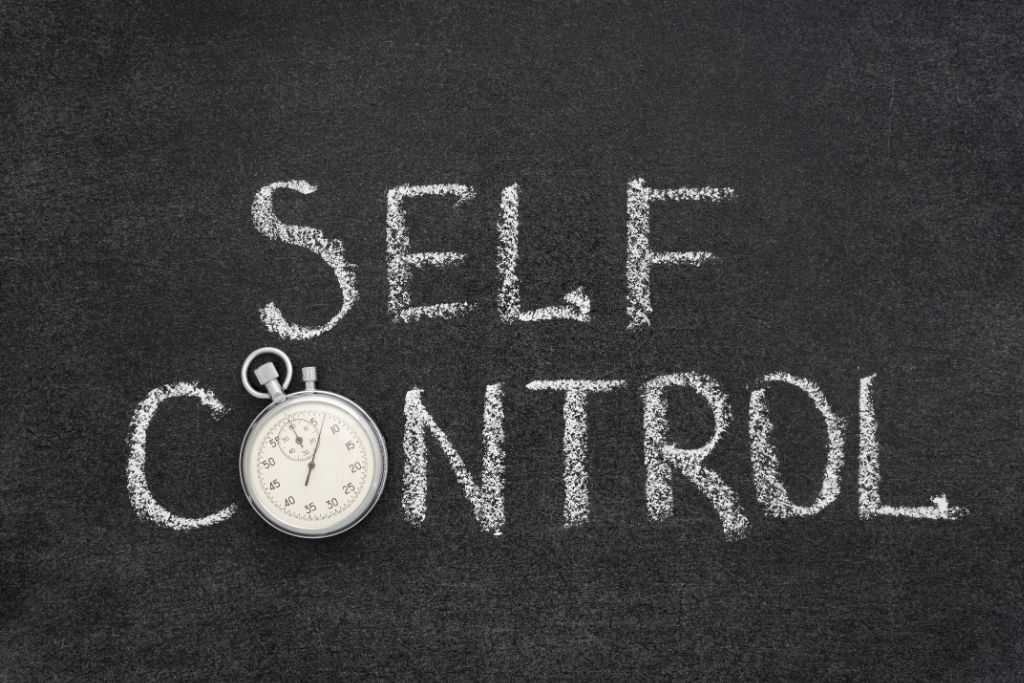 Various research studies suggested that prayer helps to develop self-control and mental strength. It showed that prayer removes fatigue and boosts you to keep going in hard times.
It controls your anguish, frustration, guilt, and grief. Prayers act as motivators to pursue goals. Simply, it works out things for you. You gain control over your irrational thoughts, false beliefs, and wrong perspectives.
2. Prayer improves relationships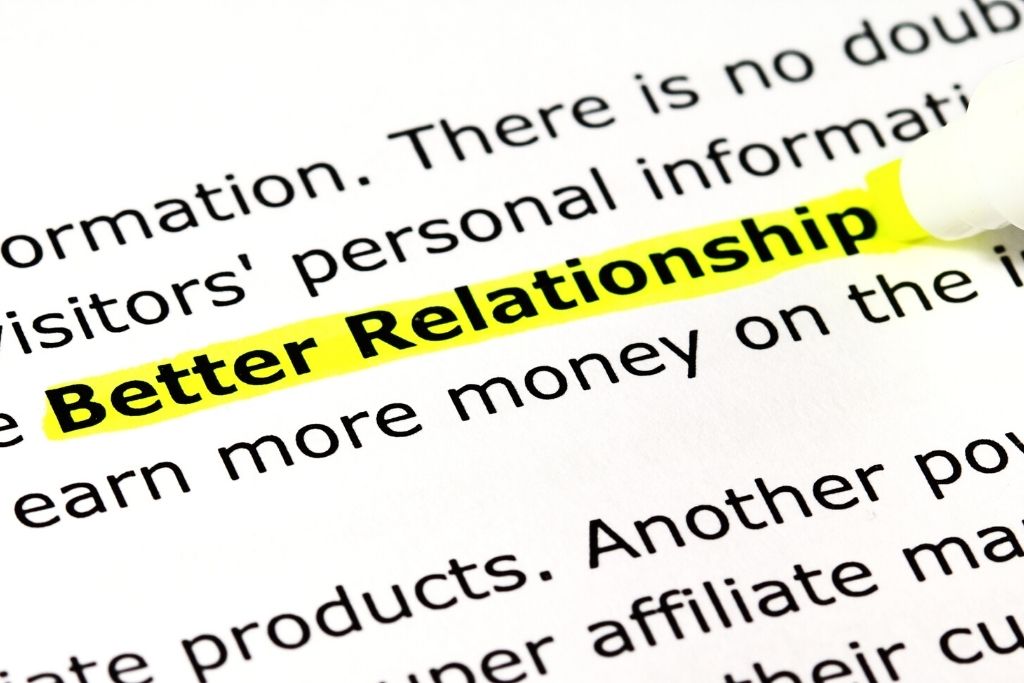 Prayer impacts your close relationships. When you pray for the well being of family and friends, you become more loving towards them.
You may even forgive them for their mistakes. You gain better adjustment and greater trust in your relationships.
Those who pray for their partners can become loyal, loving, and caring. Partners can easily keep away disappointments and negative feelings, if they pray for each other.
3. Cope with stress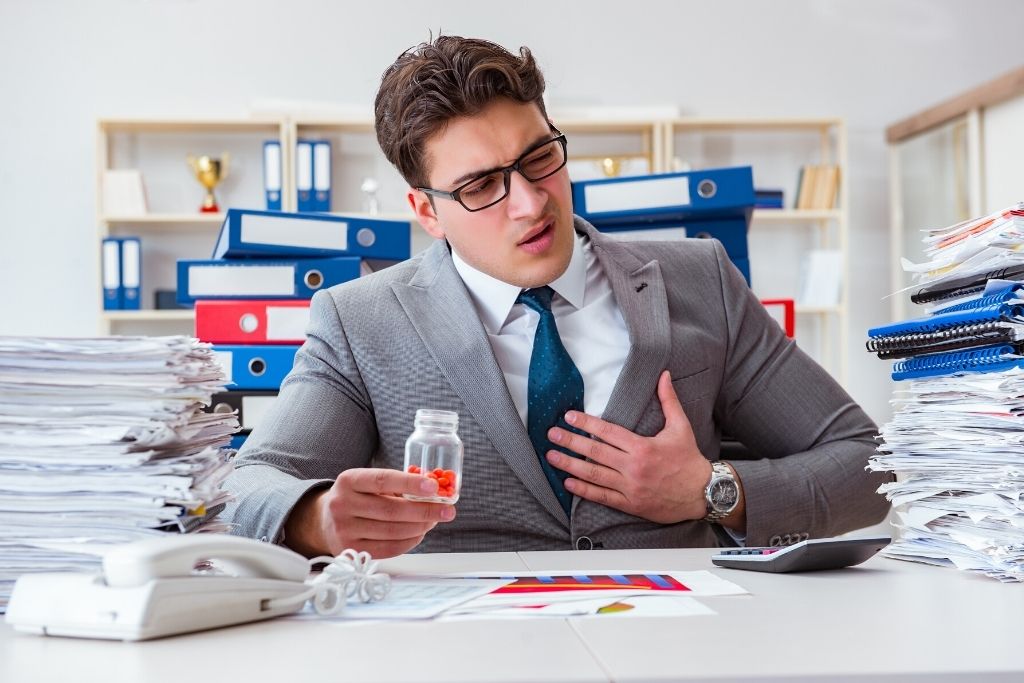 Adults resort to prayers to cope with stress. Prayers act as a support to lean on in times of adversities. You believe that there is some superpower that will help you sail through rough patches.
The powers of prayers are acknowledged for their healing properties. It reduces emotional pain arising out of anxiety, broken relations, the death of loved ones, etc. Various spiritual techniques such as reciting mantras and hymns, religious counseling, meditation in front of God can give you mental peace and resilience.
4. Prayer as a relaxation tool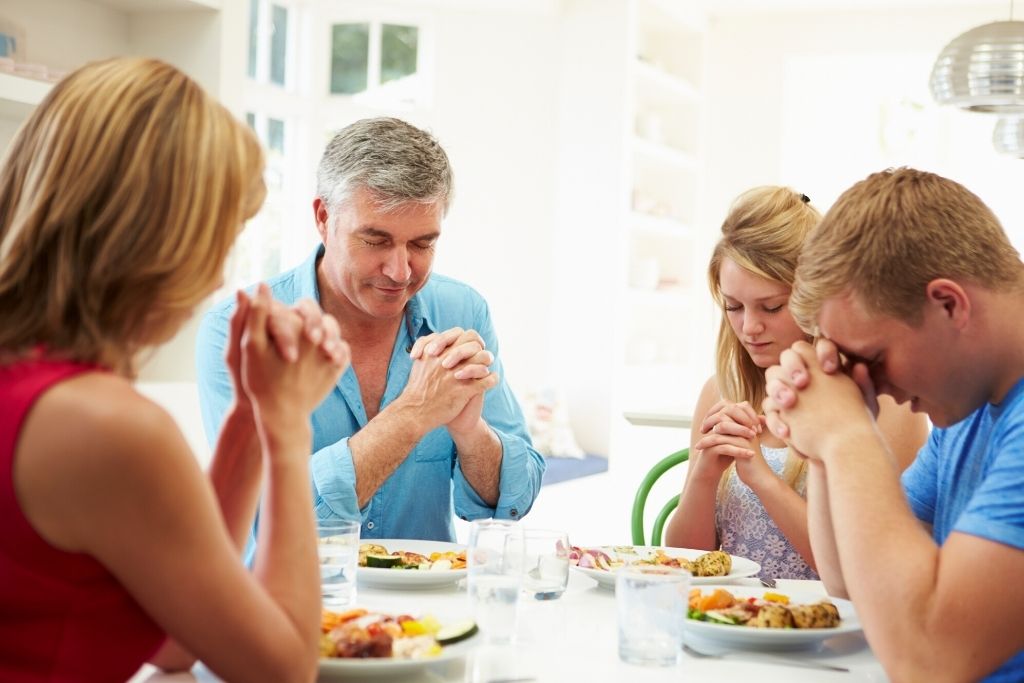 You may offer prayers to feel happy and relaxed. It makes you mindful of your present moments. It also helps to reduce lifestyle diseases such as blood pressure, cancer, infertility, etc. it improves your overall health.
Prayer and meditation bring more happiness by improving your positive emotions. Thus, prayers have proved to decrease depressive symptoms as well.
5. A better sense of self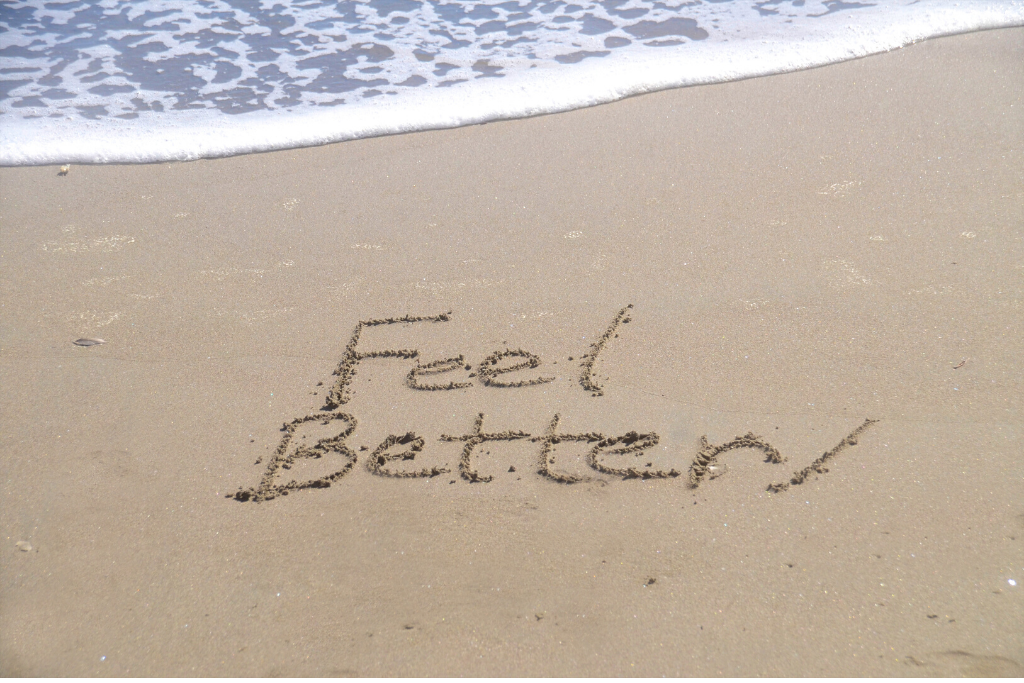 Prayer is an internal communion between you and the Lord. You draw your attention inward to grow and evolve as a spiritual being. Prayer reduces feelings of anguish and jealousy. You become kind, caring, and humble. You even begin to think for others.
6. Improves attitude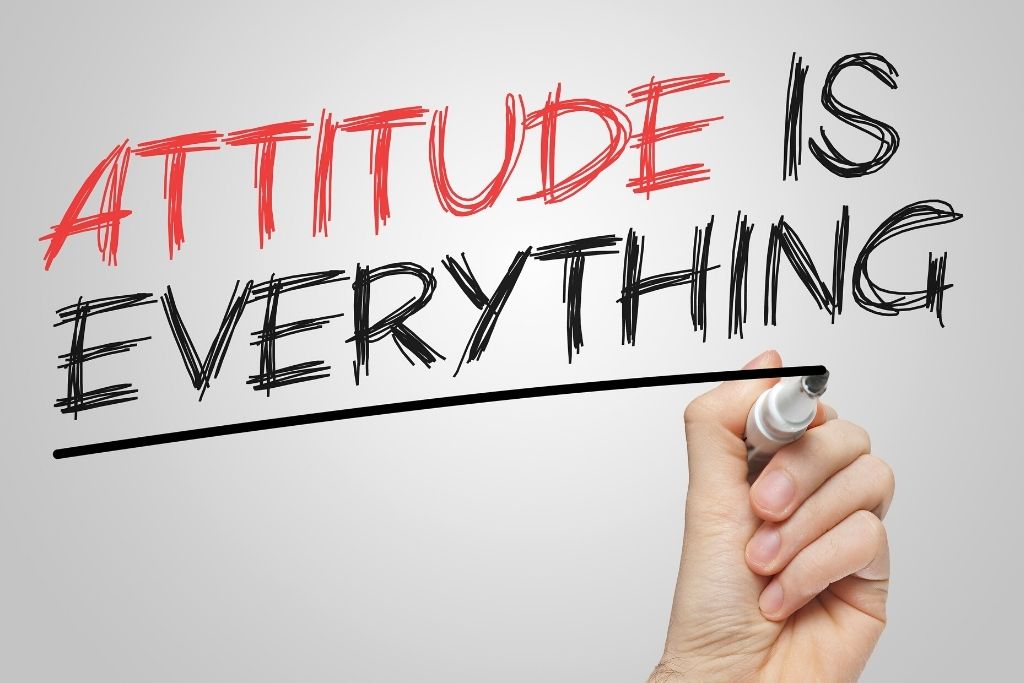 Prayers can bring a positive mindset towards life. When you pray, you realize that your problems are petty and small as compared to many big issues that the world is facing today.
It helps to develop empathy and gratitude. The ideology of help and selflessness towards the community come from prayers.
7. Makes you forgiving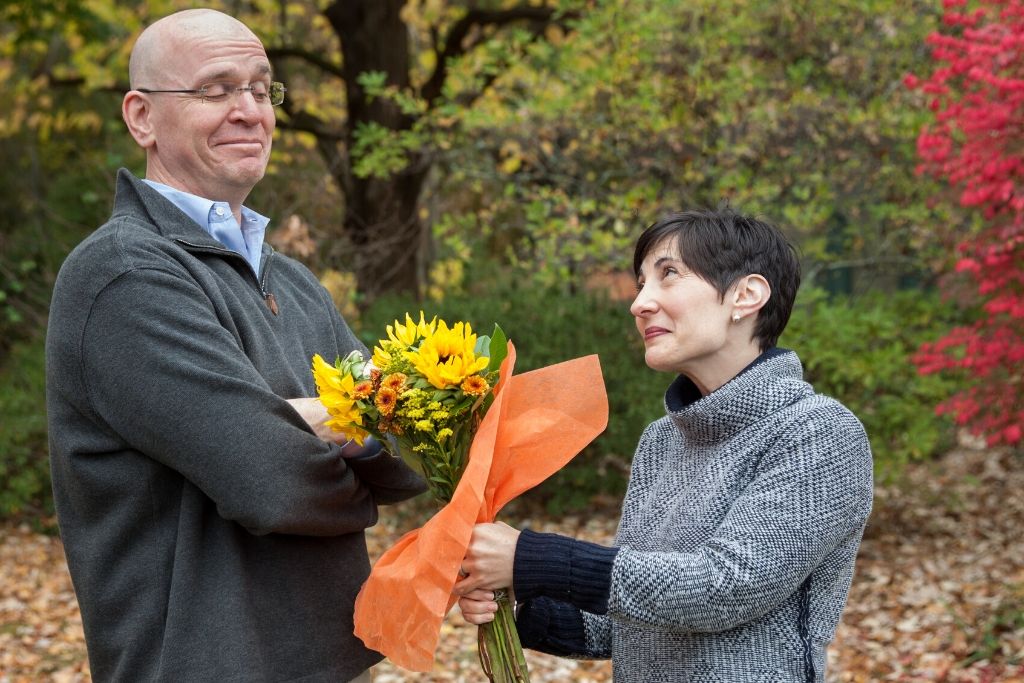 The power of prayer lies in its forgiving nature. It develops an open heart that is meant to spread love and forgive others who sin against you.
You can even forgive yourself for past mistakes that you committed towards others. When you admit mistakes, you move towards a path of spiritual awakening.
Prayers give you insight and a sense of direction of what is right and what is wrong. You gain control over your temptations and find peace and satisfaction with whatever you have.
8. Prayer gives hope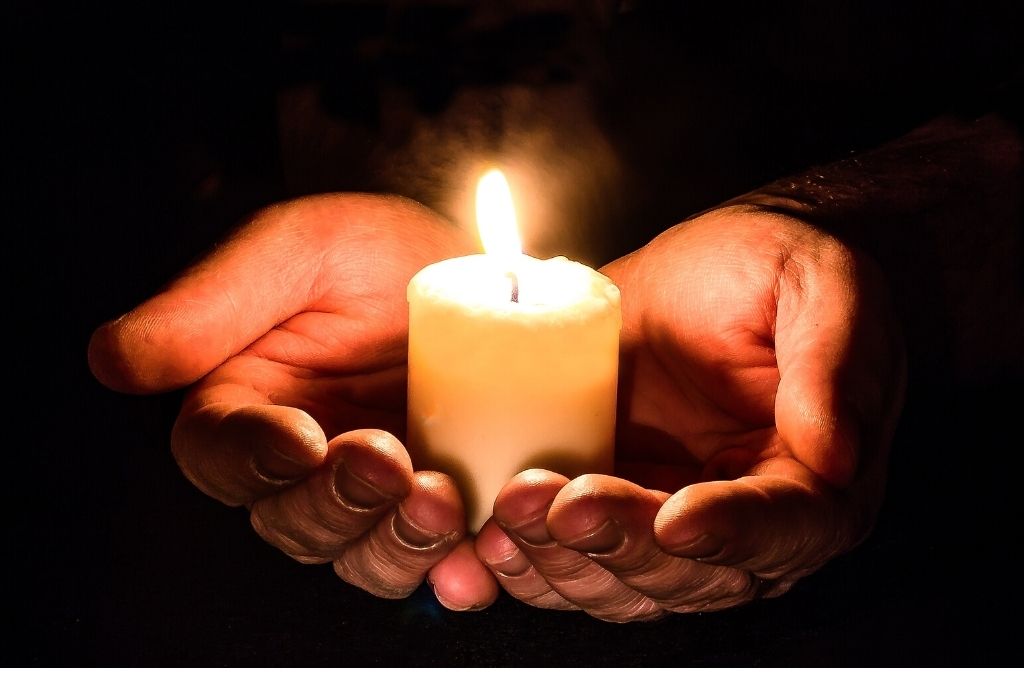 Prayer is like a light at the end of the tunnel. When life throws many problems towards you, you feel helpless and try to find a way out. A prayer is an effective tool that gives hope in such situations.
You trust a higher being to solve your problems. This trust gives you mental strength and reduces emotional agonies. It helps to burden off the problems from your shoulders to a great extent.
9. Recovery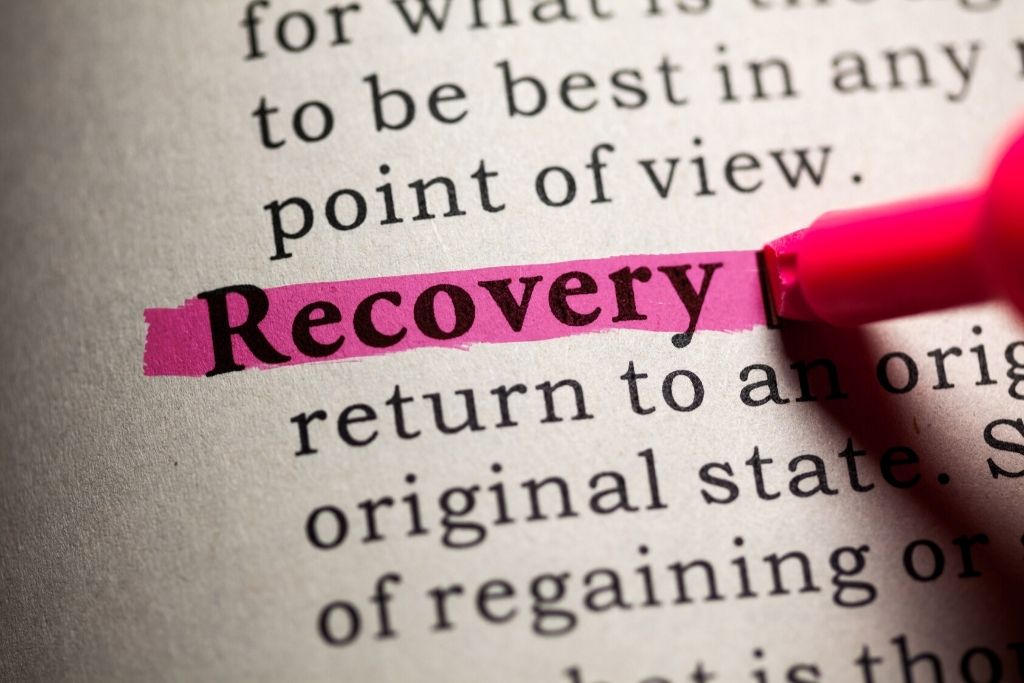 Prayer helps in recovery to deal with the aftermath of emotional trauma. It gives hope that good days will soon be back and the bad phase will pass out early. It helps to develop a stronger mindset as you know you can overcome trivial and major concerns of your life.
10. Prayer gives us wisdom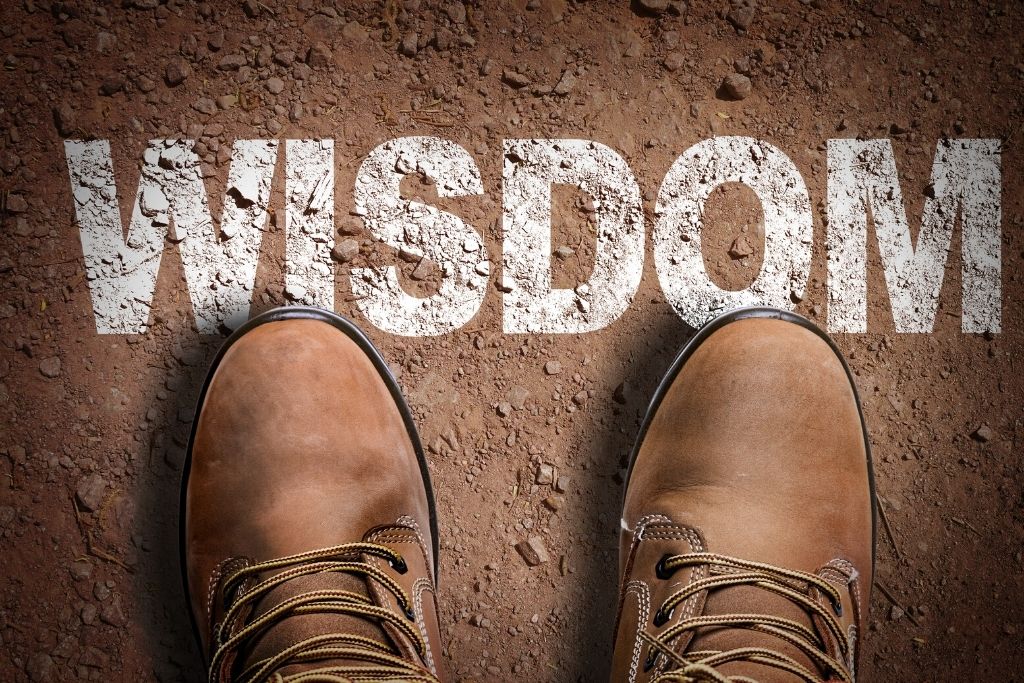 A prayer makes you wise and virtuous. When you pray, the divine light of wisdom is bestowed upon you. You gain eternal knowledge of truth and pure happiness.
The link given below shows the Power of Prayers. It is the only source of motivation and inspiration.
---
Power of Prayer Quotes
---
The Prayer quotes are inspirational words of wisdom and divine enlightenment.
1. "Prayer should not be regarded as a duty which must be performed, but rather as a privilege to be enjoyed, a rare delight that is always revealing some new beauty."

– E.M.Bounds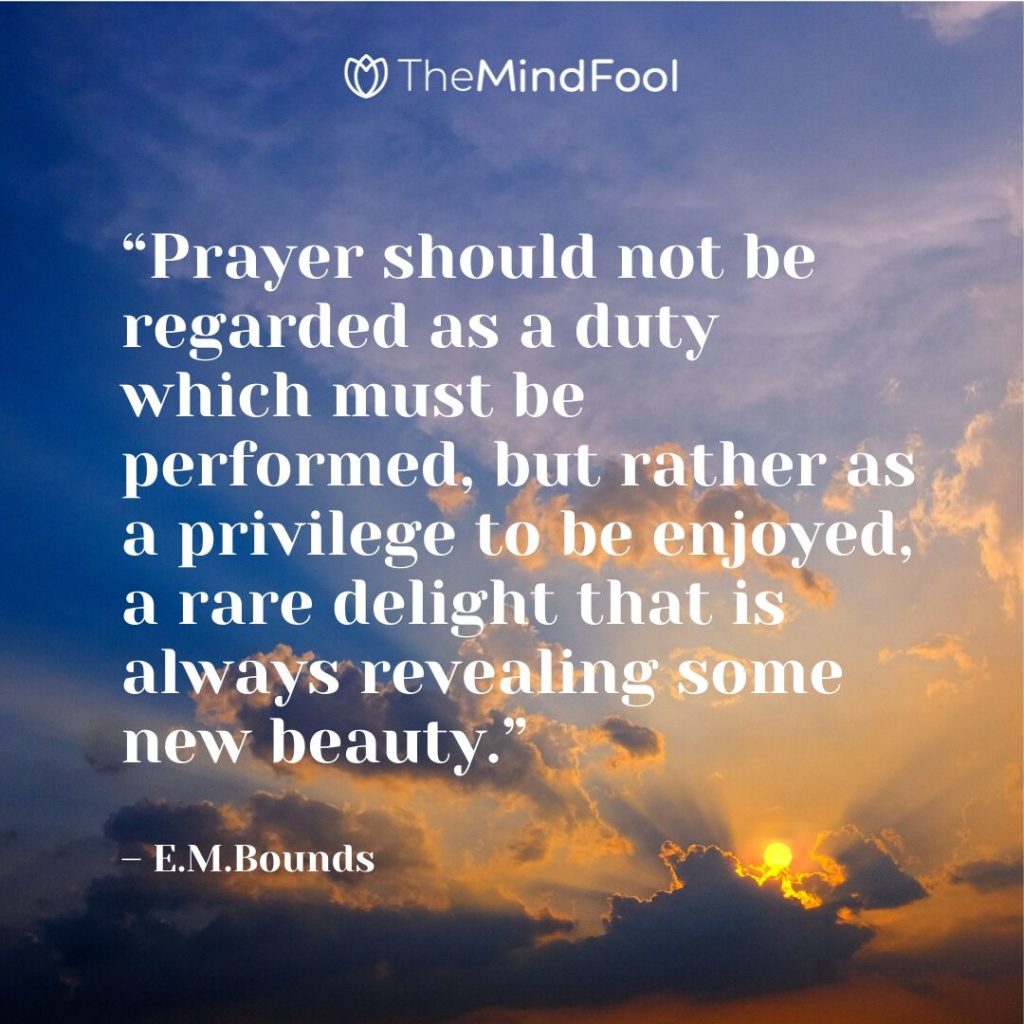 2. "Prayer gives a man the opportunity of getting to know a gentleman he hardly ever meets. I do not mean his maker, but himself."

– William Inge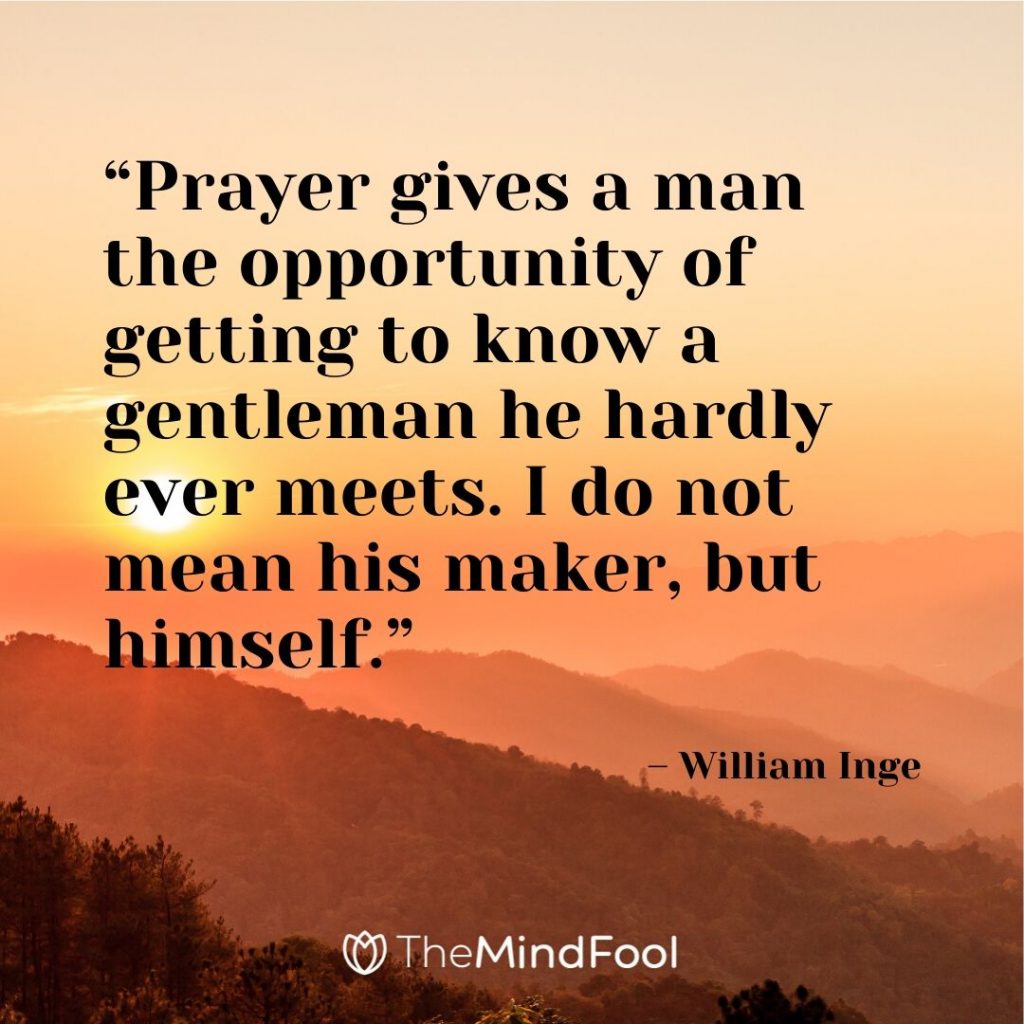 3. "I think of prayer as a spiritual life-line back to where I most want to be."

– Marianne Williamson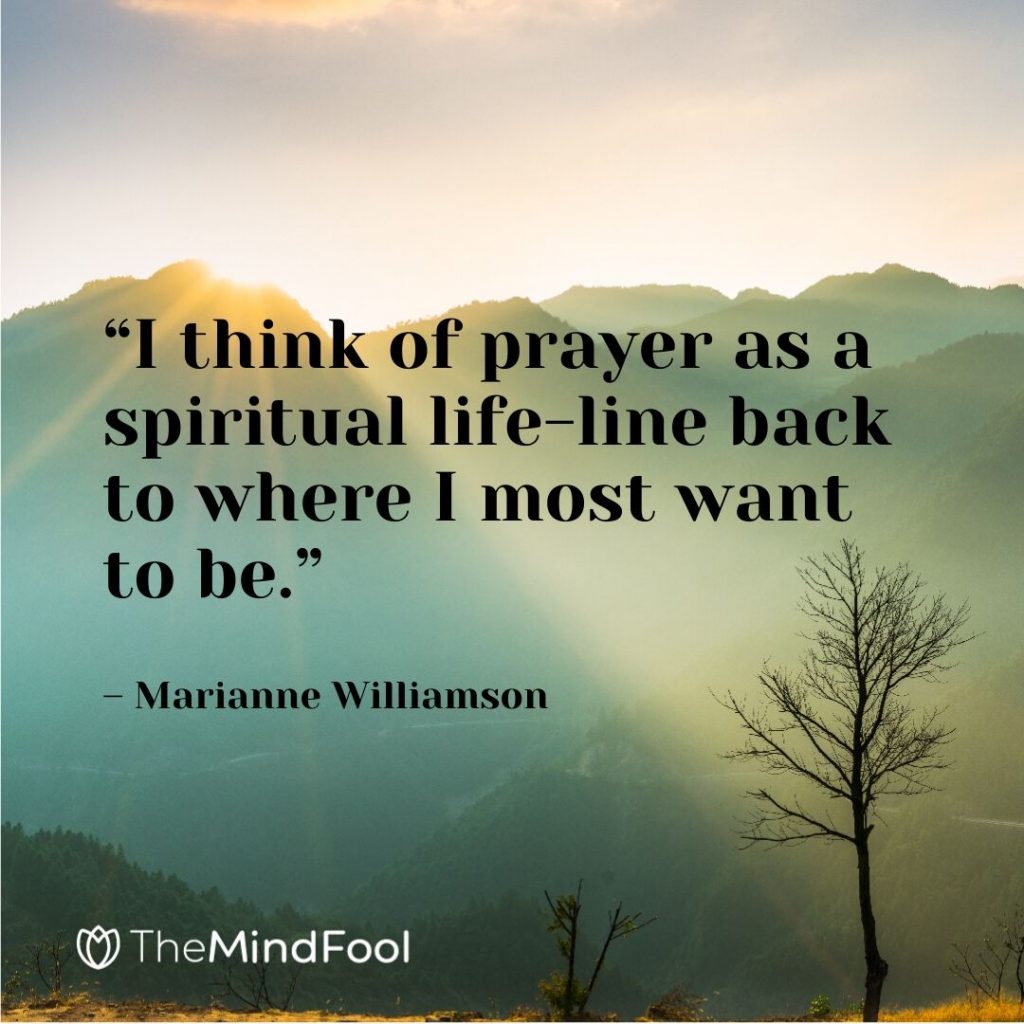 4. "He, who kneels the most, stands the best."

– D.L.Moody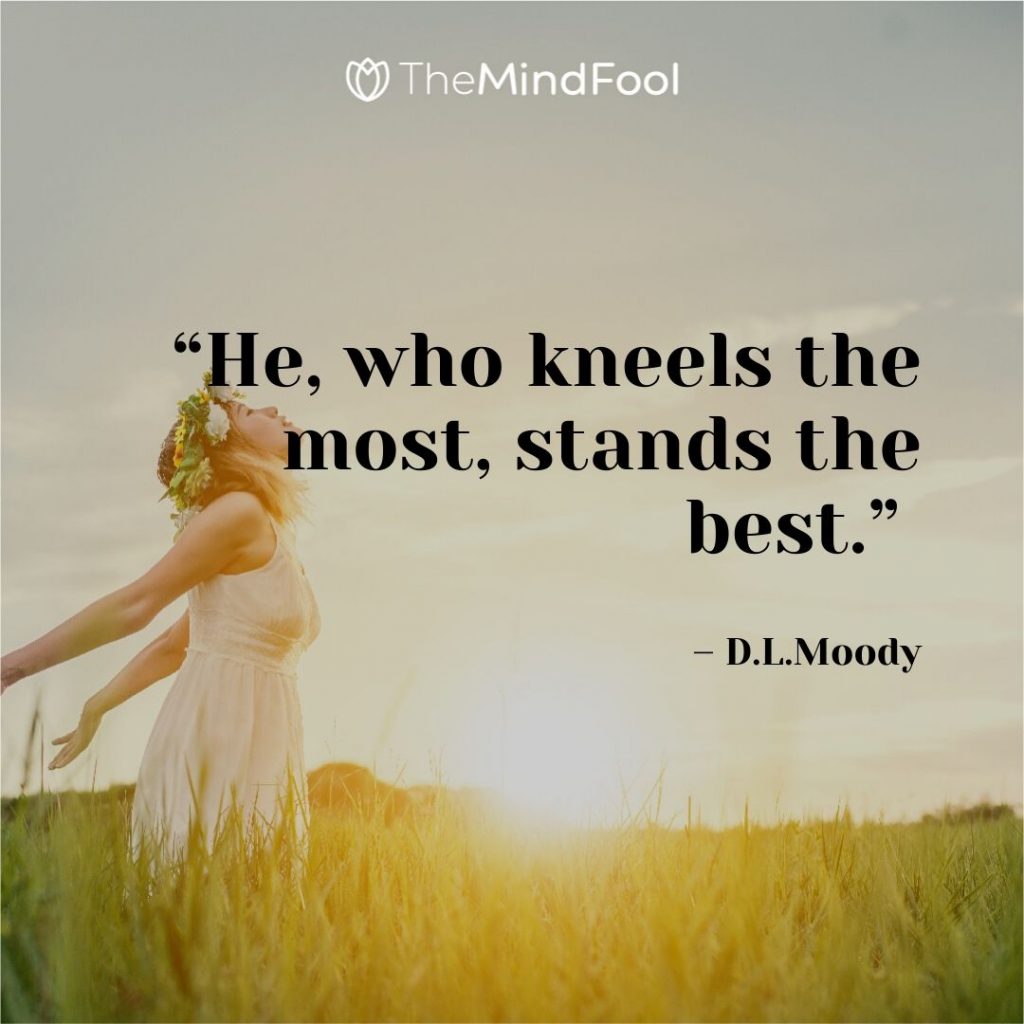 5. "God, grant me the strength to accept those things I cannot change."

– Dan Brown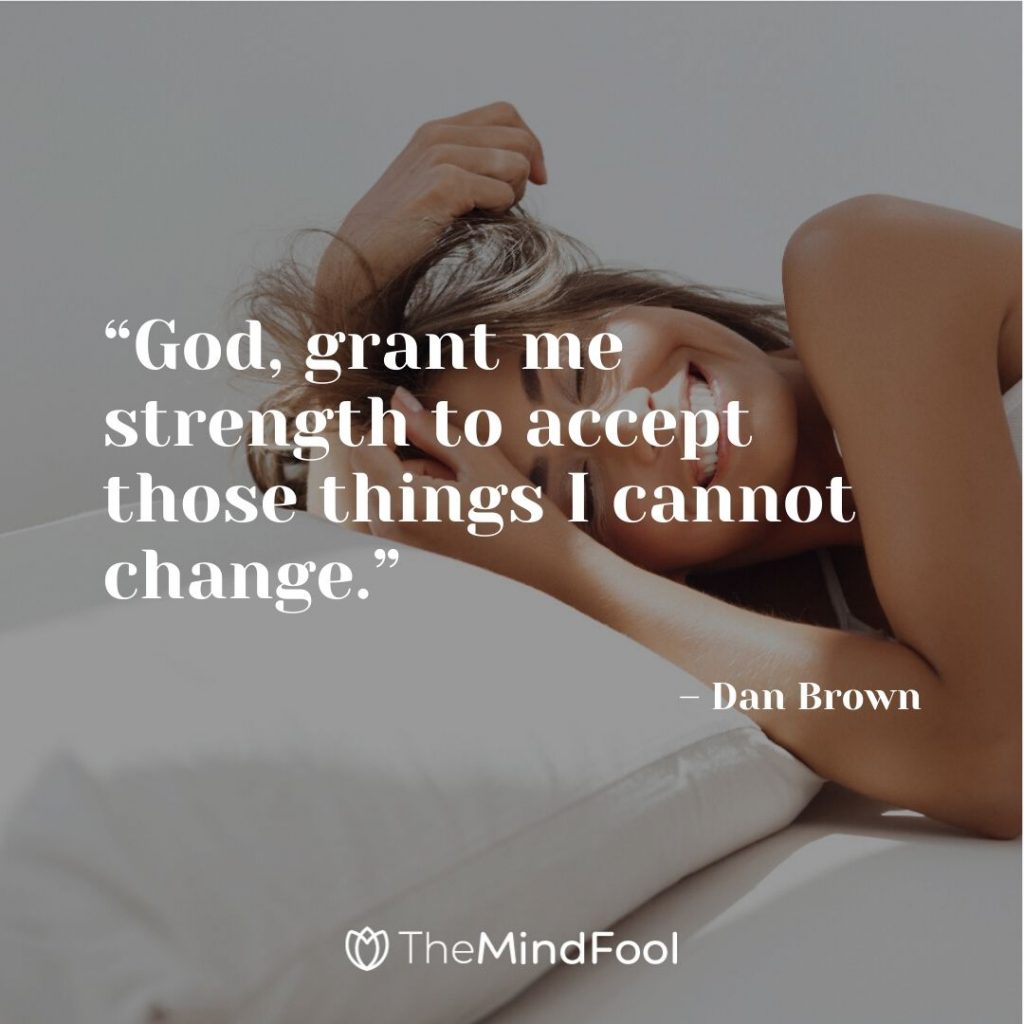 6. "Change can be accomplished most of all through the power of prayer because with God all things are possible."

– Wilfred Peterson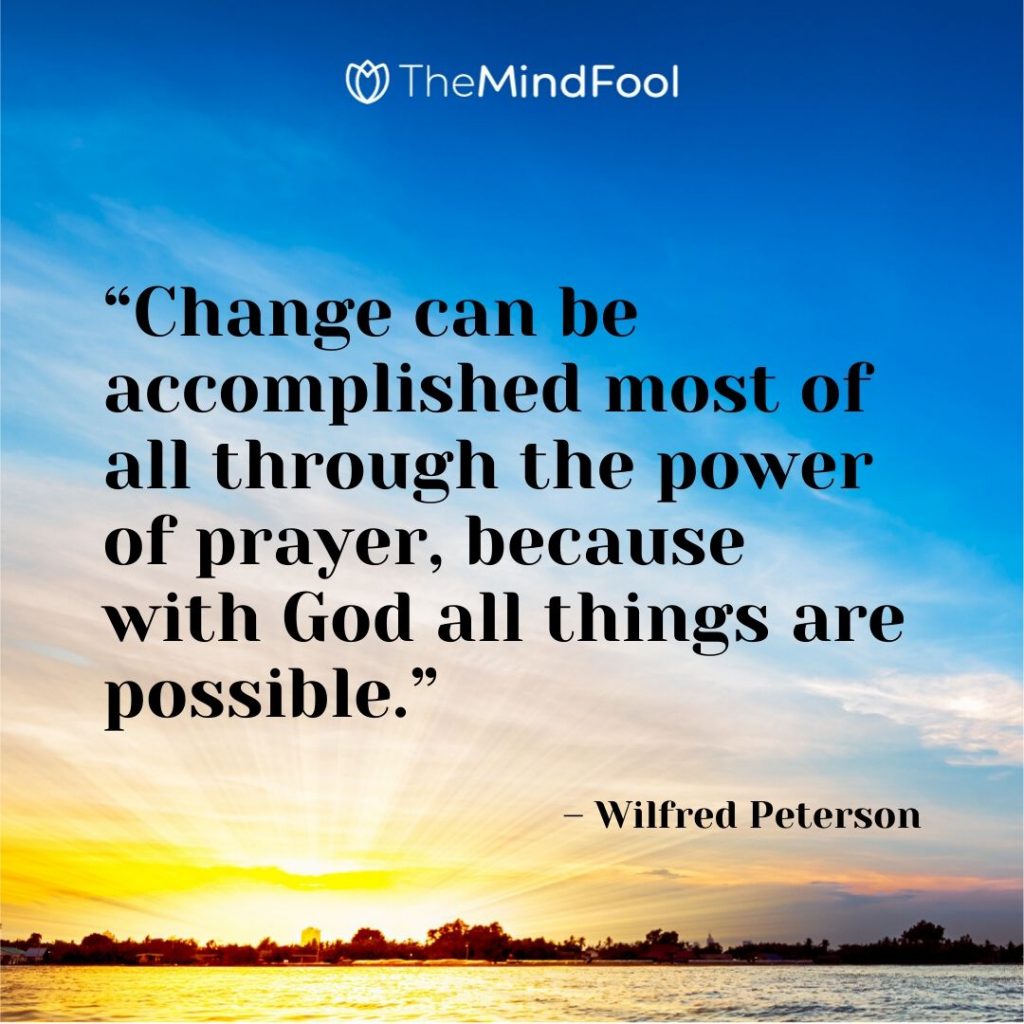 7. "True prayer is a spontaneous outpouring of honesty and need for the soul's foundation. In calm times, we say a prayer. In desperate times, we truly pray."

– David Jeremiah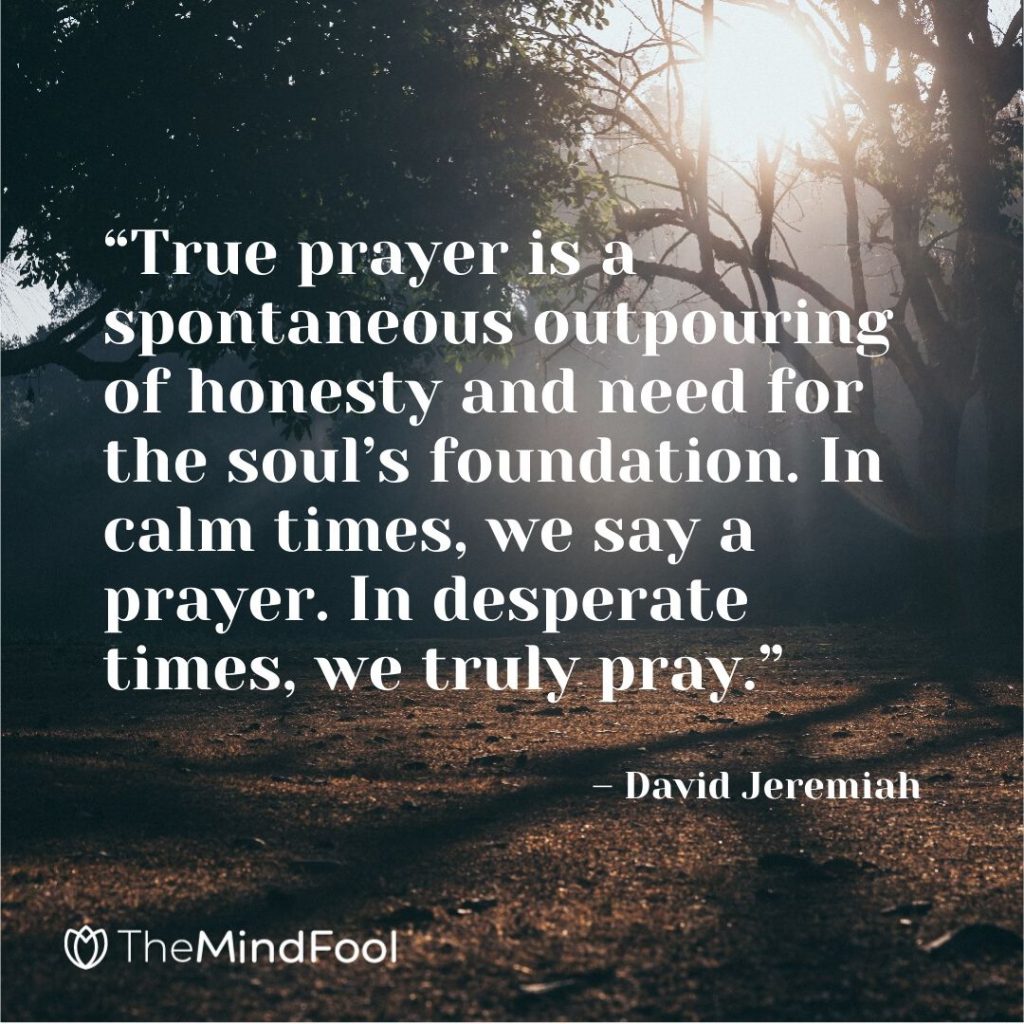 8. "None can believe how powerful prayer is, and what it is able to effect, but those who have learned it by experience. It is a great matter when in extreme need to take hold of prayer."

– Martin Luther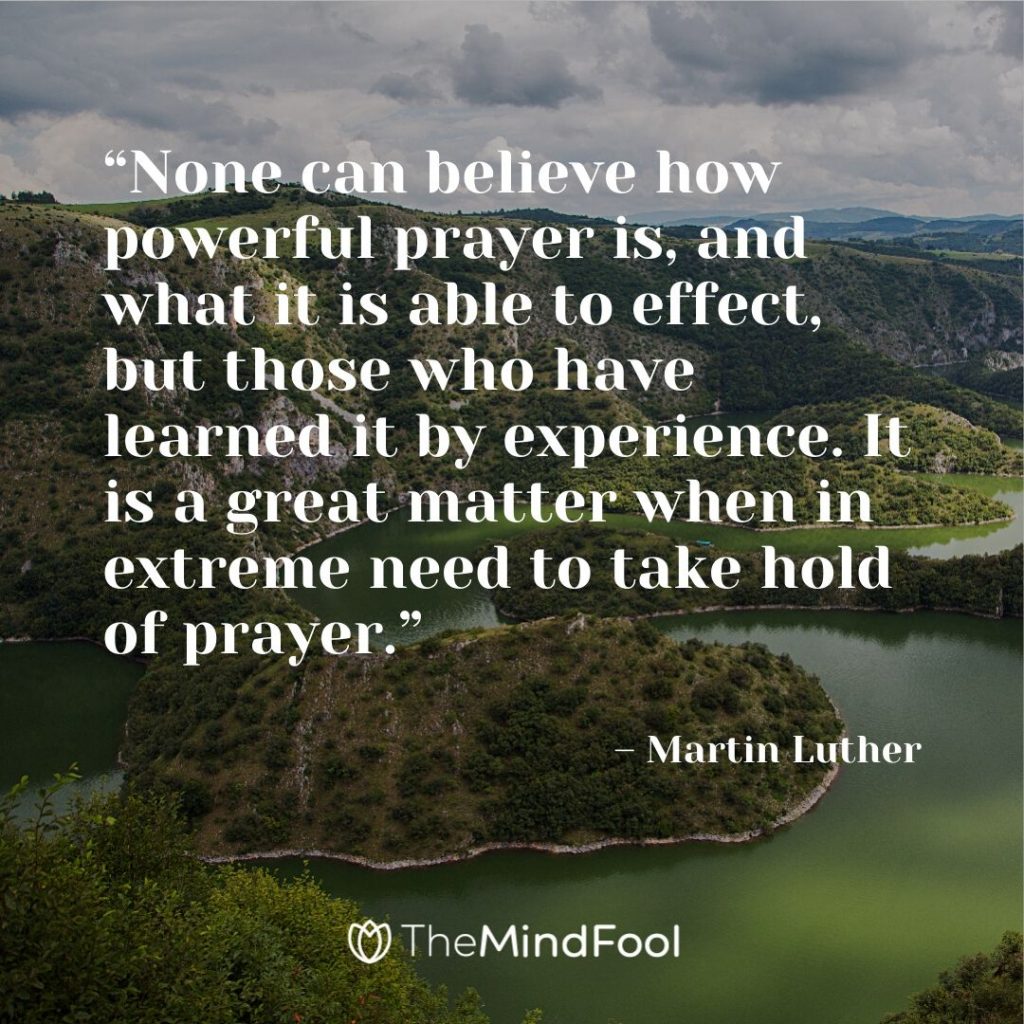 9. "The great tragedy of life is not unanswered prayer, but unoffered prayer."

– F.B. Meyer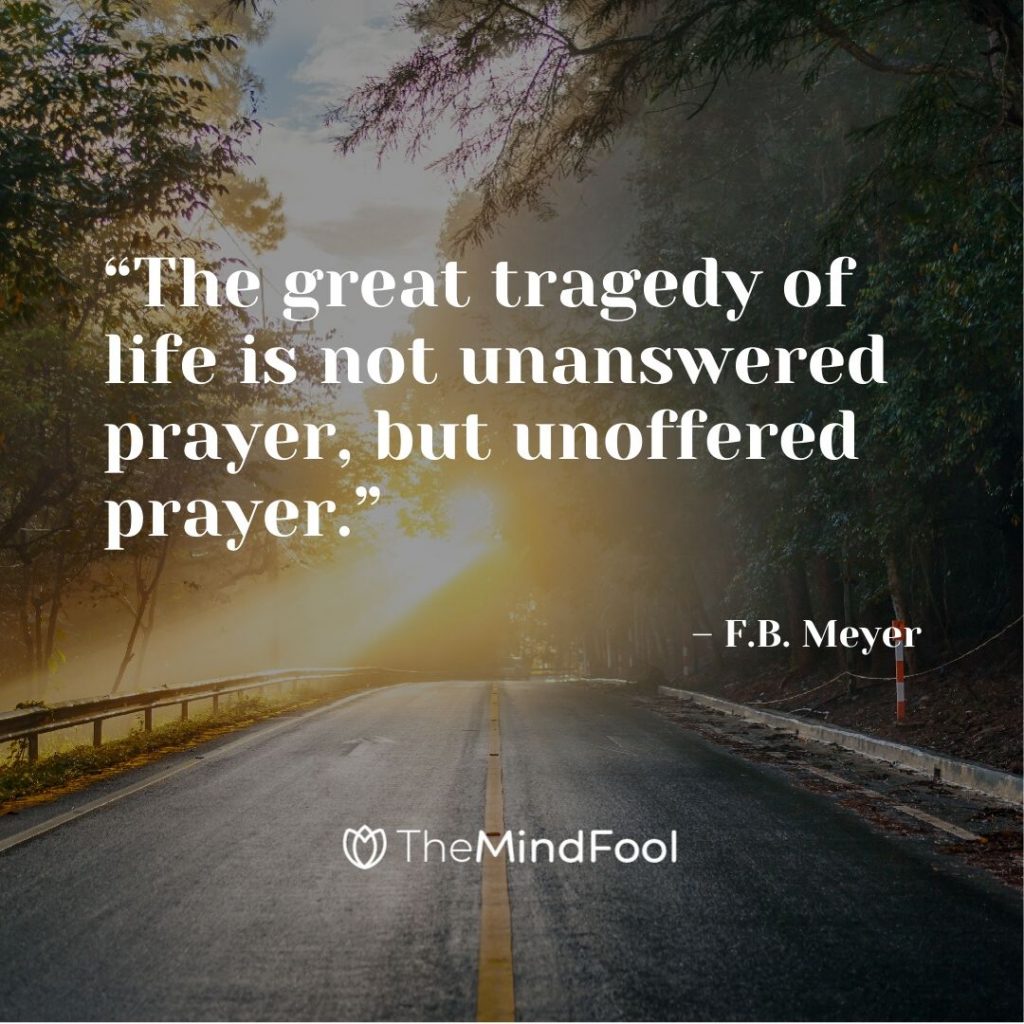 10. "The wise man in the storm prays God not for safety from danger but for deliverance from fear."

– Ralph Waldo Emerson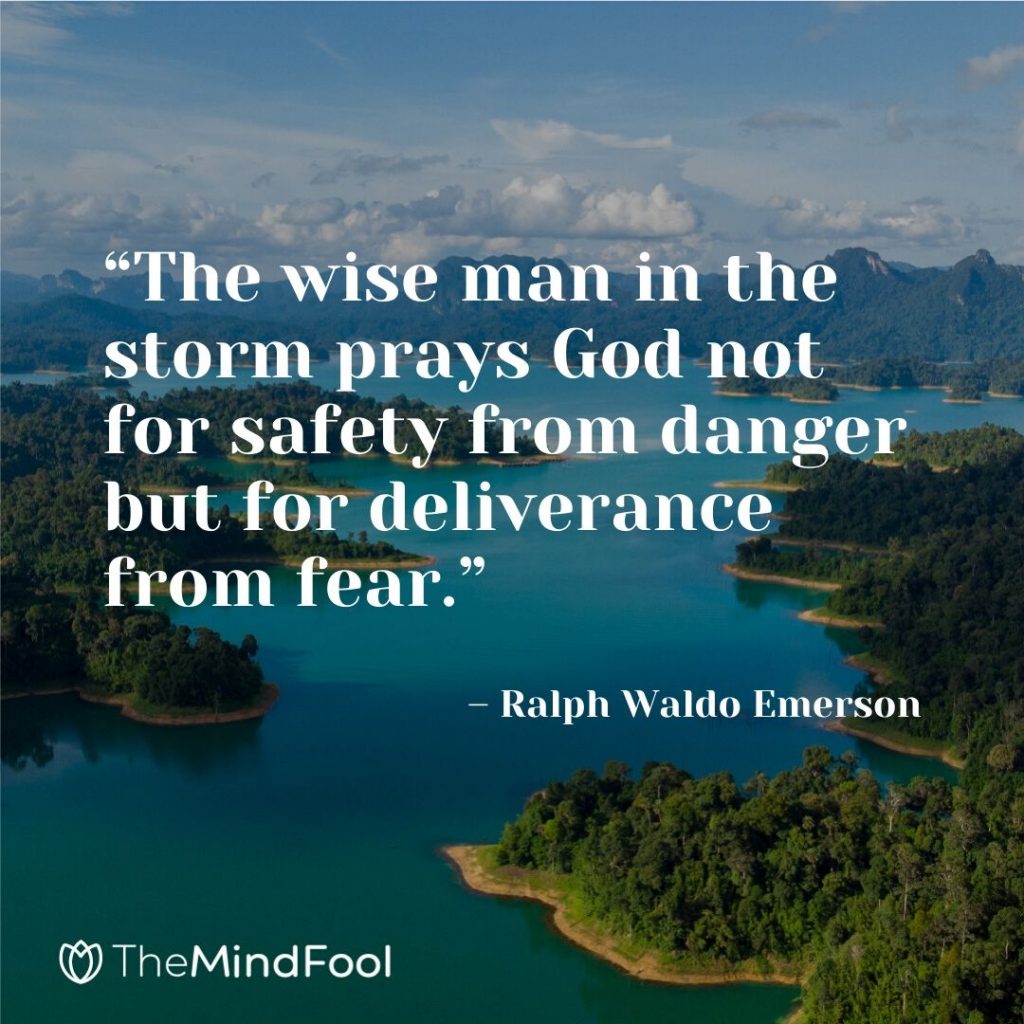 11. "Prayer is powerful. It can heal, prayer can give, and it can change lives."

– Shane DeCreshio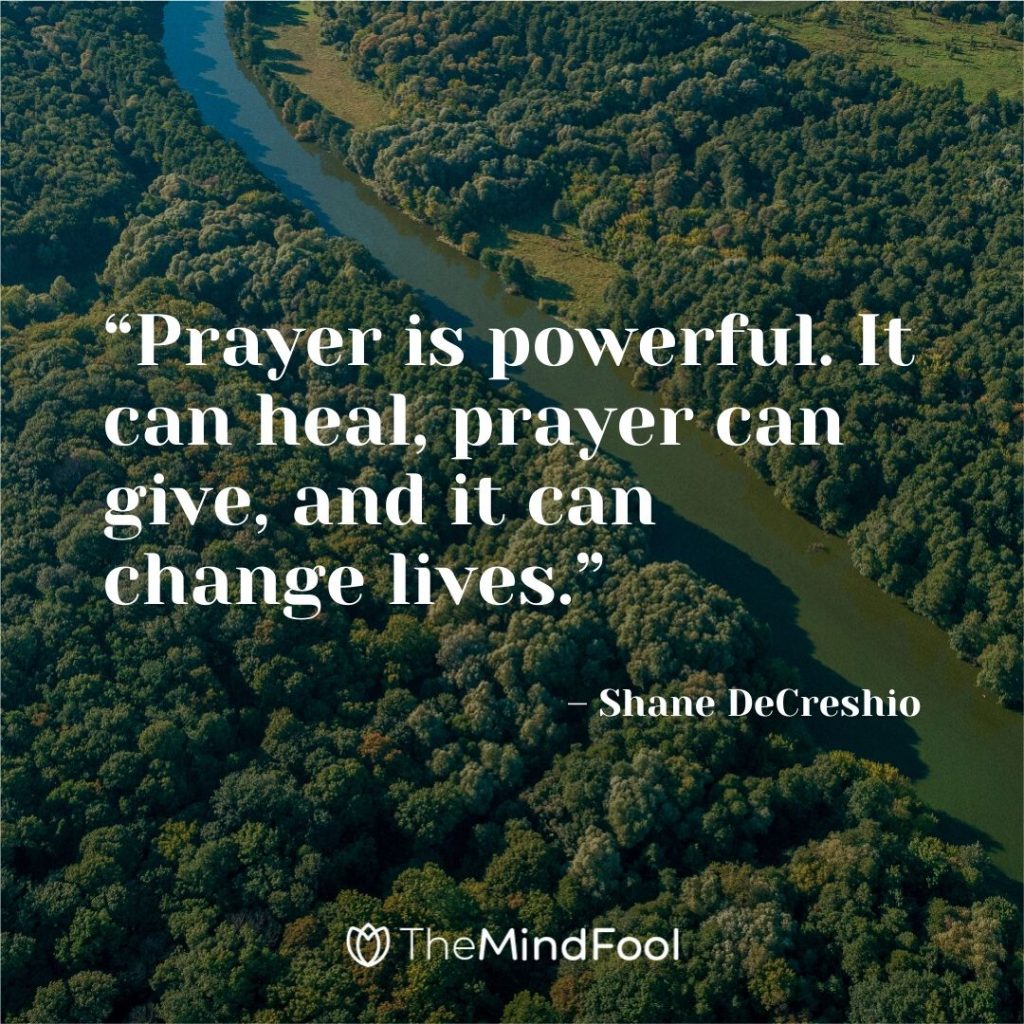 12. "Before prayer changes others, it first changes us."

– Billy Graham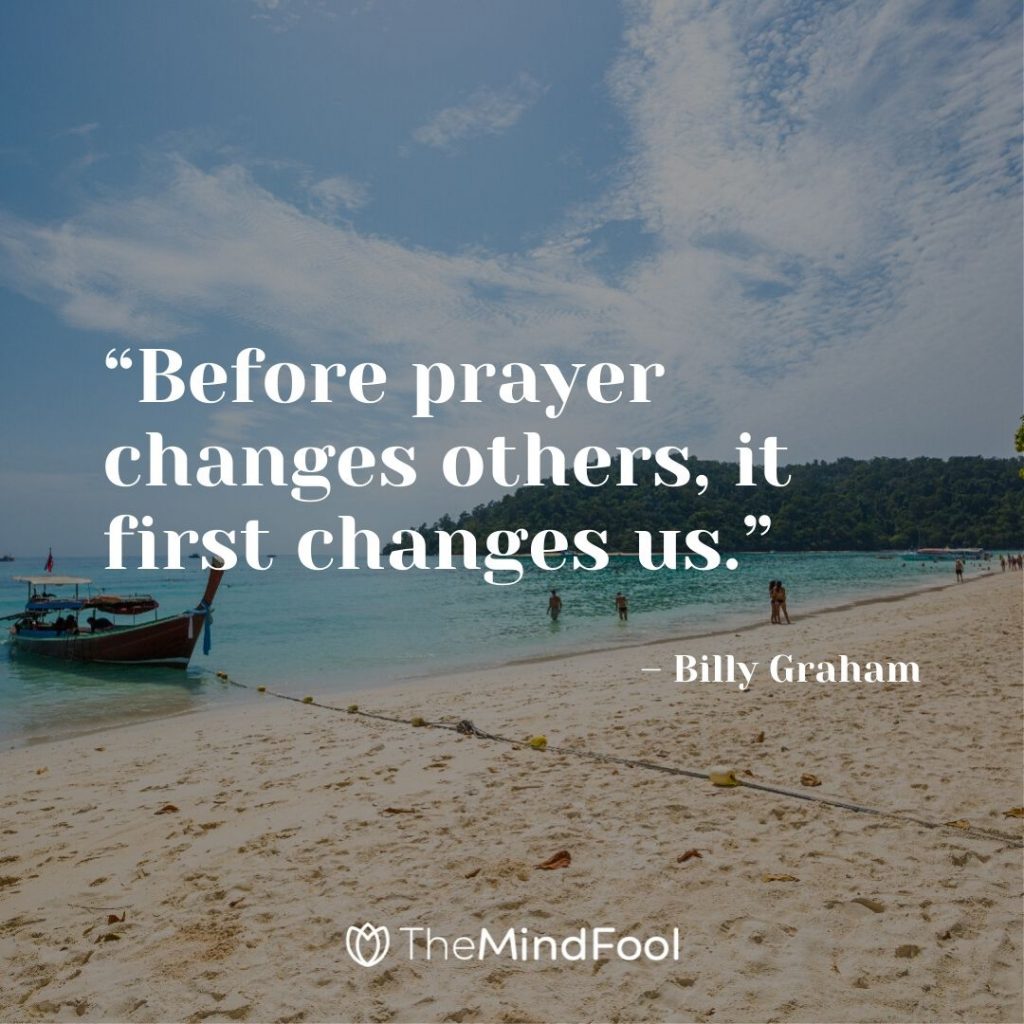 13. "The Lord is faithful to those who are faithful and earnestly seek him."

– Ben Lance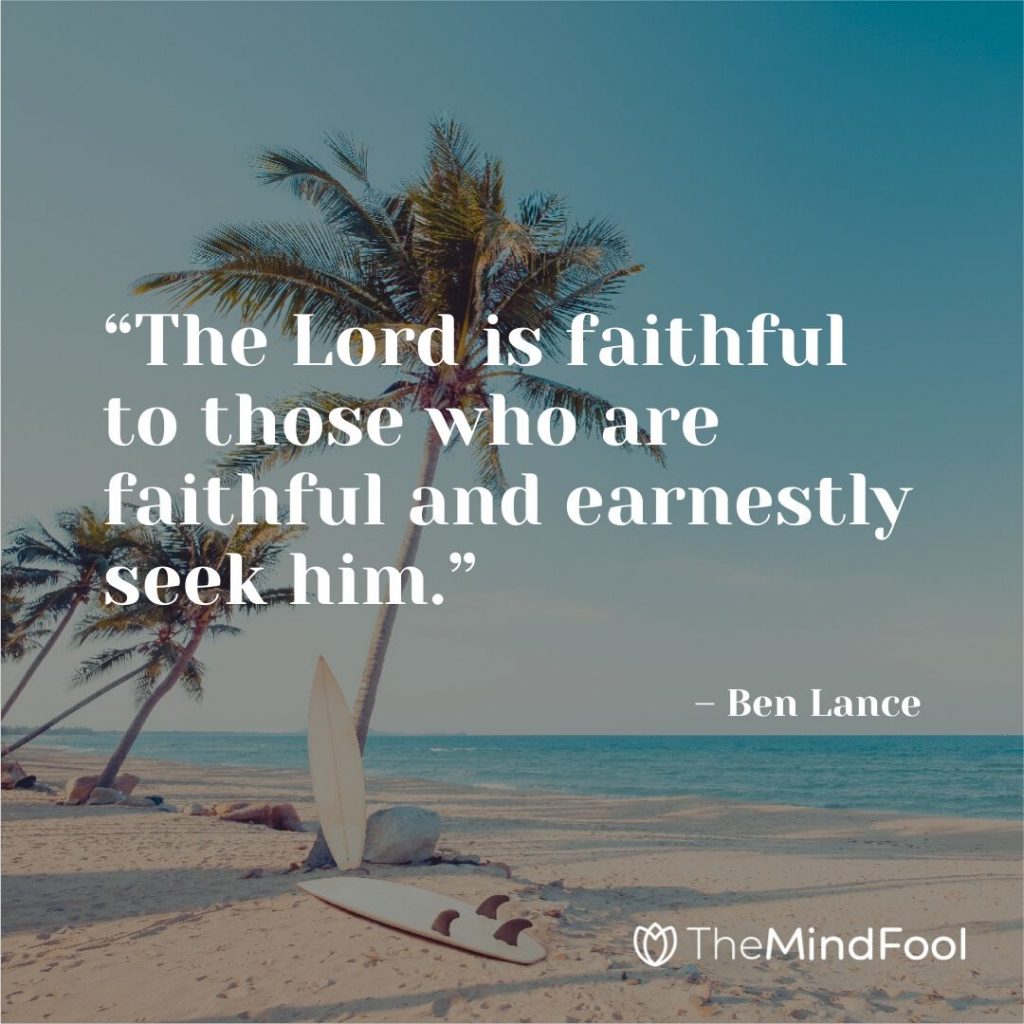 14. "Prayers are the very highest energy of which the mind is capable."

– Samuel Taylor Coleridge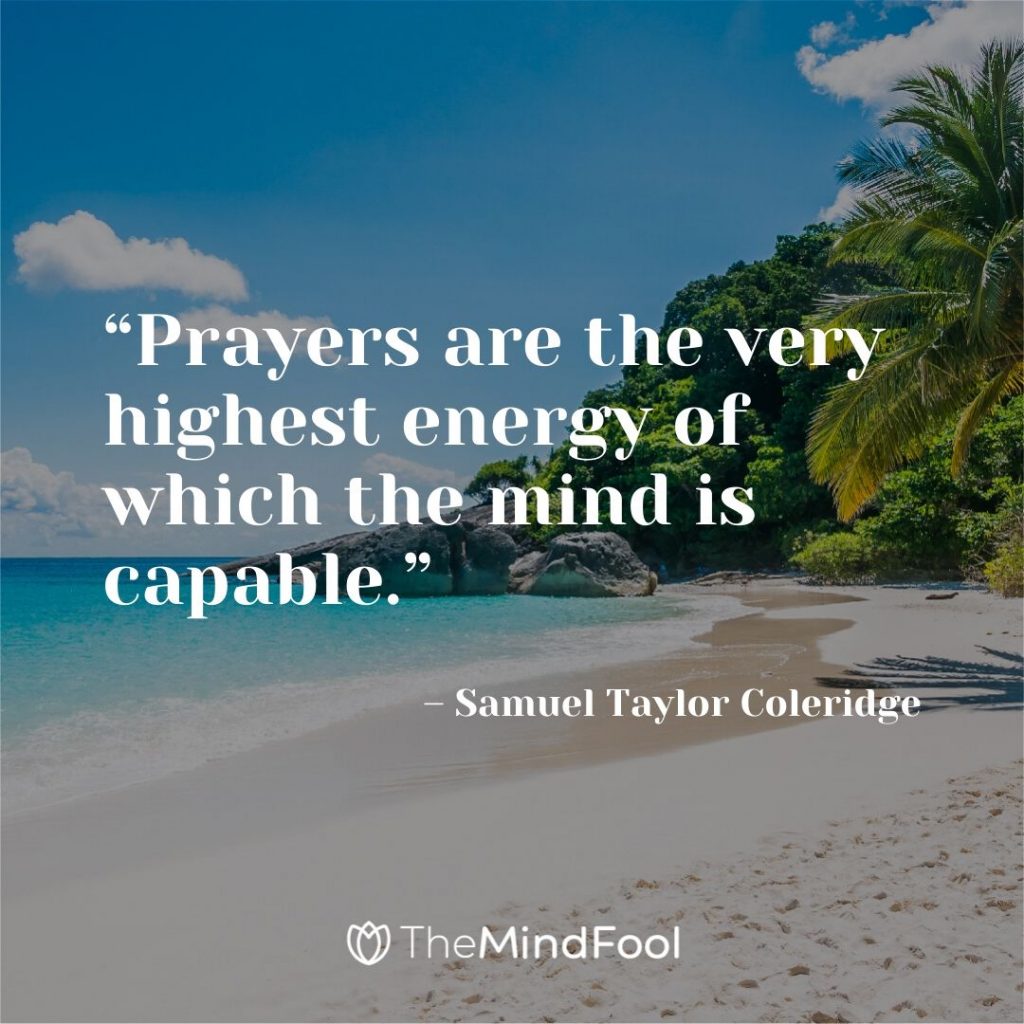 15. "A powerful prayer is one that does not let go. It does not quit. It is profitable and powerful because it is persistent."

– Michael Catt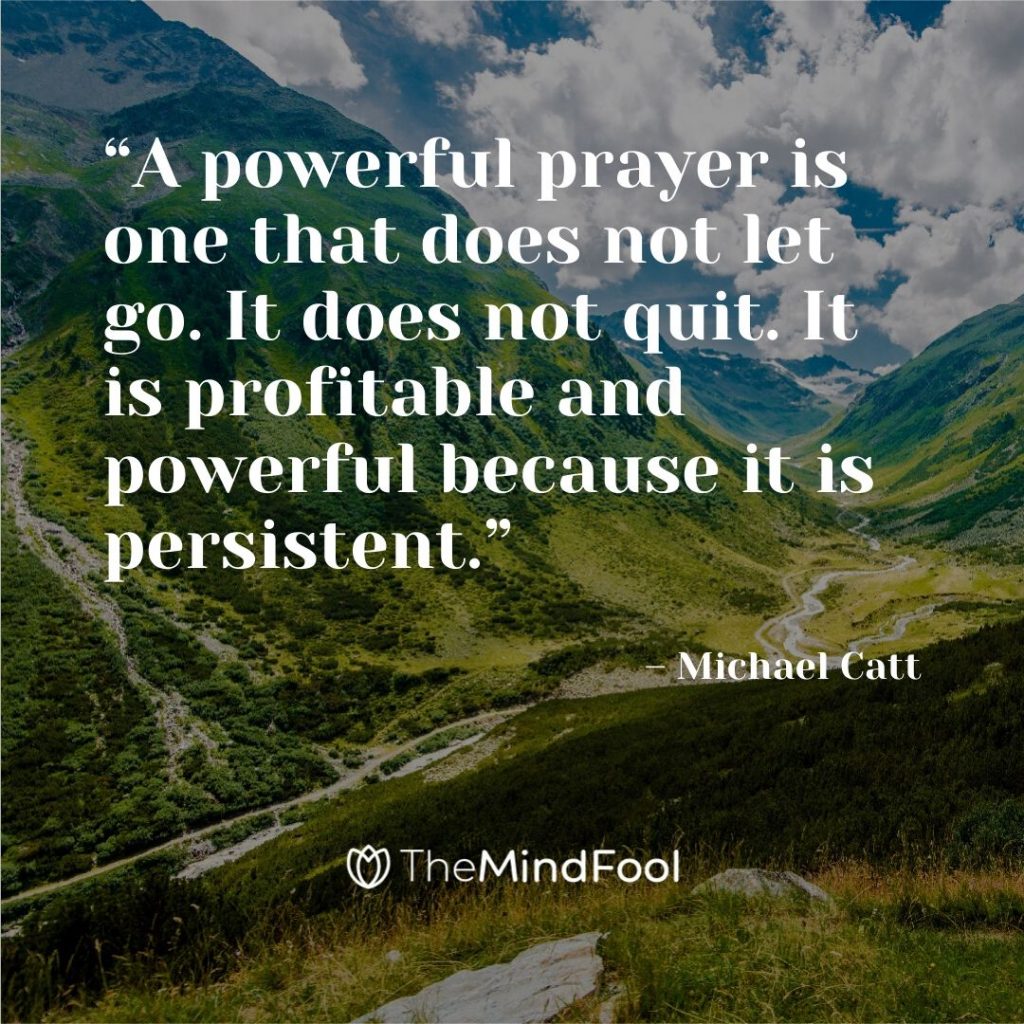 16. "A day without prayer is a day without blessing, and a life without prayer is a life without power."

– Edwin Harvey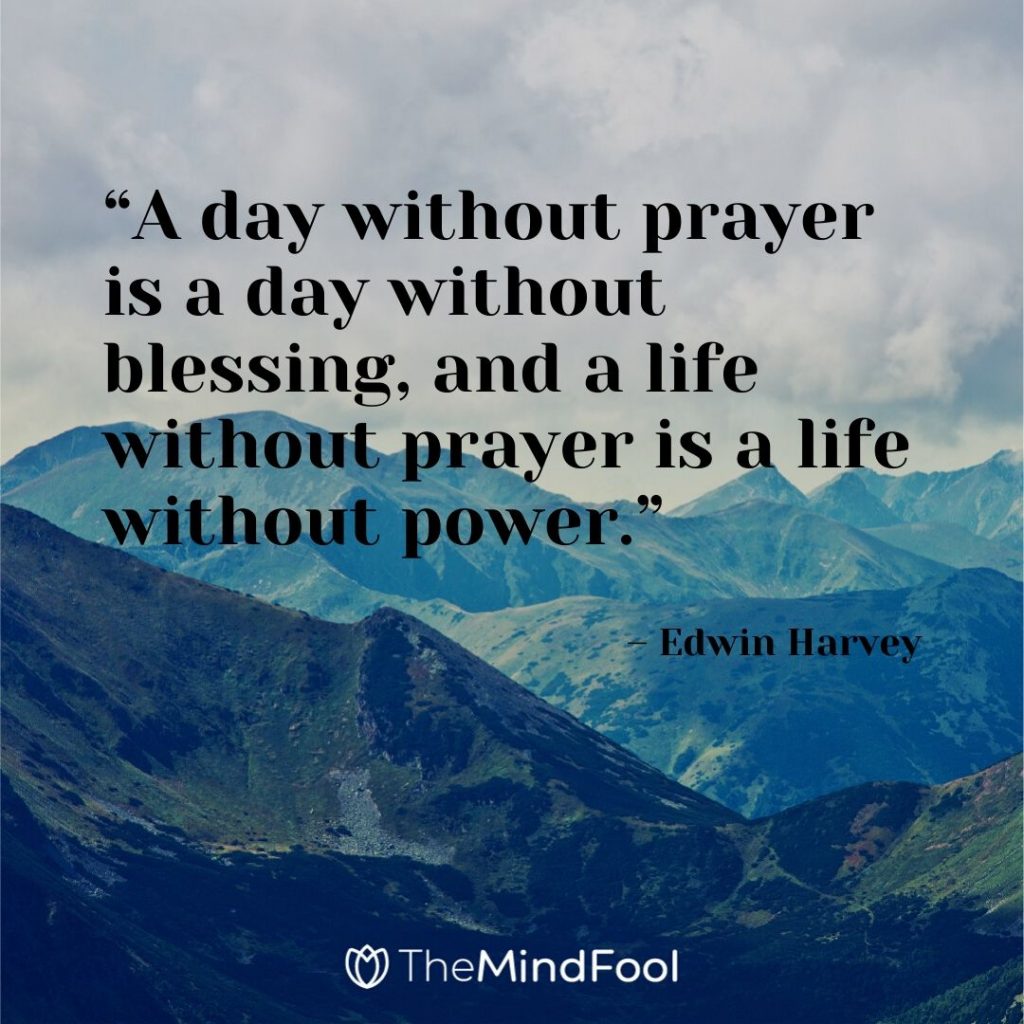 17. "Prayer changes us in ways that we never thought would be possible. When we are unhappy, prayer can lift our hearts and fill it with unbreakable joy."

– Julia Bristol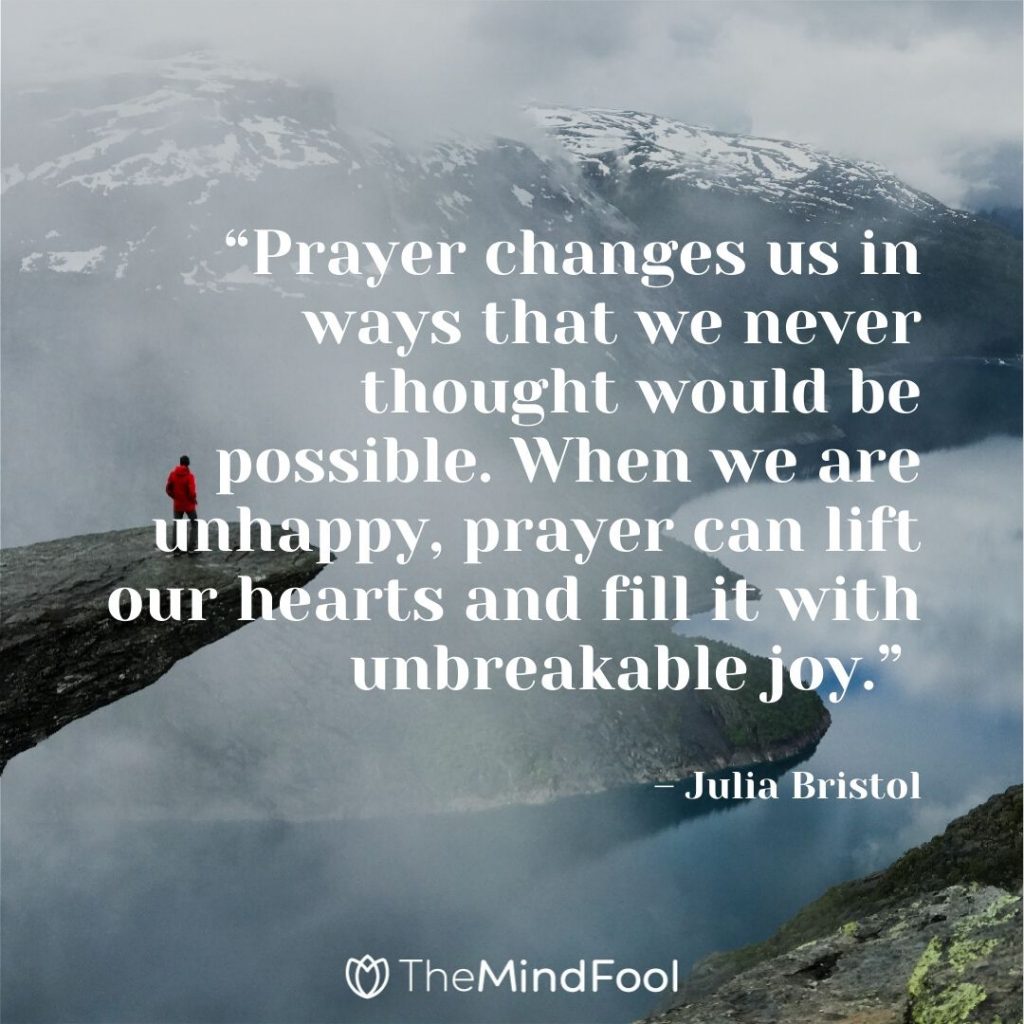 18. "When we pray we are demonstrating our belief in a power that is greater than our own."

– Olive Steele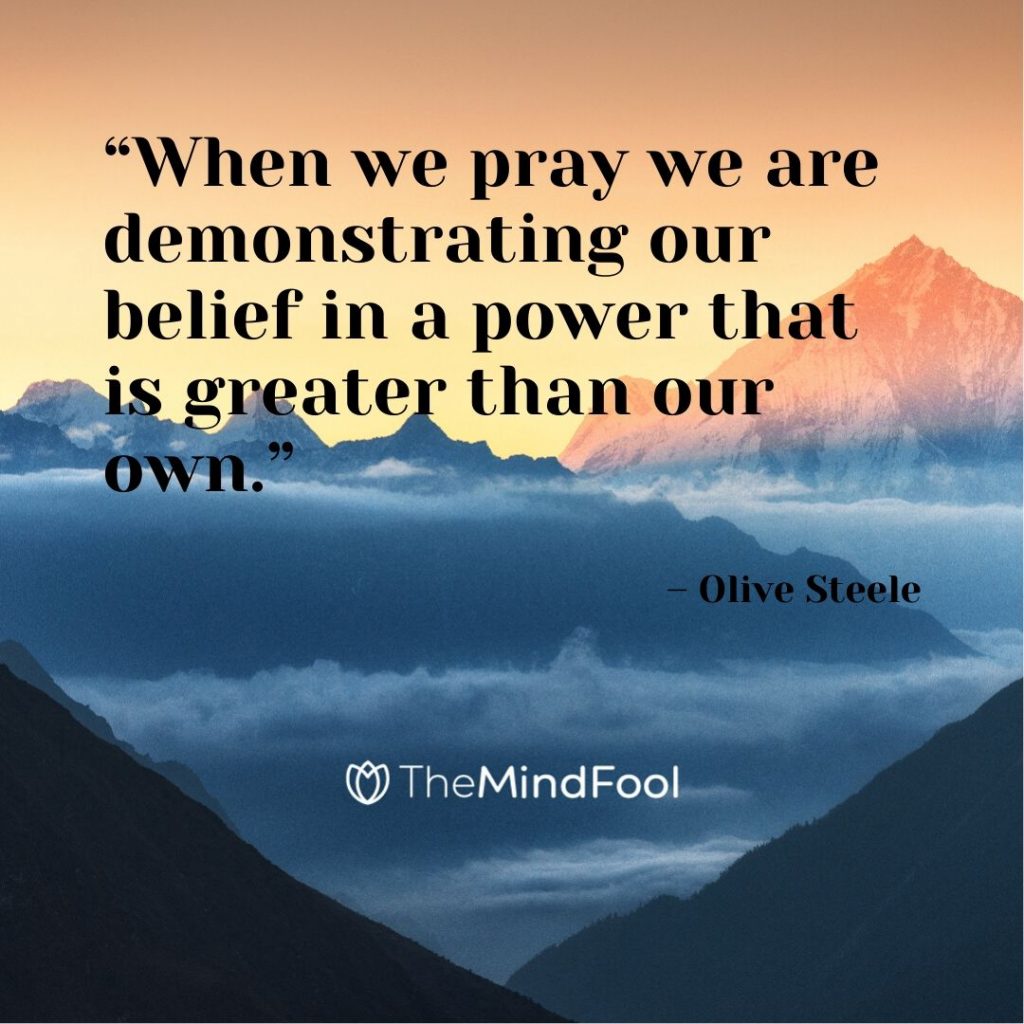 19. "The best reason to pray is that God is really there. In praying our unbelief starts to melt. God moves smack into the middle of even an ordinary day."

– Emily Griffin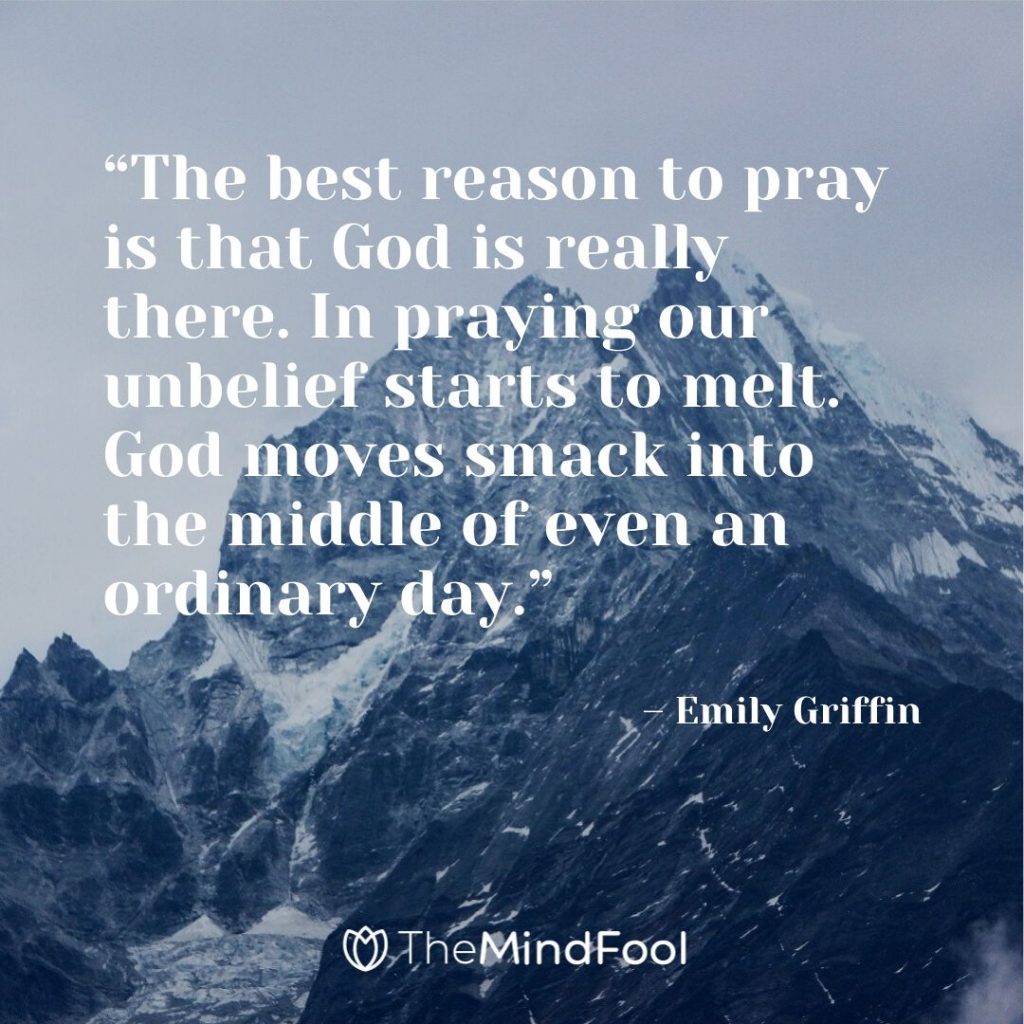 20. "Prayer is not asking. Prayer is putting oneself in the hands of God, as His disposition, and listening to His voice in the depths of our hearts."

– Mother Teresa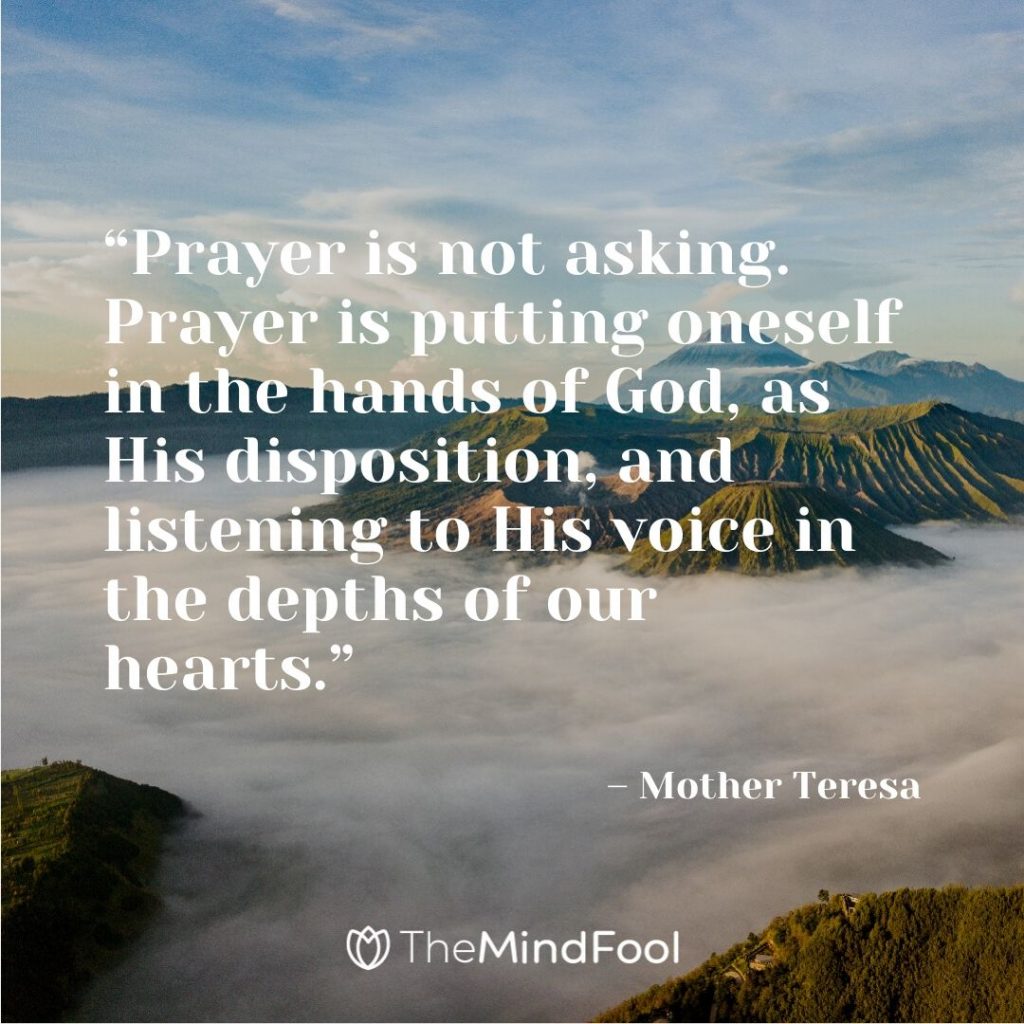 ---
Closing Thoughts
The power of prayer is felt by remembering God in good and bad times. It is a weapon to combat all evils from our life. Prayer is magical, if done with pure feelings and purposeful intentions. So, strengthen your faith and devotion by practicing it with diligence and perseverance.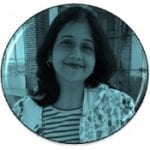 Chandrani Mukherjee
A Psychologist with a master's degree in Psychology, a former school psychologist, and a teacher by profession Chandrani loves to live life simply and happily. She is an avid reader and a keen observer. Writing has always been a passion for her, since her school days. It helps to de-stress and keeps her mentally agile. Pursuing a career in writing was a chance occurrence when she started to pen down her thoughts and experiences for a few childcare and parenting websites. Her lovable niche includes mental health, parenting, childcare, and self-improvement. She is here to share her thoughts and experiences and enrich the lives of few if not many.