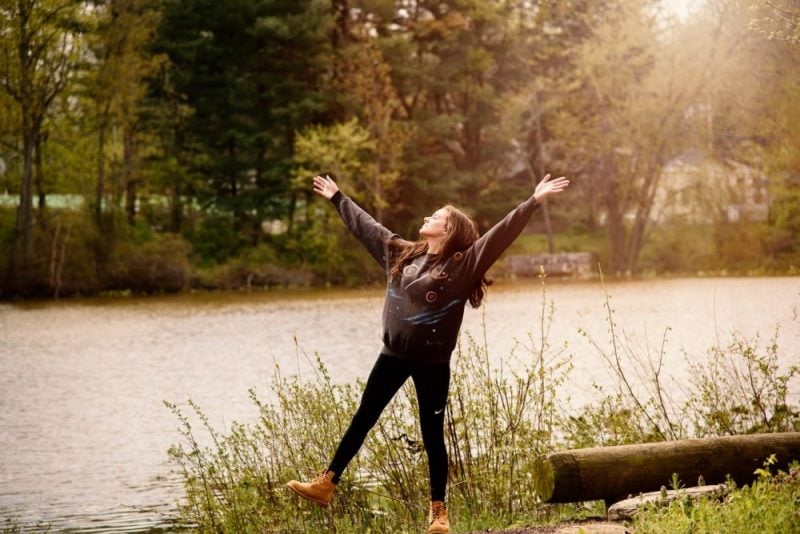 Mundane life can be very taxing. Sometimes you need a channel to vent out the stress, just sit back and enjoy life. Little do we realize the need to ease the stress until the damage is already done. The ideal concept of a happy life revolves around making the most of every moment.
A lot of us wrongly interpret this philosophy. Therefore, many end up believing that pleasure can only come from taking luxurious vacations, eating expensive food, buying expensive clothes, etc. Simply put, the common misconception is that people need to be able to spend money to enjoy the simple pleasures of life. Before we delve deeper, let us take a moment to understand the subject in greater detail.
What Are the Simple Pleasures?
All of us want to enjoy the pleasures of living a happy and healthy life. But what are these pleasures? Well, as the name suggests, simple pleasures are the simplest of indulgences that make you happy. This could be something as small as receiving a letter from your school friend, or even enjoying a good laugh, finding money in an expected place, listening to your favorite song.
The idea is to indulge in something that gives your happiness a boost. This brings us to the next obvious question. If there a universal list of simple pleasures for everyone? Of course not! There is no universal list. Everyone is entitled to making his or her exclusive list of simple pleasures and even indulge in them.
Does This Indulgence Need Money?
Many times when we talk about indulging in simple pleasures of life, the first concern to cross our mind is the expense that it may add. But, this is a misconception. You don't need money to pamper yourself by indulging in the simple pleasures of life. Wondering how you can manage this? Well, the answer is simple.
You need to take a break from the mundane routine and figure out what makes you truly happy. Let me warn you that the answer to this question may vary according to your mood. For instance, on some days, you just need a breath of fresh air so stepping into your balcony early in the morning will do the job.
The idea may seem extremely simple but you may be surprised at the boost that it provides to your happiness after a long day at work. Such simple pleasures in life do not require deep pockets.
You just need to nudge your mind to look for happiness in the little things that make up your routine. In his book titled The Happiness Project, leading author Gretchen Rubin has elaborated on the importance of little things and how they act as a major catalyst for our happiness.
Importance of Simple Pleasures
In our rat race, most of us end up being enslaved to our 9 to 5 job. We ignore the physiological symptoms and keep working tirelessly until one day it impacts our mental well-being. This is dangerous because, by the time you start acknowledging the problem, the damage is already done.
Choosing to regularly take a break and indulge in simple pleasures is one of the easiest tricks to avoid this physical and mental breakdown. When you choose to pamper yourself by indulging in simple pleasures, you are intentionally giving your brain the much-needed break. The indulgence takes up very little of your time and in most cases even very little of your money but its effects are extremely beneficial.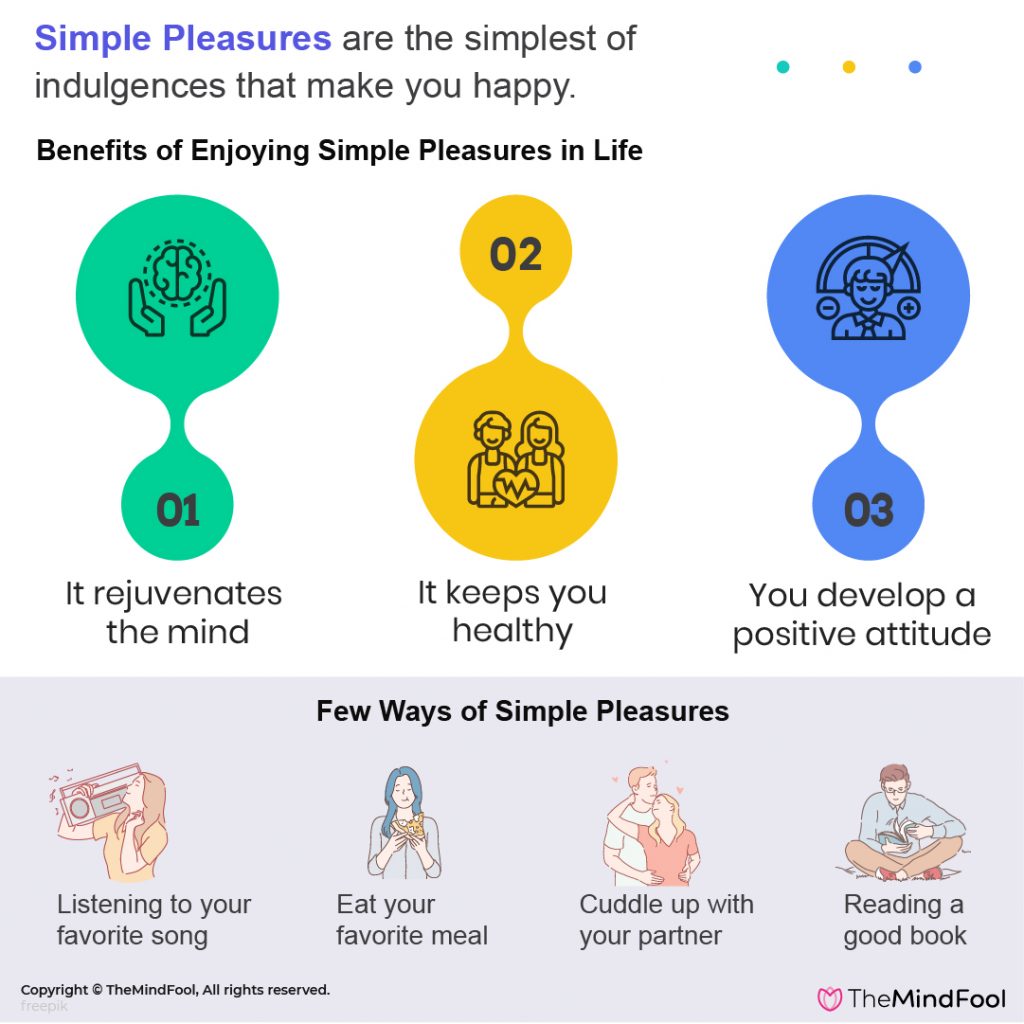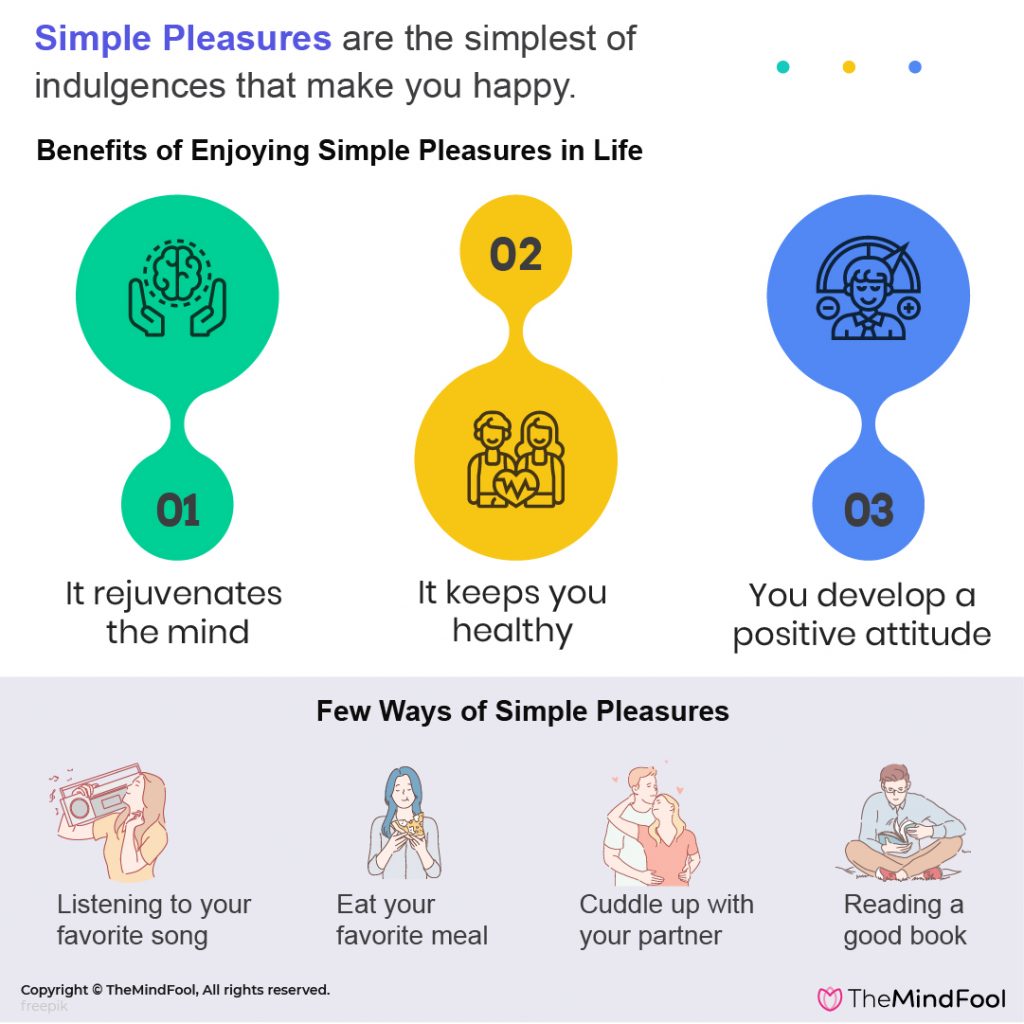 3 Benefits of Enjoying Simple Pleasures in Life
1. It rejuvenates the mind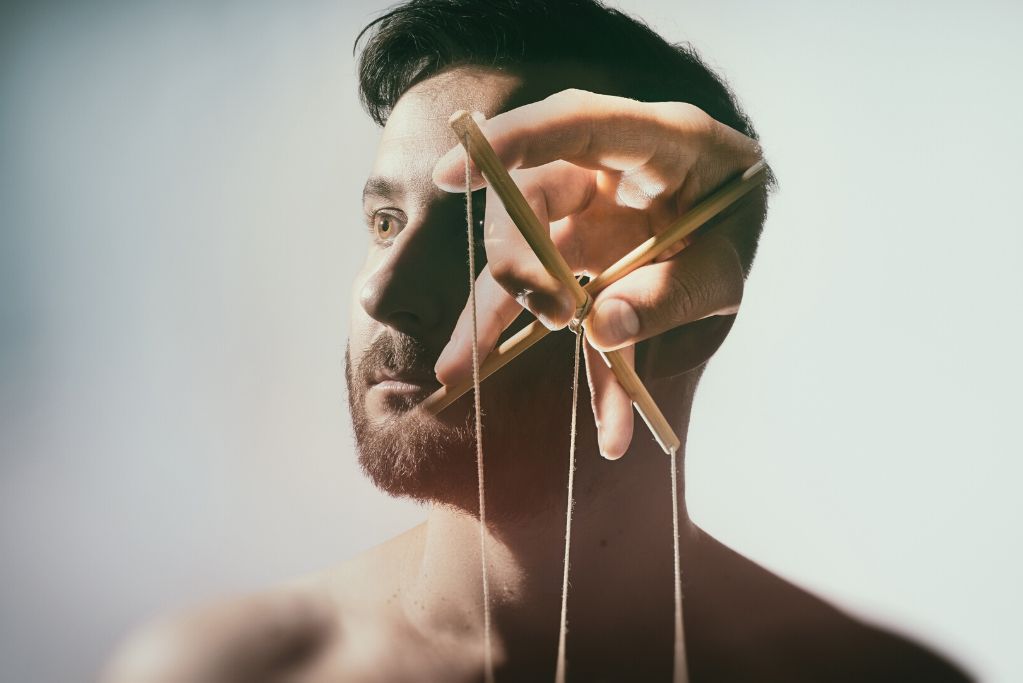 A tired mind is of no use because it does not generate fresh ideas. In fact, working with a tired mind is more like being stuck in a loop. You will keep banging your head against the same problem again and again.
The solution may be right in front of you but you tend to overlook because you are too tired to think. Needless to say, this impacts your professional and personal life. Therefore, it is important to occasionally take a break and enjoy the simple pleasures of life.
2. You develop a positive attitude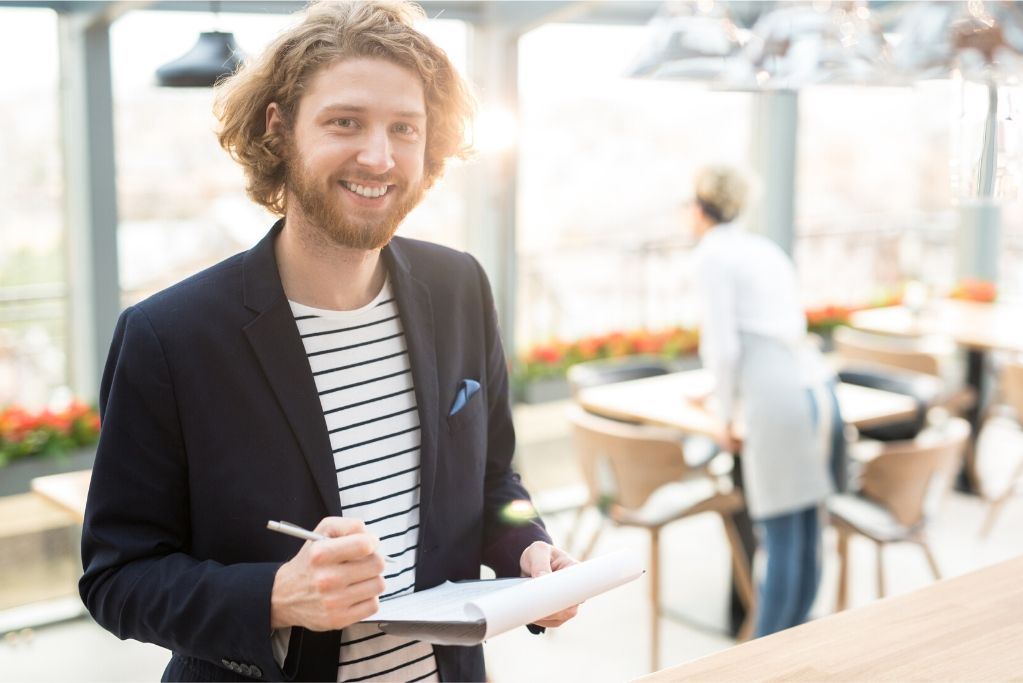 A sad and grumpy mind never fuels a positive attitude in life. In such cases, people end up being disappointed or demoralized and lose their zest to do the task. Gradually, these people also tend to harbor a lot of negative sentiments.
But if you consciously take a call to indulge yourself in simple pleasures that rejuvenate the mind, you learn to get rid of your negativity and look for happiness in every outcome. This is what fuels a positive approach to life.
3. It keeps you healthy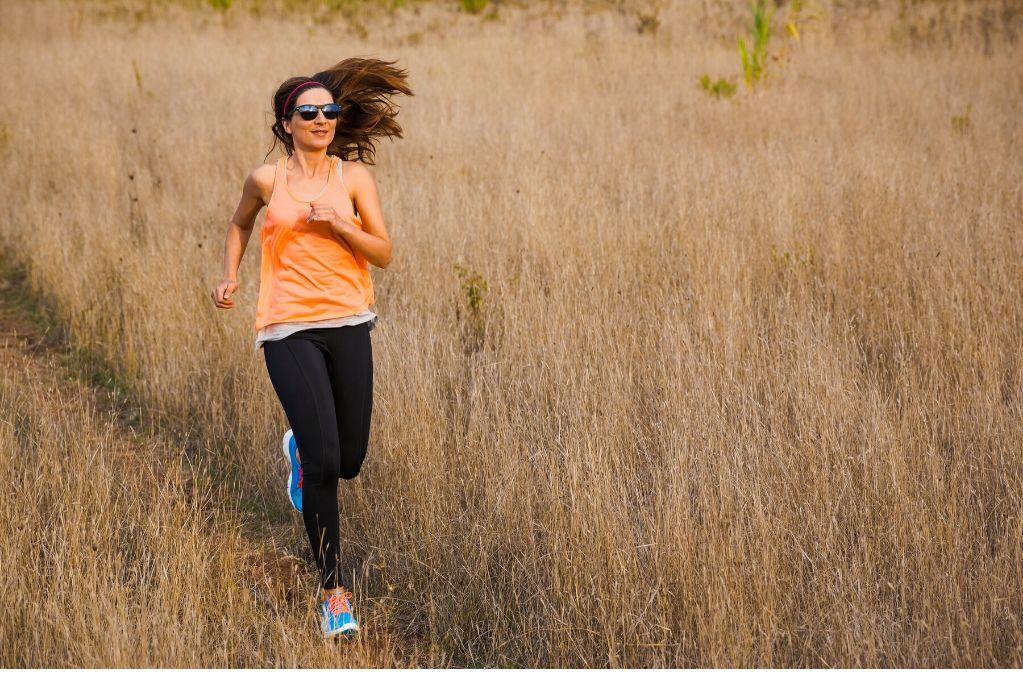 Ultimately, a fit mind and a fit body should be your aim in life. The best way to achieve it is to learn to keep yourself happy. Indulging in simple pleasures teaches you to do this. As you look for joy in the little moments of life, you learn to value the opportunities that come your way. This simple trick can help you achieve big goals in life.
What to Avoid?
An occasional indulgence in simple pleasures of life is a healthy habit. But a parasitic dependence on them can be dangerous. Once you start to rely on your routine to constantly look for pleasures, the indulgence can become an addiction. This is scary because you tend to lose focus on your goals in life when this starts to happen.
Remember, the ideal situation is when the indulgence is restricted to a healthy level. To do this, you just need to train your mind to look for happiness in the little things that happen around you. Do not step out with the goal of looking for happiness, just nudge your mind to see the positive side and slowly you will start experiencing the change.
10 Simple Pleasures in Life To Boost Your Happiness
Now that we know the benefits of consciously indulging in the simple pleasures of life, let us take a look at what are the things that you can do to keep yourself happy. Before we go further, it is important to understand that these are just suggestions.
You can choose to indulge in them or just make your own list. All you need to do is remember that the list has to include simple things that make you extremely happy. For instance, a coffee with a friend or even something as small as walking on the lush green grass.
let us take a look at some suggestions for these types of pleasures:
1. A walk on the beach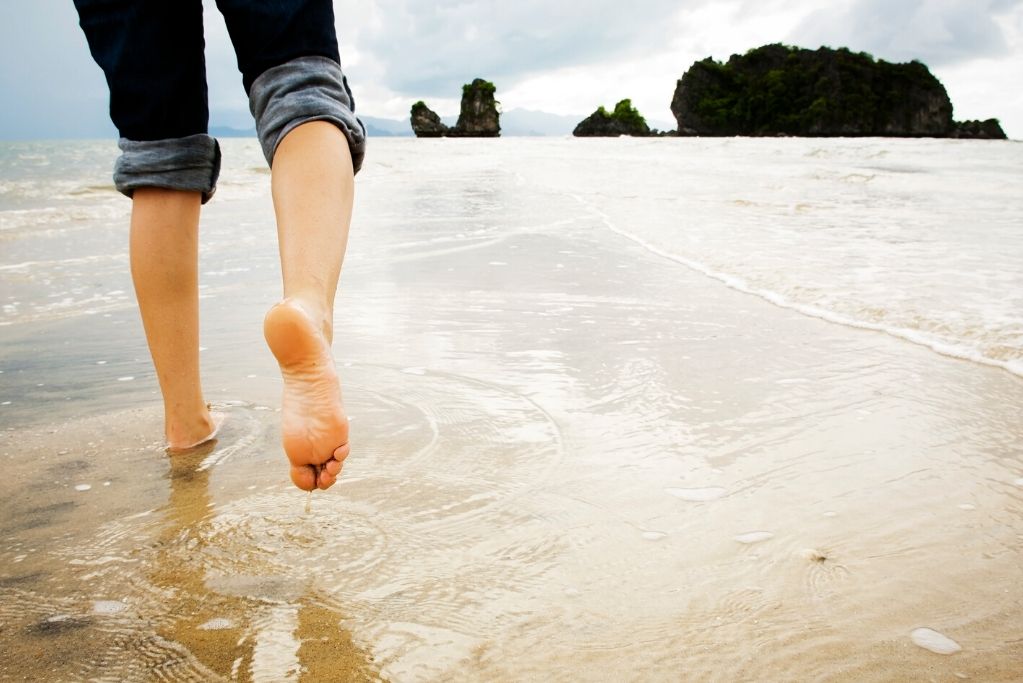 If you live in a beach town, do take the opportunity of de-stressing yourself with a calming walk on the beach. Ideally, choose a time when the place is not crowded. During the walk on the beach, take a moment to feel the warmth of the sand, the cool sea breeze and of course the sound of the waves. Even a simple ten minutes' walk by the beach is an excellent rejuvenator for the mind.
2. Listening to your favorite song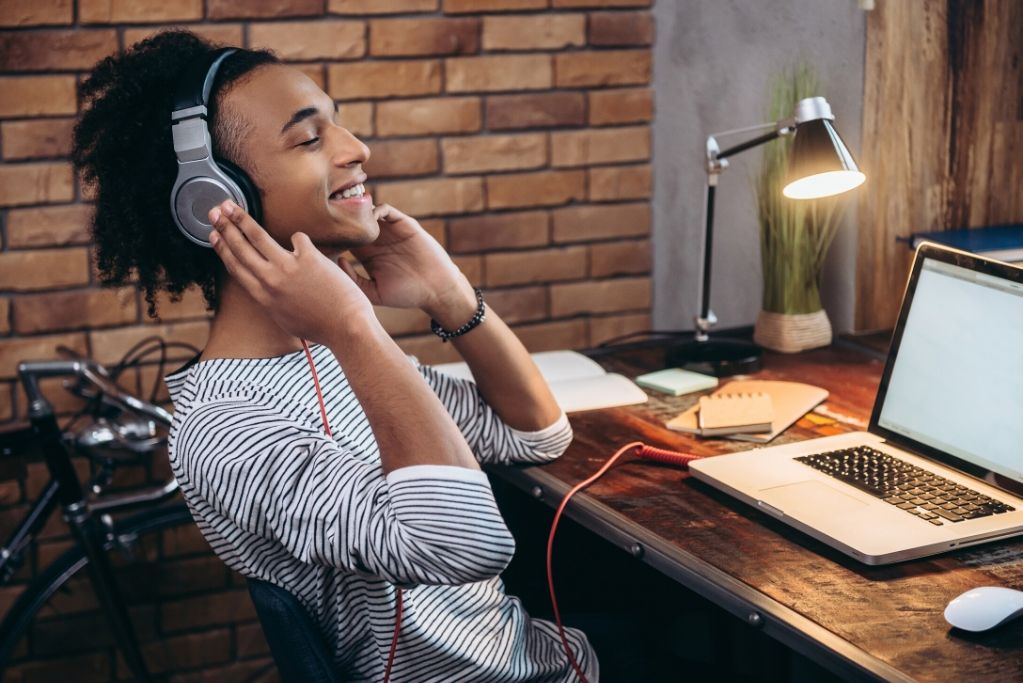 There are days when you do not have the time to step out but you still want a break. So, what do you do? Well, how about plugging in the earphones and listening to some soothing music. You can just play your favorite song in a loop. The music will give your mind a chance to disconnect itself from the worries of the world and relax. You never know the short break, could actually end up boosting your productivity considerably.
3. Watch the sunrise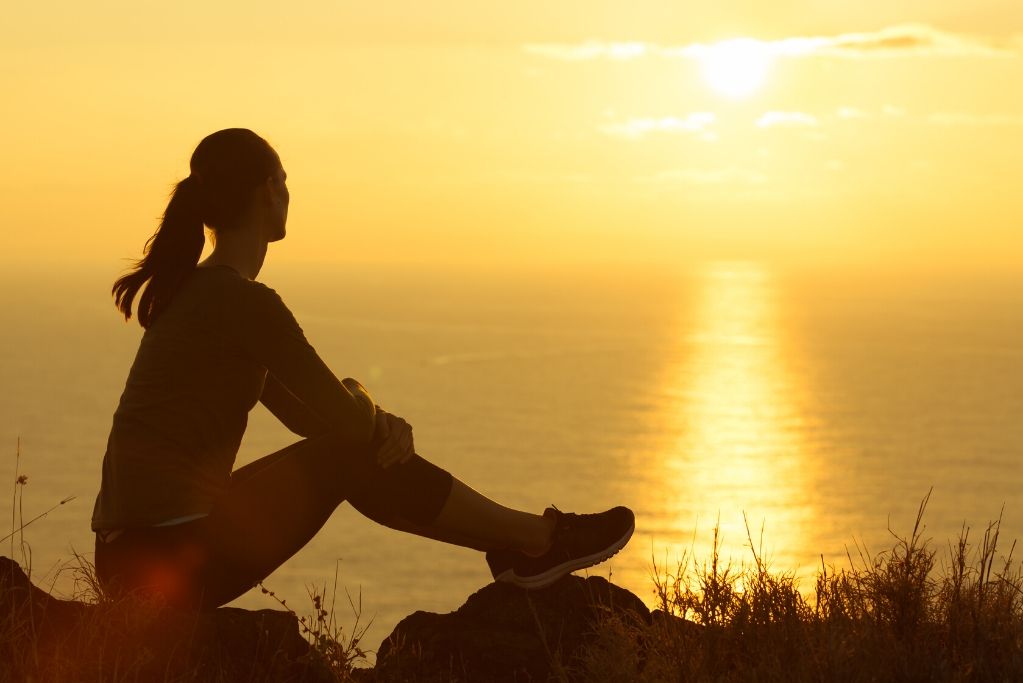 Have you ever experienced an early morning sunrise? If not, you should, because it is a magnificent sight. Imagine watching the sun come up gradually. Experience the soft soothing rays before it brightens the entire sky to pave the way for a sunny day. The sight in itself takes your breath away and is extremely relaxing.
Additionally, there is no noise in the background to distract you. It is the perfect opportunity to spend some quiet time with yourself. What's more is that you do not need to spend any extra money to experience this magnificent sight. All you need to do is wake up in the morning and head up to the roof.
NOTE
Watching the sunrise is a very calming experience. And since you are up early, your mind gets a chance to work out the priorities for the day.
4. Eat your favorite meal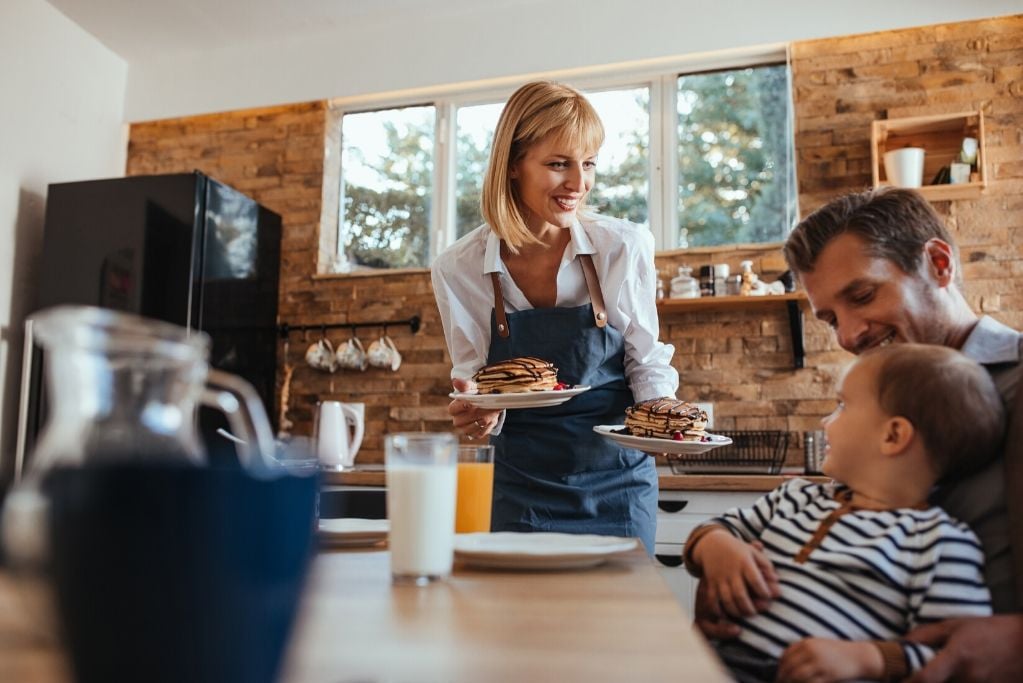 Yes! We should eat healthily. But in your pursuit of the goal to follow a healthy diet, do not deprive your body of the occasional cheat meals. For example, if you love pizza, get yourself one for dinner. Believe it or not, a single slice of pizza (or any other food that you like) will work wonders when it comes to lifting your mood. Keep all the diet plans aside for a few hours and just indulge yourself in the food that you are craving for.
5. Stargazing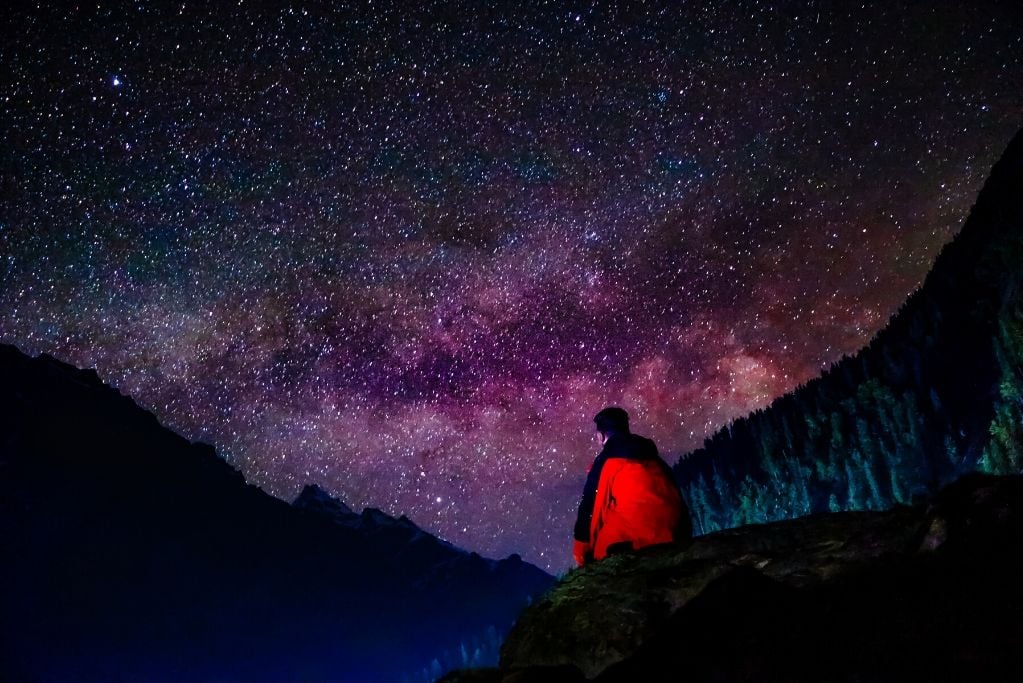 If you are not a morning person, watching the sunrise can be difficult. But, you can surely find the time for some stargazing. Yes! This is another simple indulgence that relaxes the mind beautifully. When was the last time you actually looked up at the sky to admire its beauty? There is a possibility that most of us will not be able to give a positive answer to this question.
This is major because of our stressful routines. But the next time, you are looking to indulge in simple pleasures, just take some time off and go stargazing. Lay back and watch the stars brighten up the sky. You need not head too far, just going up to the roof will be enough. You can take a carpet and lay on it as you watch the stars.
6. Cuddle up with your partner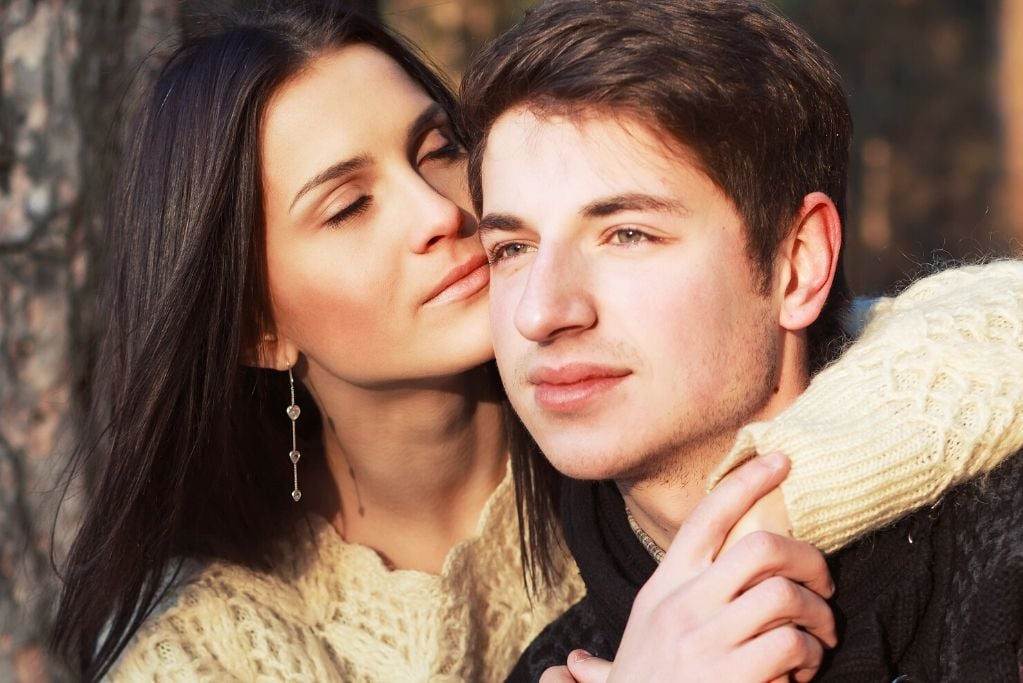 The benefits of a hug are immense. It feels like a sudden jolt of positivity in the body when you hug a person. This is because a hug symbolizes that the person cares for you. This reassures you that there is someone in the world who will stand by you even in the toughest of times. The thought is enough to fuel your positivity. Spend some time cuddling up with your partner, on a daily basis and you are likely to experience a positive impact.
7. Step out for a walk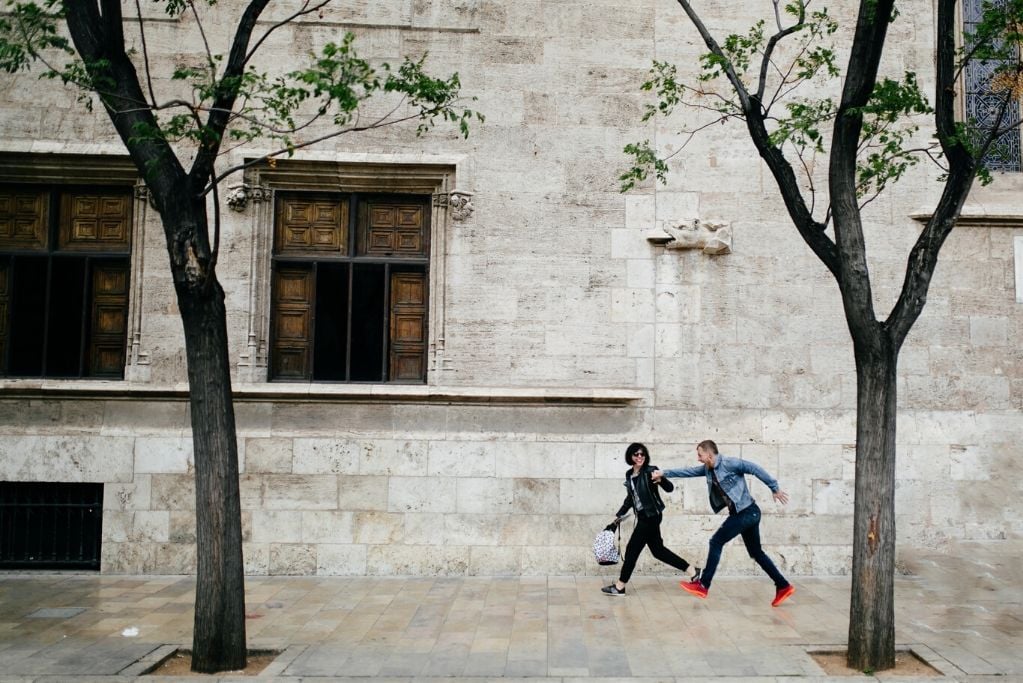 When you are very tired of your mundane work, a good long walk can be helpful to de-stress the mind. Yes! All you need to do is set out for a walk. The exercise works wonders to keep you healthy and at the same time, it also aids in venting out the stress. All you need to remember is that a walk is not an option on a hot summer day. But long walks on cool days are the perfect stress buster.
8. Reading a good book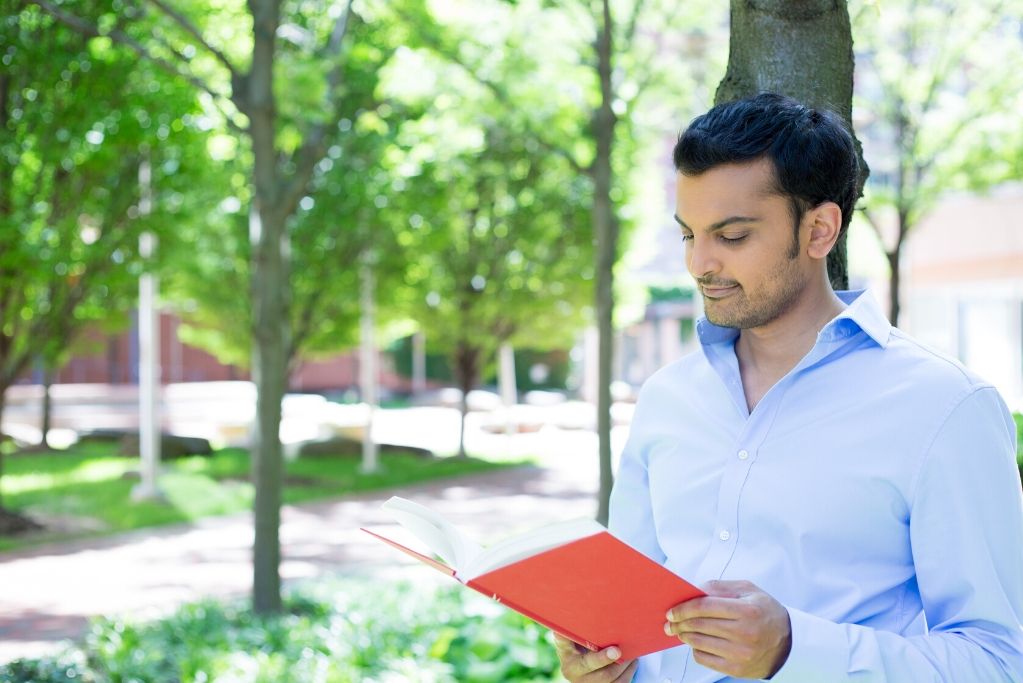 If you are an avid reader, nothing will relax you more than a few chapters of your favorite book. This need not be the current bestseller. It can be your childhood fiction novel as well. But it has to be a book you love. As you turn the pages, you will relieve a dozen memories making it a perfect break for the mind.
9. Just do nothing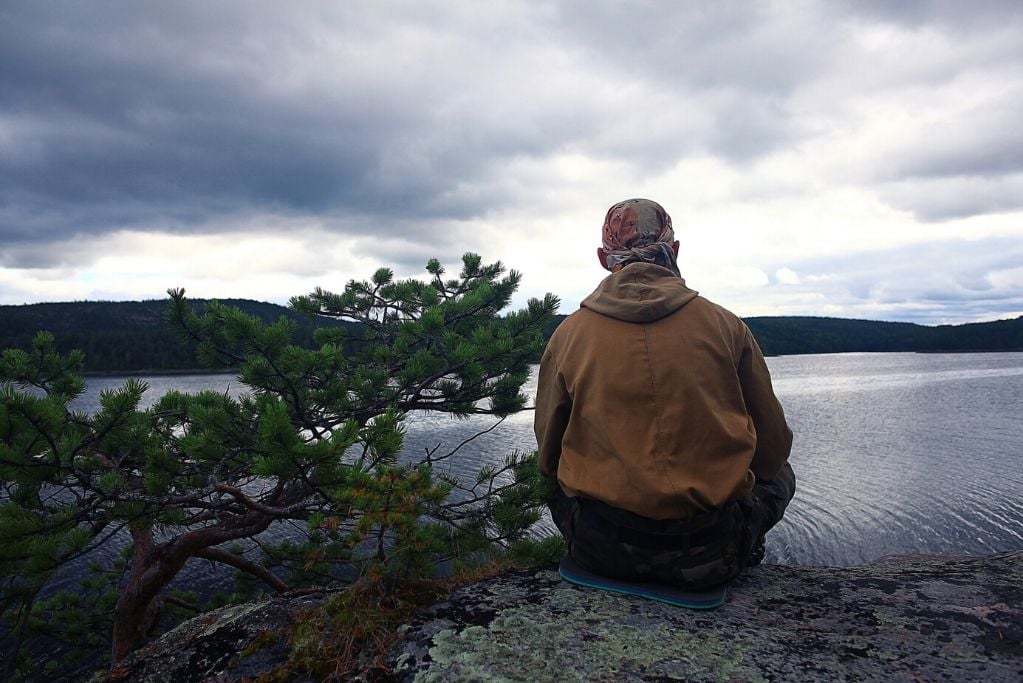 Living everyday like a routine can be stressful. So why not ditch the routine for a day. Just feel free, maybe even sleep on some comfy and clean sheets for as long as you want. No tasks at hand and no thoughts to bother you, simply do nothing. You will be surprised at the relaxation that you experience. Spending time doing nothing is indeed worth it!
10. Step out on a rainy day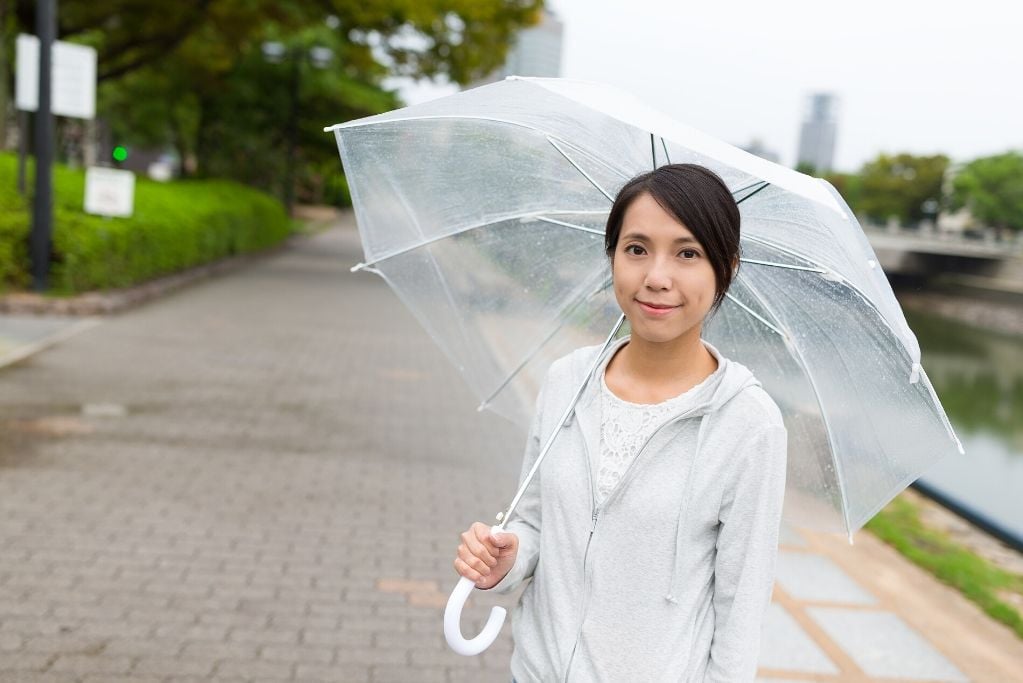 The sound of rain splattering is a great booster for the positivity within. Sometimes sipping a hot cup of coffee on a rainy day is all that the soul yearns for. You could take a break from office and just work from home in your pyjamas, to enjoy this simple pleasure.
Occasionally, you can also step out and just experience being drenched in the rain without worrying about wetting your clothes or spoiling your hairstyle, because you are not in the office. Of course, just ensure that you do not stay outside for too long else you could fall sick.
Conclusion
Once again you need to remember this list is not exhaustive. You can identify things that will make you happy. In the initial days, you need to remember to consciously invest the effort to enjoy these things. But gradually, the positive results that you experience will help you develop it as a habit.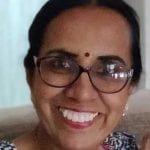 Kavita Shahani
A freelancer by profession, Kavita writes on a variety of topics, mental health being one of her favorites. Fond of traveling, socializing and meeting new people, most of her inspiration for writing comes from real-life scenarios as well as experiences. Her motto in life has always been to look for a reason to smile.