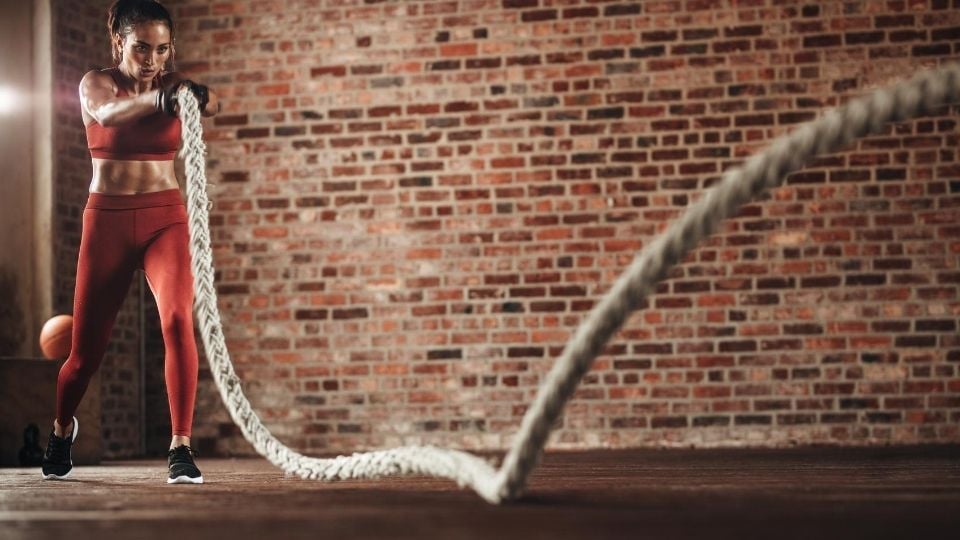 The amazing feats in this world have been accomplished by people who have a positive nature and have a growth mindset. Growth Mindset Quotes can help in instilling these in a person. A person's mindset is often not given its due importance, but it is the mindset that decides whether a person will shine in life or will remain a failure.
There are many people who have dreamt big, but only a select few achieve them. Why? If one looks up close, the answer can be found in people's life stories. Individuals who taste success are often those who refuse to give up on their goals even when everything goes wrong. It is their optimistic and growth mindset that keeps them from giving up.
Why Mindset Quotes?
---
Our mind is like a muscle, the more it is exercised, the sharper and stronger it gets. Mindset quotes are a way in which our minds can be programmed to choose being productive and a good path in life. If a person has the right mindset, he/she multiplies their chances of getting success in any area of their life.
60 Mindset Quotes
Inspirational Mindset Quotes
---
1) "Things are not always right because they are hard, but if they are right one must not mind if they are also hard."

-Winston Churchill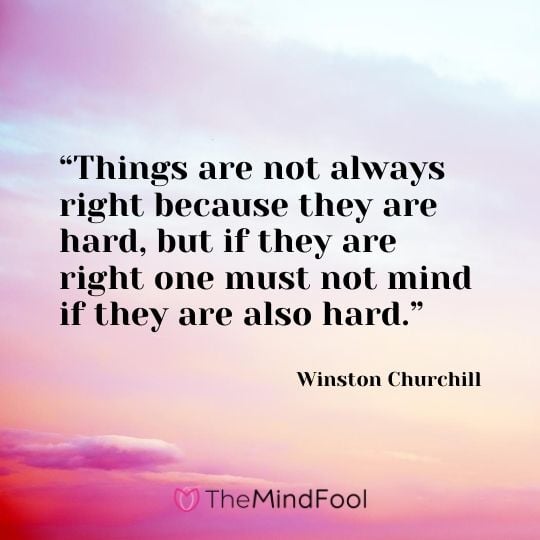 If you think something is right for you then you mustn't be discouraged if it requires hard work. If you know it's going to reap you good results you shouldn't hesitate to put in the work.
2) "Learn from yesterday, live for today, hope for tomorrow. The important thing is not to stop questioning."

-Albert Einstein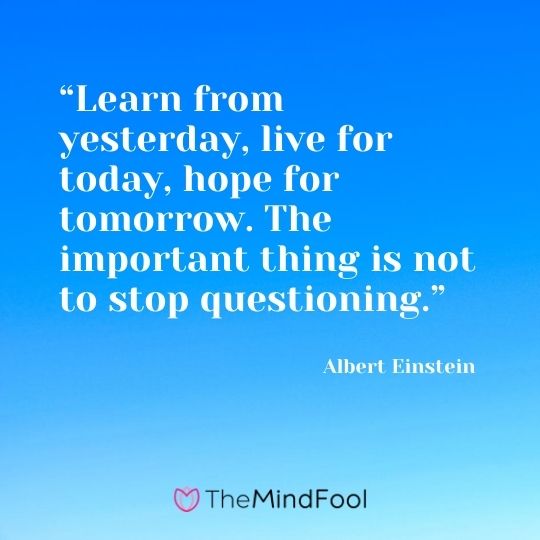 In this quote, Albert Einstein tells people to learn from what has already happened. He urges us to learn from our mistakes and to learn from our experiences. Again, he tells us to focus on being in the present and having a positive attitude for our future.
3) "Anyone who has never made a mistake has never tried anything new."

-Albert Einstein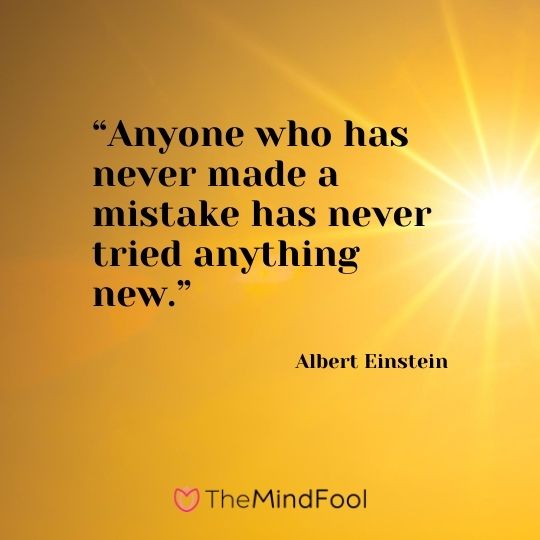 When do mistakes happen? When we start doing something that we have never attempted before. Mistakes can never happen when we are doing the same thing that we always do. Rather mistakes occur when we have no prior experience in what we are about to do.
4) "All our dreams can come true if we have the courage to pursue them."

-Walt Disney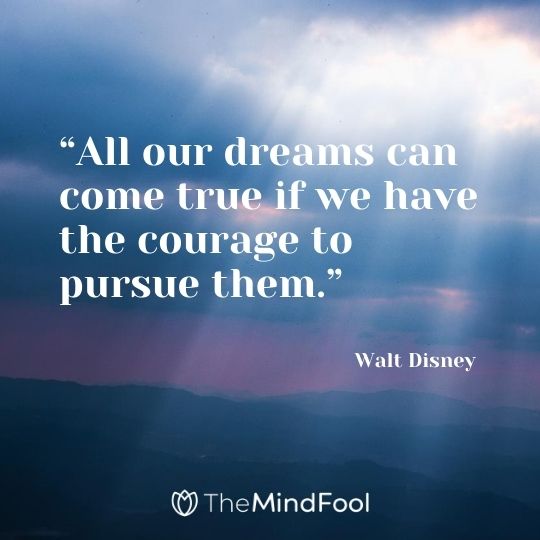 What this means is that the only thing that is standing between our dreams and the successful achievement of those dreams is courage. Now, why is courage so important? Success comes to those who have the mindset to do things differently than others and doing things differently involves risk
5) "Be enough for yourself first the rest of the world can wait"

– FW
A person should be happy for himself first, later on, he can be someone's happiness.
6) "What matters is how well you walk through the fire"

– Charles Bukowski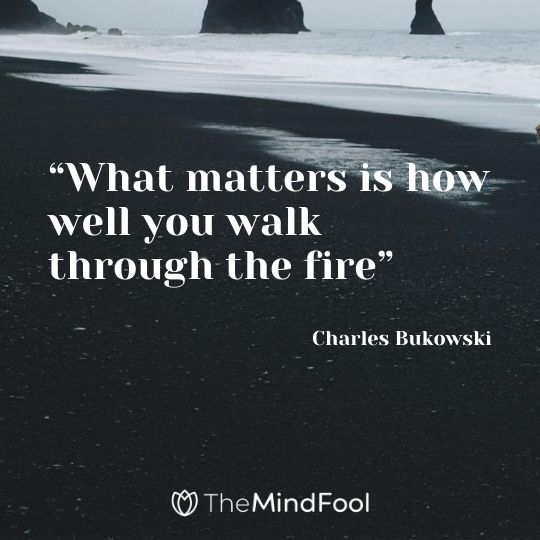 The way you respond to your problems matters the most.
7) "Look closely at the present you are constructing. It should look like the future you are dreaming."

– Alice walker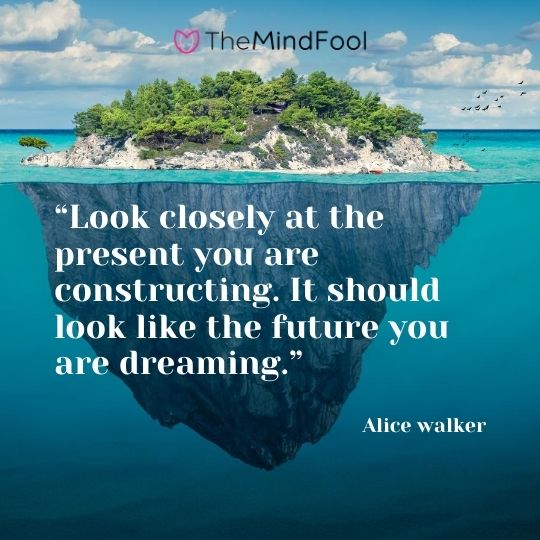 Make sure that your present actions are the stepping stones for the empire you want to build.
8) "You are what you believe yourself to be"

– Paulo Coelho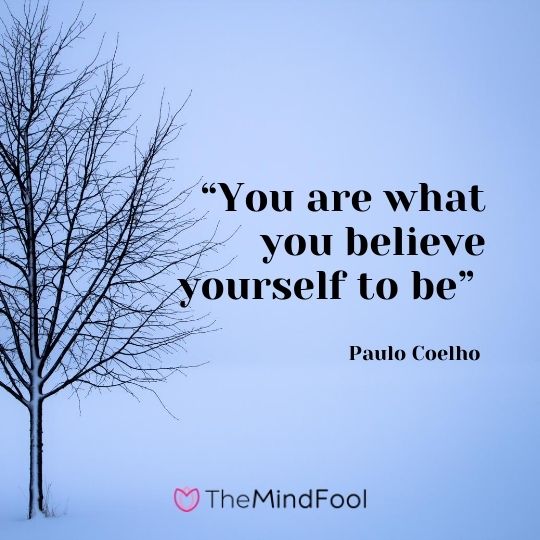 You should believe in yourself to become the person you want.
9) "What lies behind you and what lies in front of you, pales in comparison to what lies inside of you."

– Ralph Waldo Emerson
Mistakes of past and hurdles of the future cannot stop you from achieving what you want if you are determined to achieve it. The burning desire within self has the power to overcome any obstacle that we have to face in our journey of life.
10) "Do not go where the path may lead, go instead where there is no path and leave a trail."

– Ralph Waldo Emerson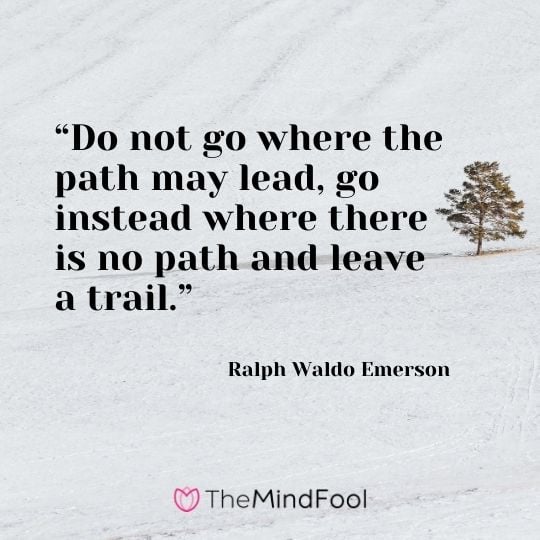 A path that leads to somewhere is a path that has been made by someone and has been traversed by many. To discover something new, one has to create his own path. This way, he can leave his trail and earn a name for himself. This is a classic quote urging people not to follow others but to lead by creating something new.
11) "The only person you are destined to become is the person you decide to be."

-Ralph Waldo Emerson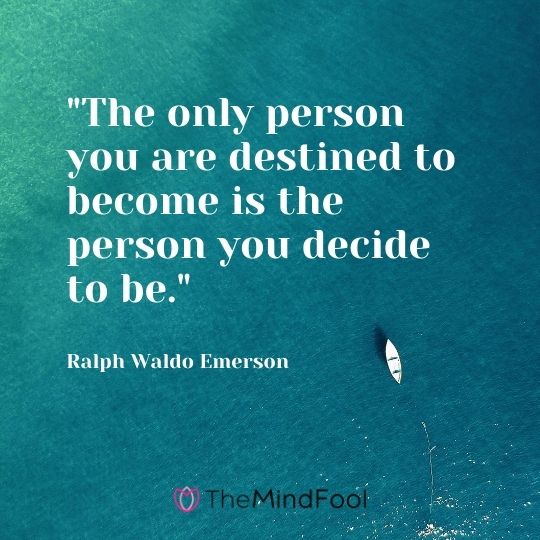 This quote highlights the power of human determination. It says that whatever we want in life can be achieved if we put our minds and hard work into it. Further, it also brings forth the importance of taking decisions and making the right choices in life.
12) "All men have fears, but the brave put down their fears and go forward, sometimes to death, but always to victory."

– Dale Carnegie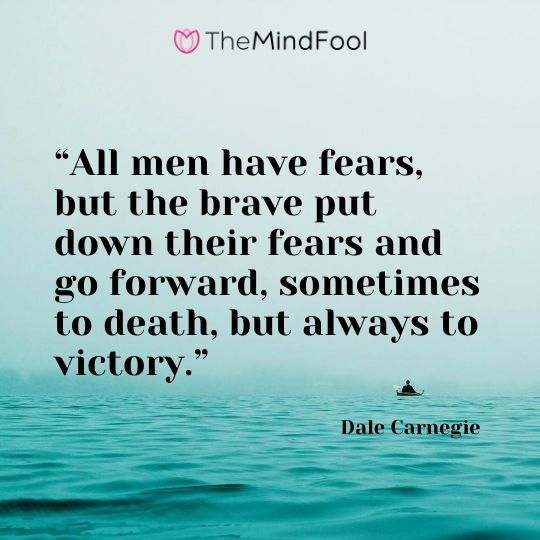 There is no man in this world who is not afraid of something. Fear always exists and having courage is not that the fear no longer exists. Courage is going forward in the chosen direction even with the presence of fear within us.
13) "Effort is one of those things that give meaning to life. Effort means you care about something, that something is important to you and you are willing to work for it."

– Carol Dweck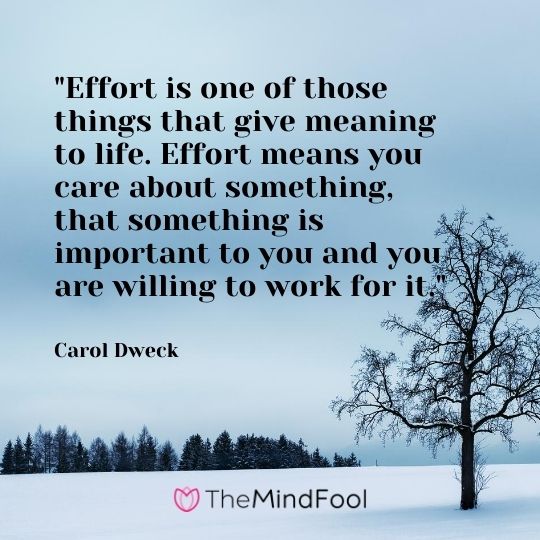 Each one of us is working hard in life in their respective field. However, if we can direct our effort into something we really love to do, the efforts will bear fruits much faster and also will give us satisfaction in life. The quote "Do what you love and you will never work another day" complements this quote perfectly
14) "We like to think of our champions and idols as superheroes who were born different from us. We don't like to think of them as relatively ordinary people who made themselves extraordinary"

– Carol Dweck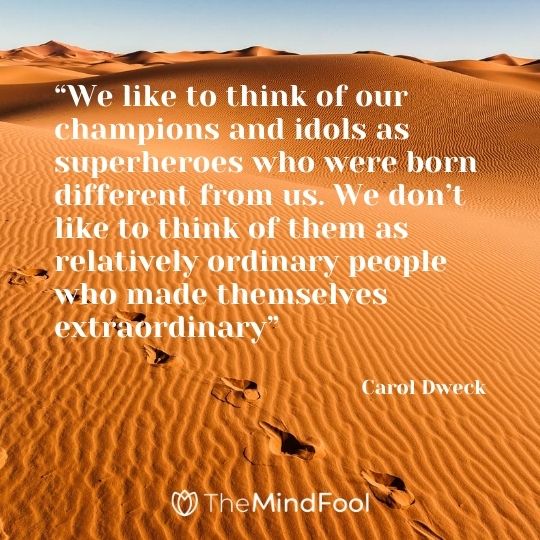 People idolize successful people as superheroes. But ultimately we all are human beings who have the same set of abilities. Therefore, instead of looking at the others as privileged and different from us, we should look at ourselves and realize our unique abilities
Positive Mindset Quotes
---
15) " Courage is what it takes to stand up and speak: Courage is also what it takes to sit down and listen."

– Winston Churchill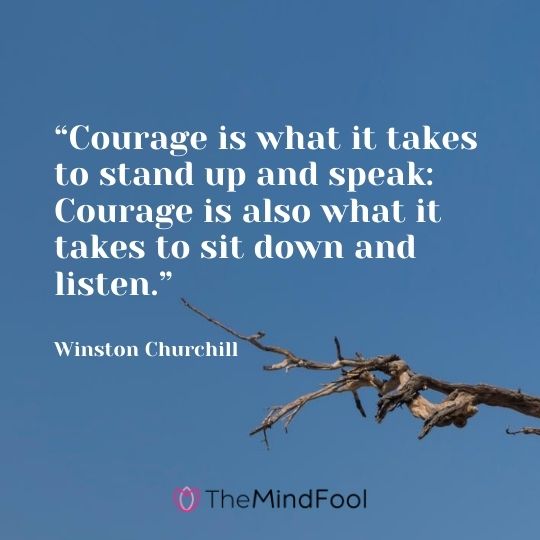 Speaking your mind and rebelling against everyone is not always courage. Sometimes courage is also silencing one's own thoughts and sitting down to listen to other's views and ideas. Courage is also about having the strength to face criticism.
16) "Don't judge each day by the harvest you reap but by the seeds that you plant."

-Robert Louis Stevenson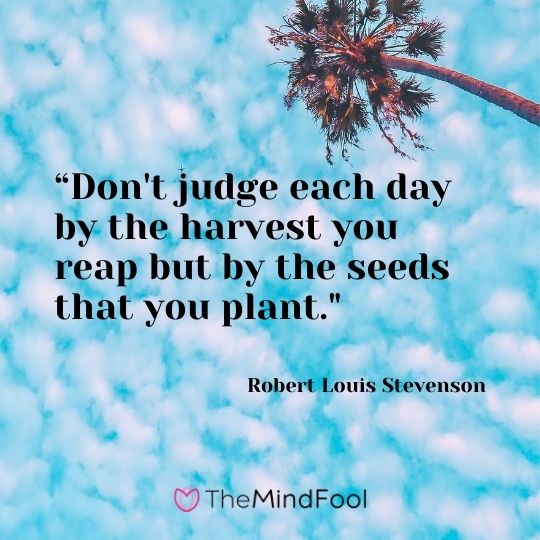 While counting one's harvest may give momentary joy, but in the long run, one can ensure a good harvest and hence happiness, if one continues to keep planting seeds. Similarly, in life, it is a well-known fact that success cannot be achieved overnight. We need to work on it over a period of time to achieve success.
So, our goal in life should be – not to give in to momentary joy but to concentrate on getting long term happiness
17) "Laughter is timeless, imagination has no age, and dreams are forever."

– Walt Disney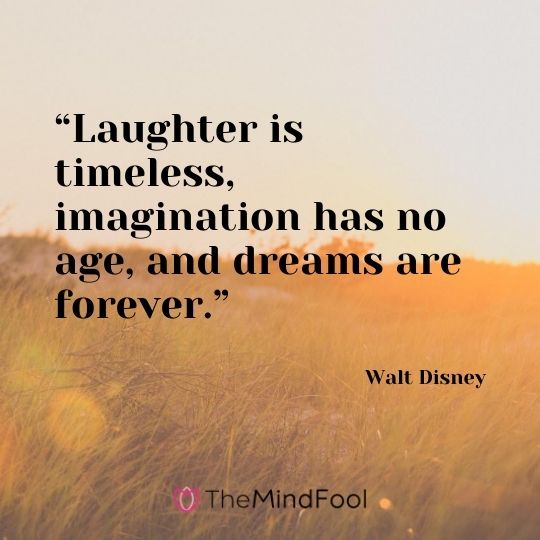 The happy moments experienced by people are cherished by them forever. The memories of these happy times have the ability to give people hope even during the toughest time. Further, contrary to popular belief, people of all ages have the ability to imagine.
18) "The eyes are the window of your soul"

– William Shakespeare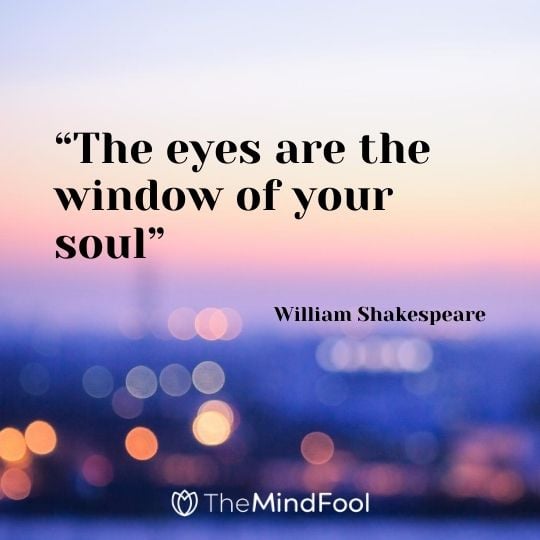 A person's perspective towards life is the window of their soul. Always admire the soul within a human
19) "Happiness doesn't depend on any external conditions, it is governed by our mental attitude."

– Dale Carnegie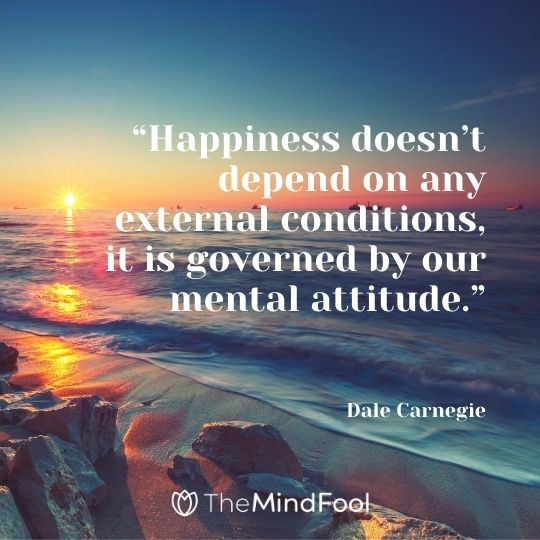 This quote emphasizes the importance of mental health. In today's world, while we value material wealth more, material wealth is in no position to give us mental satisfaction.
20) "Keep away from people who try to belittle your ambitions. Small people always do that, but the really great make you feel that you, too can become great."

– Mark Twain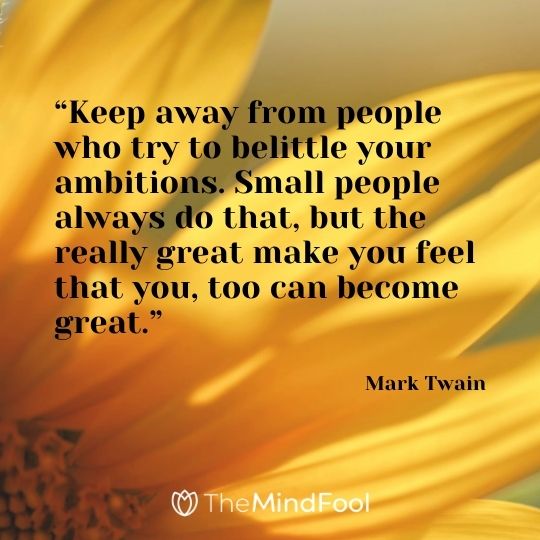 Great people see the potential in others and encourage them to leverage the same. While ordinary people are limited by their shortsightedness to see the value in others. Hence keeping the company of great people will ensure that we feel positive about our ambition and work towards achieving it
Change your mindset quotes
21) "The two most important days in your life are the day you are born and the day you find out why."

– Mark Twain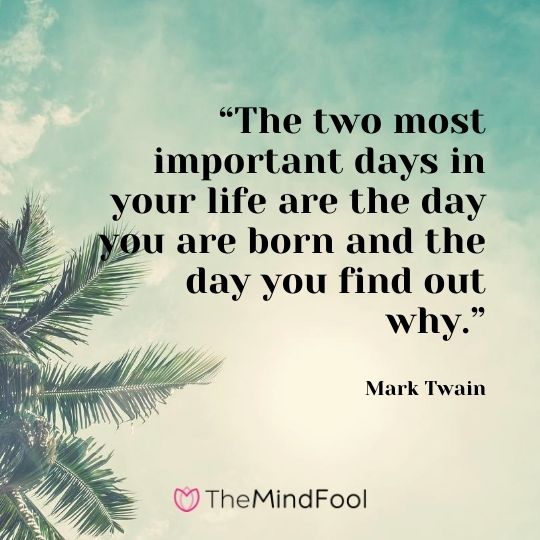 Mark Twain believes that each one of us is destined to play an important role in this world. The important thing is to find out – what role. Hence he mentions that apart from the day we are born, the other day that we should be looking forward to is the day we find out our purpose in life.
22) "Clear your mind of can't"

– Samuel Johnson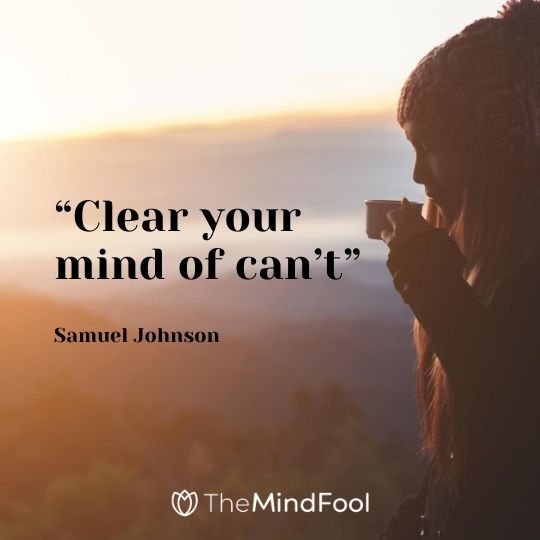 The quote emphasizes on the 'can do' attitude. A loser would find thousands of excuses to say 'can't'. In fact, some of the excuses might sound genuine. However, nothing can be achieved with such an attitude. Once we determine not to let ourselves use 'can't,' we force our mind to work around the problem and find a solution.
23) "We aim above the mark to hit the mark"

– Ralph Waldo Emerson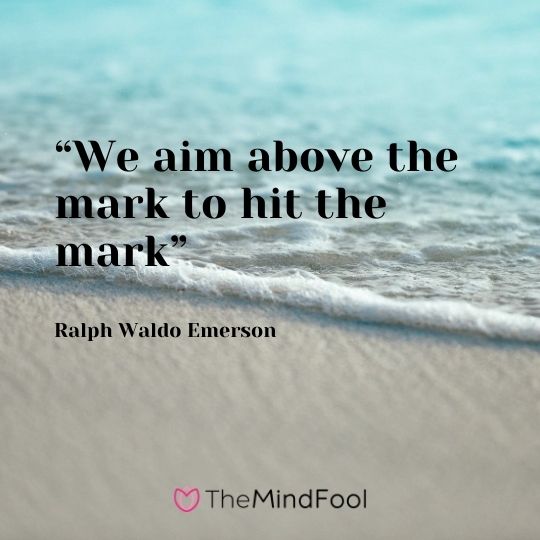 One should always aim too high. It doesn't matter how unachievable or far fetched the goal seems. When one sets out to create goals it shouldn't be made doubting one's ability. It should be made with full confidence in oneself.
24) "You don't always need a plan. Sometimes you just need to breathe, trust, let go, and see what happens."

– Mandy Hale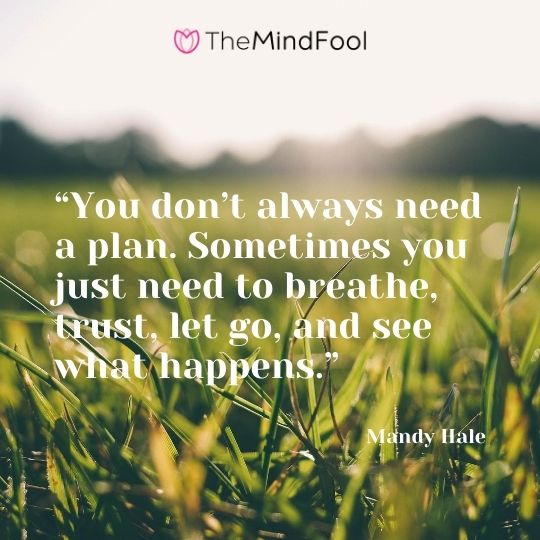 In the process of realizing one's dreams, there will be plenty of instances where things will go wrong. Since everything is not in our control we shouldn't be triggered when things don't go our way.
25) "Be thankful for what you have; you'll end up having more. If you concentrate on what you don't have, you will never, ever have enough."

– Oprah Winfrey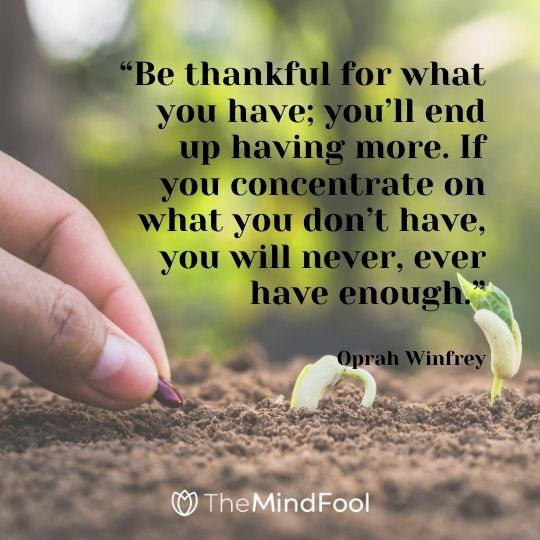 In the journey of achieving more, we often fall prey to a negative mindset. We may think to ourselves that we are stuck in a pathetic condition and that we can only be happy when we have more.
The key is to always be grateful for the things one already has. When one starts with a place of contentment and happiness they have the clarity of doing the right things to gain more.
26) "The life in front of you is far more important than the life behind you"

– Joel Osteen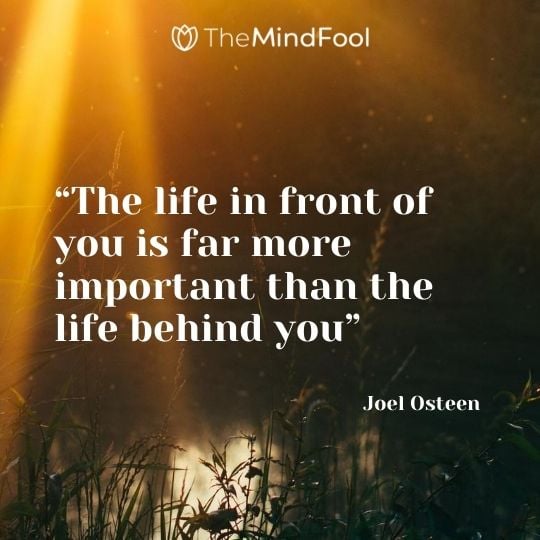 Life is always about what you are going to do next. Never look back, there is always a great opportunity waiting for you.
27) "Don't waste your time with explanations: people only hear what they want to hear"

– Paulo Coelho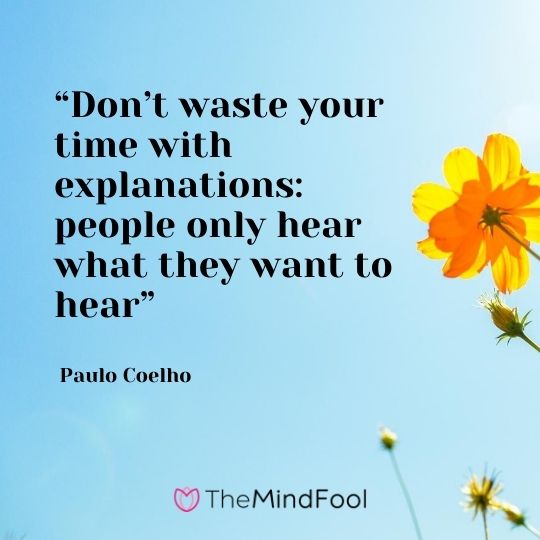 Never waste your time giving explanations to people. This is because people only believe what they want to believe, so your truth will fall into deaf ears.
28) "Don't let your happiness depend on something you may lose"

– C.S.Lewis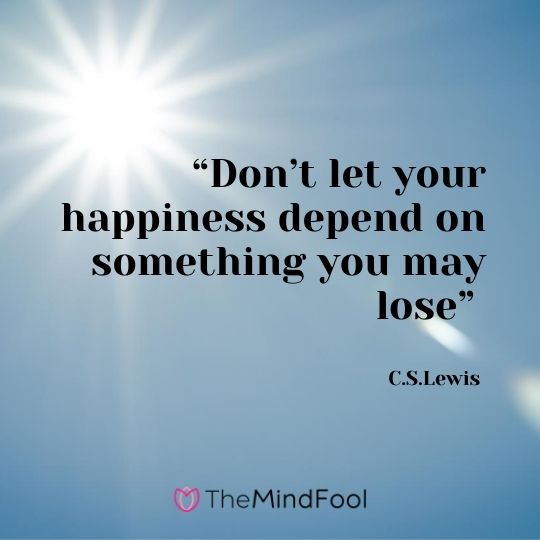 Don't base your happiness on temporary things. Be the creator of your own happiness and tie it to things that you can't lose.
29) "Crying doesn't indicate that you are weak. Since birth, it has always been a sign that you are alive"

– Charlotte Bronte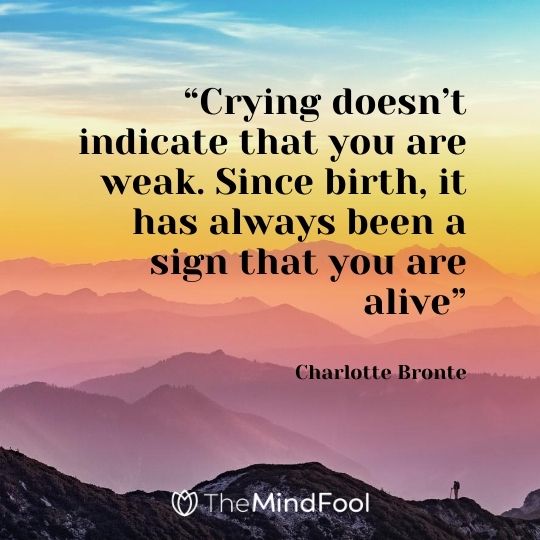 Crying is an indication that you are a human and you have emotions. It doesn't indicate your weakness. Crying is just a natural expression of emotions.
Growth Mindset Quotes
---
30) "If you never begin, how will you succeed? It is hard to fail but it is worse never to have tried to succeed ."

– Theodore Roosevelt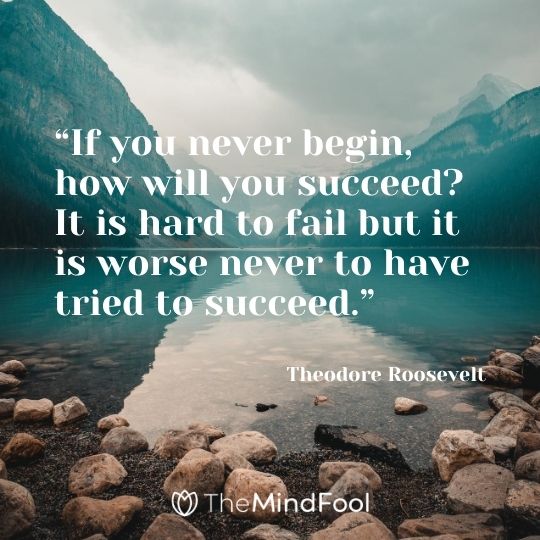 This quote motivates people to start their journey of achieving their goals. It encourages people to focus on the positive side of beginning to work for their goal rather than focusing on failure. Here, Roosevelt has subtly hinted that regret of not working for your dream bears greater pain than the fear of failing.
31) "Success consists of going from failure to failure without loss of enthusiasm"

– Winston Churchill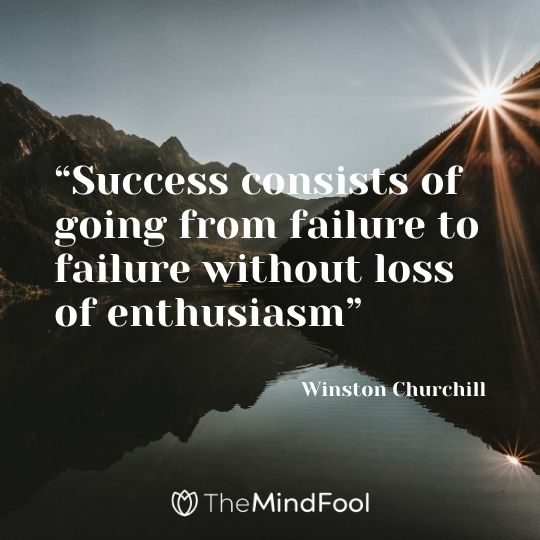 It is only he who keeps on chasing his dreams even after repeated failure is one who tastes success at the end. One should not lose the initial passion and grit that they had before facing the failure.
32) "I never worry about action, but only inaction."

– Winston Churchill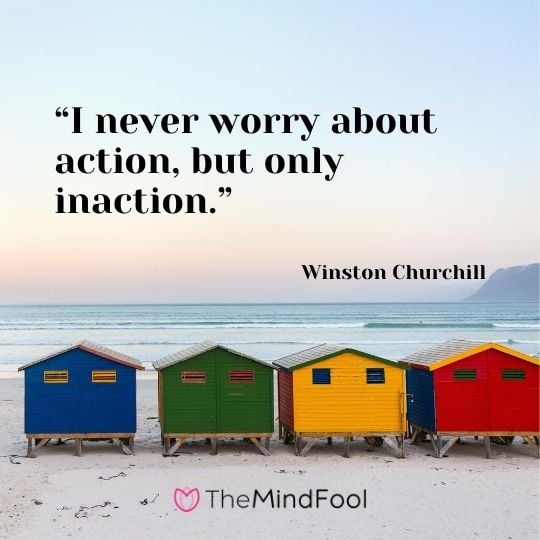 When someone takes action, there is still hope that something will happen. Yes, there is always a chance of failure if someone starts taking action, but nothing guarantees failure like inaction.
33) "Success doesn't come from what you do occasionally. It comes from what you do consistently"

– Marie Forleo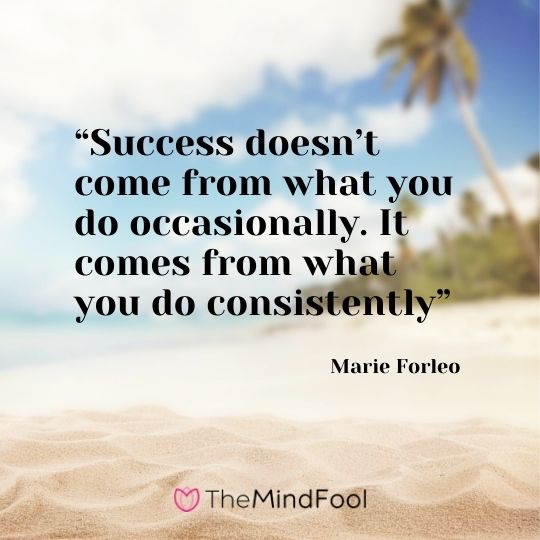 You'll always get success from what you are doing consistently. Success never comes all of a sudden you need to work patiently on it.
34) "Success is not final, failure is not fatal: it is the courage to continue that counts."

– Winston Churchill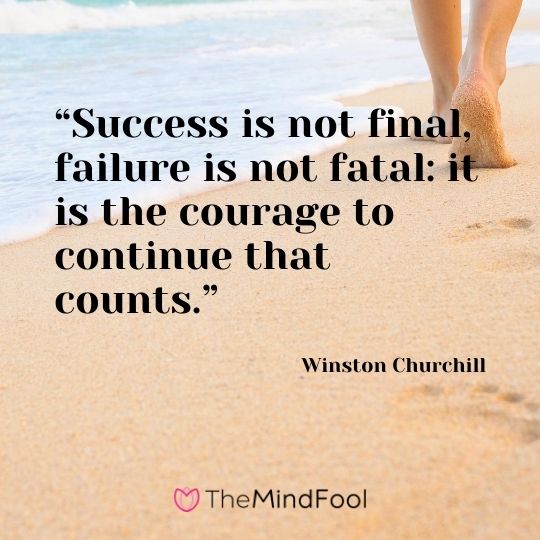 Even when one has experienced failure and even when a person has achieved success. The aim should be to always keep on going and keep on improving ourselves.
35) "If you can dream it, you can do it."

– Walt Disney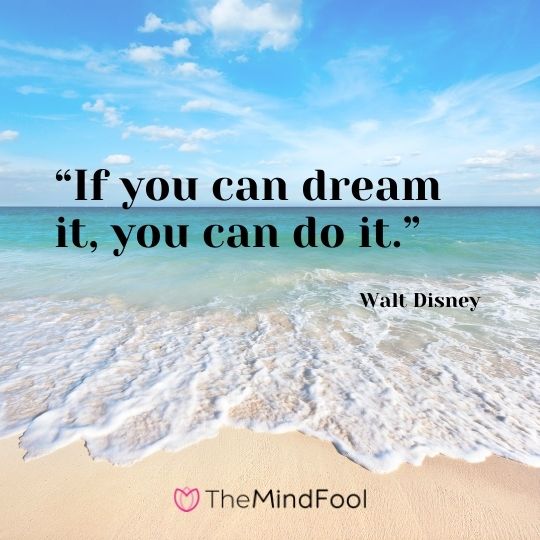 If you want to realize your dream bad enough there is nothing that can stop you from doing that. If you can visualize what you want to do and how your life should be, then it is also possible for you to turn that dream into a reality. The only vital thing is that you must have the will and the courage to commit to your dream.
36) "First, think. Second, dream. Third, believe. And finally, dare."

– Walt Disney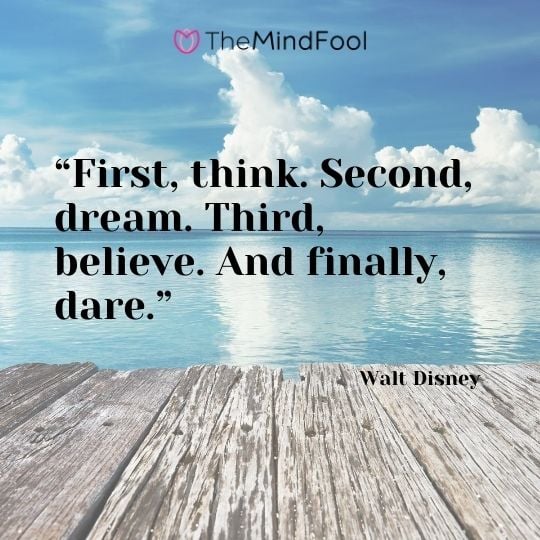 The road to success first begins with thinking. If you don't have the seed of thought within you, you won't be able to dream it. Further, without belief, you won't have the motivation to put in the hard work. The final step is to dare. That means the final stage is to have the courage to begin.
37) "Perseverance, the secret of all triumphs"

– Victor Hugo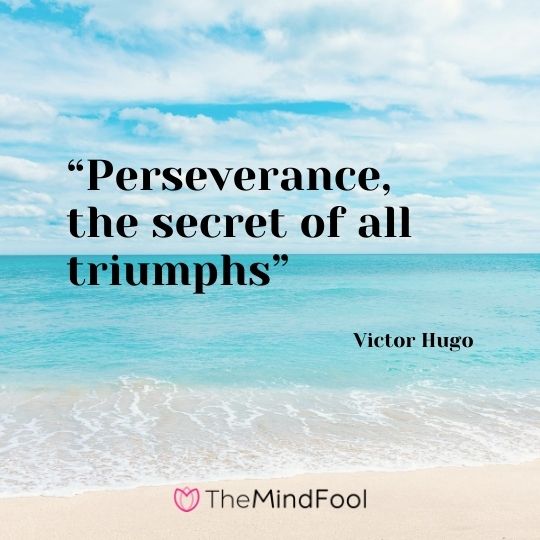 Continuous work on a specific skill will push you towards success
38) "The difference in winning and losing is most often not quitting."

– Walt Disney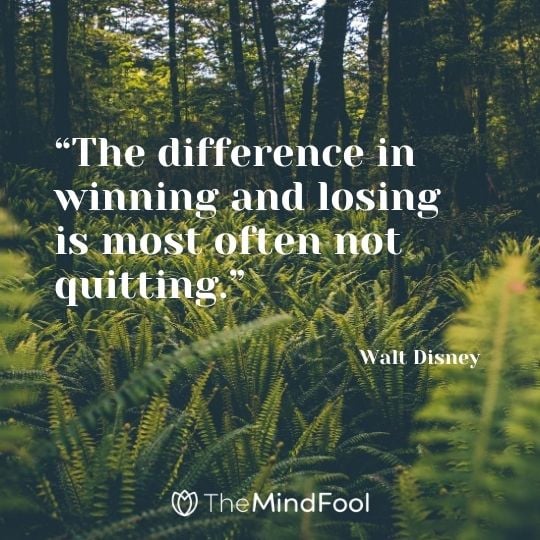 We can achieve success only when we try. Not every attempt leads to success. Many times we fail in the initial stage. However, if we give up trying just because we have failed, then we will never achieve success.
39) "Develop success from failure. Discouragement and failure are two of the surest stepping stones to success."

– Dale Carnegie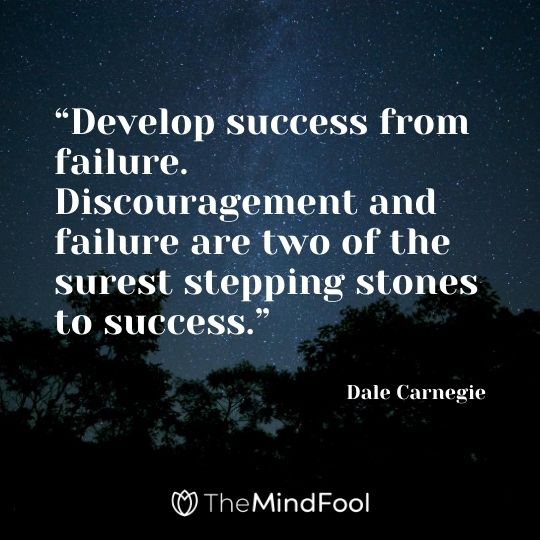 It is common knowledge that success is accomplished by people only after they have struggled and tasted both discouragement and failure. However, instead of worrying about these momentary disappointments and failures, successful people make these as stepping stones to success by putting even more determination.
40) "Do the thing you fear to do and keep on doing it…that is the quickest and surest way ever yet discovered to conquer fear."

– Dale Carnegie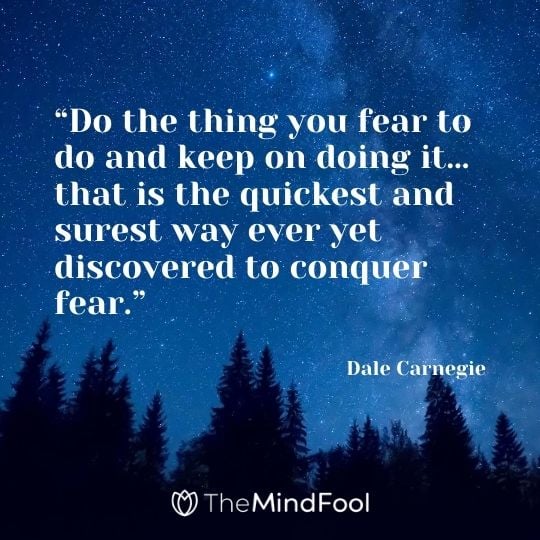 Fear of failure limits us from even giving it a try. This quote encourages the reader to do what he fears the most. Keeping on doing that would definitely mitigate the inherent fear and a time will come when the fear will disappear altogether.
41) "Great works are performed not by strength but by perseverance"

– Samuel Johnson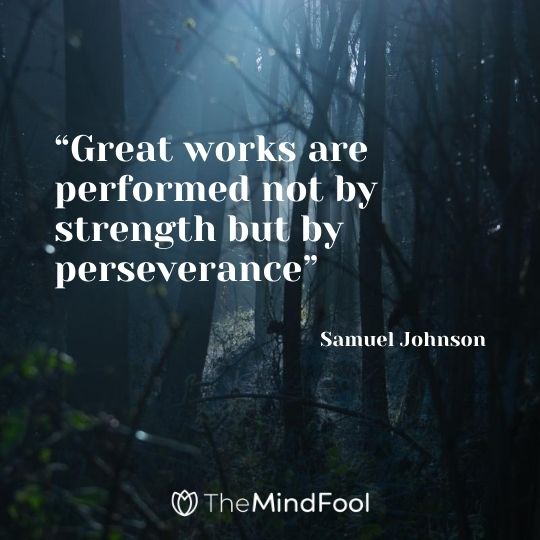 The common belief is that great work can only be done if you have the ability to do it. However, all human beings have been blessed with more or less the same set of abilities. Rather it is the perseverance of the person who relentlessly works towards the goal that determines success.
42) "Turn your wounds into wisdom"

– Oprah Winfrey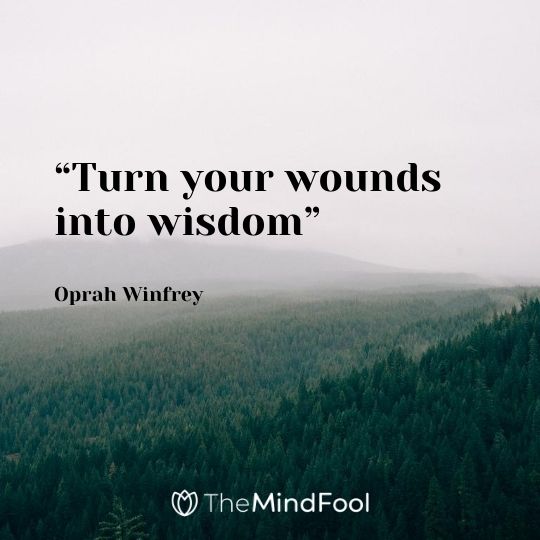 One should always learn lessons from their mistakes and work towards improving themselves. The lessons learned from failure can be turned into wisdom
43) "Everything you need to be great is already inside you"

– Darren Hardy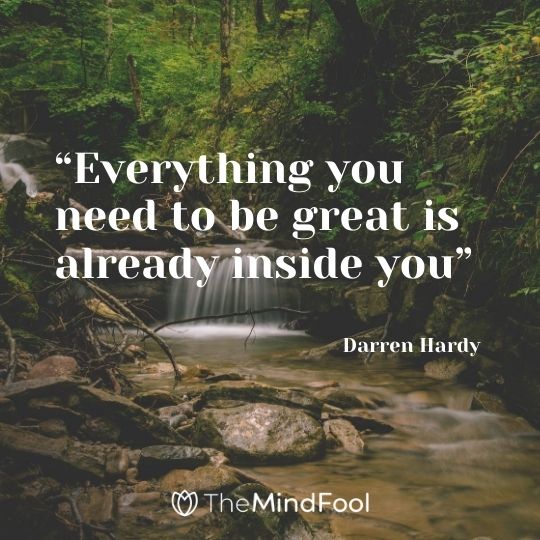 Everything that is required to achieve great things in life is already present within you. You just need to look within yourself.
44) "Become one of the rare people who don't know how to quit"

– Robin Sharma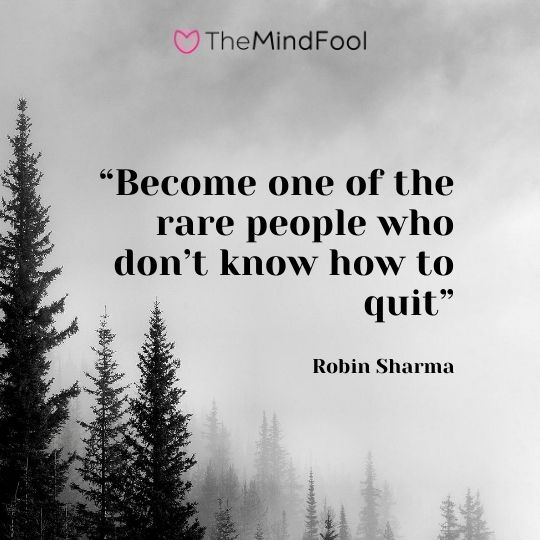 Be like those people, who never quit and keep working consistently
45)"You don't always get your goals, but you always get your standards"

– Tony Robbins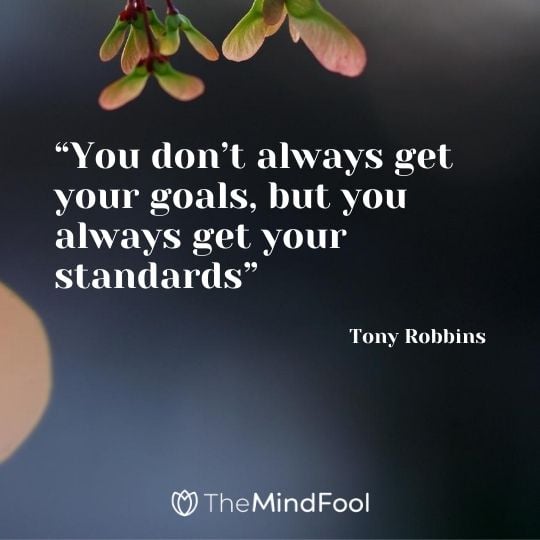 When you achieve your goal, it is not just the goal you achieve it is also about the standard that you set for yourself.
46) "Expose yourself to your deepest fear. After that you are free"

– Jim Morrison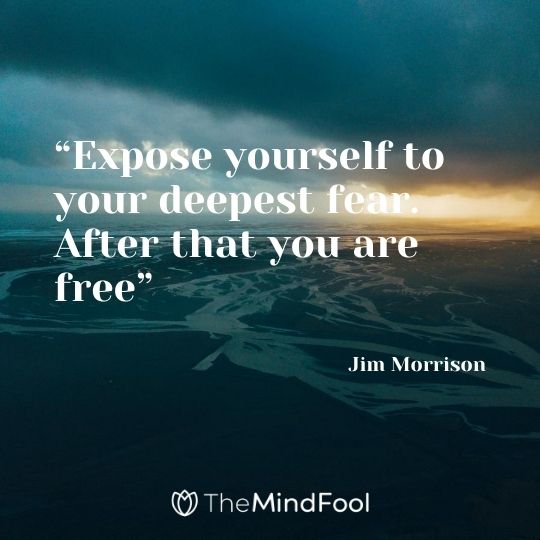 Once you fight and win your biggest fear, then there won't be anything holding you back. You can then experience real freedom.
47) "The value of a man should be seen in what he gives and not in what he is able to receive"

– Albert Einstein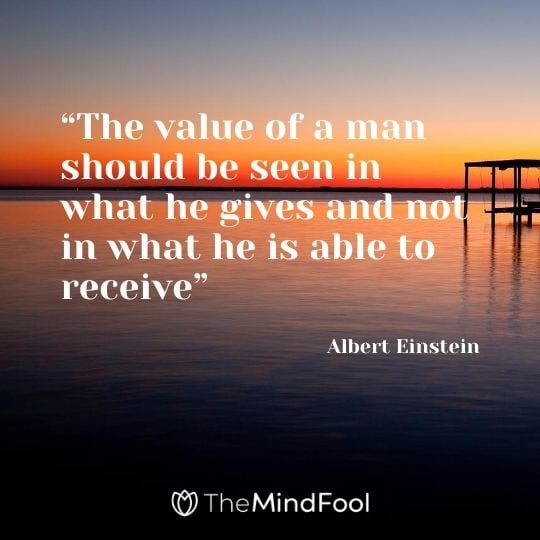 The value of a human should always be measured with what he can give to others. A person's value can't be measured by what he takes or gets from people.
48) "To get the full value of joy, you must have someone to divide it with"

– Mark Twain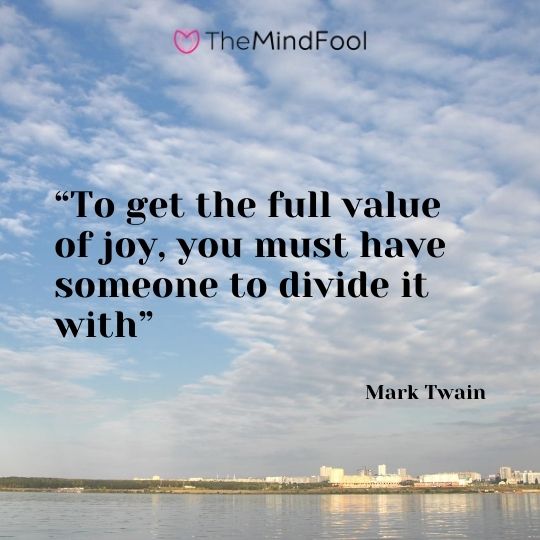 You should always have someone with whom you can share your joy. When happiness is shared with people it is multiplied.
49) "Make someone smile every day. But never forget, you are someone too."

– Jm Storm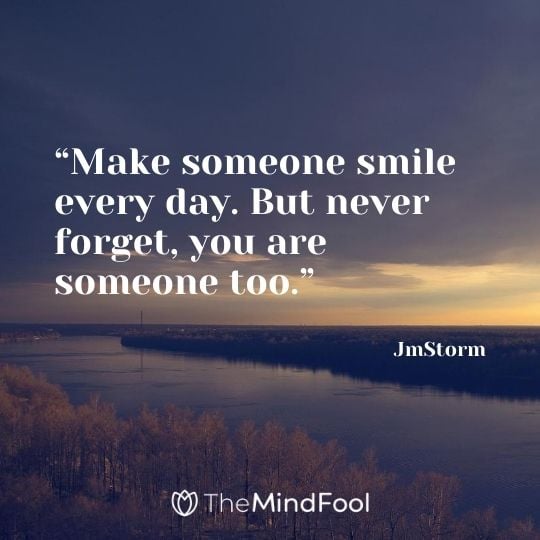 Every day is a chance to make someone happy. In this endeavor, don't forget to make yourself happy as well.
50) "Make happiness a priority and be gentle with yourself in the process"

– Bronnie Ware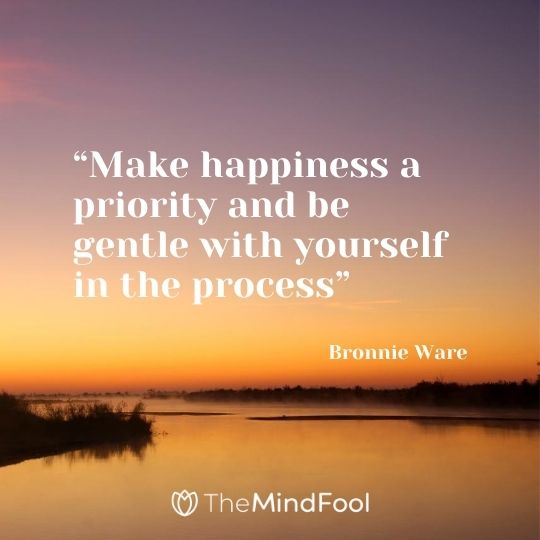 Being happy is one of the most important things in the world. Make it a priority. A life without happiness will always feel incomplete. Again, to be happy in the journey of achieving your goals do not forget to take care of yourself.
51) "I like criticism. it makes you strong"

– Lebron James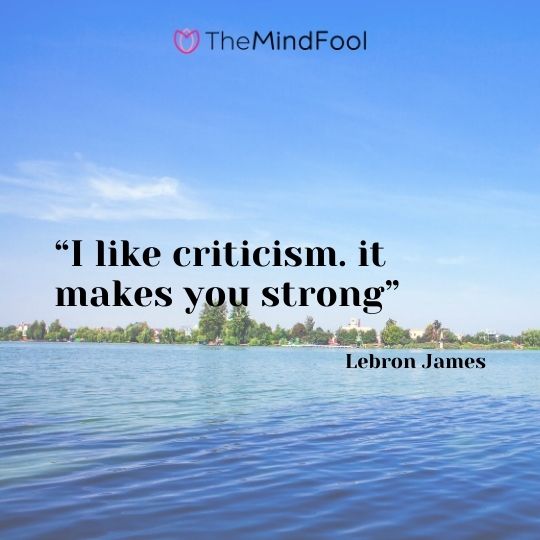 One should be open to hearing other's opinions even though they may not agree with what is being said. Hearing criticism can either give a person new ideas or it can reinforce their faith in their dreams.
52) " A truly strong person does not need the approval of others any more than a lion needs the approval of sheep"

– Vernon Howard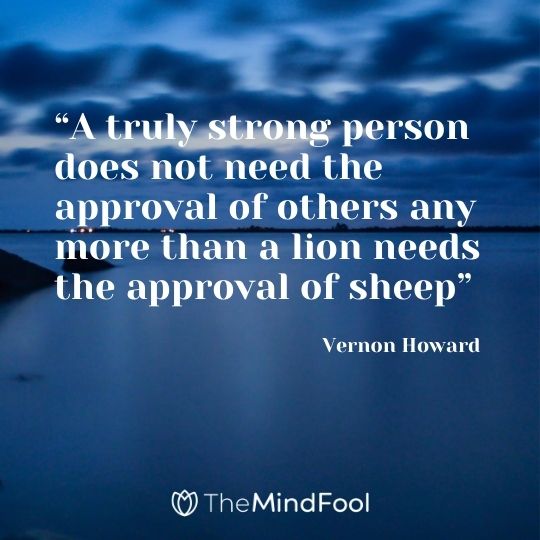 If one believes what they are doing is right. They needn't wait for anyone's approval. All that is required is faith in themselves and their work.
53) "Our greatest weakness lies in giving up. The most certain way to succeed is always to try just one more time."

– Thomas Edison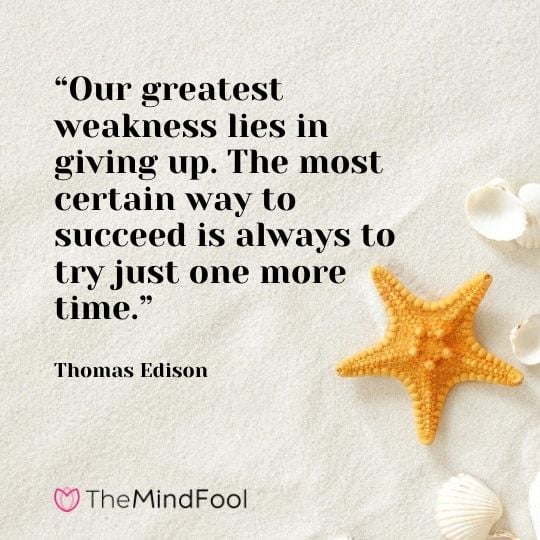 People often don't know how close they are to winning when they give up. Not giving up despite everything is one of the surest ways to win.
54) "Leadership is about making others better as a result of your presence and making sure that impact lasts in your absence."

– Sheryl Sandberg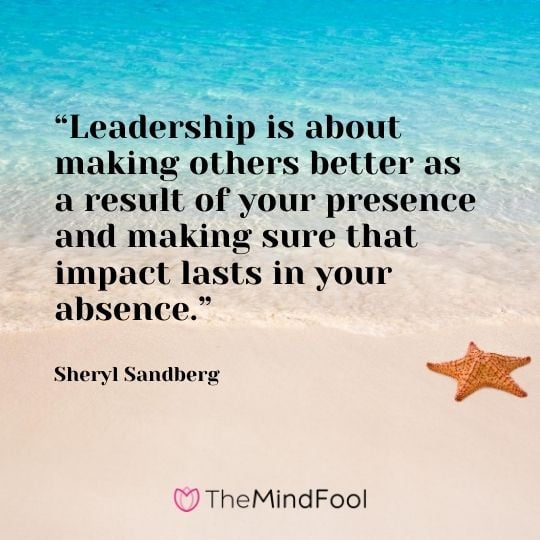 Leadership is not about dominating people. On the contrary, it is about helping your team and providing them guidance so that they can improve. A great leader makes a lasting impact on his team, so much so that his absence is truly felt when he leaves.
55) "When everything seems to be going against you, remember that the airplane takes off against the wind, not with it."

– Henry Ford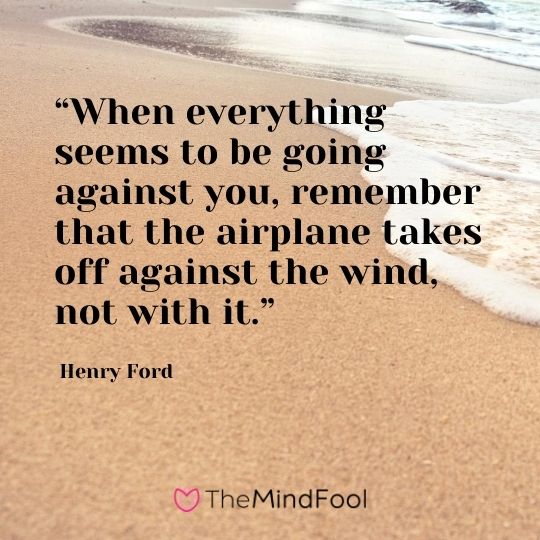 Adversity is an inextricable part of life and an inextricable part of any endeavor. Just because you are facing adversity it doesn't mean that you should give up. Facing adversity should be taken as a challenge and an opportunity to prove our mettle
Growth Mindset Quotes for Kids
---
56) "No matter how many mistakes you make or how slow you progress, you're still way ahead of everyone who isn't trying."

– Tony Robbins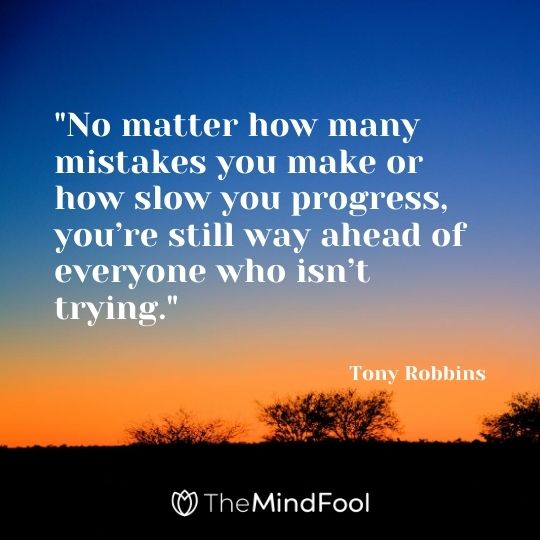 Trying is the key to consistently improve yourself and to keep moving forward. Mistakes only signify that you are trying something new. Trying something new means you are making progress.
57) "Strive not to be a success, but rather to be of value."

– Albert Einstein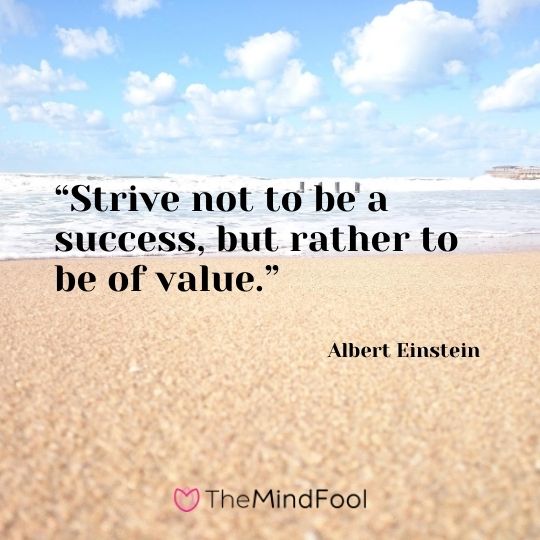 Success is the byproduct of hard work and determination. When you continue working hard it will eventually lead to success. But transforming ourselves into better individuals in the process is what we should actually strive for.
58) "Don't watch the clock; do what it does keep going"

– Sam Levenson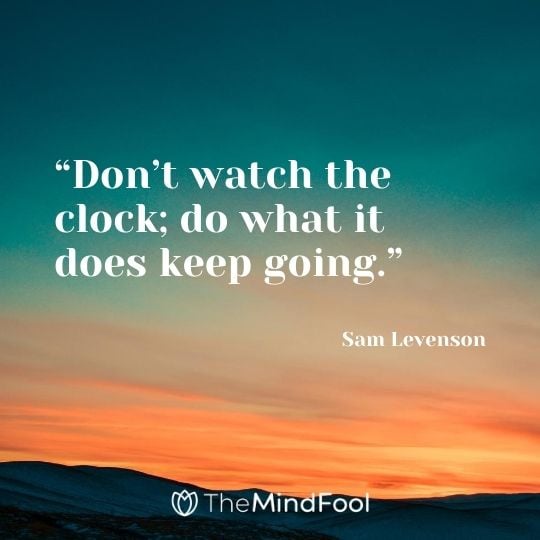 One shouldn't be worried about the lost time or how much time it will take to do something. The main goal is to continue doing what one wants and not let oneself dictated by time.
59) "Just because you haven't found your talent doesn't mean you don't have one."

– Kermit The Frog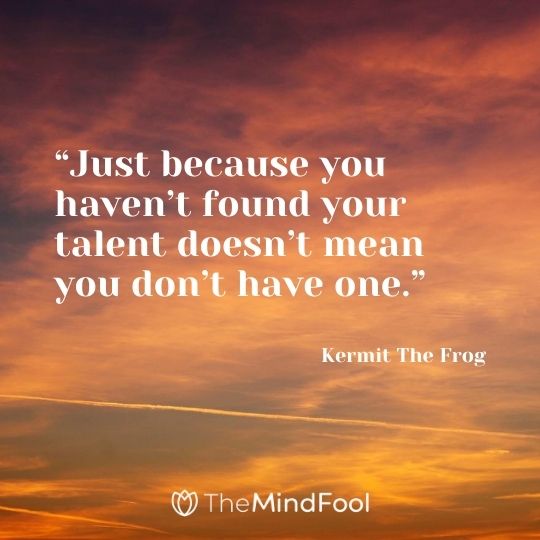 Self-discovery is a long journey. If one doesn't know where their talent lies, it only means they need to keep on searching. This doesn't mean that the person is devoid of any talent.
60) "This is something I know for a fact: You have to work hardest for the things you love most."

-Carol S. Dweck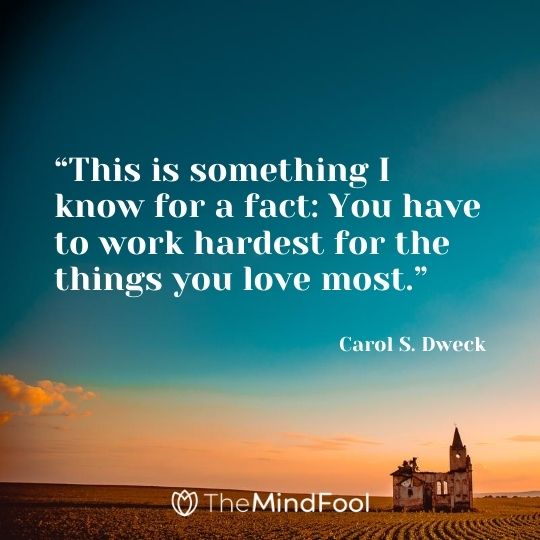 Nothing is achieved by just wishing. One has to put their hard work and time into accomplishing what they want. Further, for the things one wants most, they also have to put in the most effort.
Positive Mindset Quotes serves a person in 3 ways
---
1) Mindset Quotes channels the person's energy in healthy pursuits
The human mind is the most powerful machine in the whole world. It has invented some spectacular things that have transformed our lives. All these have been possible because some people have put their energy into doing something good and meaningful. Each one of us has the potential to achieve great feats in this world. We just need to have the willingness to focus on it. That's where mindset comes in.
2) Mindset Quotes are great for instilling motivation
It's no secret that people lose their enthusiasm for their goals from time to time. Does losing motivation or enthusiasm mean that one needs to give up on what they earlier believed in? No. One can renew their enthusiasm with amazing mindset quotes.
3) Reading them can build resilience in people
Resilience is having the courage and strength to continue on one's chosen path despite the obstacles. Hurdles are to be expected and more so on paths that lead to extraordinary destinations. Resilience is what you need when you want something in life and mindset quotes are a great way to build resilience in people.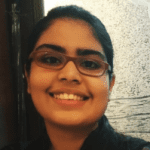 Kirtika Surolia
Kirtika is a motivated soul, passionate about writing, speaking and creating. She has her hands in Literature, Psychology, Life Coaching, Spirituality, Wellness, Sciences and everything creative. As an entity of the vast Universe, she wants to expand her existence with self belief and self exploration. With TheMindFool, she wants to help others in finding their real self.