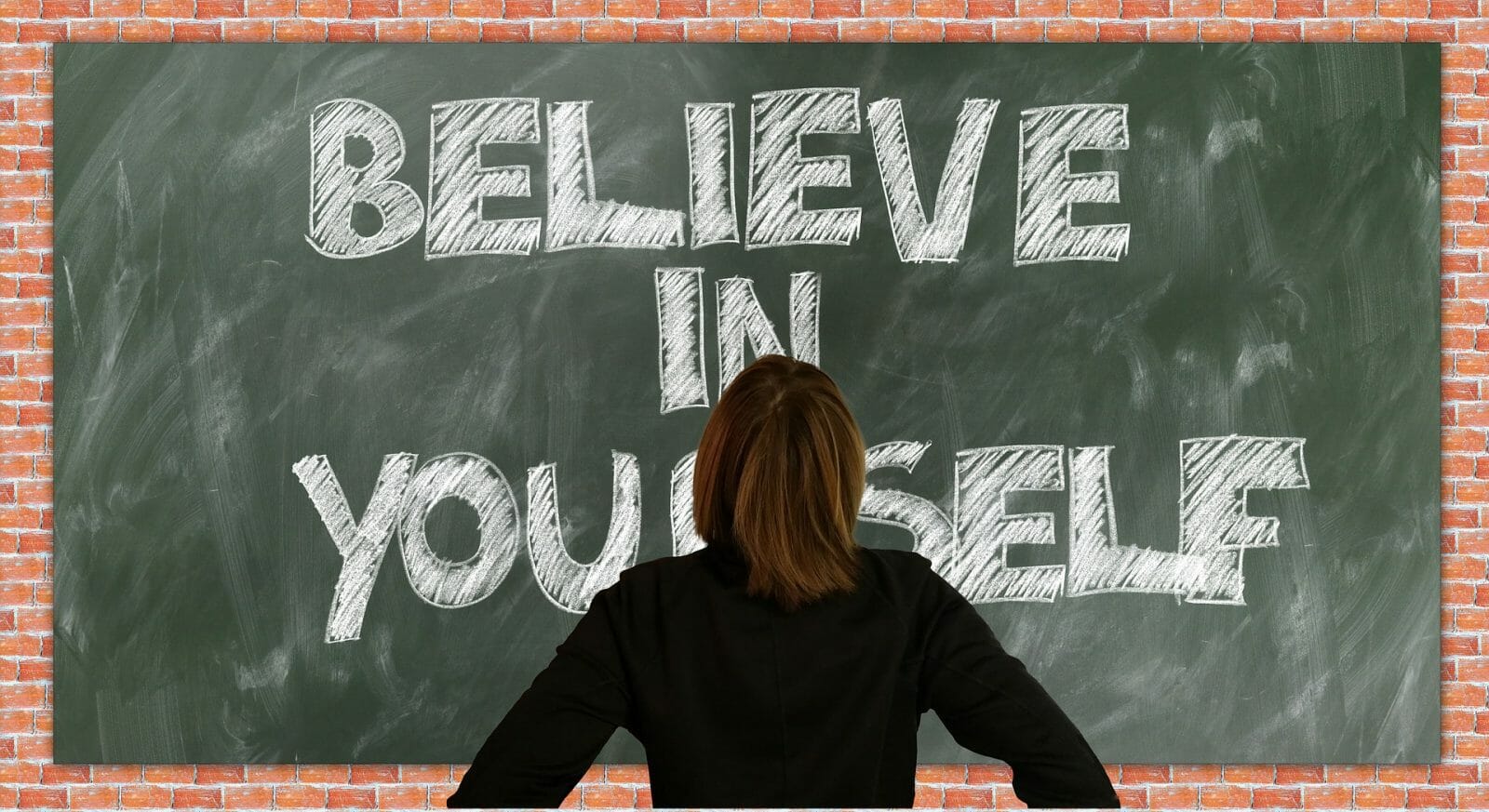 Do you ever feel that your friends are spending a better life than you? Do you also feel deprived of luxuries that others have? Do you keep asking yourself where am I wrong? What am I lacking in? This feeling of helplessness can be frustrating. But you can still get your life back on track. It doesn't matter how challenging your life is, because with the right choices you can control your life. And the way to understand this crux is self empowerment.
Also, known as personal empowerment, we hope to give you a detailed insight into this concept.
Self Empowerment Definition
---
Sometimes, it is frustrating that we don't have control over our personal and professional life. However, it is possible to wipe out this feeling of incapability with self-empowerment.
Self-empowerment is all about loving yourself and taking charge of your life. It allows you to accept your strengths and weaknesses; achieve inner peace.
If you see the meaning of empowerment. It means giving freedom or power to perform certain tasks. Thus, on a similar line, self-empowerment is all about gaining knowledge about oneself. It means understanding your inner self, power, and administering your life. And to do so, you need to believe and trust yourself.
Self Empowerment Benefits
---
1. Helps to progress in relationships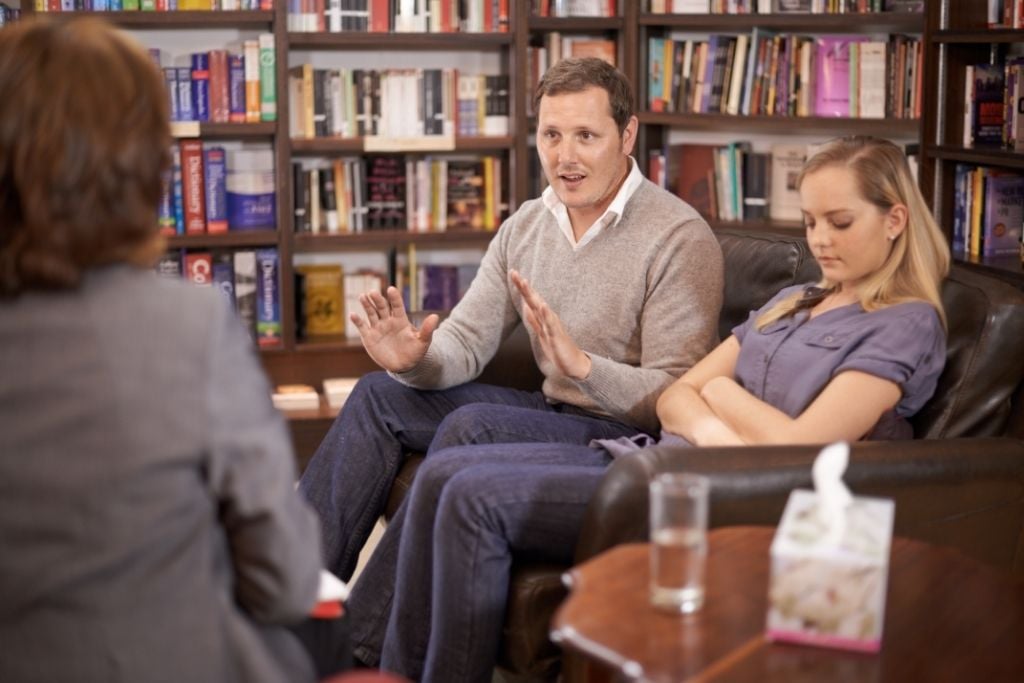 With self-empowerment, you will be able to take up challenges without the help of anyone. It gives you a sense of confidence and courage to deal with every problem. Moreover, you wouldn't have to ask any person for validation. Because sometimes asking friends and family for assertions may cause bitter relations.
However, once you start accepting yourself, the way you are. Then you can become an inspiration for others. You wouldn't need anyone to tell you how capable you are, because you'll already know!
2. Self Empowerment builds a successful career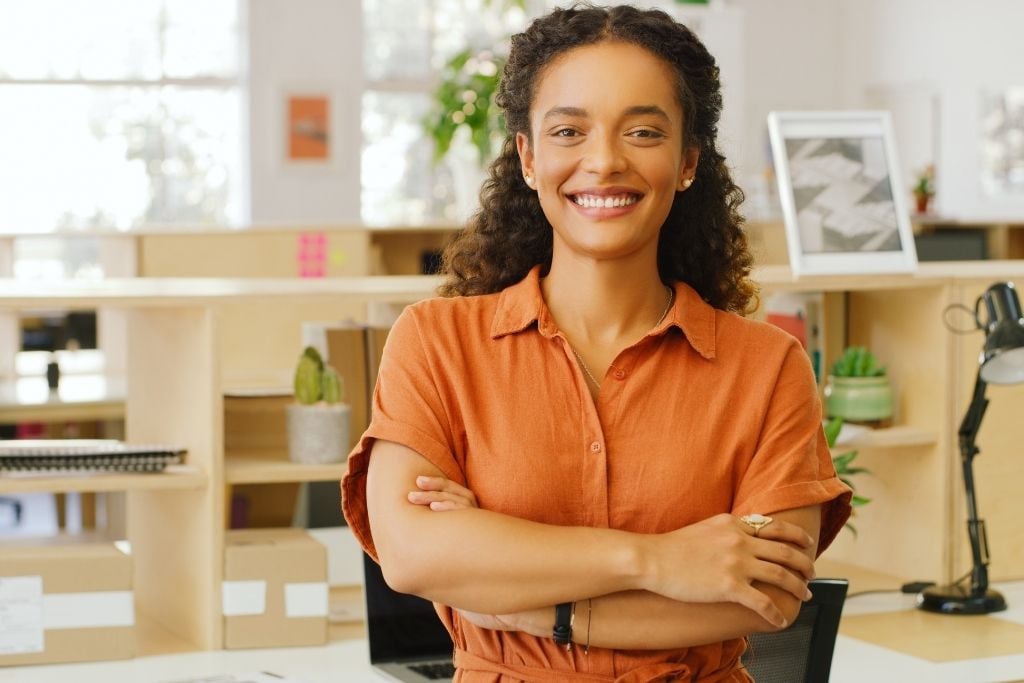 Several times, we tend to make mistakes when it comes to careers. And petty mistakes may cost us our job. But with self-empowerment, you will get the confidence to make the right decision.
Moreover, your decisions and actions won't be lagging behind. Speedy decisions will help you get noticed by bosses. And you will be a step away from your promotions.
3. Improves health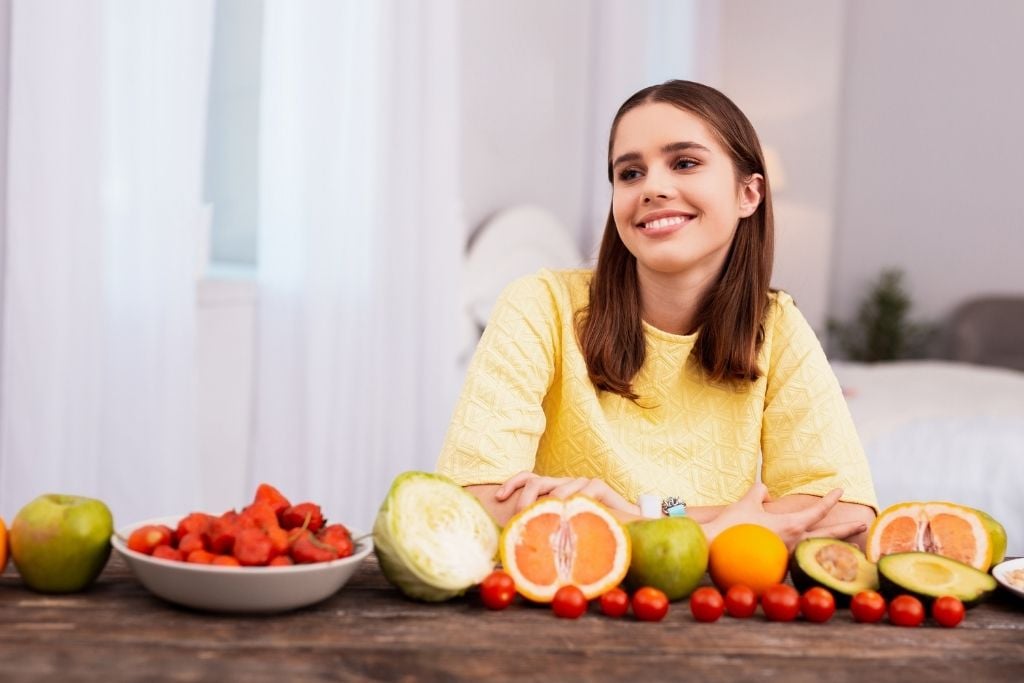 It is very difficult for people with low-esteem to cope up with life. Further, leading to a plethora of health problems; anxiety is one of them. But with self-empowerment, you will get an opportunity to stand up for yourself. Once your perceptions are clear about yourself, your likes, and dislikes.
Then you wouldn't have to care about the people around you. You wouldn't have to carry the burden of pleasing others. With clear thoughts in mind, you will discover a healthy being!
4. Self Empowerment helps to break barriers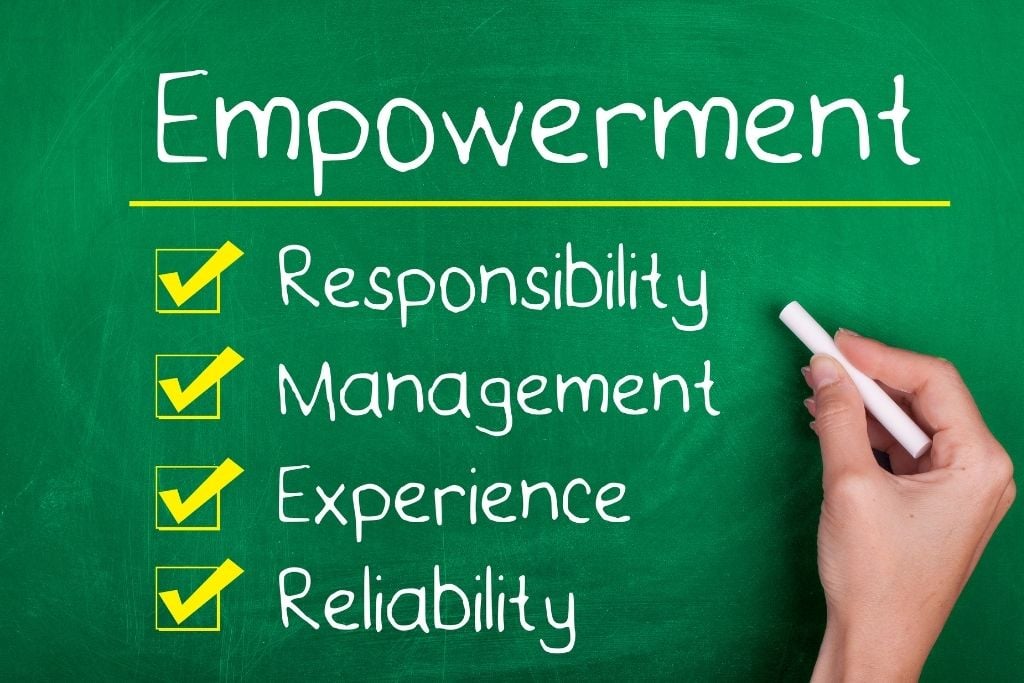 Several times, we stop ourselves from taking the leap of faith. Because we are too engrossed thinking about the repercussions. But self-empowerment helps us to break those barriers and think out of the box. It helps in creating new goals and surpass the older ones. With self-empowerment, you will always be urged to do something more than the usual one!
Now that we've explained the benefits of self-empowerment and how it can improve your life. Then let's explore the steps to achieve self-empowerment.
How to Achieve Self Empowerment?
---
Self-empowerment is all about loving yourself and taking charge of your life. It allows you to accept your strengths and weaknesses; achieve inner peace. So, if you want to turn your dull life into a stress-free one, then follow our tips to improve self-empowerment.
1. Start Loving Yourself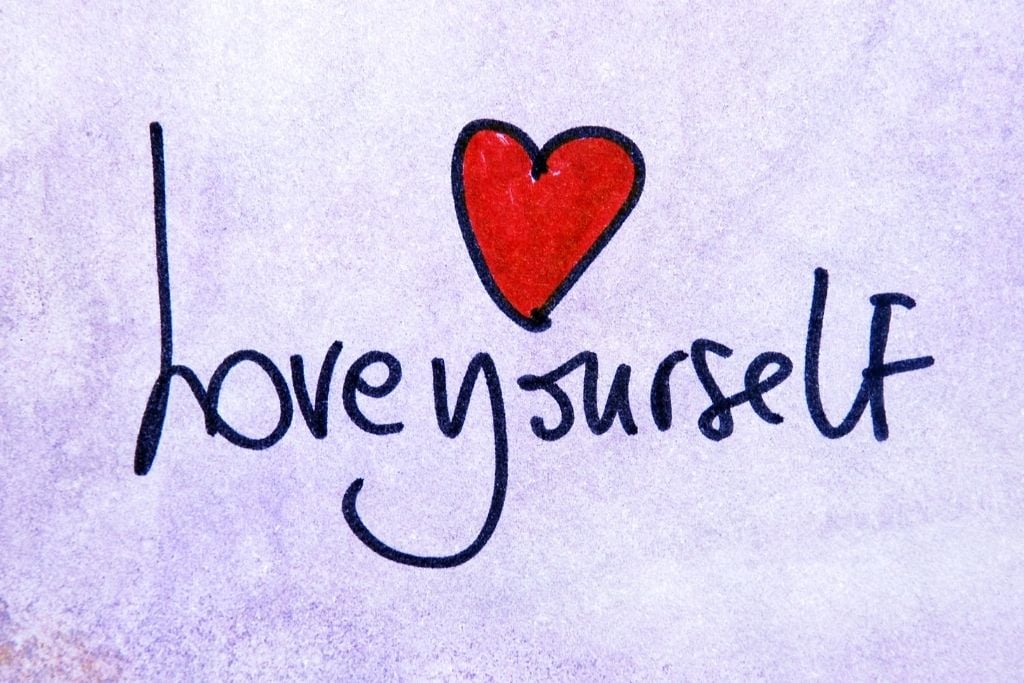 SUMMARY
Start by accepting your flaws.
You need to bond with your inner self to be successful in life.
And all this will follow if you start believing in yourself.
For self-empowerment, the first step is to love yourself. If you fail to accept yourself, then others will never accept you. And for that, it is imperative for you to start befriending your mistakes. Start your day by looking in the mirror and saying, "Yes, I can do it."
This particular exercise will help you in building confidence. It will boost your self-awareness and self-esteem for taking charge of your emotions. If you think you are imperfect, then embrace it with conviction.
2. Set Goals for Yourself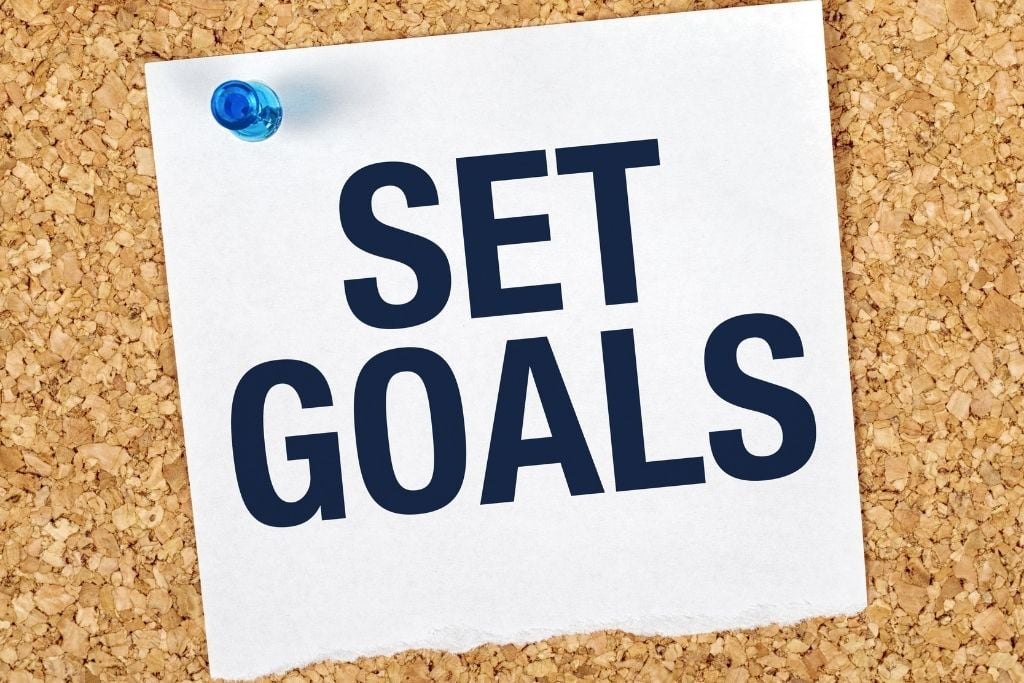 SUMMARY
There are so many things that we wish to achieve in our lives.
But lack of motivation and confidence always pulls us down.
So, set reasonable but big goals, because this can help motivate you and help you move forward.
In professional or personal life, setting goals is a great medium for self-empowerment. It is a perfect roadmap to your success. With this practice, you have a deadline for achieving your goals at the right time. Create the perfect atmosphere and choose a goal that is reasonable.
The thoughts that you had pushed away thinking about its impossibility. Then, embrace them yet again and rest assured, higher the goal, higher the performance will be!
3. Create A Positive Atmosphere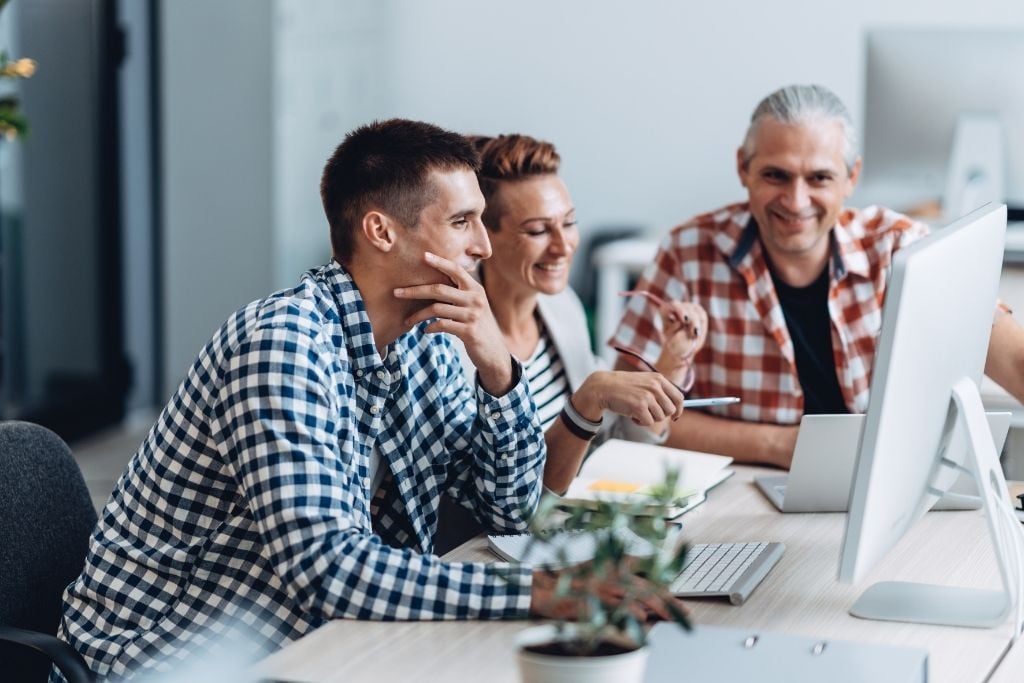 SUMMARY
There are so many things that we wish to achieve in our lives.
But lack of motivation and confidence always pulls us down.
So, dream high because they are the ones that help you to move forward.
A positive atmosphere is very necessary for achieving self-empowerment. Negativity can come around from anywhere, right from friends, family to colleagues. And they give you nothing but a feeling of disheartening. But you must have a positive mindset.
Meet people with positive energy, read books that impart an important lesson, listen to music that inspires. With this, you'll stay happy and your mental health will stay enhanced.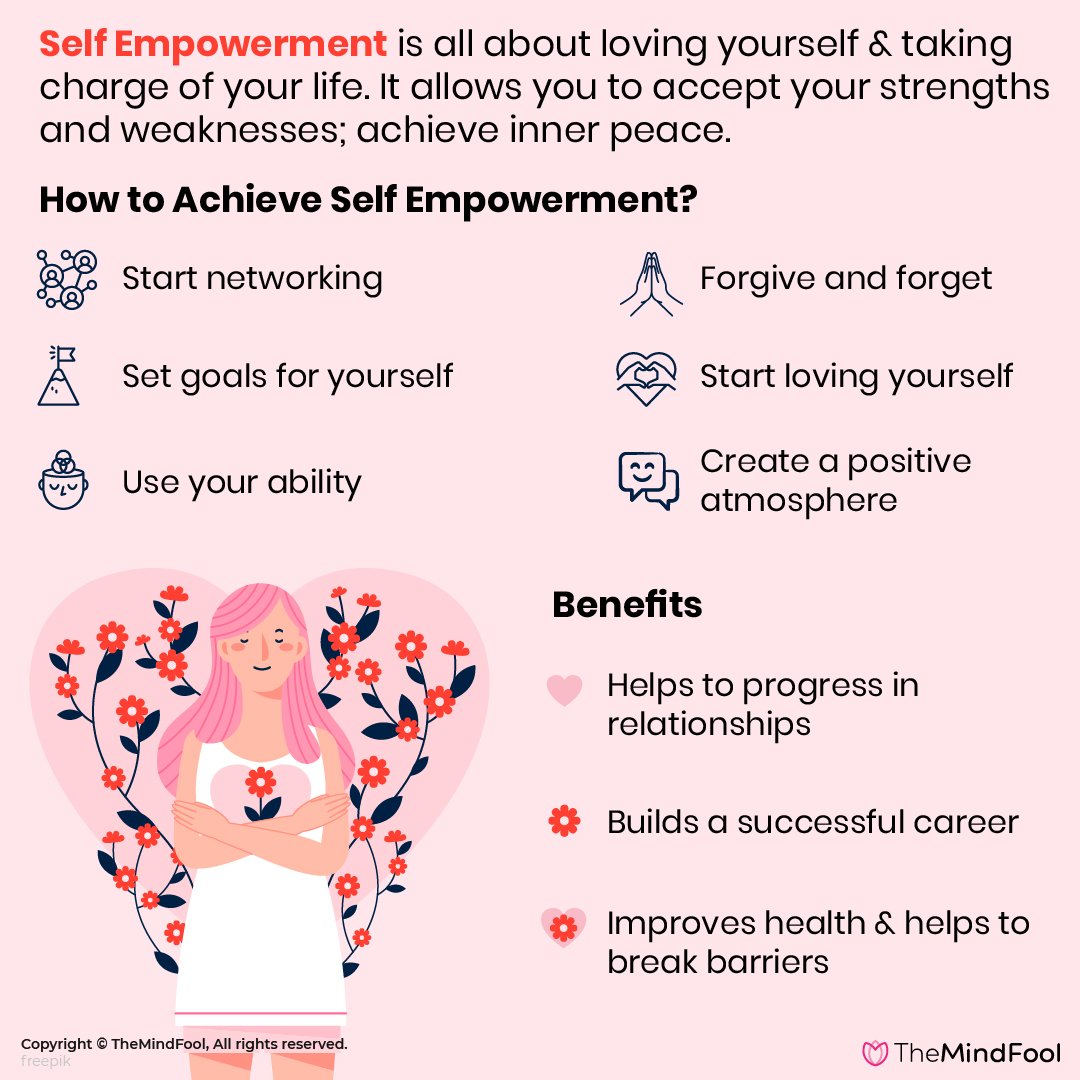 4. Forgive and Forget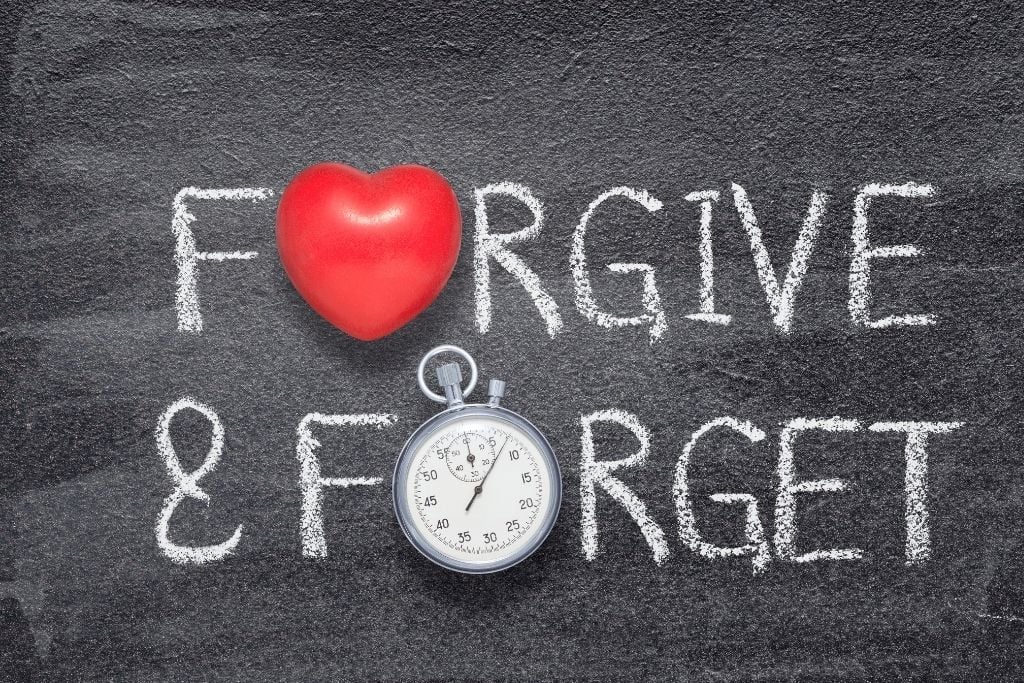 SUMMARY
Instead of thinking about the past, think about the present scenario. Wipeout the chapters that gave you failure. Because bad memories are no good for your mental and physical health.
Several times, our past continues to haunt us which hinders our growth. So, it's always better to not think about the grudges that interfered in the past. Passing unfair judgment, criticism fills a person with guilt leading to depression.
So, mark the past as 'over' and move on with your life by forgiving. Self-empowerment is all about achieving inner peace.
5. Use Your Ability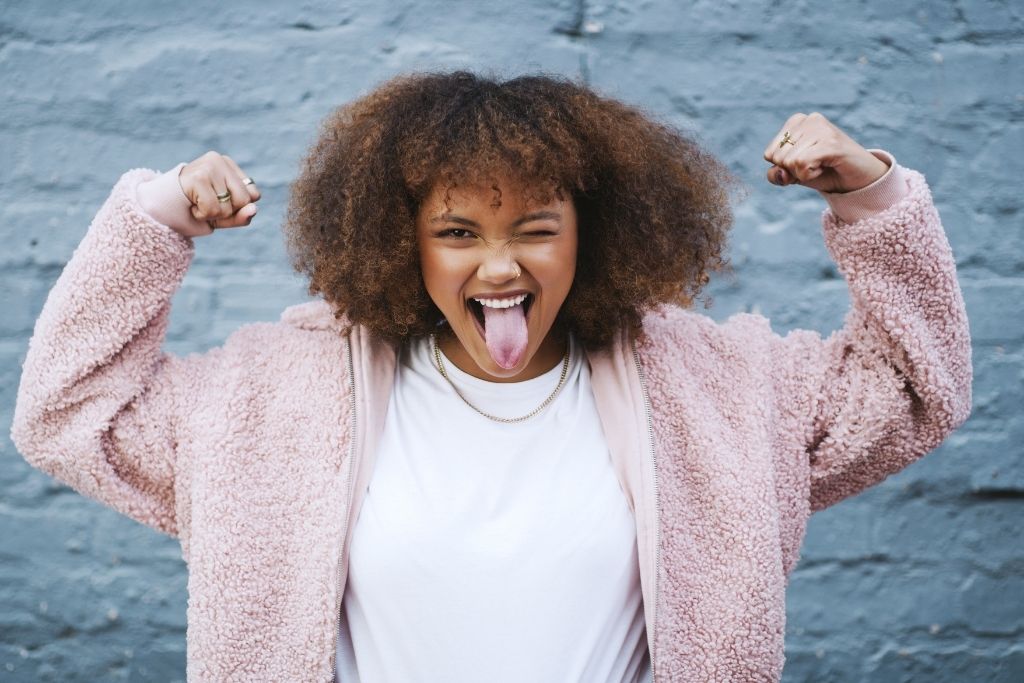 SUMMARY
Every person has strengths but somehow, they tend to undervalue themselves. So, trust yourself and believe in your judgment.
Take a lead and success will follow.
For the betterment of your life, stop underestimating yourself. Don't be dependent on people around, instead try your level best to conquer your weaknesses. Start exploring opportunities by learning new skills. Showcase your competency by speaking in the meeting.
Conduct a seminar/workshop or organize an event at the workplace. And if at all your negativity peeps in, then challenge your thoughts to stay positive.
6. Start Meditating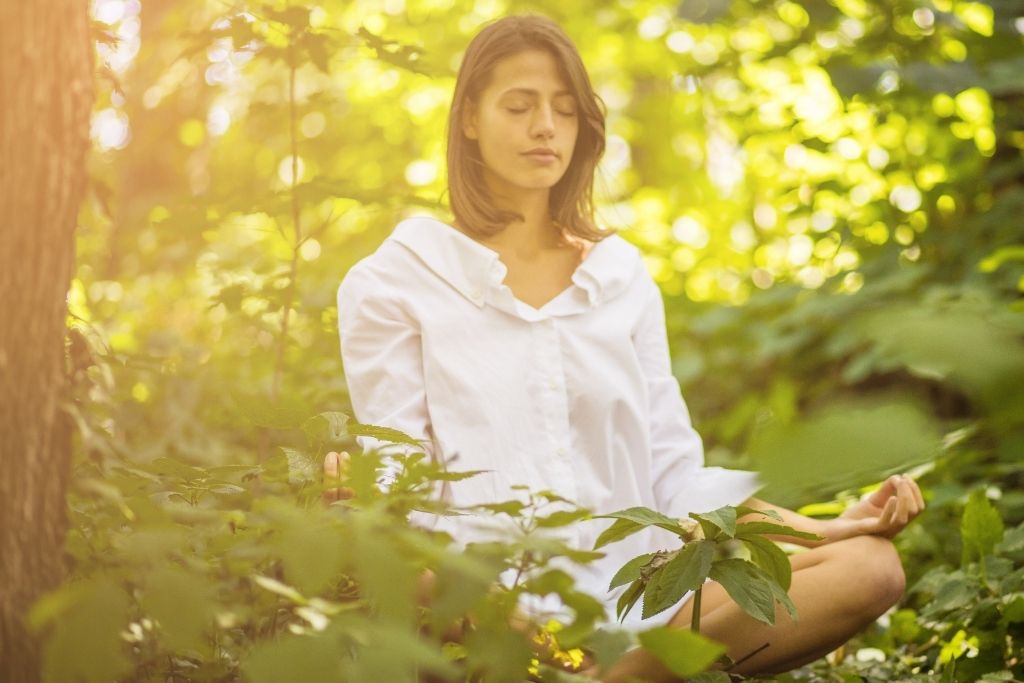 SUMMARY
Every person deals with a stressful life that invites illness. So, to relax your body and mind, practice meditation daily. With calmness, it gives strength to fight with weakness.
A study reflected that meditation infuses positivity and compassion among individuals. And while on the path of self-empowerment, it is very important to shower love on your family and friends. Moreover, meditation forms the perfect backdrop to keep stress at bay.
When you feel light in mind and heart, then your capability of learning becomes easy. An intense state of meditation increases your problem-solving skill. It also helps in increasing your inspiration and motivation. It maintains your physical health as well by strengthening your immune system. All these aspects will help you achieve victory as well as empowerment.
7. Start Networking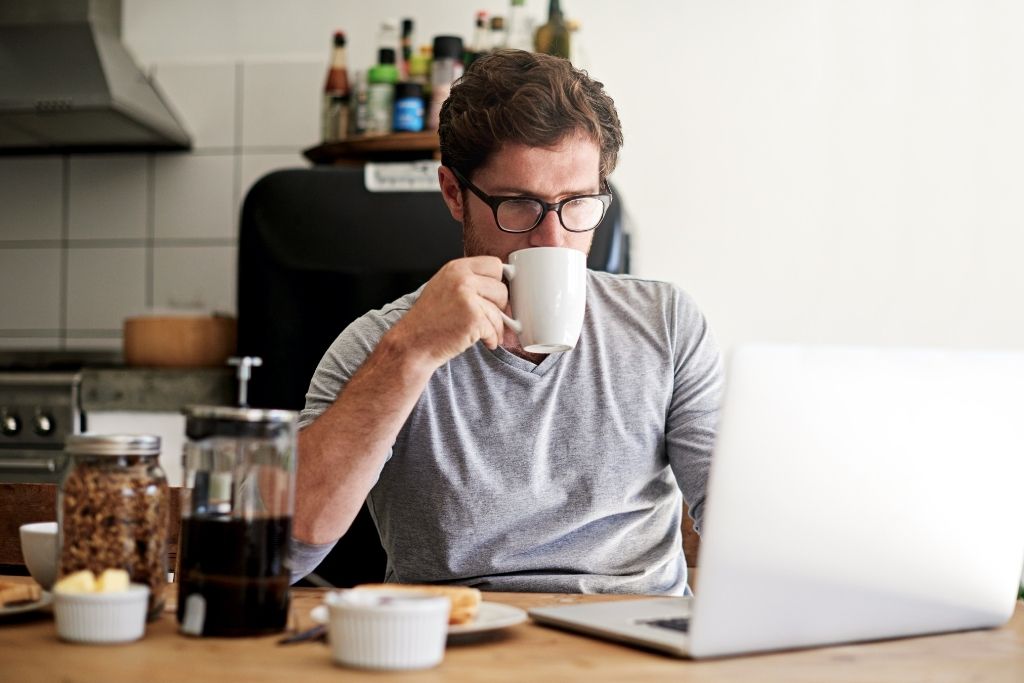 SUMMARY
Communication is a great medium for achieving self-empowerment. Build a team that will help you succeed and tackle your problems.
Networking helps a lot on professional as well as personal level. But while doing this, maintain a cordial relationship rather than a competitive one. Start interacting with people who can fill you with their strengths. Choose the ones who have the same thinking as yours and ready to help you.
If you include competition in a group task then you'll invite jealousy, hatred, and negativity. Instead, bond and work together as a team to cherish a strong relationship. Staying close to like-minded people will help you walk on the path of empowerment.
We hope that we have summed up every detail about self-empowerment with this article. But if you are looking for some more inspiration, then you must listen to these beautiful songs.
Self Empowerment Quotes
---
Steve Maraboli – a speaker, author, and behavioral scientists have beautifully summed up this term in his quote:
1. "You were put on this earth to achieve your greatest self, to live out your purpose, and to do it courageously."

– Steve Maraboli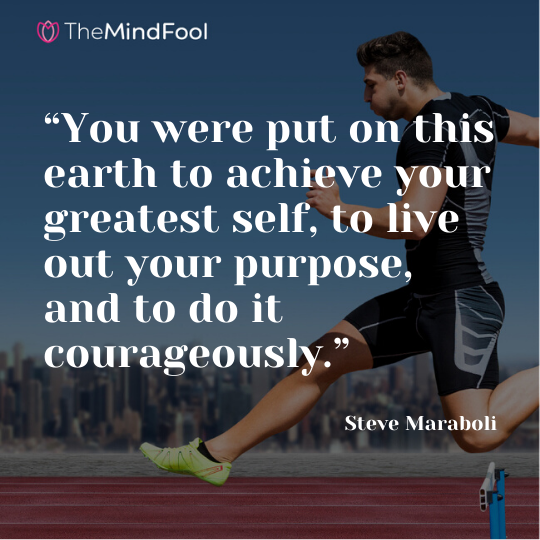 Not just him, but James Allen, a philosophical writer also elaborates by saying:
2. "A strong man cannot help a weaker unless the weaker is willing to be helped, and even then the weak man must become strong of himself; he must, by his own efforts, develop the strength which he admires in another. None but himself can alter his condition."

– James Allen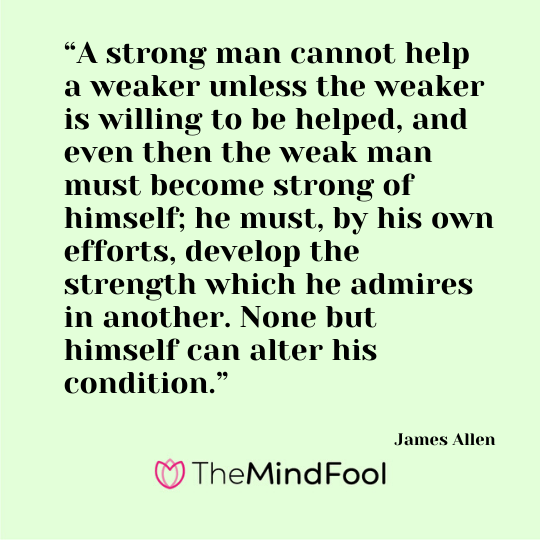 Author Stephen Richards also has the same take as he cites,
3. "Never allow your mind to wander untamed like a wild animal that exists on the basis of survival of the fittest. Tame your mind with a consistent focus on your goals and desires."

– Stephen Richards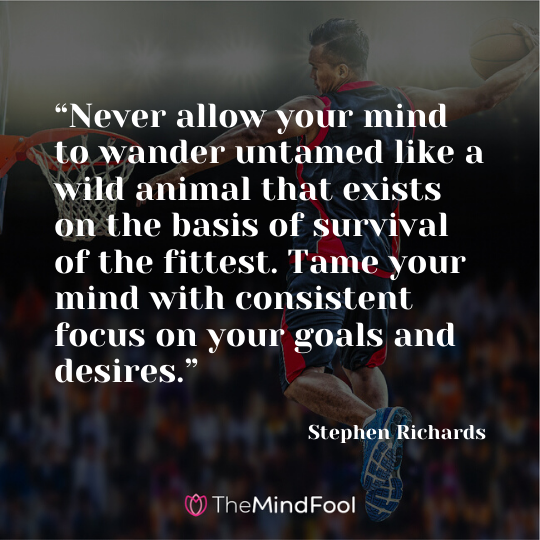 While Idowu Koyenikan – an organizational consultant and author elaborates about life and adds:
4. "You just can't let life happen to you, you have to make life happen."

– Idowu Koyenikan
And last but not the least, Michael A. Singer – former software programmer, author, and a meditation center founder, has an apt suggestion:
5. "Only you can take inner freedom away from yourself, or give it to yourself. Nobody else can."

– Michael A. Singer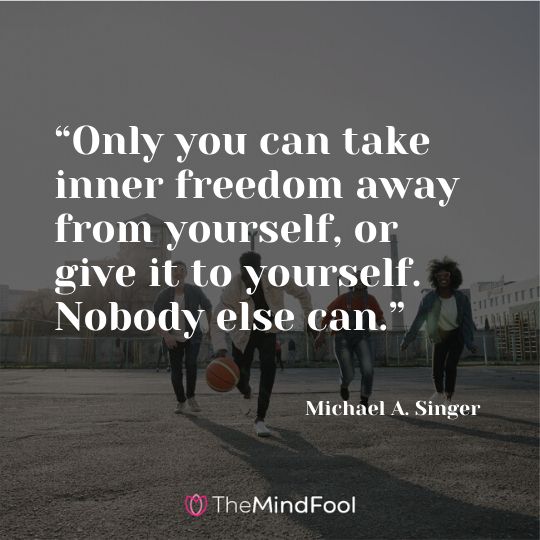 So, this is the time to take control of your life. And if you want to turn your dull life into a stress-free one, then follow our tips to achieve self-empowerment. But before that, it is imperative to know how self-empowerment can help.
Self Empowerment Books
Here are some recommendation fro us to read about 'self empowerment' –
How to Win Friends and Influence People (Paperback) by Dale Carnegie
The 7 Habits of Highly Effective People: Powerful Lessons in Personal Change (Paperback)
by Stephen R. Covey
You Are a Badass: How to Stop Doubting Your Greatness and Start Living an Awesome Life (Paperback)
The Power of Now: A Guide to Spiritual Enlightenment (Paperback)
Daring Greatly: How the Courage to Be Vulnerable Transforms the Way We Live, Love, Parent, and Lead (Hardcover)
Self Empowerment Songs to Lift Up Your Spirits
---
This motivating song showcases how you can gain confidence and clear doubts about yourself. Every person has a spark but he/she just needs to ignite it!
This song is a beautiful composition about the ambition of the singer. There are many things in his life which he doesn't want to give up until achieved.
This inspirational song is all about overcoming struggles in life by fighting back. The song has encouraging lyrics for people who are going through rough times.
Take-home Message
Life is not easy but with these simple tips, you can develop self-empowerment. And while doing so, embrace possibilities, success as well as failure. And as you gain confidence, you'll discover a new 'you'!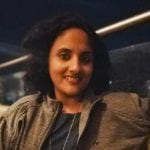 Neelambari B
Neelambari started her rollercoaster ride as a journalist at Pune Mirror (Times Group). After which she started exploring the world of content writing. Today, she boasts more than five years of experience filled with creativity and diversity. During this tenure, she explored various mediums like articles, blogs, social media posts, website content, and much more. And this content ranged from Gynecology, Ayurveda, Dental health to nutrition. However, she enjoys the most writing about Psychology and other medical streams. She loves writing and aims to bring positive changes at least in some lives with her articles on www.themindfool.com