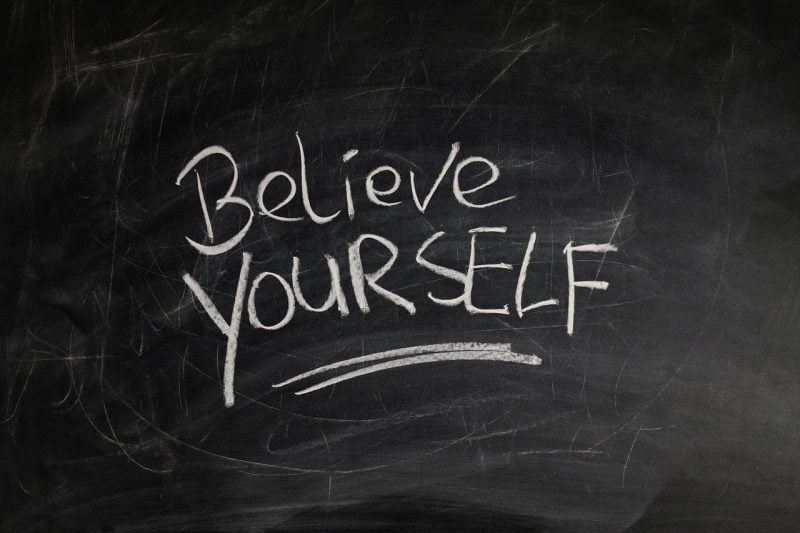 You are enough is a very subjective phrase. There is no common benchmark to define a standard as to how much is enough for anyone. Most of our problems arise because we constantly try to fit into the other person's shoes.
Somewhere down the line, you start questioning your efforts and ability to fulfill the other person's expectations. Instead of realizing that you are enough, you constantly question yourself wondering whether you are enough. This is a vicious cycle and in order to connect with your true potential, you need to break it!
You think you are not enough?
You are enough: These are simple words but understanding and truly implementing their meaning in your daily life can be quite a challenge. You define how much is enough for you. And this is where the trouble starts.
In most cases, this definition is based on the expectations of other people. You end up questioning your efforts wondering if you are doing enough? The sad part is that most of us find it easier to be compassionate with others. We tend to judge every move that we make.
You are enough – What does it mean?
'You are enough' is not a phrase that you hear often. But it is an impactful phrase that can make a lot of difference in your attitude towards life and your mental health. All this, only if you interpret its meaning correctly. This is where a lot of people go wrong and don't feel good.
You are enough does not mean that you have been evaluated and are clearing the bare minimum benchmark. After all, an individual cannot be objectified and measured. This phrase simply means that you need not be more than what you are. You deserve to be respected and valued for what you are.
The concept of 'You are Enough' relies on accepting that you are a small but important plan of the grand plan that is operating this universe.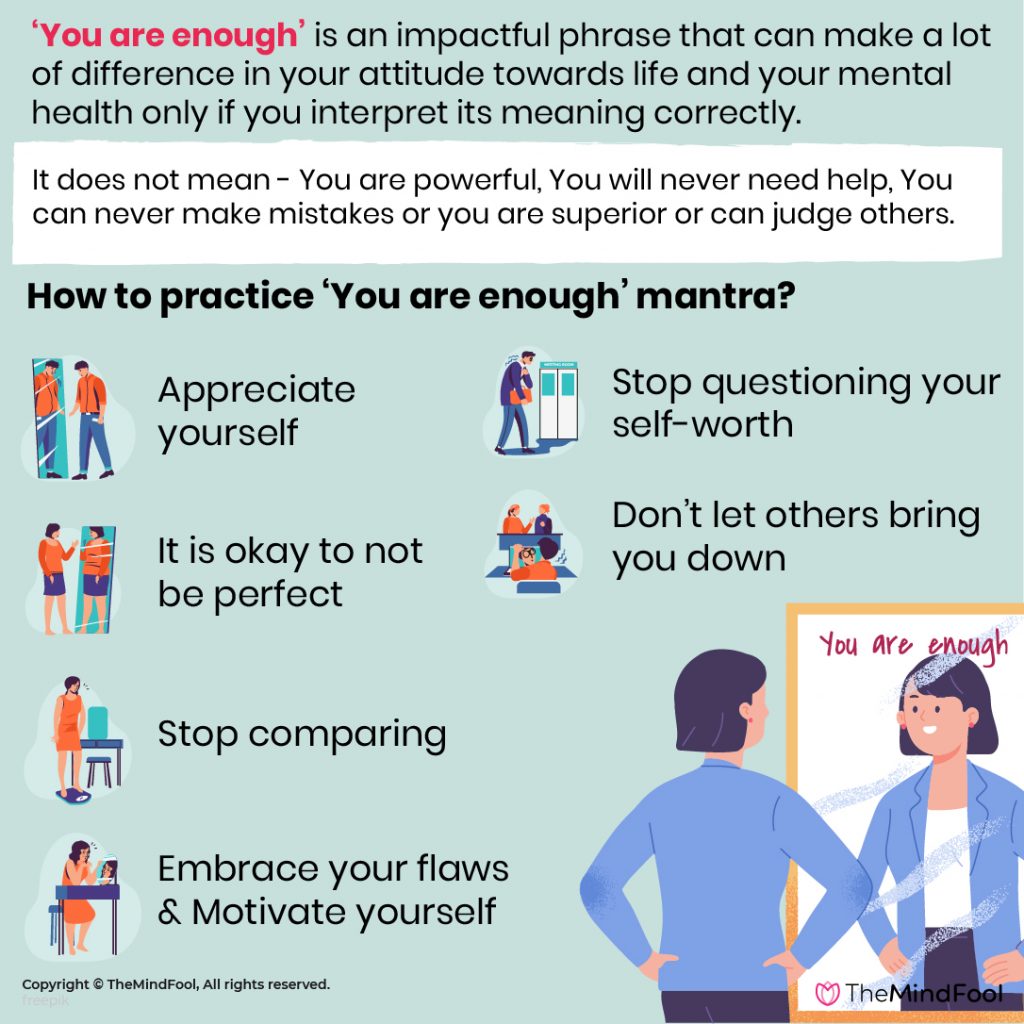 What does 'You are enough' not mean?
Now that we are aware of the phrase and its meaning, it is important to dig deeper. Understanding what this phrase does not mean will give you a better perspective of the situation.
It does not mean you are all-powerful. Being enough is an indication that you believe in your potential and are willing to work towards achieving your goal.
It does not mean that you will never need help. On the contrary, it is absolutely normal to look for a shoulder to lean on, when the day is not going so well.
You are enough does not mean you can never make mistakes. It simply indicates that you are someone who is willing to learn from their mistakes.
Nowhere does it mean that you can't have flaws. But the You are enough mantra teaches you to embrace your flaws and work around them.
It does not mean that you are superior or can judge others. This mantra is all about being humble.
Why are you enough – Know that you are good enough!
The very fact that God destined your existence is proof that you are enough. You are His beautiful creation and you should start valuing this. One of the first steps to lead a happy life is to ensure that you do not judge your potential based on external factors.
1. You exist
You are on this planet for a reason. Remember that God sent you here for a purpose and he has already given you the potential to fulfil this purpose.
2. Your skills are unique
Each one of us is born with a different set of abilities. What may be easy for you could be difficult for the other person. Understand this fact, value your skills, and respect others.
3. Make your own mistakes
Every single mistake that you have made is a proof of your ability to achieve something in life. After all, the mistake is a chance for you to learn and progress in life.
4. Family and friends
An individual craves love. If you have friends and family that value you, you are good enough. Their love will always be worth all the effort that you take.
5. Power to forgive
It is difficult to forget the hurt that an individual has caused. But if you have it in you to forgive such people and move on in life, you are enough
6. Emotions
A common misconception is that those who show emotions are weak. But that is not true. Those who show their vulnerabilities are not weak. It takes a lot of courage to put faith in someone and then watch them hurt you as well.
7. You know how to get up
Every time you are let down and you know how to bounce back is an indication that you are good enough. There are many who have built their lives from scratch after hitting rock bottom. This is possible only when you believe in your capabilities.
Those who are obsessed with themselves rarely find the time to look beyond their life. But if you think you are enough, you will be able to think outside yourself. For instance, you will feel the urge to appreciate others for the good work that they do.
9. Accept uncertainties
Showing the courage to live each day as it comes is not easy. You do not know what the future has in store but you are willing to give it your best shot. This means that you are enough.
10. Wear what you want
You are good enough to wear what you want and live the way that you like. Remember the key is to stop worrying about others and living your life to the fullest.
11. Fulfil your wishes
If you have been able to fulfil even one of your wishes, you are good enough. After all, you do not have to rely on others to fulfil your wishes.
12. Want to be successful
One of the first steps to be successful is to have the passion to succeed which can only arise if you believe that you are enough.
13. You do not judge others
Judging others put the mind in a bad habit of comparing our abilities with the other person. This way we will never be enough. If you are not judging others, it is a strong indicator of your belief in your skills.
14. You have faith
Faith is a big time game changer. If you believe in a better future, you will be able to leave all the bad days behind and move on. This will help you scale new heights.
15. Accept your mistakes
To err is absolutely human. But to accept those errors, show the willingness to take feedback, indicates that you are good enough.
---
How to practice 'You are enough' mantra
This phrase is a powerful mantra that motivates you to believe in your capabilities and work towards achieving your goals. However, you do not benefit by merely reciting the mantra.
You need to understand its true meaning and say it like you actually mean it. In the article that follows, we talk about some simple tips that can help you adhere to this mantra and make you believe that you are enough.
1. It is okay to not be perfect
If people around you tell you to be perfect, they are mistaken. Everyone is born with a unique set of skills and imperfections. It is okay and in fact quite normal. When you come across people who insist on perfection, you need to ignore them and move on with life. There is nothing wrong in trying to be perfect but when you become obsessed with this perfection, it can be dangerous.
Simply because it will prevent you from seeing the positive efforts in everything that you do. Interestingly, according to 2018 research, the blind pursuit of perfectionism is often a weakness and not a skill.
TIP
Keep reminding yourself that you have a unique set of skills that can be different from the others. Focus on using these skills to achieve the best possible results.
2. Appreciate yourself
The first step towards believing that you are enough is to appreciate the efforts that you take. For instance, you may not succeed in completing a project but you still have a reason to celebrate if you achieve a milestone. Instead of criticizing yourself, focus on nurturing your skills and going ahead.
Each time you do this, you are fueling a positive attitude that goes a long way in building your confidence. However, you need to be extremely careful that you do not become self-obsessed. There is a very thin line that separates the two.
3. Stop questioning your self-worth
An antique Rolex timepiece is valued in a museum but you will not find takers if you try to sell in the grocery store next door, isn't it? Similarly, your skills will be valued if you put them to use in the right place. There is a possibility that discovering the right place will take some time but it is usually always worth the wait.
WARNING
If you keep doubting your abilities based on the rejections that you experience, you will end up losing your self-confidence.
4. Don't let others bring you down
Every day may not be your day! On some days, you are likely to face rejections or fail at whatever you are doing. Sometimes the failures bring down your morale considerably and that is okay. People will often complain about your abilities. On such occasions remind yourself that you are enough. Tell yourself that you have it in you to pursue even bigger goals and overcome the failure. As long as you remind yourself that you are enough, others will not be able to pull you down.
5. Stop comparing
Do not compare yourself with what others can do. If you indulge in such comparison, you are likely to become self obsessed. Instead spend time improving your existing skills to become a better human being.
6. Make space for your own fears
The minute we step into a new environment, we are often uncomfortable. The first instinct is to run away from the situation. But if you are practicing you are enough mantra, one learns to accommodate their fears. It is okay to be afraid but if you intend to progress, you need to face your fears not run away from them.
7. Count your blessings
We are often tempted to compare our fate with others when we ignore the good things that have happened to us. Therefore, it is important to look back and count your blessings before you start complaining about the present scenario.
8. Just say it loud
One of the best ways to practice this mantra is to say it loud. Set aside 10 minutes from your busy routine. Use this time to loudly recite that you are enough to live a happy life. Repeating this mantra is a good way to generate positivity in the body but remember to recite it with conviction.
9. Motivate yourself
If you are motivated, you will continue to believe that you are enough. Look for a cause that motivates you. Pursue the cause with passion and when your efforts start yielding results, it will assure you that you are enough to bring about a change, no matter how small it is.
10. Embrace your flaws
We are all born with some or the other flaws. In order to practice the you are enough mantra, you need to embrace your flaws. Once you accept them, it will become easier for you to work on them and improve your potential.
---
50 You are enough Quotes
Here are a few inspiring quotes that can motivate one to practice the You are enough mantra.
1. "At the end of the day darling, you are enough. You always have been. It may have taken you a while to see that and to finally reach this place, but you have always been enough."

– Lacey Ramburger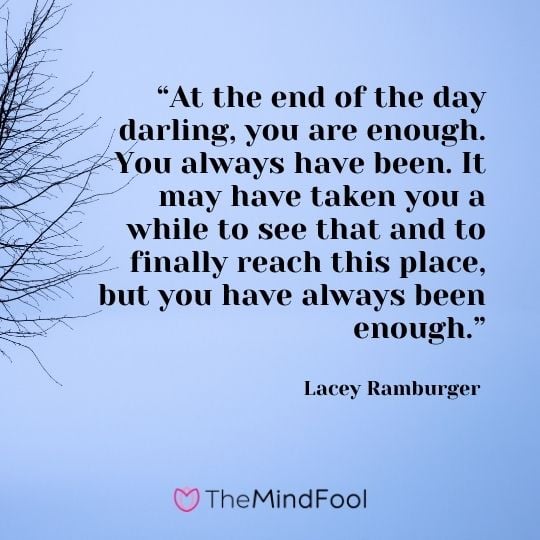 2. "It will start to hurt less one day, I promise. You are enough. Do not let anyone tell you otherwise."

– Josephine Saint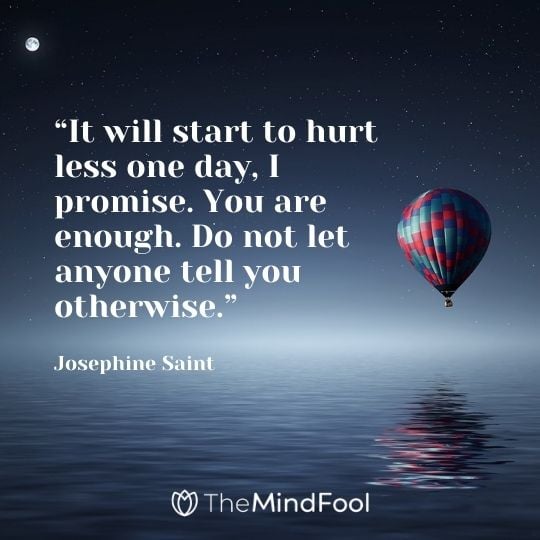 3. "You alone are enough. You have nothing to prove to anybody."

–Maya Angelou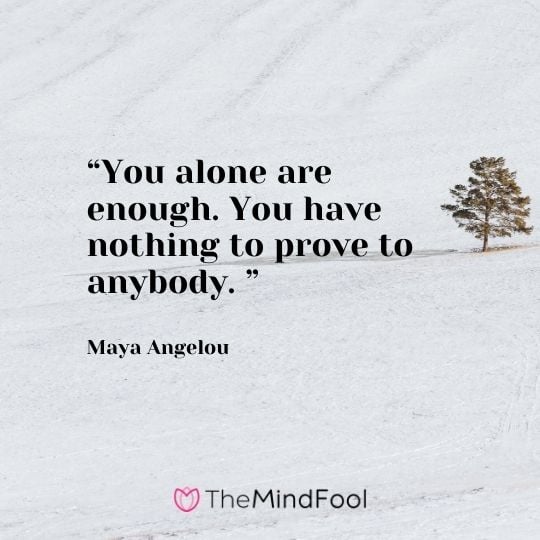 4. "But here's the deal, sweet stranger. You deserve to be the protagonist of your own wonderful, bizarre, terrifying little life. If you decide you are enough, you are enough. You don't need to wait for some grand external validation of your worth before you offer your kindest heart to yourself."

– Kathy Brown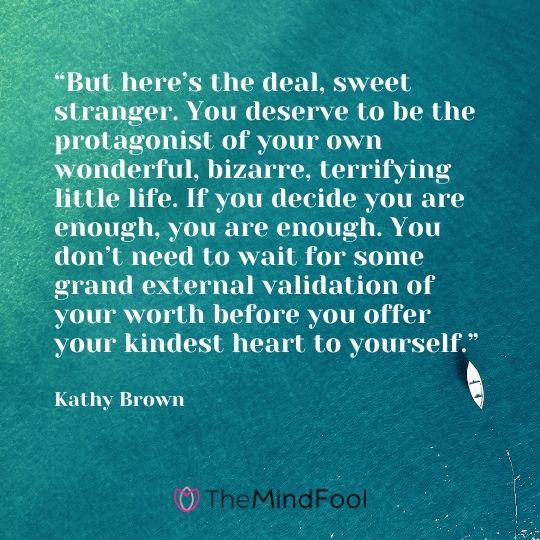 5. "You're worthy of greatness, even if you don't see it yet."

– Lauren Jarvis-Gibson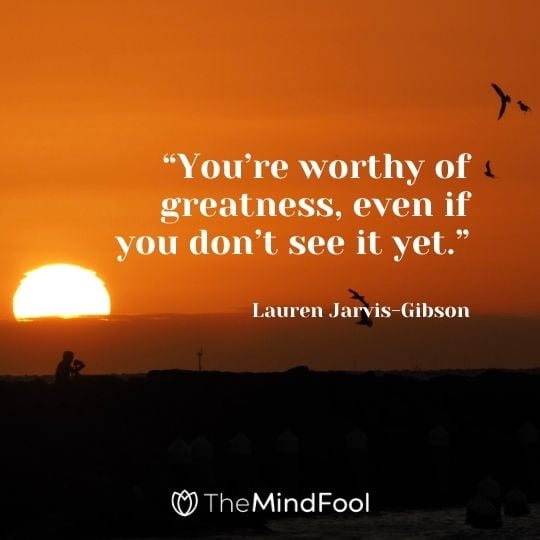 6. "If you ever feel like you're not good enough for something, it's because you're unaware of your own potential and your own value. And when you're unaware of who you could be, you're limited to who you think you are, to who people told you were, to who society tells you should be."

– Rania Naim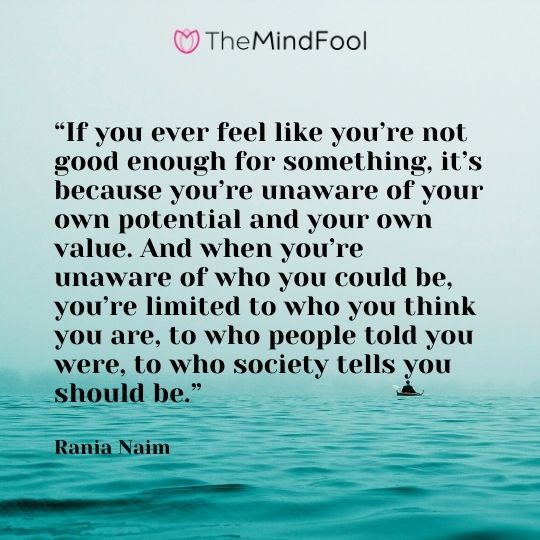 7. "Encourage yourself, believe in yourself, and love yourself. Never doubt who you are."

– Stephanie Lahart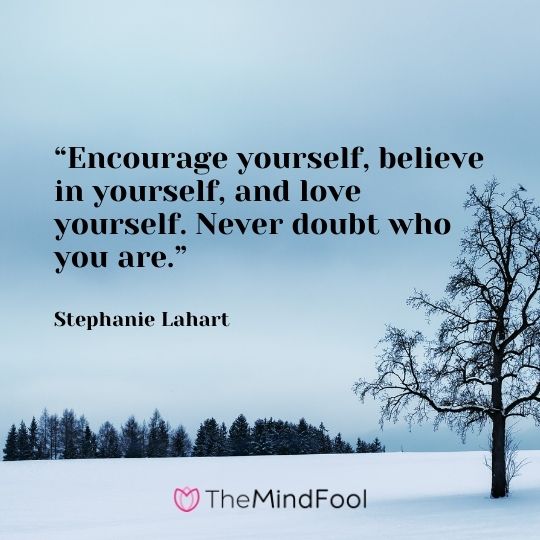 8. "Don't ask yourself what the world needs, ask yourself what makes you come alive. And then go and do that. Because what the world needs is people who have come alive."

– Howard Washington Thurman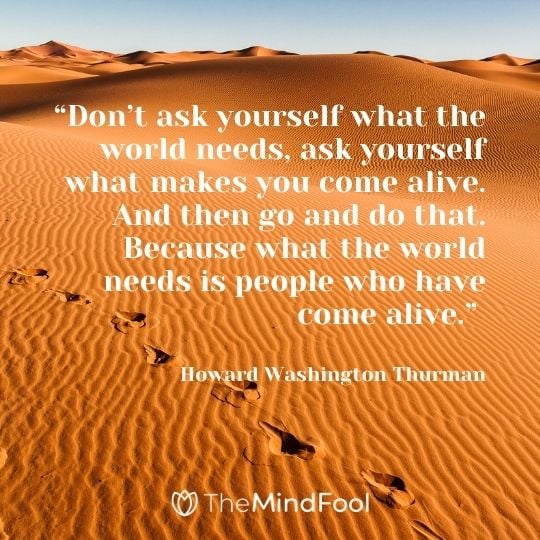 9. "No one can make you feel inferior without your consent."

– Eleanor Roosevelt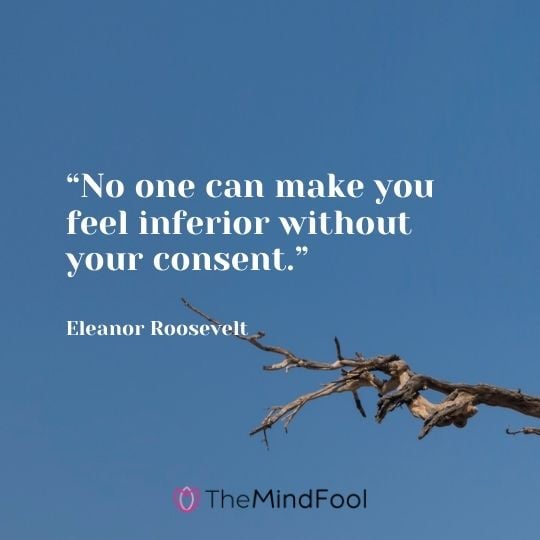 10. "Your world needs you right now; don't take your life. You matter, you are enough, and you are more."

– Olawale Daniel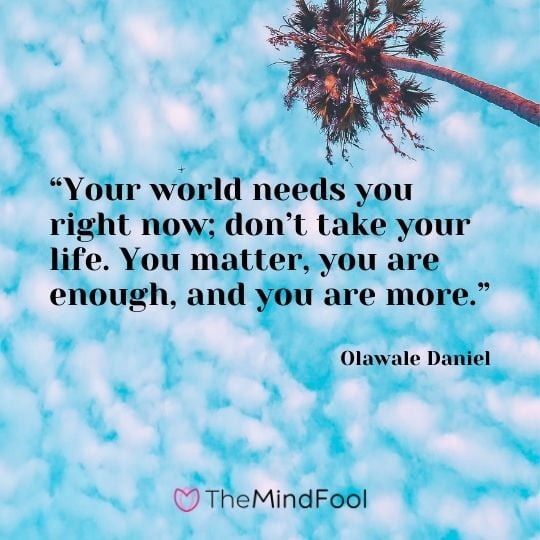 11. "Whatever you did today is enough. Whatever you felt today is valid. Whatever you thought today isn't to be judged. Repeat the above each day."

– Brittany Burgunder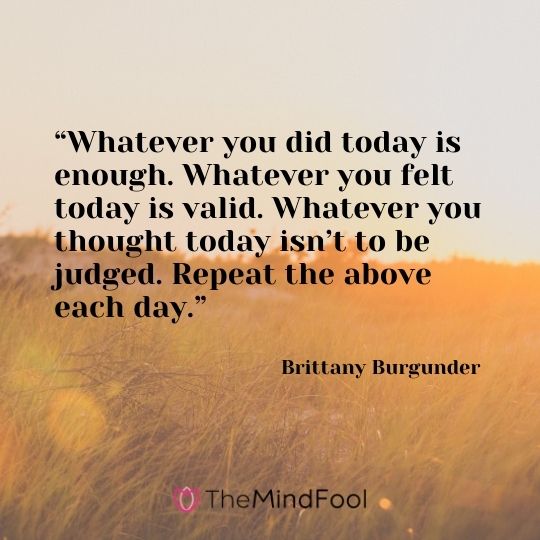 12. "I need to see my own beauty and to continue to be reminded that I am enough, that I am worthy of love without effort, that I am beautiful, that the texture of my hair and that the shape of my curves, the size of my lips, the color of my skin, and the feelings that I have are all worthy and okay."

– Tracee Ellis Ross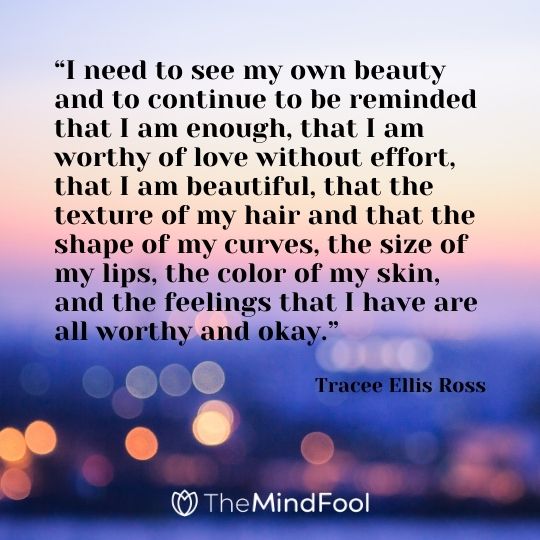 13. "The truth is: Belonging starts with self-acceptance. Your level of belonging, in fact, can never be greater than your level of self-acceptance, because believing that you're enough is what gives you the courage to be authentic, vulnerable and imperfect."

– Brene Brown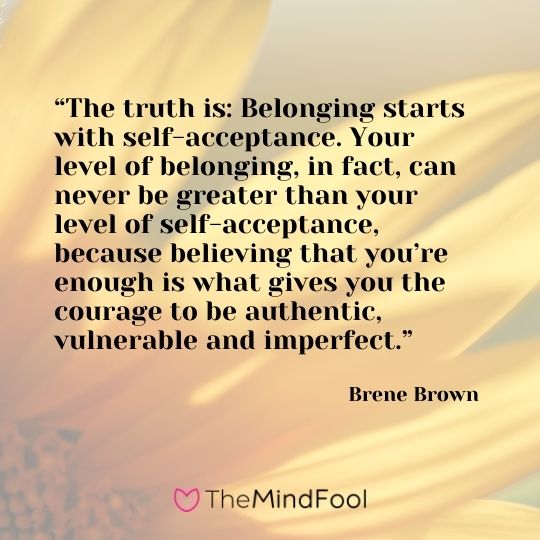 14. "I exist as I am, that is enough."

– Walt Whitman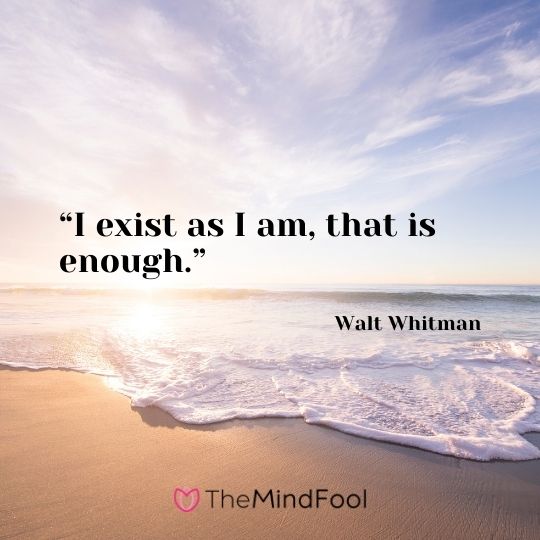 15. "I was told I wasn't good enough, but I just chose not to listen."

– Khalid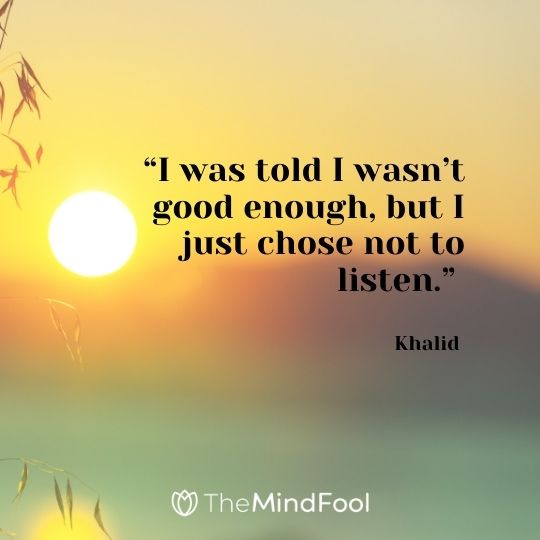 16. "Try your hardest to be confident in who you are. You are enough – you are beautiful."

– Meagan Tandy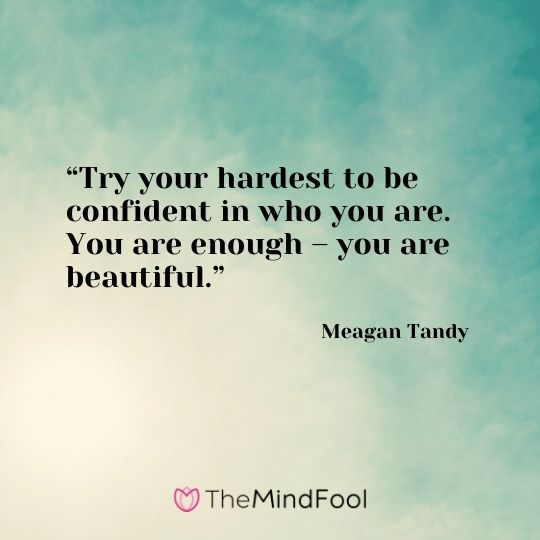 17. "All I can tell you really is if you get to the point where someone is telling you that you are not great or not good enough, just follow your heart and don't let anybody crush your dream."

– Patti LaBelle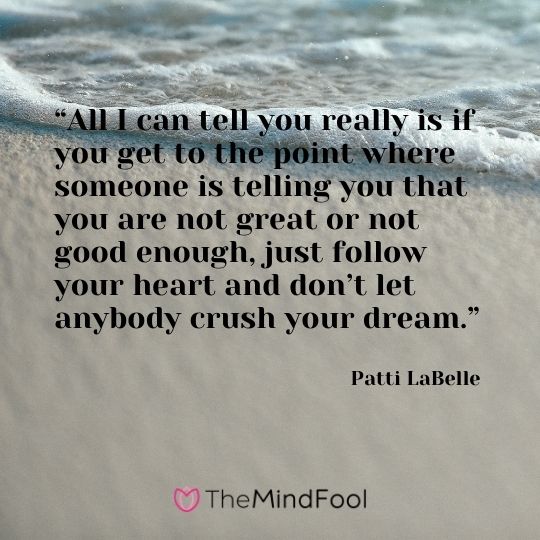 18. "You are enough just as you are."

– Meghan Markle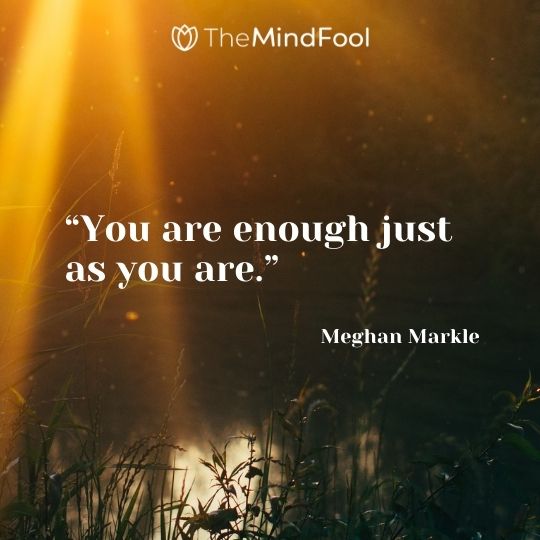 19. "You are the only one who can limit your greatness. Remember that you are enough."

– UpJourney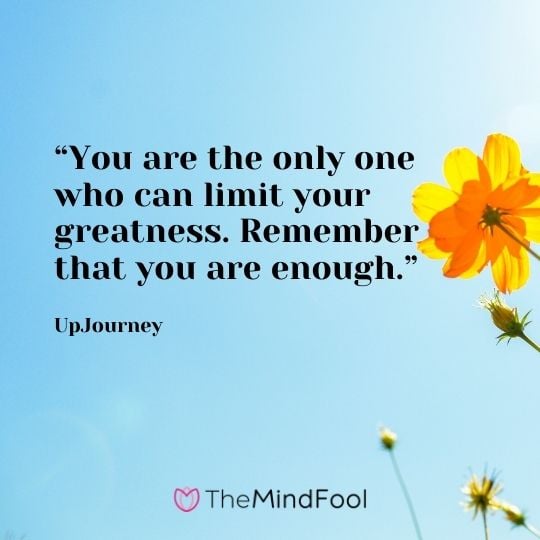 20. "To be nobody but yourself in a world which is doing its best, night and day, to make you everybody else means to fight the hardest battle which any human being can fight; and never stop fighting."

– E.E. Cummings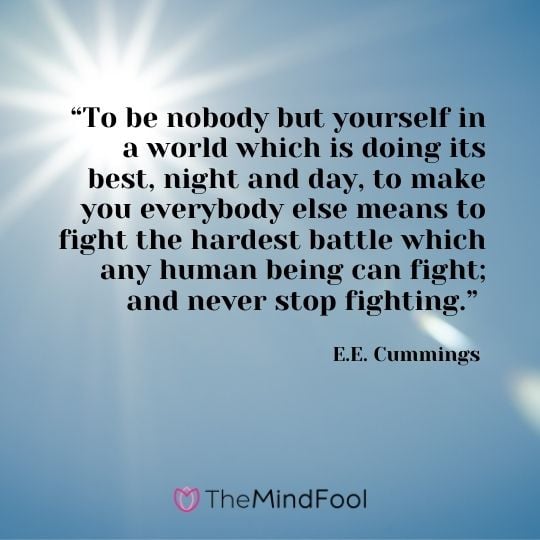 21. "Never be bullied into silence. Never allow yourself to be made a victim. Accept no one's definition of your life, but define yourself."

– Harvey S. Firestone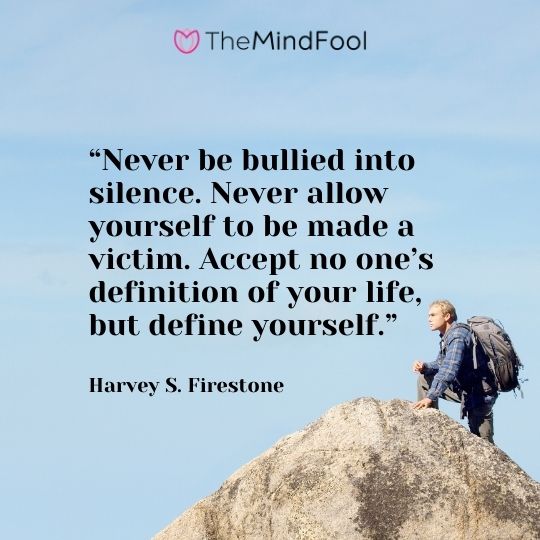 22. "Just a reminder, what other people think of you is none of your business."

– Ze Frank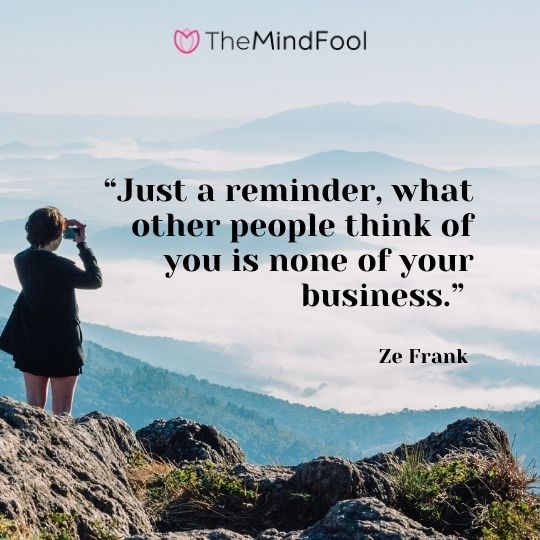 23. "Never bend your head. Hold it high. Look the world straight in the eye."

– Helen Keller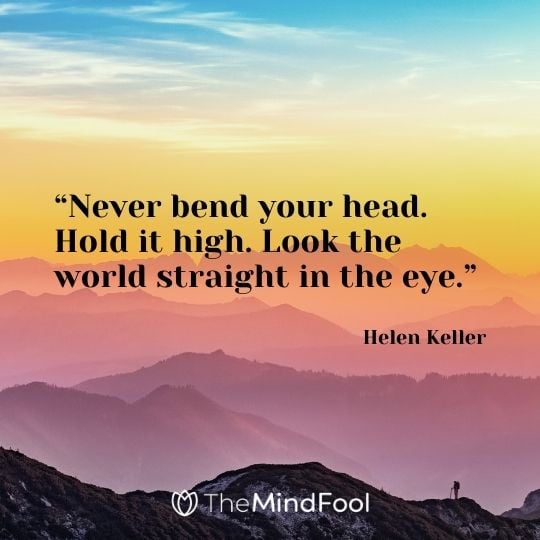 24. "The unhappiest people in this world, are those who care the most about what other people think."

– C. JoyBell C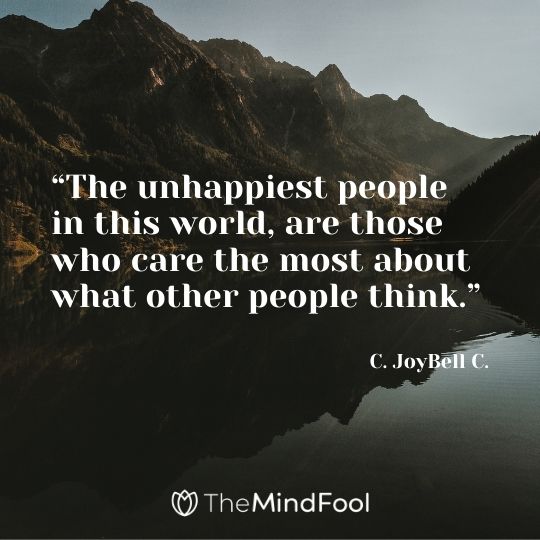 25. "A star does not compete with other stars around it; it just shines."

– Matshona Dhliwayo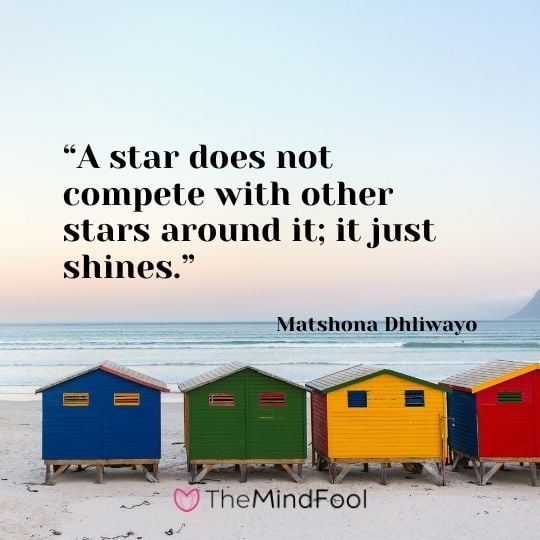 26. "Don't live for others, live for yourself, because others will not always be there, but you will be you for the rest of your life."

– Jesus Coca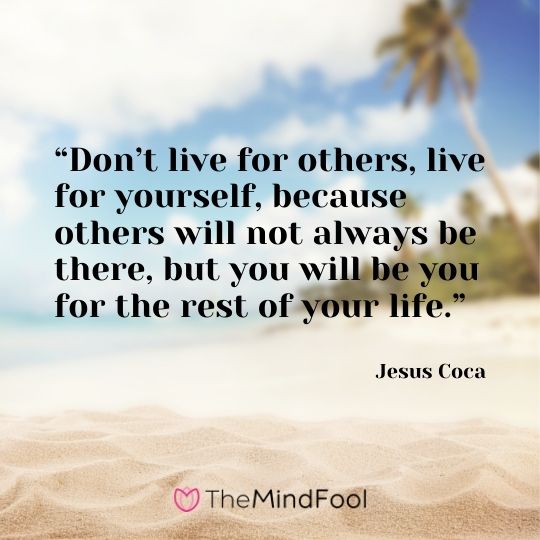 27. "It's a beautiful thing to have lungs that allow you to breathe air and legs that allow you to climb mountains, and it's a shame that sometimes we don't realize that that's enough."

– Unknown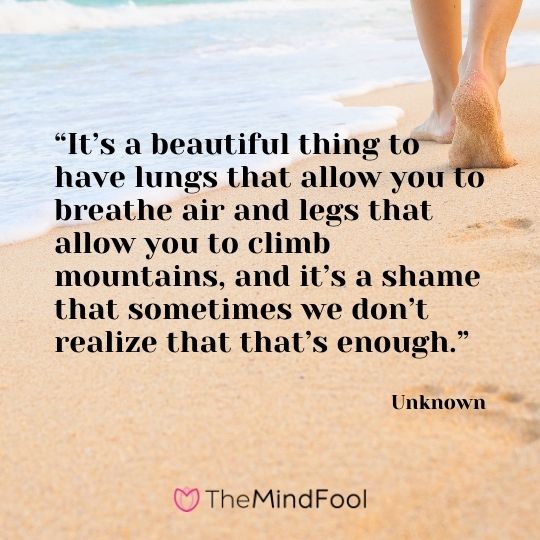 28. "Dear Self: It's a shame how hard you are on yourself. You treat others with more love than you treat you. You deserve to be celebrated too."

– Reyna Biddy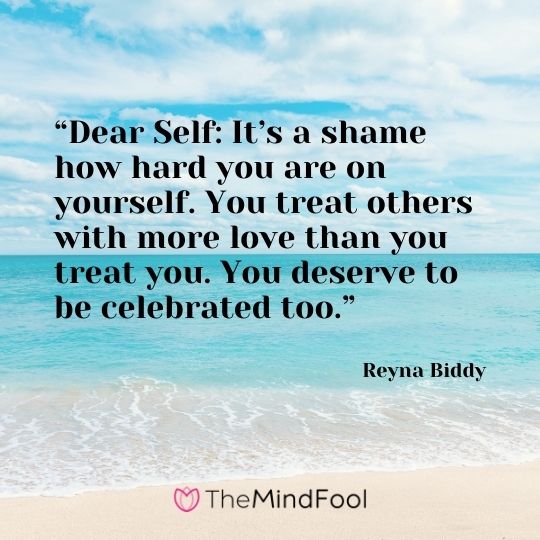 29. "Your problem is you're … too busy holding onto your unworthiness."

– Ram Dass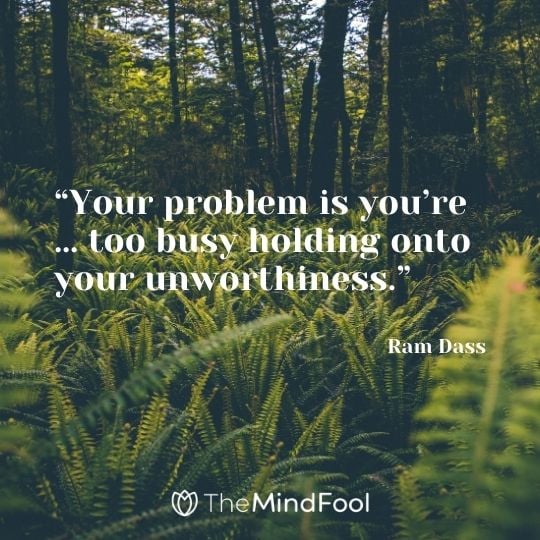 30. "Be very very very gentle with yourself. The world is very very very hard on you."

– Srividya Srinivasan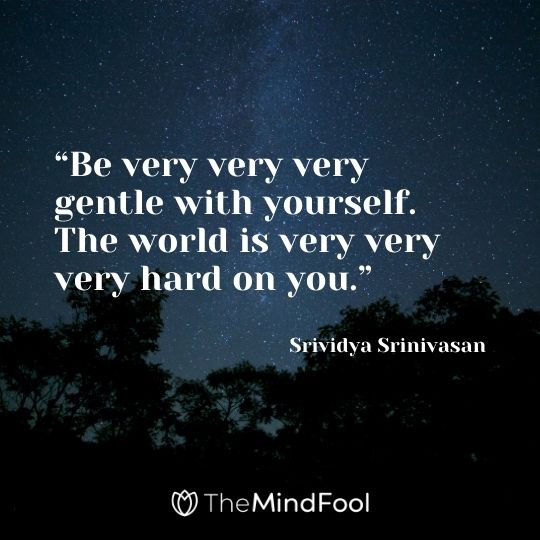 31. "When you are content to be simply yourself and don't compare or compete, everyone will respect you."

– Lao Tzu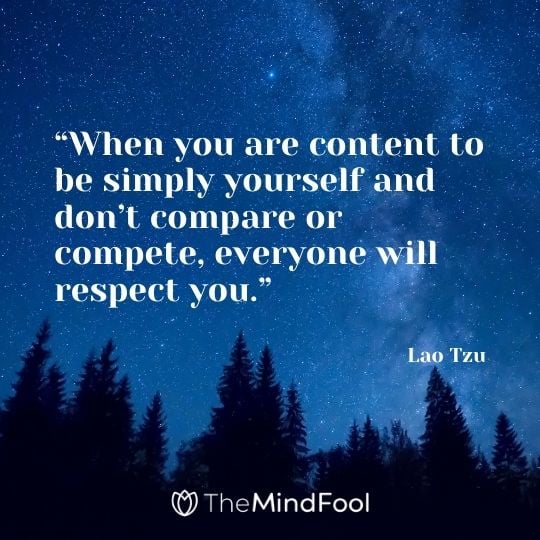 32. "I think the biggest mistake people make is not believing in themselves enough."

– Rich Piana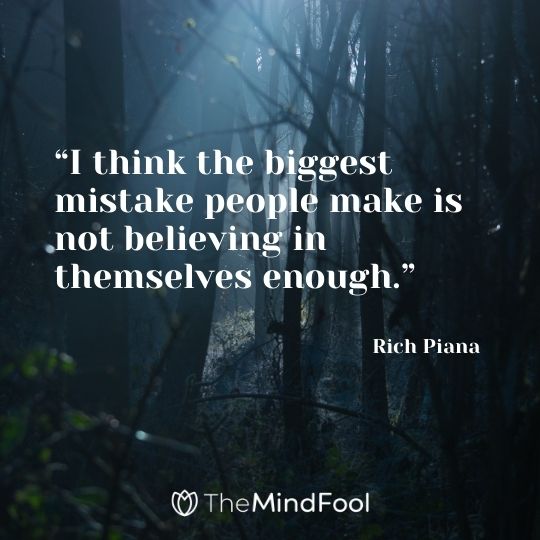 33. "I am me, nothing more, nothing less, and that is enough."

– Harpreet M. Dayal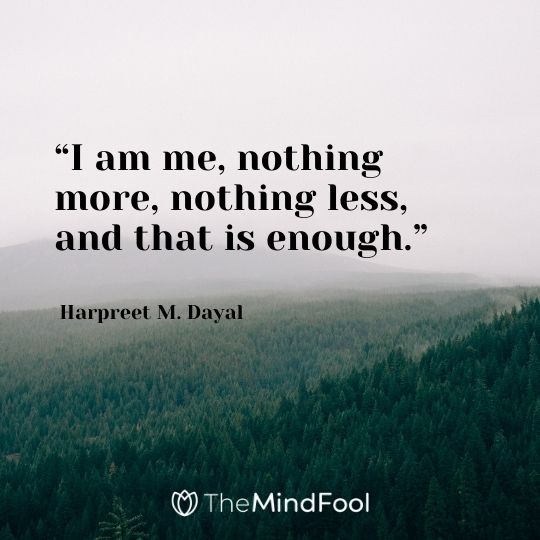 34. "To be beautiful means to be yourself. you don't need to be accepted by others. You need to accept yourself."

– Thich Nhat Hanh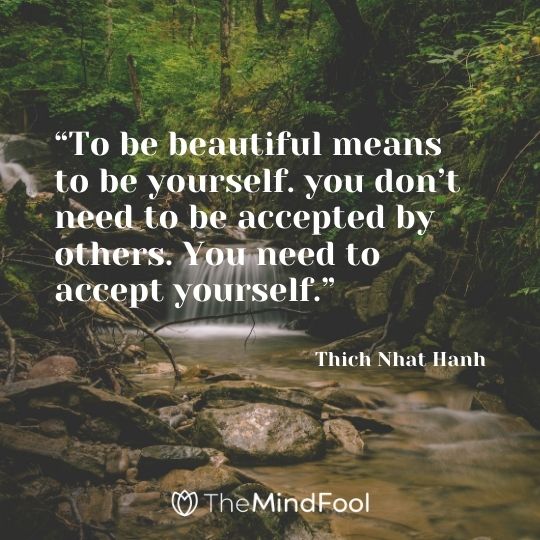 35. "You are good enough as you, so delete that Facetune app and step away from that really weird filter that makes you look smoother than Craig David."

– Iskra Lawrence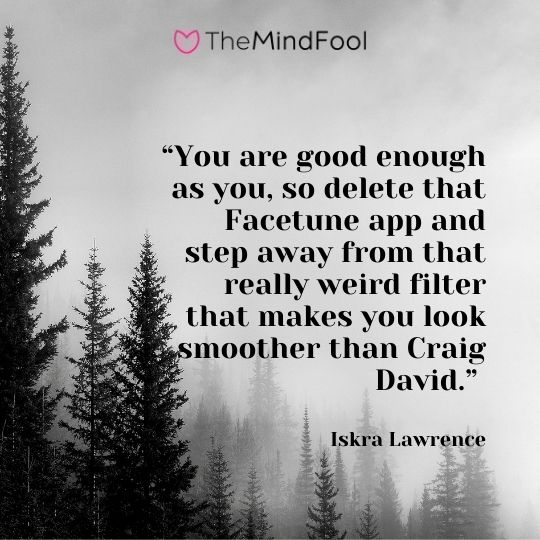 36. "Realize that everyone that you think is perfect feels like they're not good enough, too."

– Alessia Cara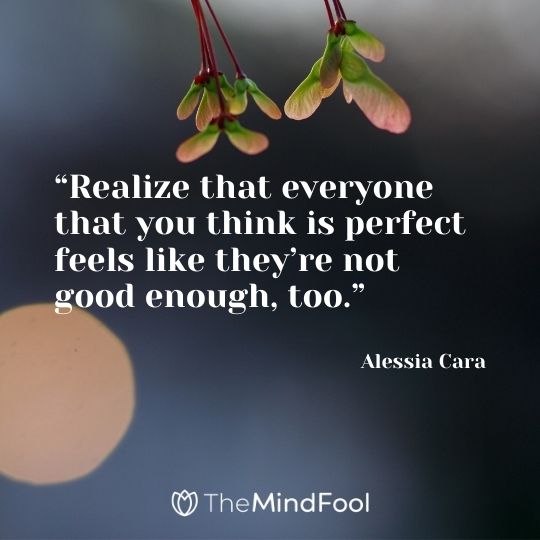 37. "Never compromise who you are, you should be accepted in all forms, in all circumstances."

– Milana May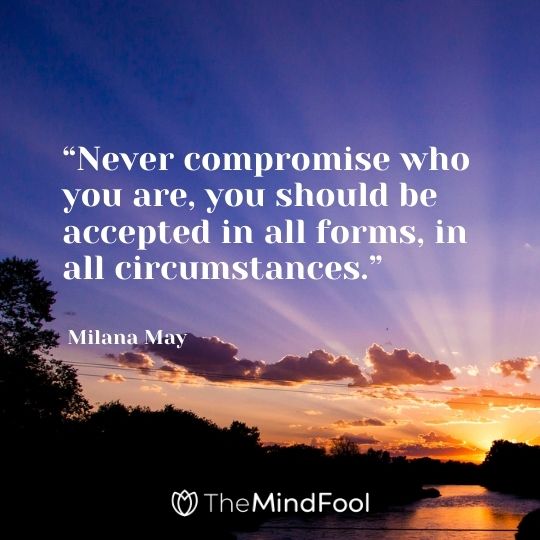 38. "For me, the opposite of scarcity is not abundance. It's enough. I'm enough. My kids are enough."

– Brene Brown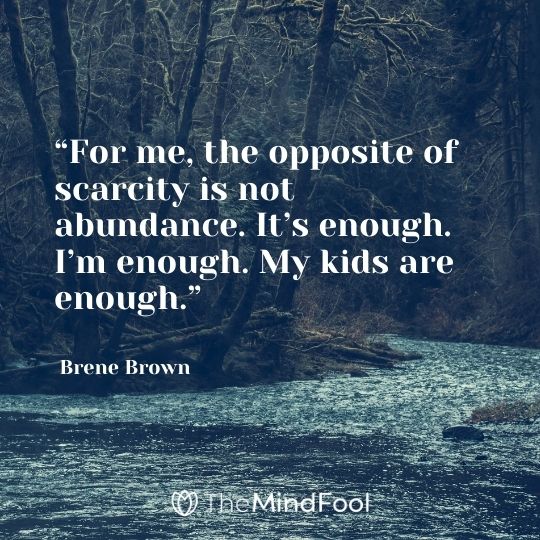 39. "You should be smart enough to know that you don't know everything. But you have to believe in yourself. I certainly do."

– Diane Kruger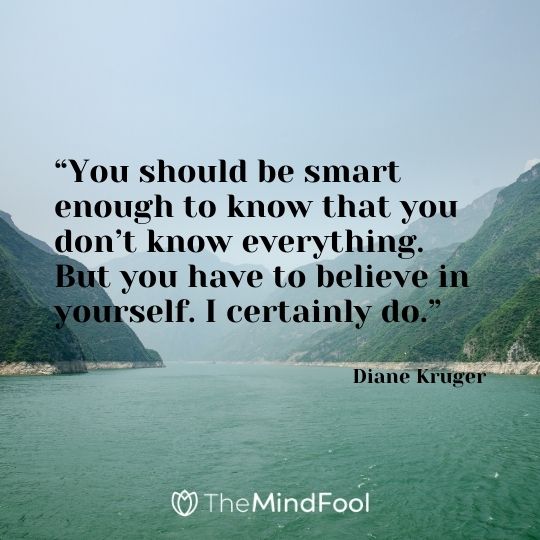 40. "I am thankful for all of those who said NO to me. It's because of them I'm doing it myself."

– Albert Einstein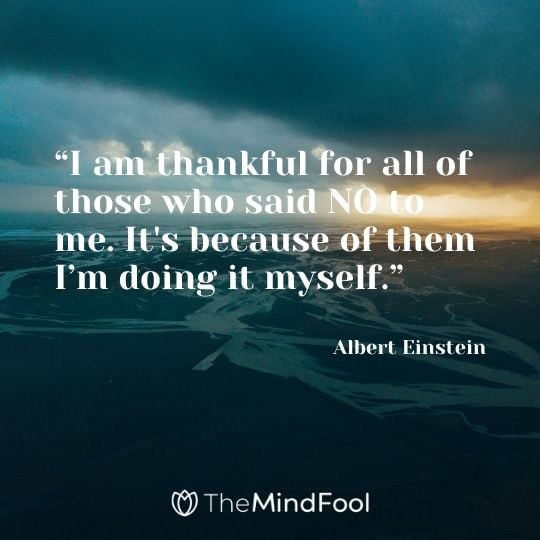 41. "At the end of the day, we can endure much more than we think we can."

– Frida Kahlo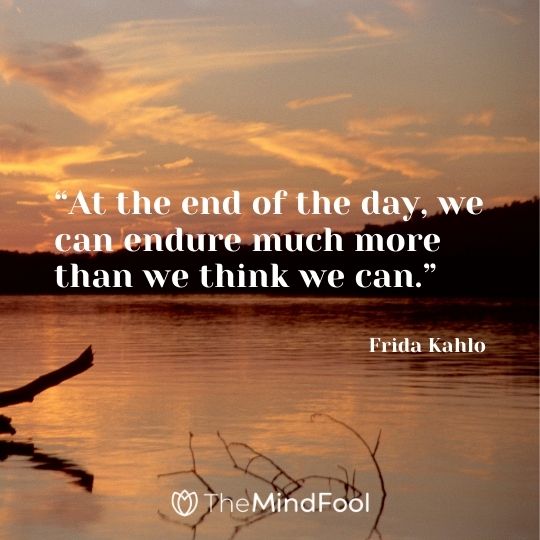 42. "Accept that you are enough. You don't need to be anything that you are not."

– Live Life Happy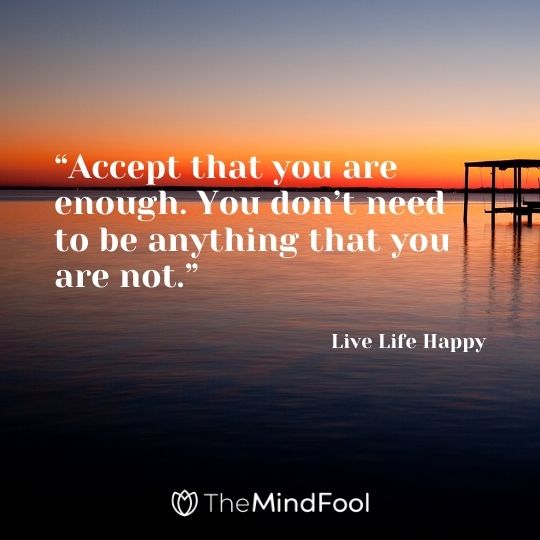 43. "Know who you are and know it's enough."

– The Red Fairy Project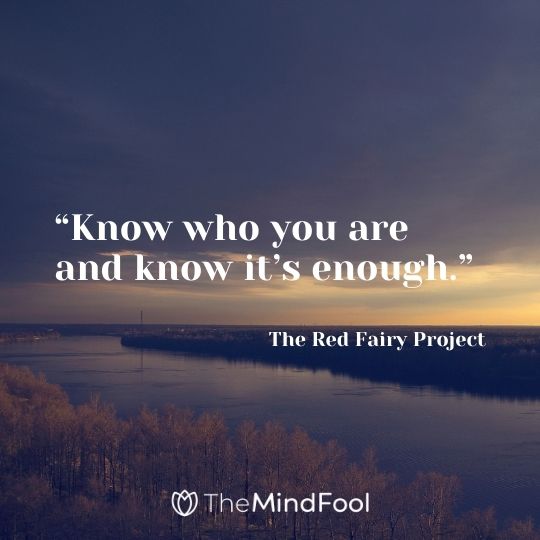 44. "Breathe, let go, and be in the flow of right now. In this moment, you are enough."

– Lee Horbachewski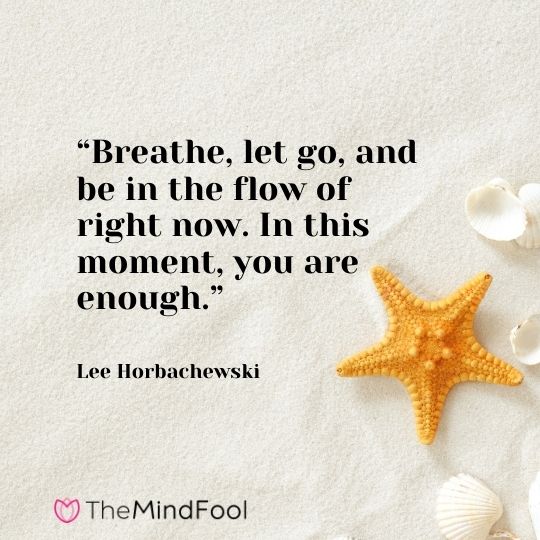 45. "Life is so big. Do not try to fill it. Instead, expand within. You are enough for you."

– Bryant McGill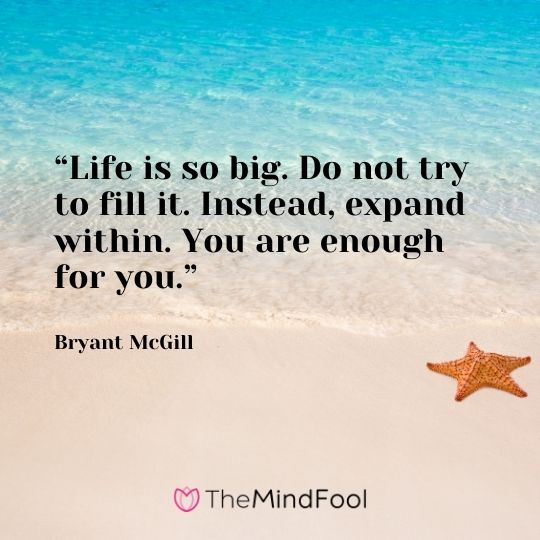 46. "Feel the fact that you are enough."

– Mark Nepo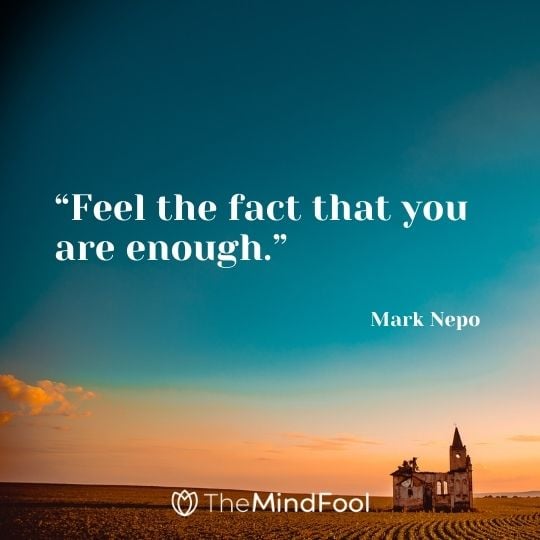 47. "You are more, so much more than the love that wasn't enough."

– Lauren M. Garcia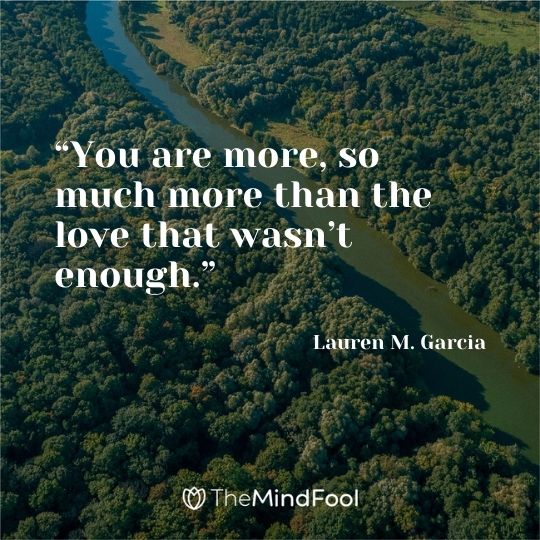 48. "I am strong. I am beautiful. I am enough."

– Vanessa Pawlowski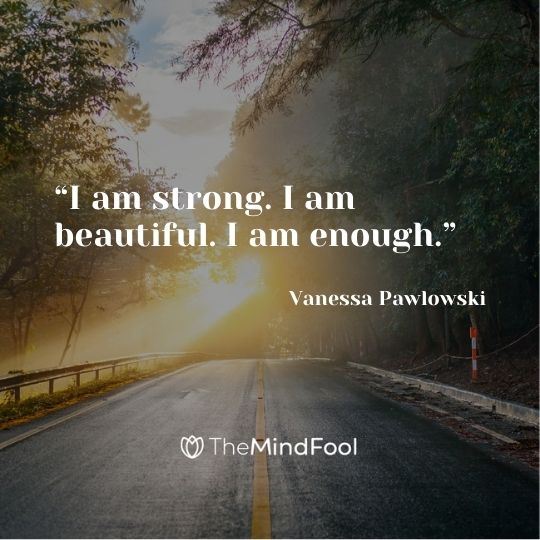 49. "There is no need to be more – you are enough. Everybody is enough."

– Osho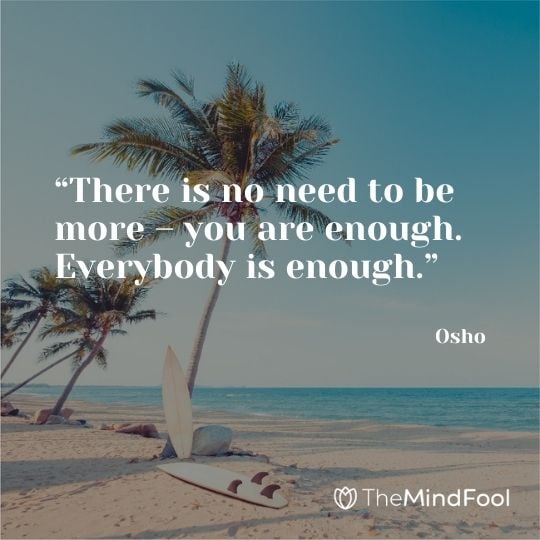 50. "This is enough, this moment, this breath, this life, this time, this place, it's enough… You are enough"

– Rob Bell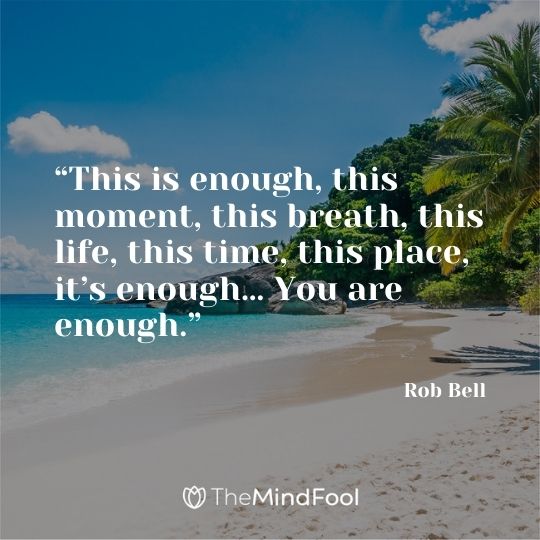 ---
You are enough tattoos
Getting inked is one of the best ways to wear your thoughts on your skin. Meaningful tattoos are like life-long marks that are a happy memory of your beliefs. Here is a look at some popular tattoos from Instagram, all embracing the thought that –You are enough.
1. Inked in braille
Braille is the language of the visually impaired. You can choose to get the message –You are enough inked in braille. It will be inked in dots and not everyone will be able to interpret it. But it is a unique way of wearing your philosophy on your body.
2. The words as it is
You can choose to get a tattoo with the message as it is, just opt for a creative calligraphy style of writing. You could get this tattoo on your forearm. Keep it short, sweet and simple!
3. The wreath design
For those who don't like to copy the message verbatim, a good idea will be to get it inscribed in a wreath like design. Again the location can be the back of your palm if you want the world to know. If you want to keep it discreet, you could get inked on your waist or back, areas that are less likely to be exposed in your day to day clothing.
4. Heartbeat style
Another interesting option can be to get the message inscribed like a heartbeat. This is an extremely popular style with tattoo artists today. You can also tweak the message to read – I am enough.
Concluding note
Each one of us is born with a unique set of skills. What you are able to do easily, others may find it very difficult. Even the vice versa is completely true. So stick to nurturing what you have.
Remember that the world appreciates you for being you. So don't get into the rat race and struggle to change yourself. Your true identity is what sets you apart from the crowd and this differentiation will help you achieve your aim in life. So, keep telling yourself, no matter what, you are enough!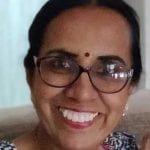 Kavita Shahani
A freelancer by profession, Kavita writes on a variety of topics, mental health being one of her favorites. Fond of traveling, socializing and meeting new people, most of her inspiration for writing comes from real-life scenarios as well as experiences. Her motto in life has always been to look for a reason to smile.