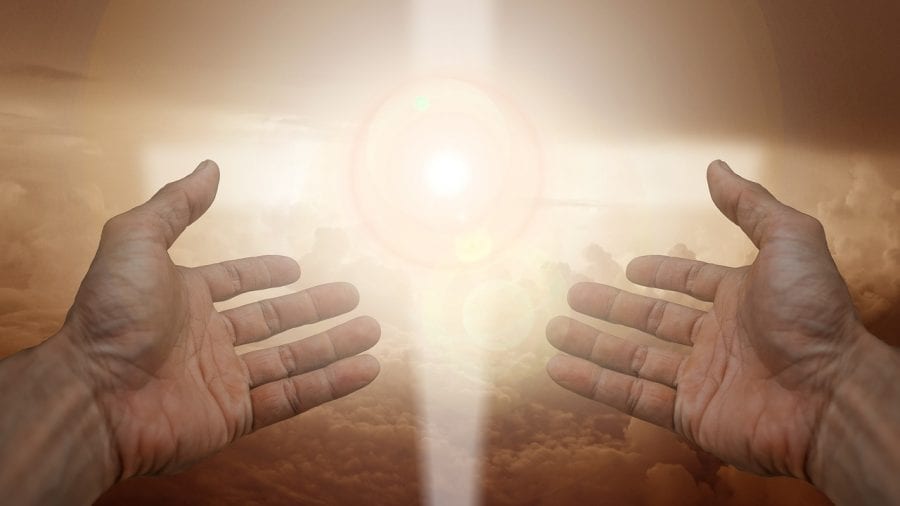 Almost everybody is aware of humans with unique gifts to heal others without medicines or any form of physical healing. While some believe the notion of such healing, others dismiss them as fake and dramatic. Yet, there has been more proof than we know that shows such people exist. Also known as lightworkers, that they have powers which neither science nor humankind can explain.
Few people believe this, but there is a massive spiritual awakening taking place on our planet right now. In these times of war and depression, a significant number of souls are rising to help the world heal and awaken.
But how are these souls different from us? How do you know if you are one of them?
What is a Lightworker?
SUMMARY
A human being with awakened spirituality is known as a lightworker.
A lightworker is a human being with an awakened spirituality and an aim to lead as a spiritual warrior and teacher. They may talk and look like normal human beings, but they are far from being usual. They have been born on this earth with a mission or goal that has been set before their birth.
Also known as earth angels, if you are a lightworker, your purpose is to shine your light on humankind and to serve the world. Lightworkers are born to heal others with love and light, knowledge, understanding, liberty, and healing.
What makes a lightworker different from the rest of us?
SUMMARY
A human being with awakened spirituality is known as a lightworker. They are born to spread light among humans, but sometimes they may not be aware of the kind of energy they possess.
Any human soul who is driven to answer the call of the light and to surrender to a higher spiritual purpose to shine a light on the earth and heal humanity is a lightworker, whether they know or accept it or not.
As a rule, lightworkers feel motivated to connect to their surroundings and worldly experience. These souls have existed longer than anybody else around them. Some even existed when the planet was created. But, very often, they don't know who they are or what kind of energy they have.
In fact, most of them live a normal life before they reach spiritual awakening and a level of consciousness. This awakening empowers them and gives them the real meaning of their life.
Like every other aspect of human life, there are the real lightworkers and there are some fake ones.
WARNING
Before you see a lightworker, ensure that they are not a con artist claiming to give you the guidance you need.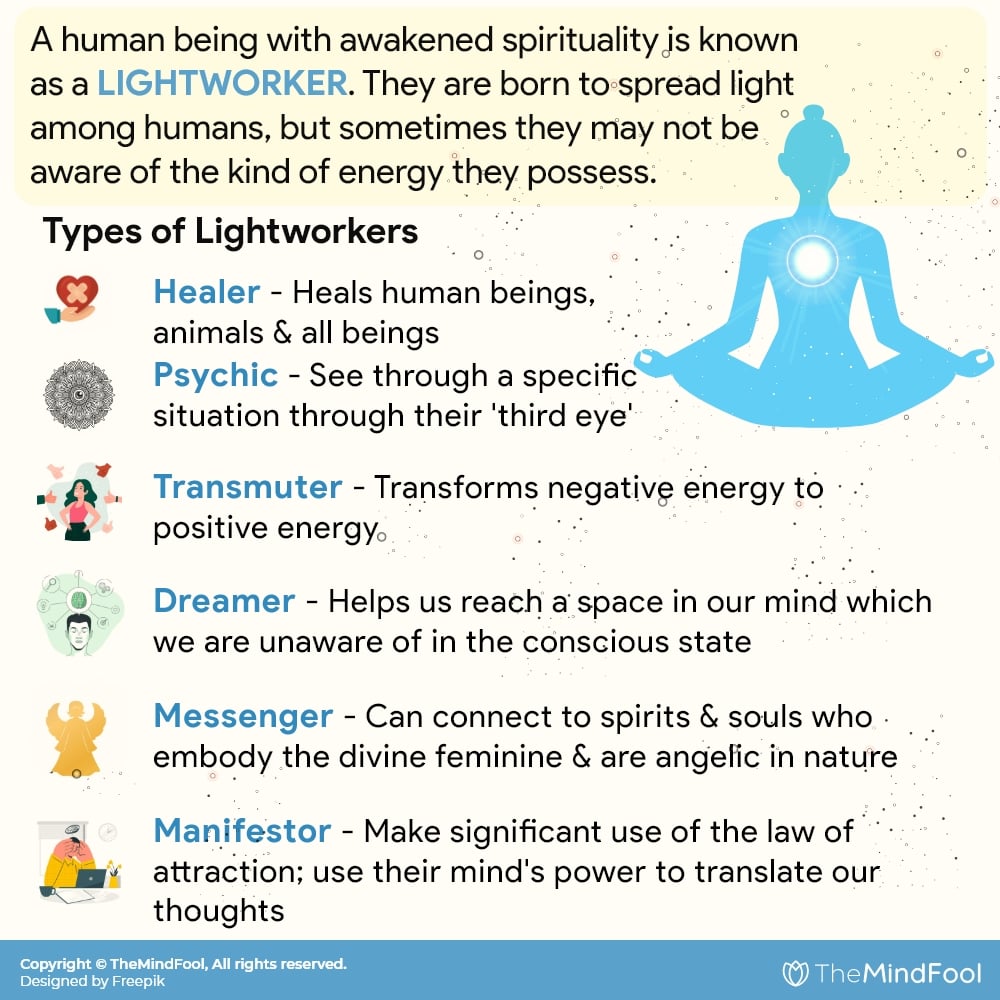 Types of Lightworkers
SUMMARY
There are six main categories of lightworkers – healers, psychics, transmuters, dreamers, messengers, and manifestors.
Though it is true that all lightworkers have a special spiritual path, there is more than one kind of lightworker. And, it is possible for a lightworker to have more than one skill.
There are several categories of lightworkers but let us take a look at some of the main types:
1. Healer Lightworkers
Healers have the main purpose to heal human beings, animals, and all beings in existence. They use various ways to heal others – emotional, spiritual, mental, and physical. Healers have more than one healing modality. But it is important for every healer to know the technique they are best at.
2. Psychic Lightworkers
Psychics can see through a specific situation through their 'third eye'. They can differentiate between reality and illusion. Using this unique power, they can offer readings and guidance to others. Psychics can also find out the exact trouble areas in your life so they can focus their energy to heal them.
3. Transmuter Lightworkers
Transmuters transform negative energy to positive energy. They know how to find the negativity and expose it to the divine light. Transmuters also have the power to eradicate negativity along an ancestral lineage.
For example, if someone has a long history of negativity in the family, transmuters can help release, dissolve, and heal the negative karma. This can bring the vibrational level for the entire ancestry up, and in turn, helps humankind.
4. Dreamer Lightworkers
Almost every dream is potentially a memory or a feeling out of our subconscious mind. They help us reach a space in our mind which we are unaware of in the conscious state.
Almost all our dreams have a direct or indirect higher dimensional correlation to our present life. Dreamers can set their intention and establish a connection to their higher self by way of dreams. Their purpose is to help you use your dreams as an incredible opportunity for personal growth and evolution.
5. Messenger Lightworkers
Messengers are an exceptional, powerful group of lightworkers who can connect to spirits and souls who embody the divine feminine and are angelic in nature. In doing so, they share the messages from these Galactic beings with humanity and bring light to the world.
These messages can be in the form of guidance, inspiration, and intuition. Also known as Angel Messengers, they can receive guidance, motivation, and energy from the angelic realm and spread the same within humankind.
TIP
To become an Angel messenger or to know if you are one already, it is crucial that you can receive powerful messages from the angelic realm and share them with the humankind. Being a lightworker can take many shapes and forms. For instance, you can be a Reiki healer, an Angelic Channel, an Author, or even a Yoga Teacher.
6. Manifestor Lightworkers
The lightworker functions make significant use of the law of attraction, more so in the case of Manifestors. These groups of lightworkers can delve deep into the details of our reality and use their mind's power to translate our thoughts.
A powerful manifestor is a master at using their instinctive energy to achieve what they want. And, more often than not, their life purpose is to use such powers for the good of others, which in turn aids in world-improvement.
25 Lightworker Traits
SUMMARY
If you are a lightworker, you may be prone to feeling different from your peers and you may feel the urge to rebel. Your mind is always searching for a higher calling, and you have a natural desire to help others. You are also more in-sync with nature than those around you.
As mentioned earlier, a lot of lightworkers aren't aware of their abilities until they reach a higher state of spiritual growth and awakening and the inspiration to bring light into the world. But there are a few traits or signs that every lightworker possesses.
To keep it simple, there are a specific set of symptoms that a lightworker experiences.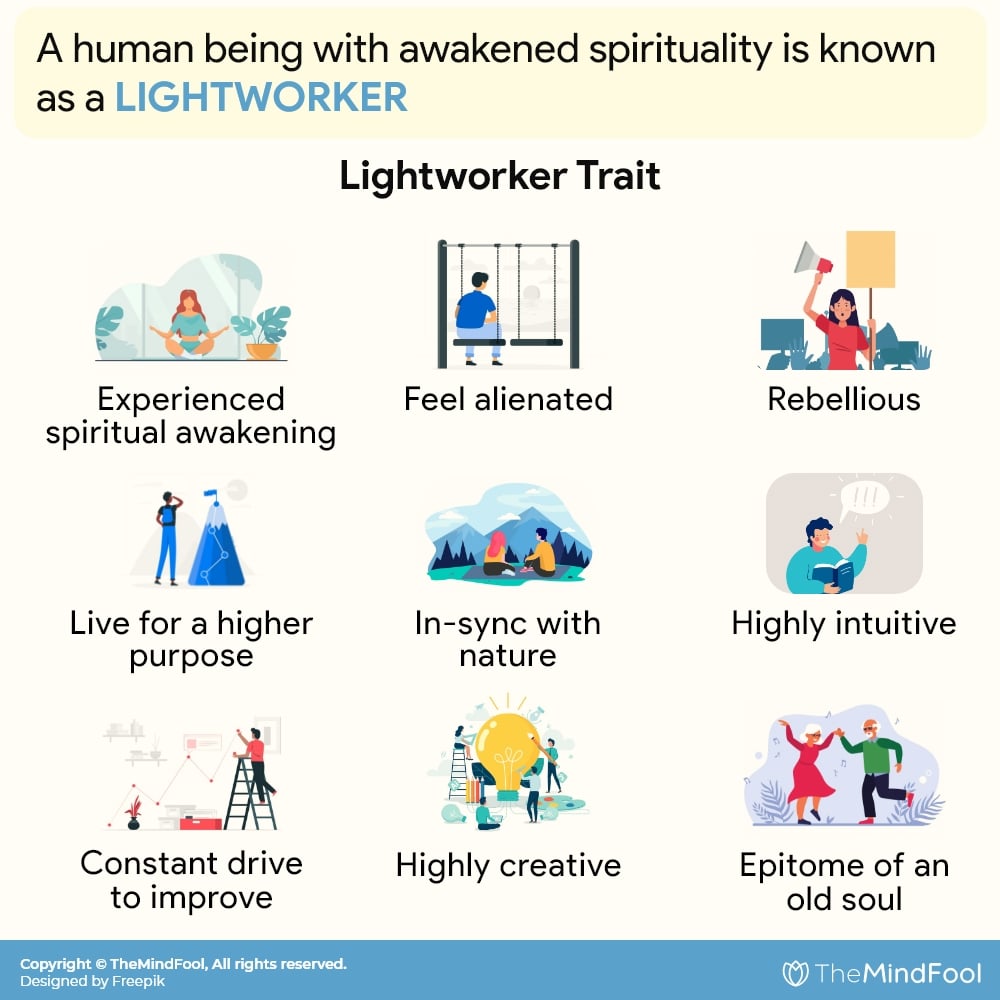 1. Feeling alienated
Lightworkers often tend to feel like they do not belong. They feel like even though the world sees them like a normal human being, they do not belong to the human race. This could lead to homesickness, lack of solidarity, and the sense of being an outsider.
2. Lightworkers are rebellious
Lightworkers have a sense of feeling different from the world. That is why they are uncomfortable adapting to the everyday practices of the world. They feel like a misfit in the traditional world cycles and contemporary workplaces.
They may seem shy or introverted on the outside. But deep inside, they have a sharp conflict towards bowing down to social norms. They also have a difficult time following rules that lay weight on power or hierarchy.
3. Living for a higher purpose
All lightworkers know and believe that life isn't only about living. It is about finding a higher purpose than just having a good time, buying a house and a car, and retiring with a handsome pension.
A purpose that is directly related to the awakening and transformation of their own lives. they also understand that they are put on Earth to help raise the lives of other people helping read raising the collective consciousness of the entire human race
They know that their goal on this earth is to bring light and to spiritually awaken themselves as well as those around them.
4. Innate drive to help
Lightworkers are often very sensitive towards those around them. They, at any point, do not like to let anybody around them suffer. This is because of their high sensitivity towards negativity. They are molded with compassion and empathy. Most lightworkers prefer professions such as therapists, doctors and nurses, pranic healers, and spiritual inspirational teachers.
5. Lightworkers feel in-sync with nature
Most lightworkers incline towards a natural landscape. The ocean, the forest, and even the countryside pleases them. Lightworkers are not only attracted to nature, but they believe in communicating with nature. They possess the ability to communicate with wild animals, and are very good at gardening. This also means that they are highly likely to be hurt by humankind's ignorance of nature.
6. Highly intuitive
Lightworkers are often very highly intuitive. They have had an innate wisdom about life ever since they were very young. They are also naturally spiritual and philosophical. It is not unheard of for people to be amazed and perplexed by lightworkers even at a very young age, especially because they seem to know so much for their age.
7. Sensitive and loner
Lightworkers tend to feel a very easy connection with people. This gift is for the purpose they have towards helping others. Because of the fact that they are very sensitive to the energy of other people, they can often feel very exhausted by being around people and can only do it in small doses. This is also why they also tend to be somewhat of a loner.
8. Lightworkers have difficult childhood
When they are very young, they face a series of challenges, dramas and a bunch of other difficulties in life. But they are not resentful towards other people because of this and they also do not hold the universe in a negative light. They understand that all these hardships were not intended to hurt them, but rather to awaken them so that they can become the healers that they are now.
9. Constant drive to improve
They are constantly and consistently working towards improving their own life as well as the life of those around them. Sometimes it may also seem that their core drive in life is to identify what needs to be fixed and how they can fix it. Sometimes this may also look like perfectionism, but for the most part, it is an incredible gift.
10. Revolutionizing mental health
Even though lightworkers may have struggled with a variety of mental illnesses in the past, or they may even be struggling with them currently, they have come to an understanding that these issues are simply a way for the universe to adapt them to their circumstances. They know that part of their higher purpose is to revolutionize the way mental, physical, emotional, and spiritual problems are seen in the world.
11. Spirituality without religiosity
Lightworkers tend to be spiritual, but they are not religious in any way. They understand that the purpose of their life is to help other people internalize their spiritual power. Even if they use the teachings or principles of another religion or another enlightened master, they keep the focus on awakening spirituality within every individual.
Instead of the religious meaning of the texts, they help the people see their true meaning and understand their own unlimited potential, power, and healing capacity.
12. Lightworkers are highly creative
Lightworkers are naturally creative and they are often involved in making different kinds of artworks, writing, or one-on-one healing practices. You will also notice that the arts and crafts or the writings of a lightworker are not mainstream in any way and will often stand out from the popular crowd. Some people may even consider them too strange to be understandable, but to the lightworker they make complete sense.
Lightworkers are the epitome of an old soul. They are extremely wise, mature, and seem to have a lot of experience that feels like it comes from many lifetimes. Even if they are quite young, you will notice that they have a deep understanding of the world around them and an unprecedented serenity and calmness that only comes with age.
14. Lightworkers have difficulty in finding their tribe
Lightworkers are usually so different from their peers, friends, and family that it is completely inexplicable to even think of them in the same group. Because of this, they also struggle in finding their own group of plants that totally understands them and is their tribe. Throughout their entire life, they may end up feeling like they don't really fit in anywhere.
15. Constantly self-actualizing
Even though lightworkers are deeply self-aware, they are constantly coming to even more self-realization about themselves and their lives. They are always on an ongoing journey about healing and awakening and they continue to come to terms with their flaws and failures.
Lightworkers' main objective in life is to continue their self-growth. They are always focused on being better and doing better for themselves as well as the world around them. They practice radical self-acceptance and instead of ignoring their problems, they continue to explore them and learn from them. They know that they are flawed human beings and that the best years of their life are yet to come.
Lightworkers have experienced an intense spiritual awakening at one or the other point in their life. They have seen their entire worldview get shattered and at least at one point, they had to barge out and change all of their limiting beliefs. Everything that was holding them back was shed off and they understand that awakening can be extremely exhausting. They also understand that as lightworkers, their life will be painful at times but it will be worth it.
18. Tranquil aura
The aura of a lightworker affects those around him or her deeply. Some people even describe this energy as an electromagnetic field that surrounds them. They have a deeply profound effect on people, calming them and infecting them with their setting energy.
If you are a lightworker, you will notice that despite having their own struggles, people will always see you as a center of balance, tranquillity, and positive emotions. In other words, lightworkers have the capacity to raise other people up, change their mood, and give them hope.
19. Discomfort with damaging chemicals
Lightworkers feel intensely uncomfortable whenever there are any chemicals in their environment. They prefer eating organic and unprocessed foods. They also like to use household cleaners that are natural and do not contain any harmful elements.
They do this because they know that these chemicals cause irritation to the body as well as the environment in one form or another. In some cases, a lightworker may also feel allergies or headaches because of the smell of these chemicals.
20. Lightworkers are community leaders
Lightworkers are often an active participant in the local community and many people think of them as the front runner or the leader of the community. This is especially true if they are part of a spiritual community. Because they are more intuitive, wise, and enlightened, they are also prone to making less mistakes and learn the necessary lessons in leadership sooner than other people. This is why most people look toward them to lead and help others through their own experiences.
21. Understanding the duality
Lightworkers have an intuitive understanding of the consolidating duality of life. In other words, they are able to wrap their head around the philosophy of reason and science, along with spirituality. They can also understand brain science and theory, without having to discount abstract notions and religion. If there are two subjects that may feel inherently contradictory and paradoxical to one person, the lightworker will be able to understand them without any issues.
22. Lightworkers trust their gut
They trust their instincts. Lightworkers not only know on a profound level, but they also know that they need to act on these instincts if they want to make the full use of their gifts. Indeed, if they feel something within their gut, then even if they don't understand the reason for doing something consciously, they have to act on the gut feelings because in the past it has always proved to be true.
23. Lucid dreaming
Lightworkers often have very strange deep dreams. Most people don't remember these dreams but this is not true for a lightworker. They can even manipulate their dreams and experience lucid dreaming. Some may even say that lightworkers can travel to the astral plane and across the Universe in their dreams.
Some lightworkers can also see the future or the past of other people, even if they have never shared it with them. Some lightworkers have also revealed that in their dreams, that they go to a spiritual school where they are trained on how to use their psychic abilities.
24. Magnet for problems
Lightworkers often act as a magnet for problems. In other words, people who have a lot of problems in their lives are often attracted to the lightworker. They often have friends who have a lot of challenges in their life and they turn to the lightworker for help in solving these problems.
In some extreme cases, the lightworker may even attract people who are narcissists or emotional vampires, which means that these people feed off of a lot of their mental energy without getting anything in return. Moreover, the lightworker may feel like they are caught in a vicious circle as they seem to be surrounded by such people everywhere, they go.
25. Lightworkers restore ancient knowledge
Lightworkers are often Interested in restoring ancient knowledge and wisdom. They are attracted to deep philosophies and obscure facts about the world. They feel like they have to gather all the knowledge that humanity has collected over the centuries.
They will feel drawn to the ancient texts in various religions. Sometimes it may even feel like they're searching for answers in these ancient texts, answers to the most difficult questions in life, like what is the meaning of life, what is the purpose of being on Earth, and what are they supposed to do with their life.
Lightworker physical appearance
Besides having some striking features that set them apart from other people in day to day life, lightworkers also have a different physical appearance than normal people. If you know what to look for, you can recognise a light worker from other people purely by analysing their physical appearance. Here are some traits that set the lightworker apart from other people:
Lightworker Eyes
This is the most distinguishing feature of a lightworker. If you are looking for a physical trait that will set a right worker apart from you and me, just pay attention to their eyes. You will notice that a light worker has the eyes of an old soul.
This usually means that the iris of lightworkers eyes will be a lighter colour and the whites of their eyes will be free from any burst vessels. In other words, you will notice that their eyes never look bloodshot or red due to the presence of blood vessels. Their somewhat sunken eyes balls almost seem to be set deeply into their eye sockets.
When you look into the eyes of a lightworker, you will feel like you can sense all the ancient wisdom and power potential that lies in their brain. You will also notice that their eyes are slightly larger than the rest of their face and look bigger in proportion to their skull. This can give the light worker and appearance of youth and innocence. Some people may describe them as having puppy dogs or doe eyes.
Lightworker features
The physical appearance of a lightworker's face often includes especially kind features. But this does not mean that their features will be soft, in fact, they are more angular. You will notice that they have a pointy nose, high cheekbones and a short jaw. However, despite having such sharp features, you will notice that the overall effect is not severe like it is in normal people
Their features will give you the impression that they are a caring and kind person. They also tend to remain younger looking for a very long time. They do not have many wrinkles and even if they do, most of these wrinkles form pleasant and attractive lines on their faces, nothing too harsh.
Lightworker glow
Most of the lightworkers have a sort of glow in their face. This is the same type of glow that you notice when someone is pregnant or deeply in love with someone else. It gives them a semi ethereal look and it is the result of having a strong aura. In fact, unlike pregnant people or people who are in love, lightworkers permanently have a stronger aura and they look like they're glowing all the time. This aura is further increased when a light worker is waking up to their soul mission.
Lightworker posture
Some people may describe lightworkers as taller than normal people, but this is actually not true. They only appear taller than you and me because they tend to have a better posture, which makes them look that way. There are many reasons for this. First of all, light workers usually engage in meditation, yoga and other types of spiritual exercises on a consistent basis.
These exercises are pretty great for their mental and spiritual well-being, but they also improve their physical health, especially their posture. Yoga has been described by people all over the world to be extremely effective for posture correction. Moreover, lightworkers are also more connected to their physical body than a normal person and they also have more control over their body and their posture.
This is because of the awakened state of mind that they have, giving them a strong link between the body, the mind and the spirit. And lastly, because they experience higher vibrations, they tend to have a better posture as a result of these vibrations too. Their spine, muscles and bones are filled with the much-needed energy from these higher vibrations, making them stand taller.
Otherworldly appearance
Some people may describe the appearance of a lightworker as otherworldly, that is, from an entirely different world. This is because of a combination of their physical characteristics mentioned above, as well as the untapped spiritual energy that they have. This can give one the appearance of them not being quite human.
So, are you a lightworker?
As far from reality as it may sound, lightworkers are actual people who have either attained awakened spiritually, or are yet to do that. They believe in finding their inner truth and real purpose in life. There are a large number of unidentified lightworkers in the world, and you could be one of them.
You may or may not have experienced the higher call yet. However, there could be other signs – randomly seeing the same number sequences, seeing auras, or finding feathers on your path. These are all possible signs that you are a lightworker waiting to find an awakening.
But, even if you aren't one, you must have experienced moments of joy. These moments can be anything – helping those who suffer around you, doing your bit to save nature, being involved in a cause higher than just living, or simply helping a distressed animal.
Here is an interesting video for more details around Lightworker –
Lightworker quotes
Here are some inspirational quotes about lightworkers and how they function:
1. "To be a star, you must shine your own light, follow your own path, and don't worry about the darkness, for that is when the stars shine brightest"

— Author Anon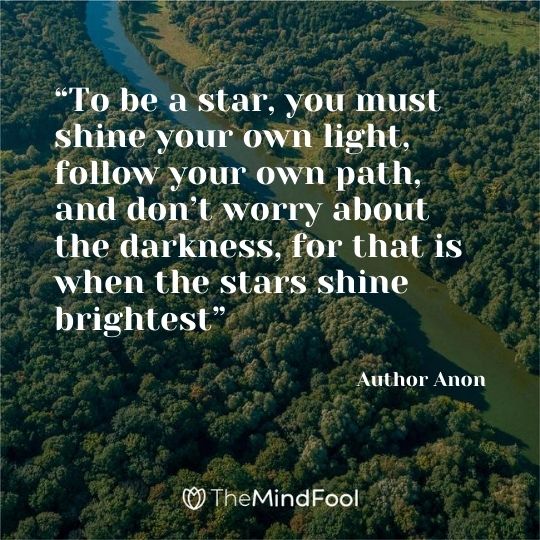 2. "There is a light that shines beyond all things on earth, beyond the highest, the very highest heavens. This is the light that shines in your heart."

— Chandogya Upanishad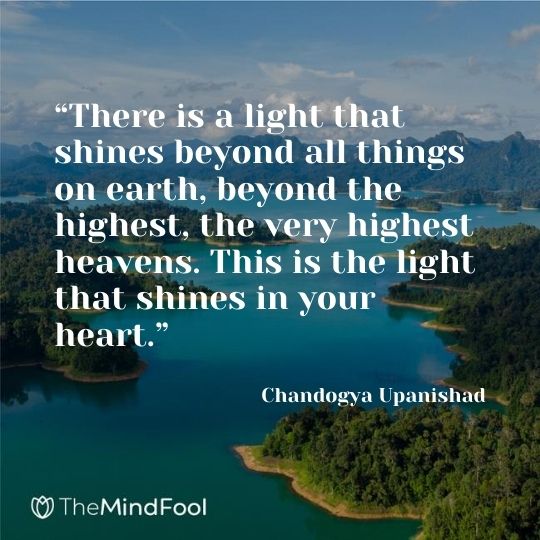 3. "We are told to let our light shine, and if it does, we won't need to tell anybody it does. Lighthouses don't fire cannons to call attention to their shining- they just shine."

— Dwight L. Moody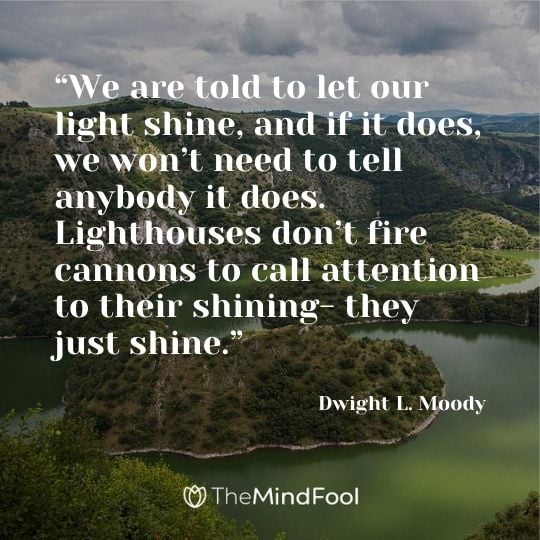 4. "Light gives of itself freely, filling all available space. It does not seek anything in return; it asks not whether you are friend or foe. It gives of itself and is not thereby diminished."

— Michael Strassfeld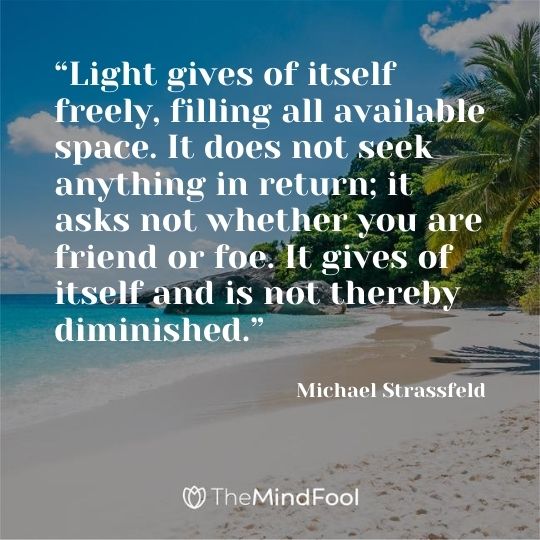 5. "Sometimes our light goes out but is blown again into flame by another human being. Each of us owes deepest thanks to those who have rekindled this inner light."

— Albert Schweitzer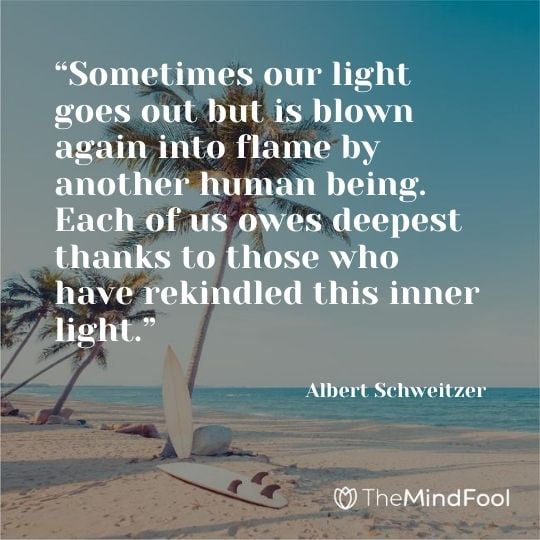 6. "If we are serious about dreaming our awakening into being and creating a peaceful, loving earth, we must continue to keep our focus on thoughts of unity and all that truly brings us together."

— Diane Hall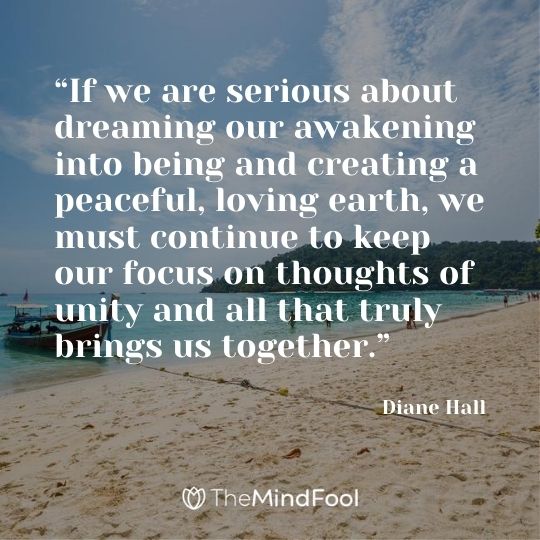 7. "If tragedy never entered our lives, we wouldn't appreciate the magic."

― Nikki Rowe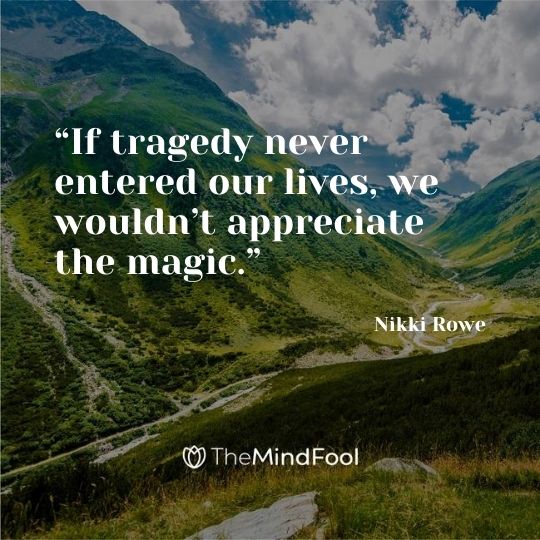 8. "What if awakening your light body was as simple as seeing the light within yourself, ceasing your identification with your pain and suffering and appreciating the beautiful soul you really are?"

― Catherine Carrigan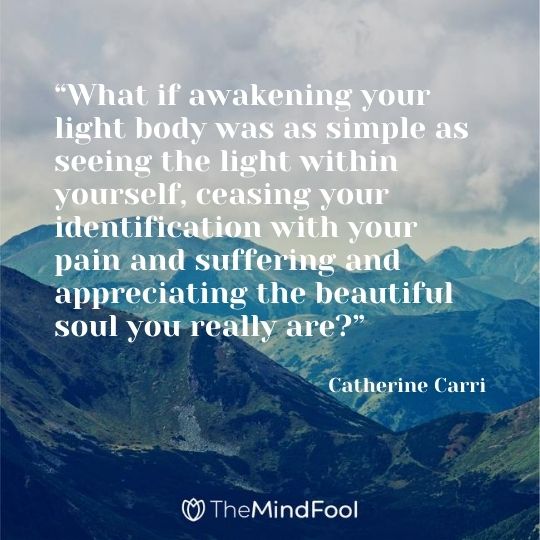 9. "Sensing your potential can be both motivating and crushing. As much as it instills you with hope and directs your steps, it also weighs you down because you know you're not there yet."

― Sylvia Salow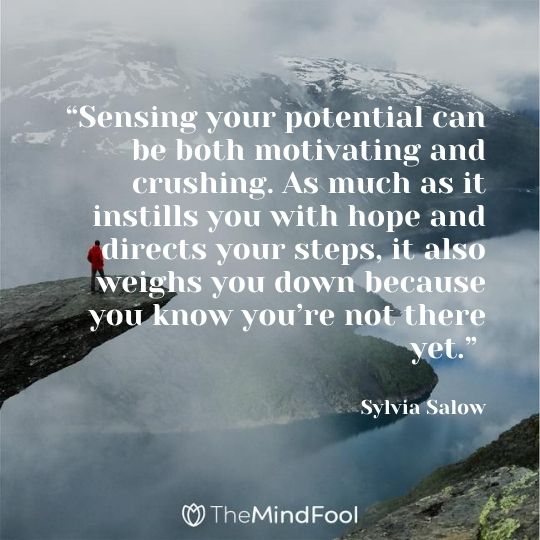 10. "You who are the Source of all Light in this world, whose rays illuminate the Earth, enlighten also our hearts and minds, so that we too can do your work."

― Anthon St. Maarten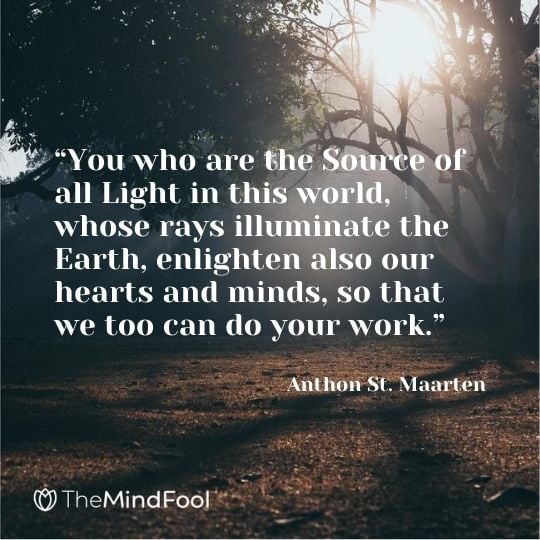 11. "Give your all to every experience, feel it breathe it appreciate it, nothing lasts forever, when it's gone, you'll remember the feeling it once gave you and sometimes that's enough."

― Nikki Rowe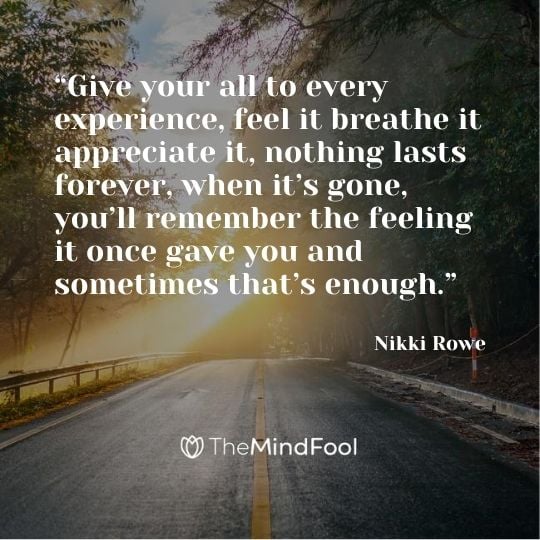 Closing Thoughts
A lightworker has nothing to do with superiority or feeling 'better' than everyone else. Of course, lightworkers are unique in their abilities and have a unique purpose of bringing light into the world. But that uniqueness is never to be mistaken by a superficial sense of authority.
It is critical that we acknowledge lightworkers as a medium between the world, humankind, and all beings and the spiritual power that is above us all.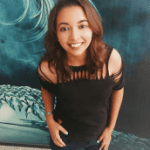 Namrata Singh
Namrata is a Doctor i.e. dentist turned writer and a clinical researcher. Eager to learn about anything and everything, she is what you would call a jack of all trades and master of none. With a zeal for reading novels, books, and anything she could get her hands on ever since she was little, she embarked into a writing career purely out of luck. After indulging in a freelancing career for nearly two years, she can now write on anything - from dentistry to decor, travel to technology, medicine to management - but the psychology remains her first love. Having dealt with mental health issues in the past, she hopes to raise awareness for the same and help people with her work in association with The MindFool team