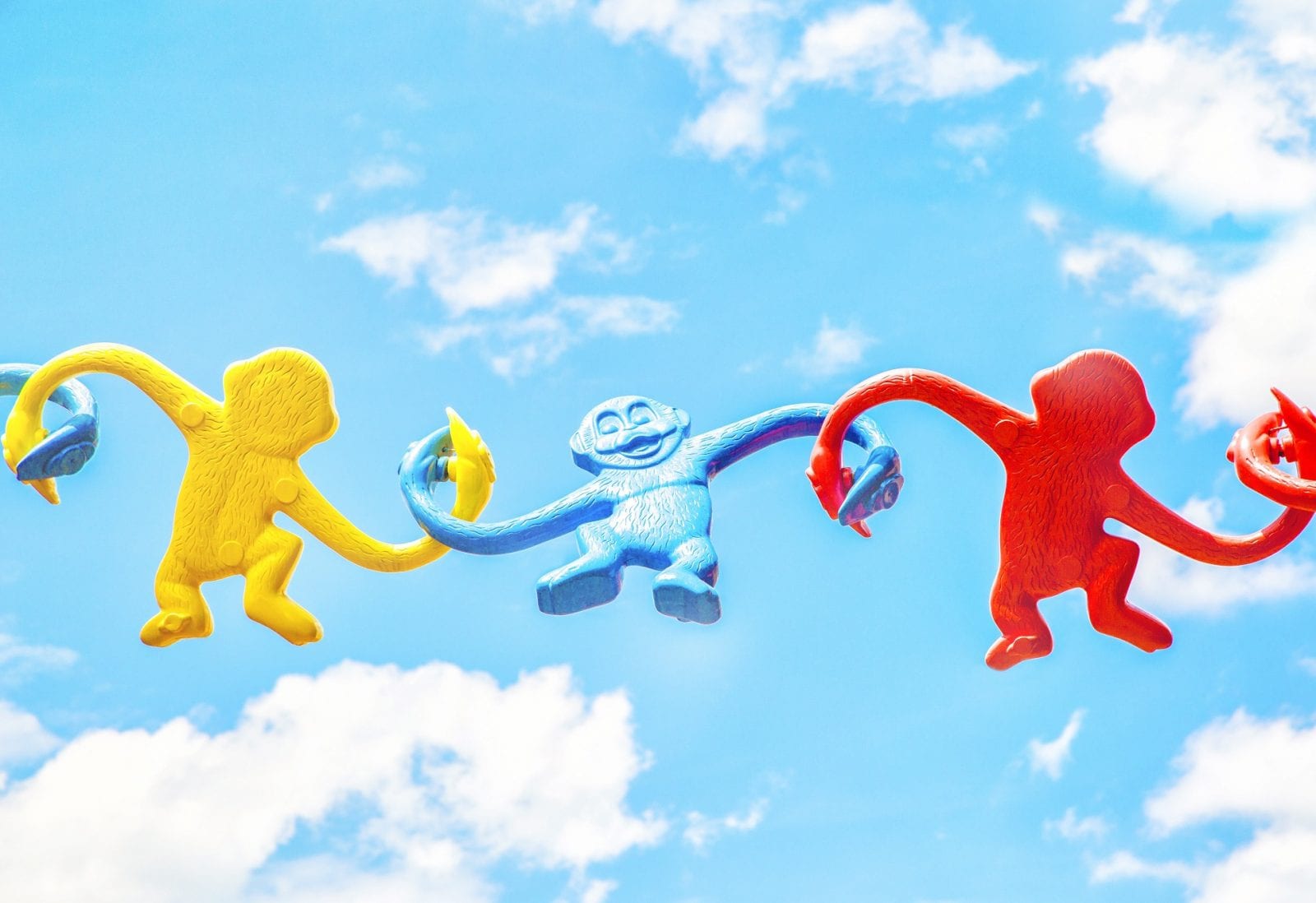 Finding ways to strengthen your team and the bond between office employees is one of the best ways any organization can achieve success. Teamwork is the key element that can take a company to new heights. Organizational success is much dependent on how efficient employees are and how the employees are connecting with others to achieve organizational goals. HRs, event planners, often plan small fun activities for employees so that they connect better.
Working cooperatively is the key ingredient that helps companies to bring value to their work and fulfill their objectives. At the same time, a positive bond between the employees helps to create a healthy work environment. Before we share some enjoyable, fun activities for employees, company leaders and HRs must note why such events should be organized in the first place.
Why Organize Small Fun Activities for Employees in Office?
Employees can connect beyond office work.
Such activities can be de-stressing, breaks the monotony of work, and is fun.
Fun activities are great ice-breakers.
Allows some nerds in the workspace to come out of their comfort desks.
Co-workers can learn that working in teams can be fun.
Bond with colleagues from other teams and senior management.
These activities reaffirm about collaboration, persuasion, and other soft skills.
25 Best Small Fun Activities for Employees at Work
Here is a list of a few small fun activities which are going to enhance team collaboration and contribute to a positive office environment.
1. Egg Drop
Messy, but still a great game that facilitates collaboration between the employees. The Egg Drop game requires teams to build an egg carrier that can protect a raw egg, which will be dropped from the 2nd or 3rd floor.
The materials required include straws, tape, balloons, rubber bands, newspapers, etc. The group which can survive all the fall till the end will win the game and claim the prize.
2. Talking in Circles
A fun and challenging activity that requires the right amount of fluid communication between the group members. A group of employees is asked to stand in a circle, and around them will be a piece of string that will be attached at the ends, forming a circle.
Now, the team will be asked to create different shapes like square, triangle, figure 8, rectangle, and various others. To make the game tougher for the "toughies," blindfold the players and execute the activity.
3. Escape Room
The escape room is one of the best team building activities. It is a challenging and exhilarating that will help employees to coordinate with others and understand how to escape the room. The idea is to solve puzzles, or crack codes and find the key to the gate and come out.
With a problematic escape route, the clock ticking, it will be an adrenaline-packed game to play. This problem-solving game allows participants to understand each other's strengths and collaborate with everyone in the room.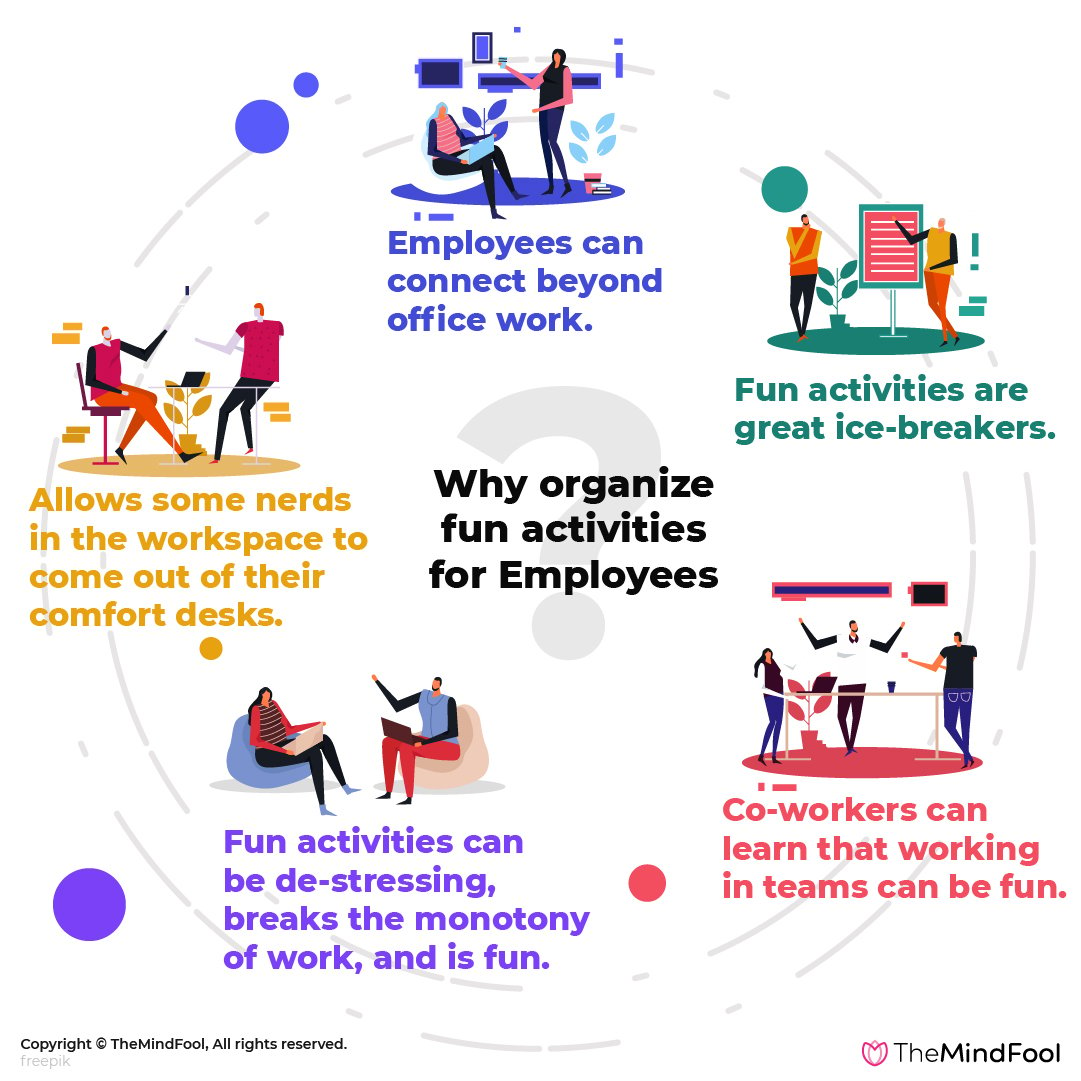 4. Two Sides of a Coin
If you want to instill a positive bond among employees and know each other better, then the two sides of a coin game is a fun way to do that. For example, consider there are two team members. Player one will share something negative from his life.
Then Player two will discuss a positive memory that they remember. Now both of them discuss the nuances of both the incidents and then they switch their roles. This a simple yet powerful activity to organize, create a personal bond, and teaches them to empathize with others.
5. Board Games
When there is a space crunch in office, the HR can engage them in various board games. These tabletop games are hugely popular among people of all age groups and the brain-tickling games can have more than two players at a time and at least a dozen audiences to appreciate!
6. The Minefield
The minefield is a fun and exciting game that allows employees to have some fun. At the same time, this game enables them to connect with others. In an open area, preferably the parking lot or office terrace, prepare an area by putting different objects/toys at a specific distance from each other.
Now, divide all the employees into a team of 2 or 4. In each group, there will be a member blindfolded, and the others will then guide him/her to pass through the enclosed area without touching the objects. This exhilarating game lasts for about 5-10 minutes for each team. The team which wins all the round emerges as the ultimate winner.
7. Three Truths and a Lie
When new employees join the work-space, then Three Truths and a Lie helps the members to know each other better. Every team will have 3-4 members, sitting in a circle, and every person will take a turn to state four different facts about themselves. They will write it on a sheet of paper.
Out of these 4 facts, 3 will be correct, and one will be a lie. Once the facts are revealed, the other 3 members will identify the lie in a single try for every member. Afterward, the truth will be revealed.
8. Team Birthday Line Up
Among all the ice breaker activities, the Team Birthday Line Up is one of the best. It is a simple game, recommended for offices that would want to improve focus and communication between co-workers. All the participants are arranged in a line, just side-by-side, and then they are asked to be rearranged according to their birthdays. This game is not that easy as it seems.
Why? This is because the participants cannot talk to each other. They will need to use sign languages and other medium of communication to let others determine what their birthday is. This team game is perfect for more than 10 participants, and the team which wins gets the prize.
9. Tower of Hanoi
Tower of Hanoi is a popular team building activity that employees can play. This building game with a brilliant mathematical twist requires group discussions, planning, and problem-solving skills to complete the puzzle. The puzzle consists of different items like three towers/posts/rods with at least or more than five discs arranged in a conical shape.
10. Goodie Bag Skits
A great way to allow employees to step out of their comfort zone is by performing goodie bag skits. Skits are entertaining, and they help to improve coordination and planning among the members as well. This game works best for a large group of participants, like 30-40 people at a time.
Divide the members into teams of 4-8 participants and then provide them with a goodie bag with different items. Now each group will be given 3 minutes to think and act a skit, and each skit will be of around 5 mins. Votes can choose the winner.
11. Scavenger Hunt
A scavenger hunt is a great game that is amusing yet encourages teams to collaborate creatively. Break the employees into different groups and then make a list of all the items that need to be found out along with the deadline that will be given to each team. The first team who finds out all the things will be the winner.
12. Penny for Your Thoughts
In a box, drop some coins and mix them well. Make sure to check the date behind the coin because it cannot be older than the birth year of the youngest employee. Now ask an employee to bring out a coin, and they will need to share a significant memory that they remember of the same year their coin shows.
13. Salt and Pepper
At the back of each participant, you will need to tape a paper without letting him check what's written. The group will now be instructed to search for their partners. However, it must be noted that they can only use "Yes or No" questions to find out what is on their back. As they find their answer, they will be able to get hold of their partners as well.
14. Barter Puzzle
Playing a barter puzzle is a way to develop team bonding and leadership. In this activity, the team which finishes the problem first wins the game. But the challenge is that the puzzle pieces are mixed with other teams, and one needs to negotiate with others to get hold of their piece. Group decision and negotiation is a must.
15. Balloon Questions
A fun team building activity, balloon questions is a straightforward task to accomplish yet very effective. Ask the participants to write down a few questions in a piece of paper and stick them on the top of a balloon. Now ask everybody to let go of the balloon and let them be in the air. After a while, everyone will need to grab one of those balloons and answer the questions which are present on it.
16. Bonding Belt
In a Bonding Belt activity, tie up 2-3 members of the team with the help of a tape or belt. Now every team will be given the task to reach from one point to the next and that too within the given time. So they will need to coordinate among themselves to unite their movements and win the game.
17. 4-Way Tug-Of-War
Tug-Of-War has always been a fun activity. Make teams of four and organize the stages of the game. The team which defeats everyone else will be the winner!
18. What's in the Room?
This game requires the teams to pick up any object from the room, which will have their unique price tag attached to them and then sell them to their employers using a marketing strategy plan and convince them as well. The team that can sell any product at the highest profit is the winner.
19. Bob the Builder
Get ten paper cups for each team of employees participating. Everyone gets a few minutes to complete the pyramid using paper cups that are provided. The challenge is once the pyramids are made, the one which stands intact for the longest time is the winner. Playtime for this game is about 25-30 minutes.
20. Paper Plane Contest
Teams will have to make a brilliant paper plane, and that is perfectly symmetric. The plane which travels the longest distance will be the winner. The teams can use a variety of plane designs.
21. Zombie Escape
Lock the teams in a dimly lit room and hide clues in that room. They will need to find these clues and solve the puzzle to get the key, which will get them out of the room. Each team will need to do this within a given time.
22. Shoe Scrambler
Ask all employees to dump their shoes in a big box and form different teams. Now, the first person of the team will run to the pile, find their shoe, and come back. The others will then repeat the same process. The team whose members get their shoes before anyone else emerge as the ultimate winner.
23. Earth Ball
In this game, the team that is able to keep a beach ball or a balloon in the air for the maximum time will win. But, no member can hit the ball twice simultaneously. Everyone will need to hit once and then, alternatively, the others.
24. All Together
Make teams of two and ask them to sit on the floor with their back against each other. Now their task will be to stand up without using their hands and without separating their backs from each other. The quickest team is the winner.
25. Spider Web
Build a web using duct tapes and strings, just like that of a spider. The teams will be asked to pass through this web without touching the strings. The team which collects the maximum points win the game.
Final Thoughts
So, here are the small fun activities for employees you can choose to organize at your company. All these games are a great way to provide the team members with a sense of teamwork, leadership, and cooperation. Frequent fun activities for employees like these will help offices develop a healthy work environment.
Also, improve the overall ambiance and relationship of your employees in the long run. Thus, ensuring that your team is able to achieve all the aims and objectives that have been set by the company.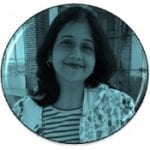 Chandrani Mukherjee
A Psychologist with a master's degree in Psychology, a former school psychologist, and a teacher by profession Chandrani loves to live life simply and happily. She is an avid reader and a keen observer. Writing has always been a passion for her, since her school days. It helps to de-stress and keeps her mentally agile. Pursuing a career in writing was a chance occurrence when she started to pen down her thoughts and experiences for a few childcare and parenting websites. Her lovable niche includes mental health, parenting, childcare, and self-improvement. She is here to share her thoughts and experiences and enrich the lives of few if not many.