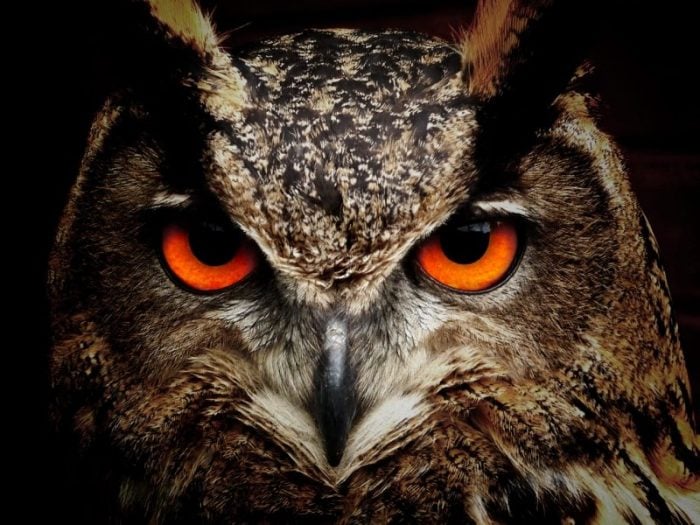 Do you feel drawn towards owls? Do you often see an owl in your dreams? Or do you bump into owls every now and then? If you answered yes to one or all of these questions, you must be wondering about owl symbolism and are not sure about what do owls mean?
The owl meaning is very powerful and can cast a very powerful impact on your life only if you listen to the calling carefully. To help you gain a deeper insight, let's first begin with –
Owl Meaning
Owl by nature is a nocturnal bird of prey with large eyes and a loud hooting call. Their appearance, both in real life and in dreams is perceived differently all over the world. Apart from extraordinary seeing and hearing skills, owls also have various other traits that make them one of the most powerful birds. Given below are a few:
Owl Traits
Exceptional Predators
Independent Thinkers
Adventurous and bold
Powerful sense of sight
270-degree vision
Sharp memory
Keen hearing
Extraordinary flying skills
Now that you have a fair idea about Owl as a bird and what makes it so special, without further ado, let's quickly move on to –
Owl Symbol Meaning
If you often find yourself very intrigued by an owl, it is not a wonder that you are here, reading this.
Owls like every other animal exist for their own purpose. Not for us. But owl meaning is very interesting and is worth exploring because of what it has to teach us. It's extraordinary set of traits and attributes symbolize something that is both special and universal.
When you are surrounded by owl energy, you will seek the truth. Owls sit quiet and observe the surroundings and so you will also become more observant and watchful. You will find yourself alienating from the hustle-bustle and take a moment out for yourself. Owl Symbolism also enables you to see things clearly and peek into your own self.
If it still seems unclear, here's a deep dive…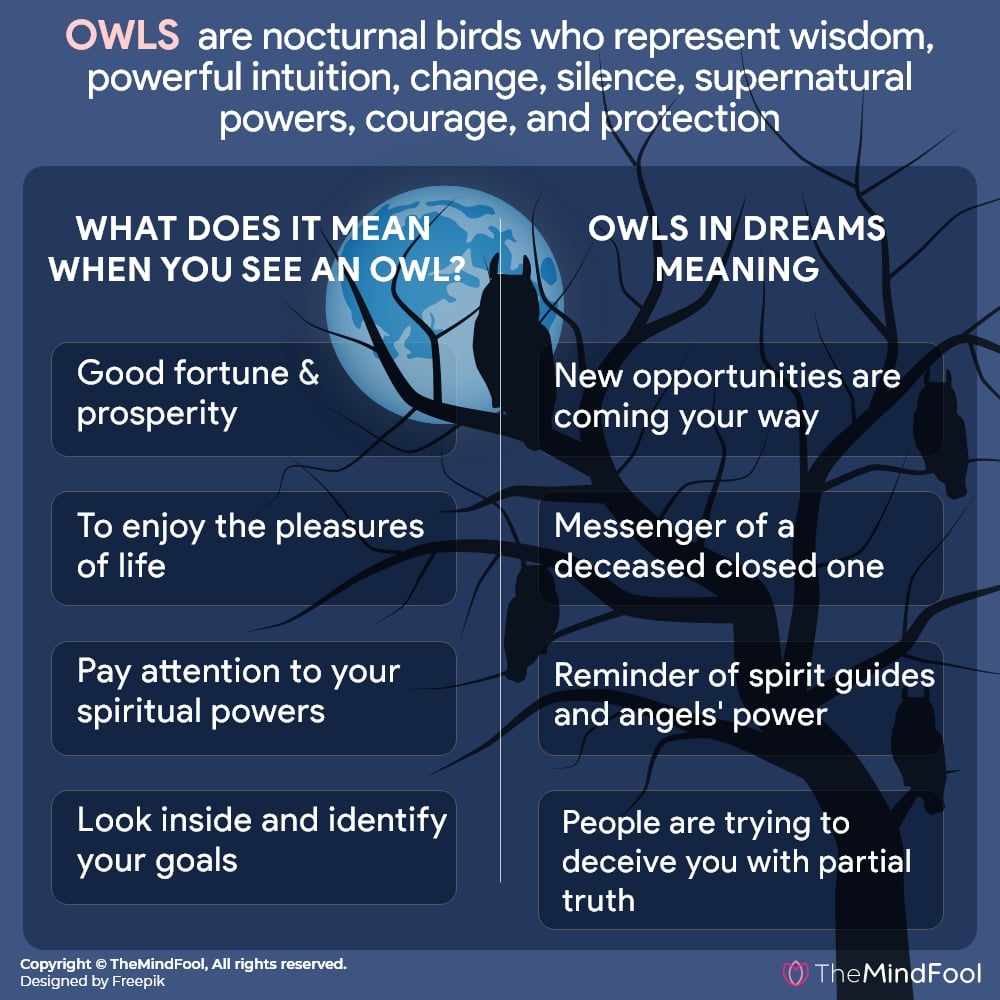 Owl Symbolism – What Do Owls Symbolize?
---
Owls symbolize powerful intuition, the capacity to perceive beyond what most can, wisdom, change, silence, quick wit, independent thinking, intelligence, supernatural powers, courage, and protection.
This nocturnal bird that becomes active when the sun goes down is bestowed with the energies of the moon and night, which further makes it symbolic to the mystery, unfathomable knowledge, and feminine fertility.
However, owl as a spirit animal (more on this later) traditionally means the announcer of death or symbolic death. Here, death is illustrative of a transition or change due to any significant life event.
Now that you know the owl meaning as a whole, most of you must be questioning –
What does it mean when you see an owl?
---
The meaning of seeing an owl in daylight can vary, depending upon people's beliefs and where they come from. Owl sightings are believed to bring good fortune and prosperity but are also a bad omen. If you wish to form your own opinion about its meaning, you must pay attention to the incidences that follow after you see or hear an owl.
In ancient times, Greek and Romans associated owls with the Goddess Athena, who symbolizes wisdom, handicraft, and warfare. Ancient Christians identified owls with a sign of evil because they linked them with Adam's first wife, Lilith who was criticized for being a disobedient wife to Adam.
Or,
What does it mean when you hear an owl?
---
The owl's hooting indicates that some misfortune is likely going to occur and affect the child or children in your family. It may also suggest that the younger one may live an unfulfilled life. According to the beliefs of ancient Welsh, a pregnant woman will have easy labor if she hears an owl hoot.
Owl Symbolism of Different Types
---
Owls are mysterious beings. While the underlying meaning of an owl symbolism stays the same, the wider connotation slightly differs varying on the species.
1. Barn Owl Symbolism
A Barn Owl symbolizes adaptation to the current situations to enjoy the pleasures of life. To live a fulfilling life, you need to embrace everything that comes your way with an open heart. Thus, this symbol asks you to welcome a period of abundance that would fulfill all your needs.
You must isolate yourself from the surroundings that might help in reconnecting with the soul. Consequently, this will help you to find the answers you are looking for and direct the future pathway.
2. Barred Owl Symbolism
With the appearance of a Barred Owl, it signifies the need for you to review your competitive personality. Working cooperatively serves the purpose of resolving rivalry that you might be currently experiencing.
Seldom, this bird is a reminder that you can weather the crisis with grace and compassion. If you seek a break in life, resort to nature for guidance and peace.
3. Burrowing Owl Symbolism
The arrival of a Burrowing Owl implies to pay attention to your spiritual entity. Your life should be filled with peals of laughter and humor to successfully walk on the path of enlightenment. Thus, you should be grounded and take life as a fun ride.
Alternately, the bird insists upon you to share your spiritual light with others.
4. Great Horned Owl Symbolism
The appearance of the Great Horned Owl signifies that you must identify your goals and take actions in concordance with it, fearlessly. Consequently, you have the opportunity to anchor clear intentions.
Also, the Owl meaning denotes that boundaries must be set with others for your peace of mind. In other words, pay attention to the true intentions of people around you in order to put a stop on wrongdoings that are directed toward you or invade your space.
5. Long-Eared Owl Symbolism
A Long-Eared Owl symbolizes the phase of passionate creativity. Thus, the clear intentions combined with actions directed towards goals have led to the time of fulfilling dreams.
Alternatively, this bird indicates that you must guard what you are attempting to build by forbidding others to sabotage your endeavors.
6. Screech Owl Symbolism
This bird symbolizes your capacity to sustain your authentic self in the presence of others. In other words, the decisions that you make are completely the products of your mind instead of being forced upon you.
Furthermore, the Screech Owl meaning indicates that you are overwhelmed by a task. However, this raptor insists upon you to break down things into smaller chunks so as to change your perception of the task. Hence, the task will become easy for you to accomplish.
7. Short-Eared Owl Symbolism
The appearance of a Short-eared Owl symbolism is a reminder that any task that you embark on, presently, will demand substantial knowledge and preparation. Thus, you must stay grounded and enjoy the process without hurrying to move ahead.
Seldom, this bird is a hint that your senses must be fully alert, currently as new insights are accessible to you.
8. Snowy Owl Symbolism
The appearance of a Snowy Owl symbolism indicates that you must strategize to free yourself from the prevailing situation. Furthermore, with careful and patient mapping out a plan, you will be able to advance and retreat from the current situation.
Alternately, this great white bird of prey insists upon you to use your prudence in fulfilling your desires.
NOTE
Have you heard of this phrase "be careful what you wish for, it might just come true"? So, pay attention to what you are asking as you may well manifest it.
9. White Owl Symbolism (White owl meaning)
White Owls usually bring fear along with some surprise and excitement. A white owl also symbolizes the very common message i.e. Nothing lasts forever – which means the struggles that you are currently facing will pass away.
However, if you see it repeatedly, it means that you need to end something in your life that is not serving you right.
Owl Spiritual Meaning
---
1. Cultures and Religions with a positive spiritual meaning of owls
A. African Culture
In the West African and Aboriginal Australian cultures, owls are considered to be companions of sages and mystics, which also consider them to be the messengers of secrets and mysteries.
B. Greek Mythology
According to Greek traditions, a little owl symbolizes or accompanies goddess Athena, the ancient Greek goddess of wisdom, handicraft, and warfare.
C. Religion of Islam
Among followers of Islam, it is believed that an owl spends its day and night in holy solitude, laments for the grandson of Prophet Muhammad, Imam al-Hussain.
D. Celtic Mythology
In Celtic mythology, it is believed that owls are defenders of truth and have zero-tolerance for deception. They are also considered as the messenger between the human-divine and have been tied close to the Goddess of Fertility. Apart from that, they believe Owls know the way to the Underworld and have the ability to see in the dark.
2. Cultures and Religions with a negative spiritual meaning of owls
A. Religion of Christianity
According to Christian traditions, an owl is associated with the Devil, evil spirits and desolation. Particularly the Old Testament features owls as an impure figure that brings destruction.
B. Mexican Culture
Mexican people like other cultures, also believe that an owl is a representative of symbolic death and illness, with its haunting cry intimating that misfortune is approaching.
C. Owl Meaning in the Bible
In the bible, owl holds a negative connotation that describes owl as an unclean creature. Apart from that, a few other symbolisms that are in the context of Owls are mourning, loneliness, or even desolation.
D. Chinese tradition
Chinese also associate owls with death, like other traditions.
E. Ancient Rome
For the Romans, owls hooting and screeching were symbolic of death.
3. Cultures and Religions with both positive and negative spiritual meanings of owls
A. Native American Traditions
Native Americans have two different outlooks on how owls are perceived in their culture. They often refer to an owl as a "Night Eagle", for its sharp night vision, which calls for the Native Americans to view owls as a symbol of wisdom, foresight, and protection.
Thus, as a protector against harm, feathers of owls are worn to deflect evil spirits. On the contrary, some regard owls as conjurers and foretellers of death or evil because of its fierce and quiet nature. They also believe that its presence can facilitate a person to develop negative psychic powers to use against others for selfish purposes.
The Cherokee Indians, one of the indigenous people of the South-eastern Woodlands of the United States associate an owl with the mythology of creation and regard it as a spiritual adviser on ailment and punishment. Some also signify it with death.
B. Religion of Hinduism
In Hinduism, an owl is seen both positively and negatively. On one hand, an owl is the vahana or carrier of the Hindu Goddess of wealth and prosperity, Lakshmi; while some see it as Goddess Lakshmi's elder sister, Alakshmi, who brings poverty and grief.
C. The Illuminati
The Illuminati, assumingly the messengers of the hidden knowledge of ancient divinities, consider the owl as one of their representatives, with its large staring eyes symbolic of their observant and insightful character.
D. The Freemasons
The Freemasons regard an owl as symbolic to reincarnation, because of its nocturnal nature. They also consider it to be a representative of the spirit of a dead person because they believe they wait at night to enter another body.
Representation of Owl in Astrology & Zodiac Signs
---
In cultures of Native America, every person is designated with an animal, based on the time of the year that they are born. According to Zodiac & Astrology in Native American culture, the owl is the animal symbol for somebody born between May 21 – June 21 (Southern Hemisphere) and November 23 and December 21 (Northern Hemisphere).
People born under the sign of the Owl are exceptional communicators, quick-witted, virtuous and possess a good sense of honor.
The incredible and mysterious ability of the Owl people to move efficiently and silently through literal or metaphorical darkness often put them under the shadow of misunderstandings. Similarly, owl people are quick on their feet making it difficult for others to keep up with them.
Owl Spirit Animal
---
Positive Traits of Owl spirit Animal
When owls make way to your life as your spirit animal, you have the opportunity to keenly observe your surroundings. You will be surprised to notice minute details that you previously missed out.
You are driven by your mind, but have a deep and sensitive side, too. Since your soul is surrounded by Owl energy, you can retrospect, introspect, and foresight with incredible precision.
Owls as Spirit Animal Guides asks you to let go of shadows of the past and fears for the future to discover true happiness in life.
Owls have asymmetrical ears that enable them to hear separately in each ear. Therefore, if you are blessed with the owl as your animal spirit guide, you may hear and understand beyond what is just being said by others.
Negative Traits of Owl spirit Animal
Seeing an owl spirit animal is considered a bad omen in a few cultures. Some believe that an owl denotes a symbolic death, that is, your life taking a somersault, suddenly, because of an important life event.
The good thing about the negative traits of the Owl Spirit Animal is that it calls for your attention to things that need your time, patience, and labor. This is your reminder to try harder, be compassionate, and be more committed toward life.
Make more room for new and better things rather than pondering over fears and worries about life.
When to call on your Owl Spirit Animal?
You are going through a difficult phase in life
When you need clarity in which direction you should walk for a better life.
You need insight and guidance on what choices and decisions to make in life.
You require good judgment and support from your Spirit Animal.
How do you know if Owl is your Spirit Animal?
If you are pondering over whether the owl is your spirit animal, reflect on the questions below.
Did owls catch your interest from childhood?
Has an owl attempted to make itself familiarise with you, either by crossing your pathway in life or in art and the digital world has glued your attention?
Do you feel curious about owls and feel like you connect well with them?
Did an owl or owls make way to your dreams?
Do your family and friends often call you 'a night owl' for staying awake late at night or much earlier in the morning, when the majority of people are sleeping?
Did a story, novel, or movie that involved an owl made a powerful impact on you?
Are you intuitive and keenly insightful?
Do people oftentimes come to you for guidance, such as what action should they take in a given situation?
Are you quite in nature and do not prefer to speak unless it's important?
To find your spirit animal, you must align with your soul and pay attention to what it is trying to communicate to you. Only your soul can help you understand if the owl is your spirit animal.
Owl Power Animal
---
Call on the owl as a Power Animal if you desire to open doorways to mysterious realms. You presumably like to embark on journeys that allow you to explore the unknown, if you have the owl as your power animal. The riddles of life fascinate you. You start to appreciate life's magic and the hidden treasures of life.
When the owl makes a way in your life, pay attention, and observe the signs that are subtly presented to you.
Additionally, the owl reveals your hidden gifts of talents and abilities; thus, preparing you for self-actualization. It will also give rise to your intuitive nature.
You feel that during the night time, there is a surge in your creative expressions, so take the opportunity to pay attention to your creative drive then.
Owls are extraordinary predators and hardly anything can stop them from catching their prey. Thus, if you wish to partner with this nocturnal bird, focus, persistence, and stillness can help you win anything that you set your sight and heart on.
Owl Totem Animal
---
Having the Owl as a Totem Animal will help you strongly connect with the darkness, femininity, passivity, and the earth, as will your awareness of moon cycles. You must embrace the inner Goddess to listen to your inner voice.
Owl, as a Totem Animal, allows you to delve deeper into the spiritual side of your soul. You will know things discreetly about people around you that are based on reality and can imbibe awkwardness in certain situations. Individuals who have Owl totems often have clairvoyance that grows as they form stronger connections with their totems.
The Owl totem is honored for its discernment. Thus, let this spiritual being be your guide in difficult situations. Listen to your inner voice that is intuitive and insightful and trust your spiritual radar about people. Let the creativity bloom as the night falls and connect with the divine.
Owl Spirit has excelled in remaining silent and still. Having Owl as your Totem Animal, you will refuse to speak without purpose. Your strength to remain calm at the sea will clearly help you to gain wisdom more than others.
Owls in Dream
Dreams of owls are very common but its symbolization is different than when you see it in waking life. The interpretations may also vary depending on the type of owl you see in your dreams, it's activity and also its colour.
Right from seeing a white owl in your dream to waking up to owls staring at you – each of them have their own significance.
For instance, if you have seen an owl speaking in your dream, it might be an indication that you are about to spill some secrets. However, a silent owl may be interpreted as secret keeping skills, whether it's your own or others.
If you have also dreamt of an owl, my recommendation is to write all the details as soon as you wake up from your sleep. It will help you interpret it accurately. For interpretation, this will help you – What Does Owl in Dream Mean?
Owl Tattoo Meaning
---
Tattoos are permanent and will stay with you forever. So, if your choice is an owl, you must know its inherent meaning and impact in your life.
Like we discussed, owls are beautiful and intriguing that usually represent wisdom, knowledge, and transition. Apart from that, they also represent Intuition, knowledge, vision, Intelligence, or even death.
Owl tattoos can both be colorful and black and white and are usually unisex, that is they are worn by both men and women. They can also be accompanied by some other symbols or elements like a key, a clock, or even a flower. However, each of these additions has a different meaning so it's extremely important that you research and discuss it with your tattoo artist.
Owl Quotes
---
Since ages, owls have impacted human minds, powerfully. Let's reflect on quotes and understand the writer's views on owls.
1. "It was the owl that shrieked, the fatal bellman, which gives the sternest good night."

– William Shakespeare, Macbeth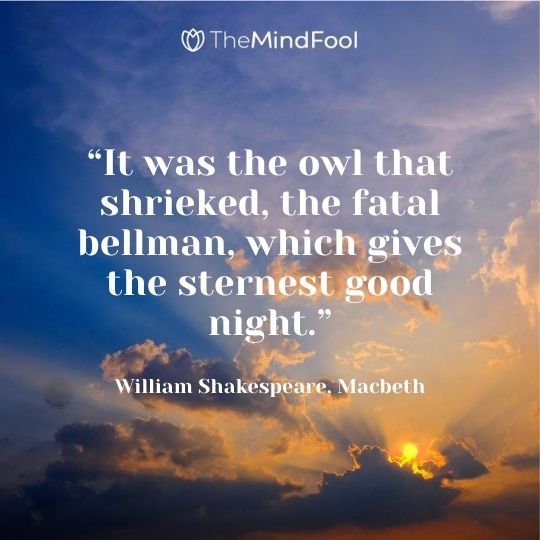 2. "Do you think I was born in a wood to be afraid of an owl?"

– Jonathan Swift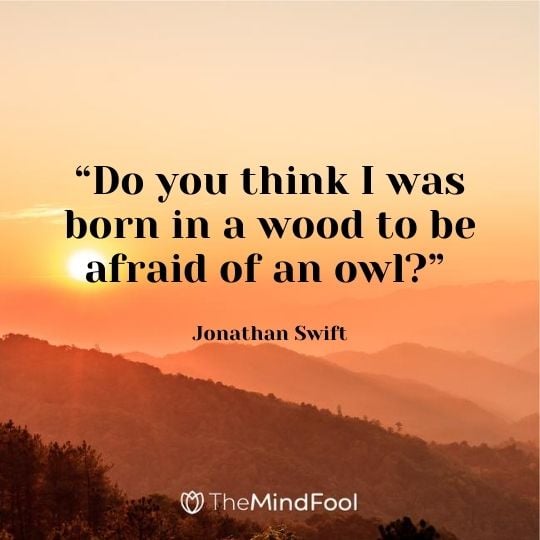 3. "An owl sound wandered along the road with me. I didn't hear it. I breathed it into my ears."

– William Stafford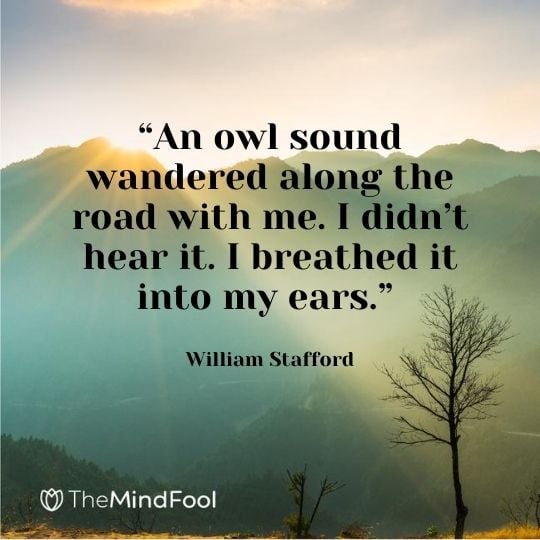 4. "An owl is traditionally a symbol of wisdom, so we are neither doves or hawks but owls, and we are vigilant when others are resting."

– Urjit Patel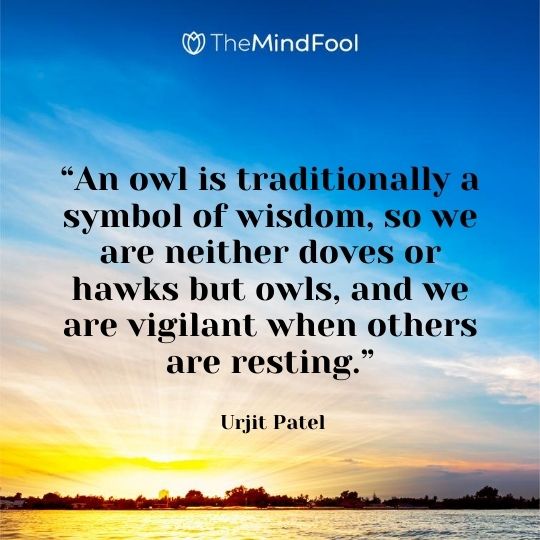 5. "Owls are known as lonely birds; but it is not known that they have the forest as their best friend."

– Mehmet Murat İldan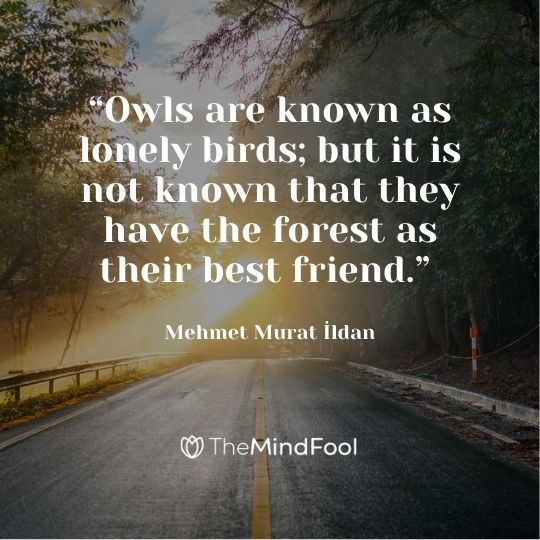 6. "In the enemy's territory, be as silent as the owl's wings; in friend's territory, be as cheerful as the nightingale's songs."

– Mehmet Murat İldan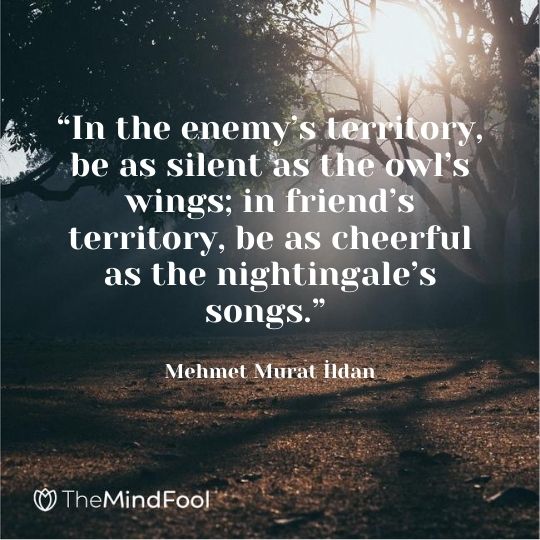 7. "Why should I copy this owl, this sea urchin? Why should I try to imitate nature? I might just as well try to trace a perfect circle."

– Pablo Picasso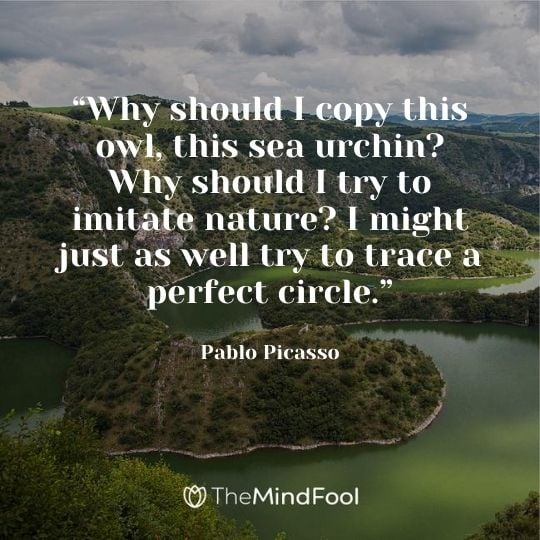 8. "If we don't preserve forest habitat for spotted owls, then soon we won't have trees to refresh the air we breathe."

– Sam Keen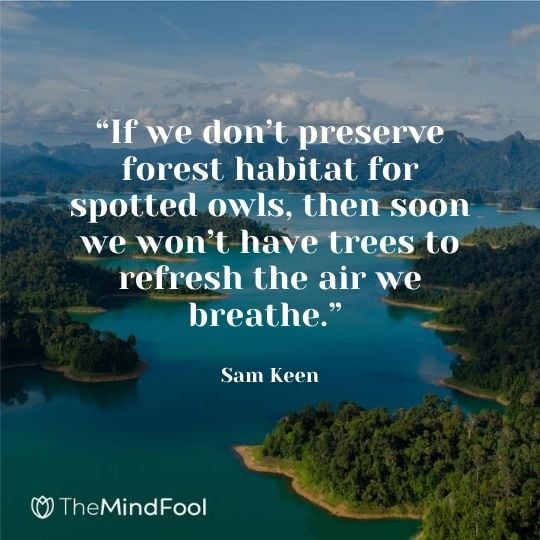 9. "The owl is the wisest of all birds because the more it sees, the less it talks."

– Nigerian Proverb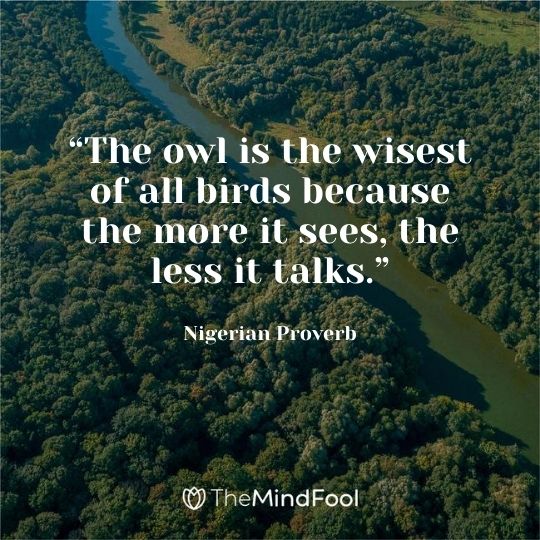 10. There was an old man with a beard, who said: 'It is just as I feared! Two owls and a hen, four larks, and a wren Have all built their nests in my beard."

– Edward Lear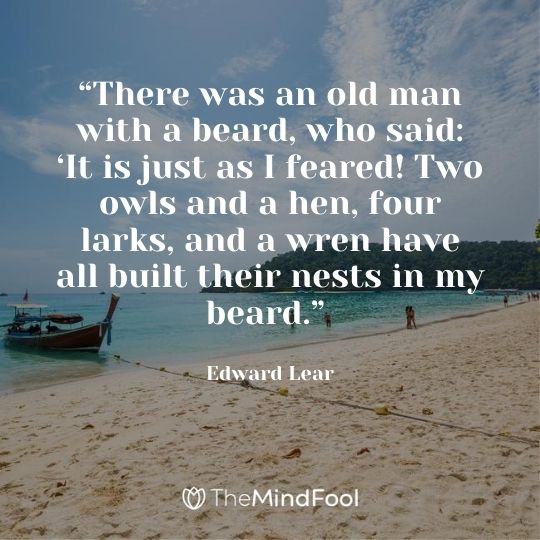 Closing Thoughts
Don't brush off your attraction for the owls or their common appearance in your life. Everything happens for a reason only if you wish to seek it. Trust your intuition and follow your calling but make sure you utilize these gifts to uplift others and yourself.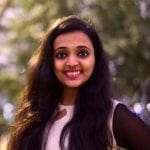 Surabhi Kedia
Surabhi has a deep passion for words. She puts her heart and mind into whatever she pursues and craves for creative ventures. She has always been keen on creating original content that can make a difference. In her experience as a content writer, she has had the opportunity to work on several fields with Psychology being her favorite. Surabhi says, words have the power to transform the world, better than a sword. So she hopes to contribute her bit to this revolution. At TheMindFool, she feels lucky to have the opportunity to share content capable of bringing about a change in the lives of the readers.