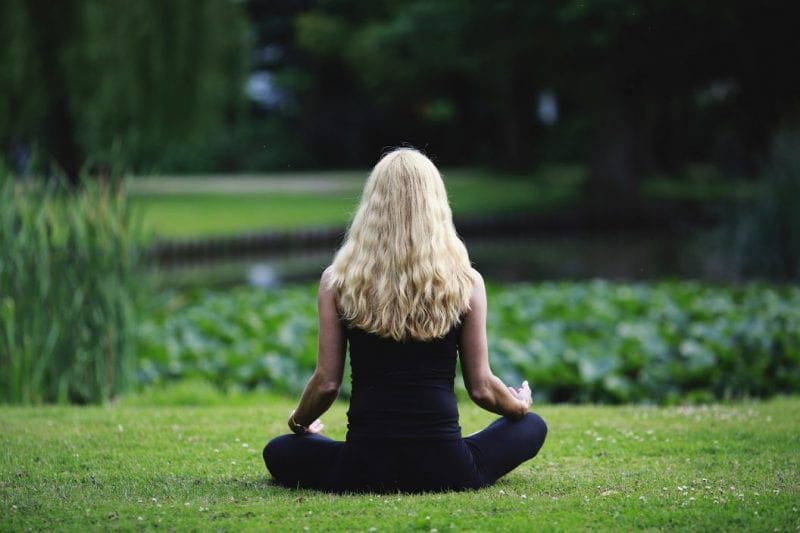 Our minds are often anywhere but here. In other words, we always worry about the future or think about our past. And this causes more problems in our lives than we think. An important remedy to stress-causing conditions is to learn how to bring our minds back to the here and now. And mindfulness teaches us exactly that! There are many ways to practice being in the present moment. Palouse mindfulness is one of the effective methods to practice the power of now.
What is Palouse Mindfulness?
Palouse mindfulness is a method that can be learned by taking up the Mindfulness-Based Stress Reduction MBSR course. The practice includes elements of yoga and guided meditation. Along with body awareness and stress relieving methods.
NOTE
The "Palouse" in the terminology comes from the north-west region of the United States. So when you think of Palouse, you visualize the gently rolling hills. Where the seasons come and go, but the hills remain undisturbed. Hence, the nature of this landscape inspired the nomenclature of this mindfulness technique.
Structure of the Palouse Mindfulness Course
The Palouse mindfulness course spreads across eight weeks. And the course offers informational videos, readings, and practices.
Here's what the structure looks like week-wise –
Simple awareness

You learn the method of scanning your body.

Attention and the brain

You understand the concept of meditating in a sitting position.

Dealing with thoughts

You take your first step towards Yoga.

Stress: responding vs reacting

You learn the STOP method of a one-minute breathing space. And dive deeper into Yoga.

Turning toward

You understand how to deal with difficult emotional or physical pain.

Mindfulness and communication

You learn the Mountain Meditation and the Lake Meditation techniques.

Mindfulness and compassion

You practice the Loving Kindness Meditation technique.

Conclusion

You develop a unique practice to suit your personal requirements.
You would receive a certificate of completion on concluding all the modules of the course in 8 weeks.
Where to Access the Palouse Mindfulness Course?
You can take the Palouse mindfulness course either in person or online. In live classes, you may have to pay a certain fee. But the online course is free of cost.
David Potter developed the online course after seeing great benefits in this technique. David Potter retired as a well-known professional psychotherapist. And he is a certified MBSR instructor at the University of Massachusetts Medical School. He taught MBSR in person for 12 years.
David wanted to make this available for everyone wherever they are. Most importantly, his intention was to help people, even if they could not afford to pay for it. So he started designing Palouse Mindfulness by uploading the entire course online. And by making all the resources available for free of cost.
Useful Tips to Getting Started with Palouse Mindfulness Course
If you're interested in taking up Palouse mindfulness, here are some helpful tips and handy information – –
Visit the Palouse mindfulness MBSR official course website.
There is no need for registration or enrollment of any sort.
You don't need to share your personal details or email address.
There is no compulsion to pay for the course. But if you wish to make a contribution, there is a "Donate" button.
You can access the course directly from the website and get started.
There is an Online Student Community to support all students. You can share your experiences or ask queries if any. They are usually answered within an hour or two.
Once you complete the course, you can request your course completion certificate.
To do this, submit your seven practice sheets. And a written page about how you will be applying what you learned in the course.
6 Benefits of Palouse Mindfulness
SUMMARY
Practicing Palouse mindfulness regularly can help you reduce stress and other mental ailments. And it also enhances your senses, builds empathy, and strengthens your responding skills. Subsequently, it will help you understand your body and mind better.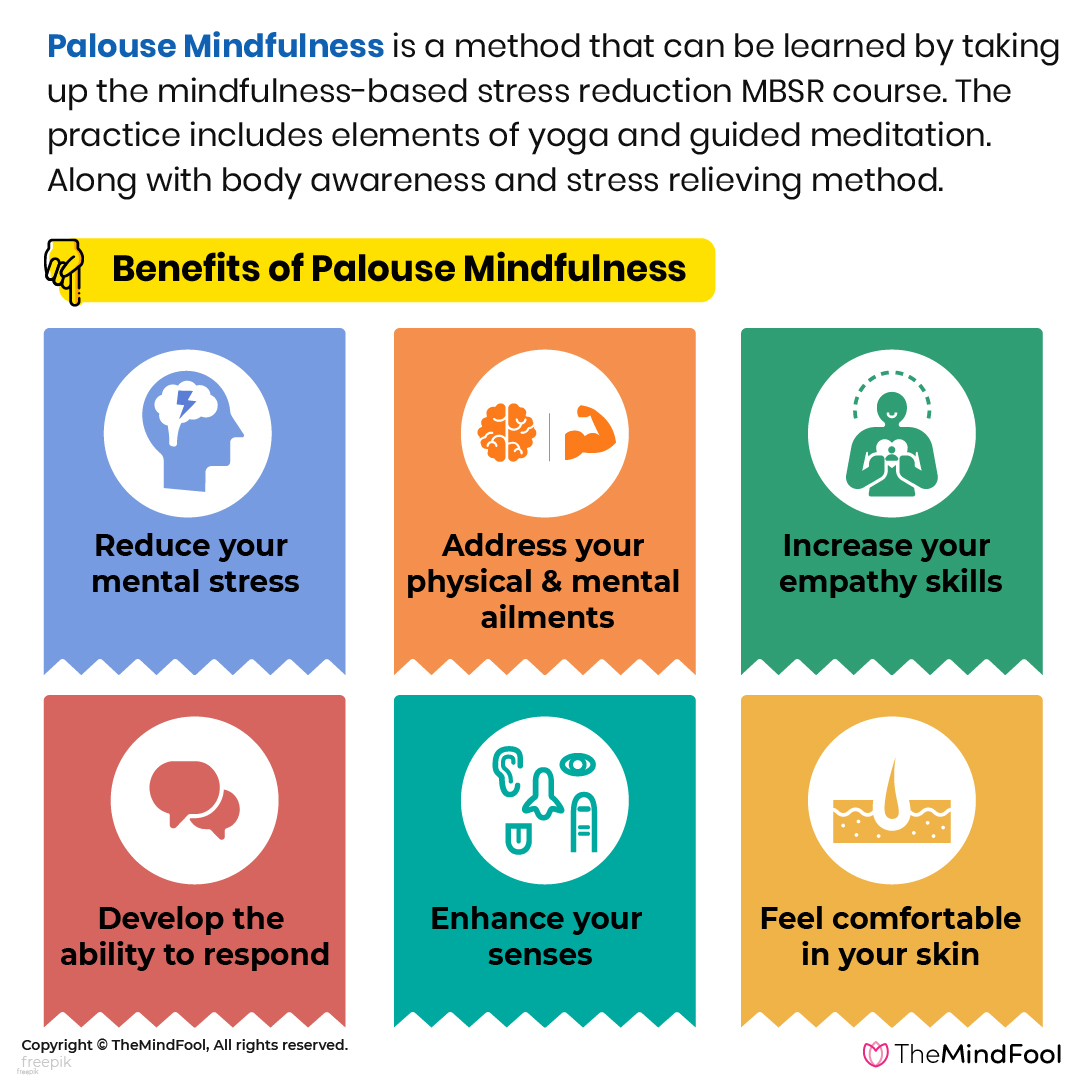 1. Reduce your mental stress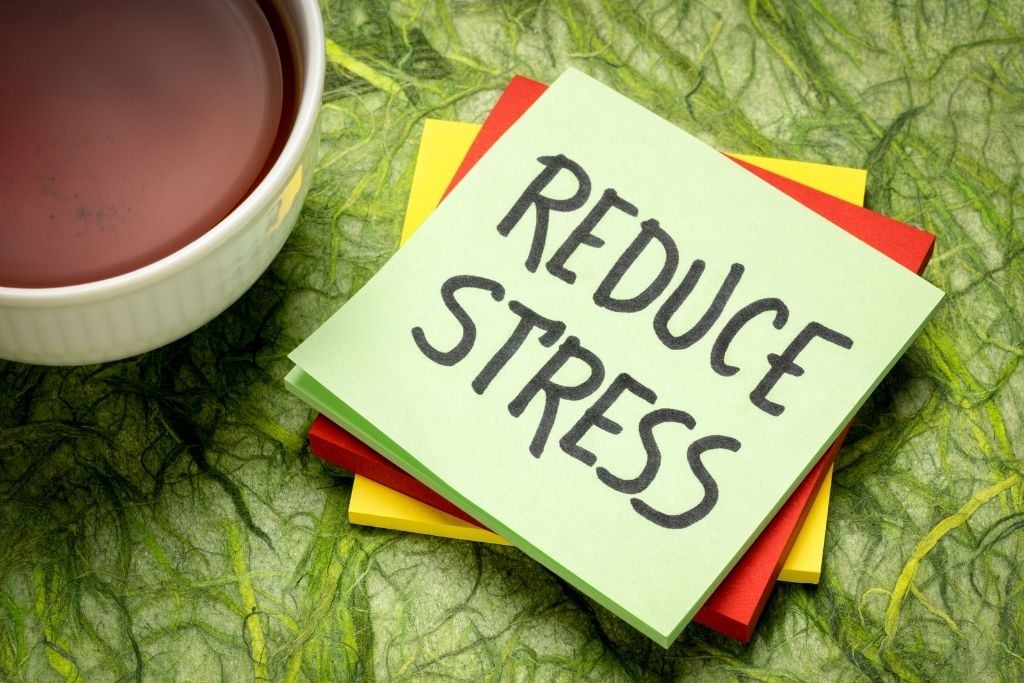 Practicing Palouse mindfulness can help you decrease your anxiety levels. And you will be able to cope with any depression as well.
2. Increase your empathy skills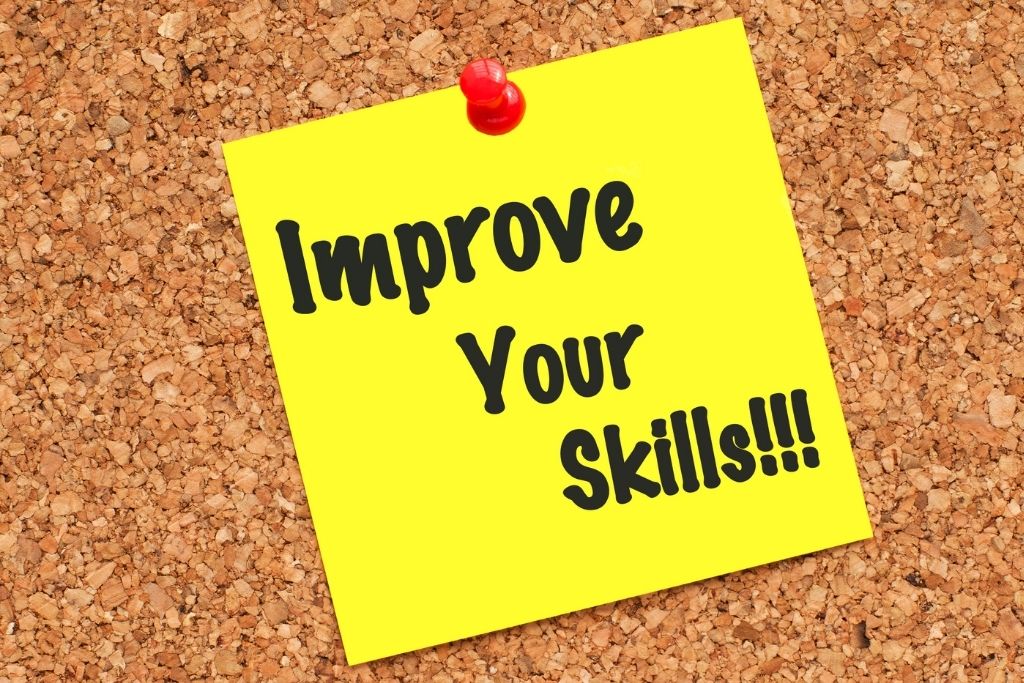 When you feel empathetic, your focus shifts from being just on you to all the living entities around you. Therefore, being mindful of your surroundings works wonders on uplifting your mood.
3. Develop the ability to respond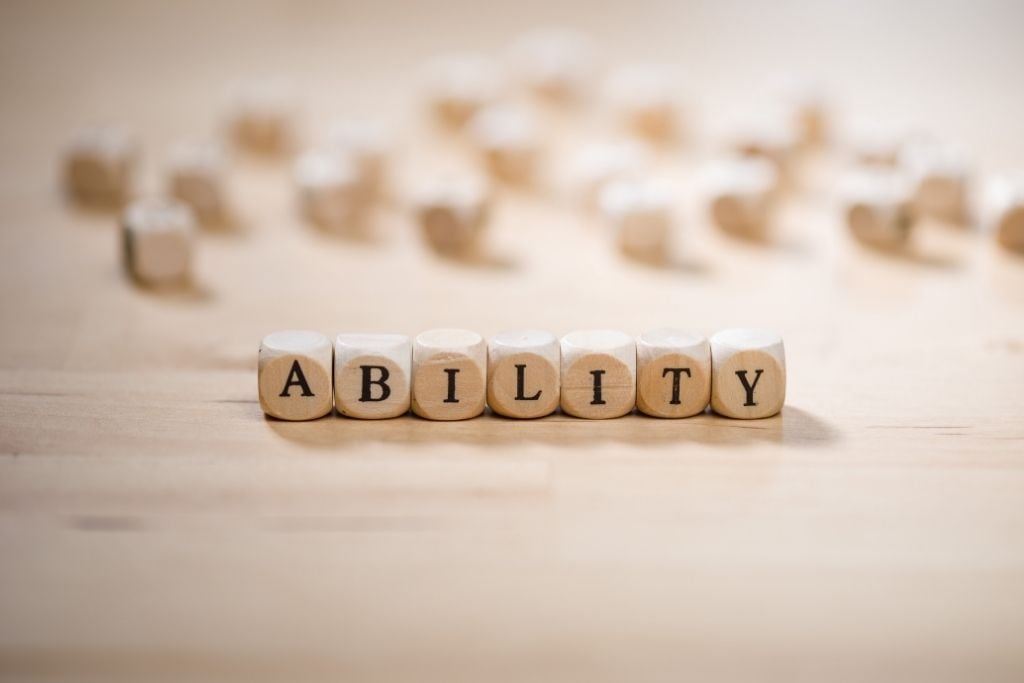 In situations of distress or tension, a person is usually quick to react. But this only makes matters worse and paves the way for more stress. Whereas, being mindful allows you to take a step back. And analyze the situation with a calm mind before responding.
4. Enhance your senses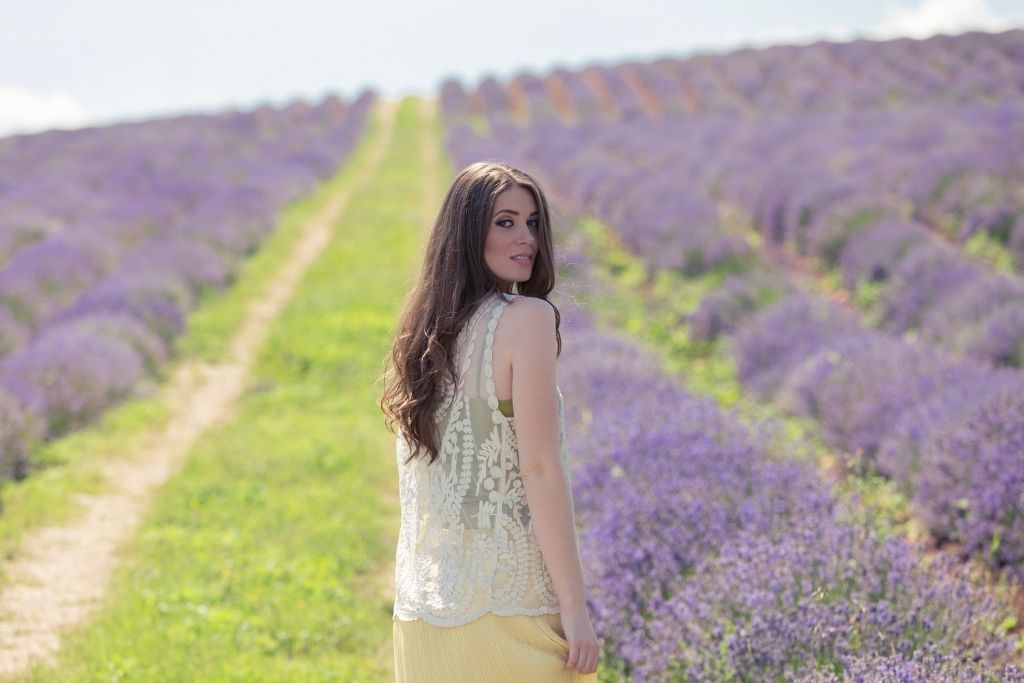 Mindfulness opens up your life to new experiences by bringing them to your attention. So, you can smell your surroundings, savor the sights, and feel different textures. Gradually, this helps you ground your body and mind to the present.
5. Feel comfortable in your skin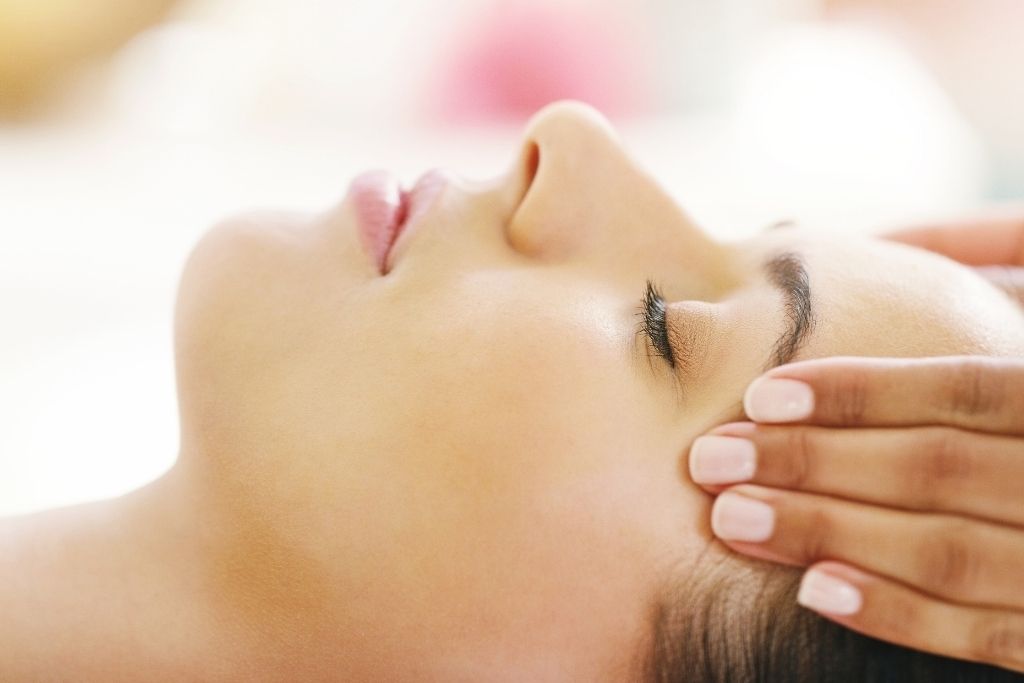 Mindfulness practices help you to tune in with your body. Further, you become more aware of how you feel inside your body. And by acknowledging this, you can become more comfortable and confident. Moreover, the first step towards feeling safer in this world is to feel safe inside your own body first.
6. Address your physical and mental ailments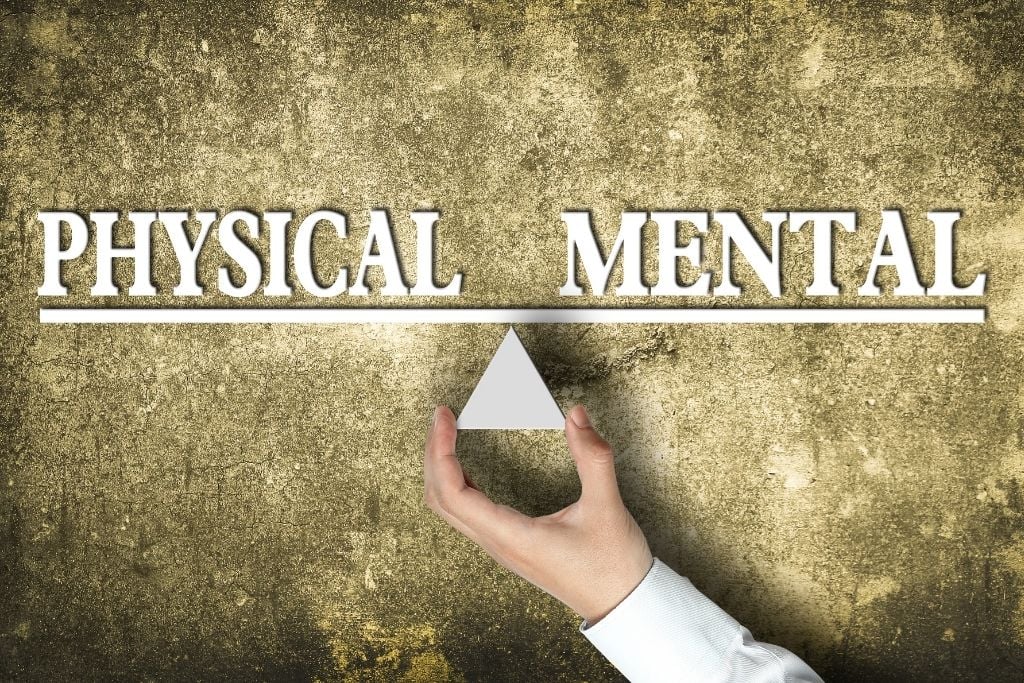 By being mindful, you have a better chance of living a healthier life. It reduces the toll on your heart. And also helps you heal chronic pain. By supporting you to be more mindful of your body sensations and figuring out the cause of your pain. Furthermore, mindfulness also helps you lower your blood pressure. And helps you control asthma.
Reasons You Should Try Palouse Mindfulness
1. Palouse mindfulness technique is effective.
Studies show that the practice of Palouse mindfulness regularly reduces the symptoms of the following conditions –
Hypertension
Anxiety
Coronary artery disease
Chronic pain
Cancer
Asthma
Respiratory disorders
Headache
Multiple sclerosis
Irritable bowel syndrome
Depression
Fibromyalgia
Psoriasis
Diabetes Type 1
2. No cost involved to avail the course
There's no registration fee or any procedure involved to access the course material. Everything is offered free of cost by Dave Potter. So you can make use of the Palouse mindfulness technique to enhance your well-being.
3. The course is extensive and complete
The course offers a lot of videos, articles, and other helpful material. This comprehensive information is presented to you over 8 weeks in a well-designed course structure. Each week focuses on one concept and helps you to tread through the curriculum without being swamped.
4. No religious material is included in the course
This mindfulness technique does not promote or require any religious affiliation. The course focuses mostly on understanding and observing your thoughts and patterns.
5. The process is slow and not overwhelming
The course encourages you to go slow and steady. It does not promise an immediate change in your state of being, which makes it all the more genuine and trustworthy. Because developing mindfulness takes practice, dedication, and time. And the Palouse mindfulness technique guides you through this without pressurizing you into anything.
Closing Thoughts
Palouse Mindfulness is an excellent tool to practice strengthening your presence. And the fact that it's freely available online makes it more accessible. So, you can take it up at your own pace and get comfortable guiding yourself through the changes. By bringing mindfulness into your routine, you can free up your time and space for more important things in life. The ones that bring you love, joy, and good health.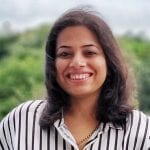 Pranita Bhat
Pranita loves words! She has spent most of her childhood and adult life reading and writing. So it wasn't a surprise when she quit her corporate IT job within a year to pursue her career as a writer. In her 7+ years into the field of content writing, she has worked on various niches. Psychology, mental health, spirituality, health & wellness, fashion, and food are her favorite ones. Pranita says that it's every writer's hope that their words survive longer than they do. So she hopes her words continue to light up other readers' path like so many writings have lit her's. At The Mindfool, she is happy to be contributing to articles that have the power to make a positive difference in people's lives.