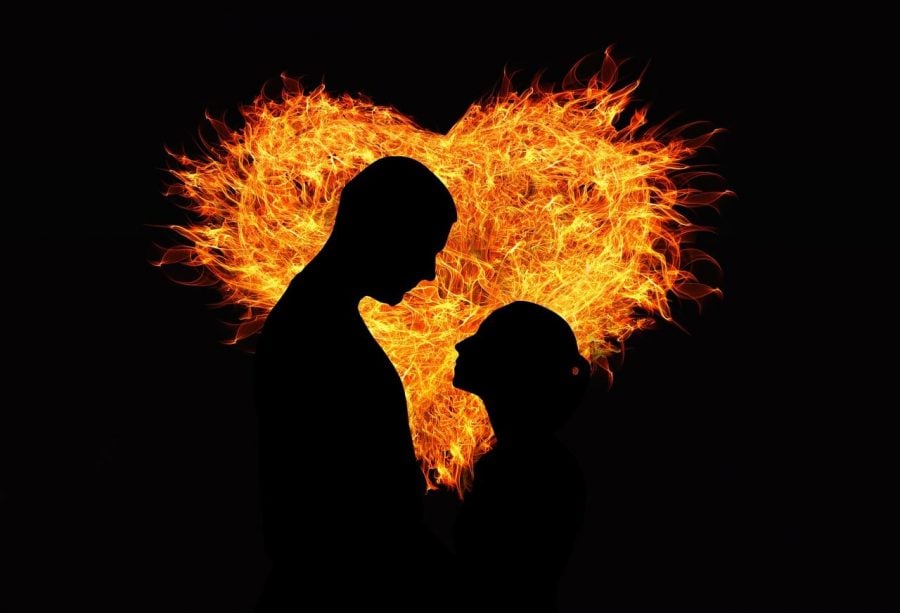 According to Chinese culture, there are two sets of opposing as well as complimenting cosmic forces called the yin and yang. Similar to this concept is that of the twin flames. When you meet this person you go through eight twin flame stages.
Twin flames meet in a lifetime to help each other and teach important lessons in their soul journey. These two souls will have unconditional love and will uplift each other.
What is A Twin Flame?
---
SUMMARY
Twin flames come from the same source. One soul is said to split into two before coming to this world.
Twin Flames are said to come from a common origin. These souls were split into halves before the start of their journey to this world. This is why they are so identical that they mirror each other.
Depending on a soul's maturity level their relationship will unfold. For instance, two old souls would have a harmonious relationship while two young souls might create pain to the other because they have lessons to learn.
Remember, the age of the souls has nothing to do with their physical age! It is the number of births a soul has taken before this present existence.
Jeff Divine and Shaleia Divine in their book, Twin Flames: Finding Your Ultimate Lover says that there is a person in this world who wants to fulfill all your desires. This person was created just for you, to complete you.
Twin Flames are mostly romantic partners but they can also be friends, lovers, teachers, or family members. They are kindred spirits that have made a soul contract before arriving in this world.
13 Signs that You are in Twin Flame Relationship
---
The time comes to a standstill when you are together.
You understand each other so well that you don't need to communicate everything. It's like you just know what's happening with them!
There is a strong sense of support and unconditional love in this kind of relationship.
In a twin flame relationship, both of you will experience déjà vu.
There is such an intense attraction between you two that others around you can sense it.
You have the same values in life.
Your twin flame knows you better than anybody else in your life!
Even if you fight, you find ways to resolve and come together.
You are either romantic partners or best friends or one of you is a teacher or mentor.
As twin flames, you assist each other to learn important life lessons.
You have a common spiritual or social purpose to which you are inclined.
Twin flames have synchronicities between them. Maybe both of you are doing the same thing although at a different place. Or you realized something at the same time.
If in a twin flame relationship, you will see angel numbers everywhere!
Twin Flame Symbol
---
The symbol of twin flame began with an image that contains an infinity symbol and a triangle containing a flame. The infinity symbol can also be said as an image of two circles that are intertwined. It could be thought of as a symbol where the circles formed the two halves of the eight.
The two internal circles symbolized the separate entities of masculine and feminine. Ascended Master Saint Germain explained that these circles symbolized the union between the divine masculine and the divine feminine.
It represents the energies uniting together, experiencing the moving energies within the inner eye of the heart. Germain began to clarify the significance of the triangle in the symbol.
The fire at the center of the triangle represents the strength of the relationship.
Twin Flame vs Soulmate
---
| | |
| --- | --- |
| Twin Flame | Soulmate |
| There is only one twin flame for each Soul | They can be multiple in numbers |
| They come from one energy that is split into two | Although they have similar energies but had never existed infusion |
| Twin Flames share the same soul purpose | Soulmates supports you in your mission but they may or may not have the same soul purpose as yours |
Twin Flame vs Soulmate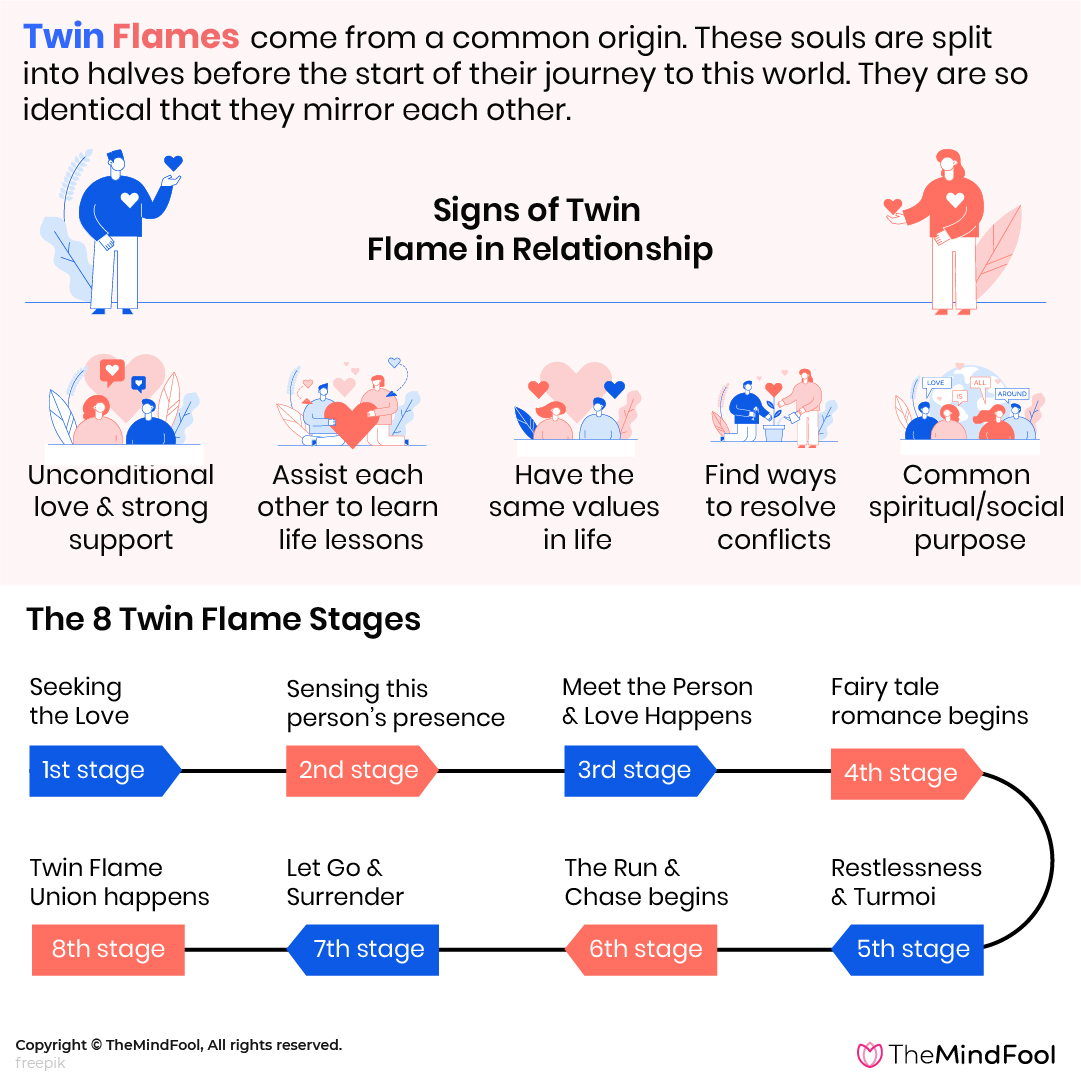 Twin Flame Stages
---
Twin Flame Stage #1 – Seeking the One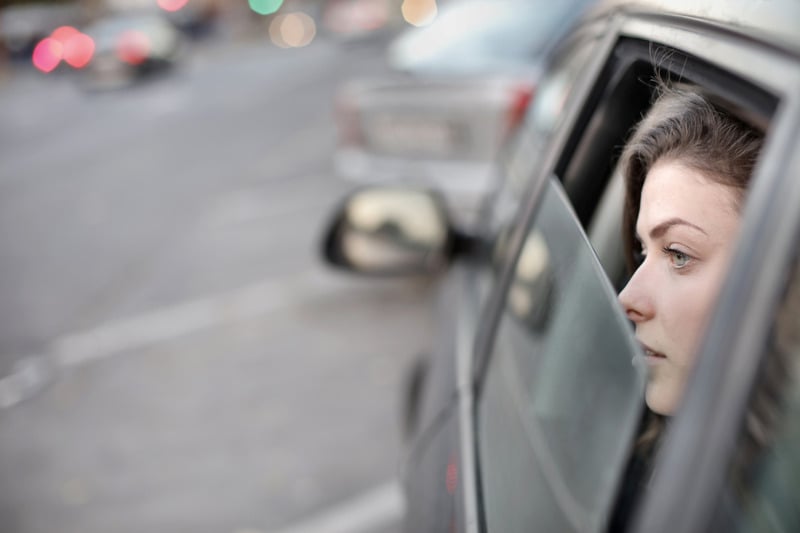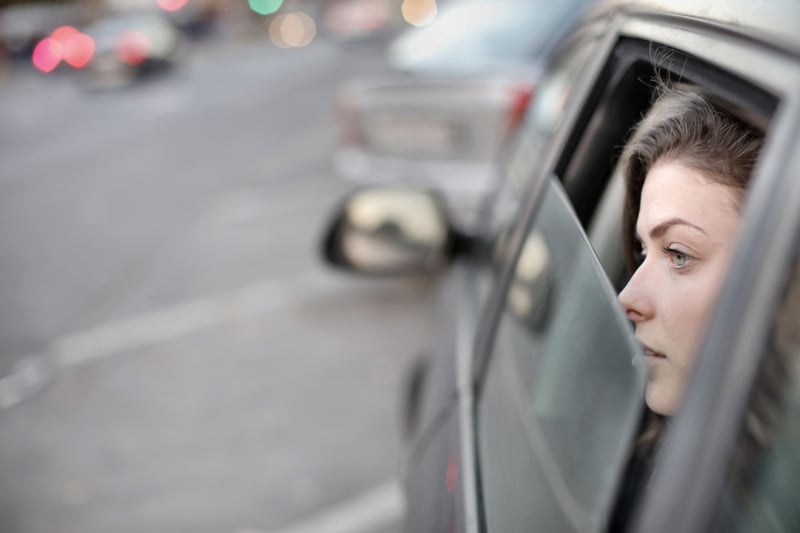 Initially before finding your twin flame you will have a strange sensation. Deep down you will feel immensely happy and would want to have love in your life. It is also a preparatory stage where you indulge in self-development.
In this stage you would want to fall in love with someone at the soul level. You will seek a romantic partner with whom you can have a long term relationship.
Falling in love would be your utmost desire. In this stage you will also start believing in the concepts of divine love and kindred spirits.
Also, you would feel frustrated at times because you have not met your true love by now.
Twin Flame Stage #2 – Sensing this person's presence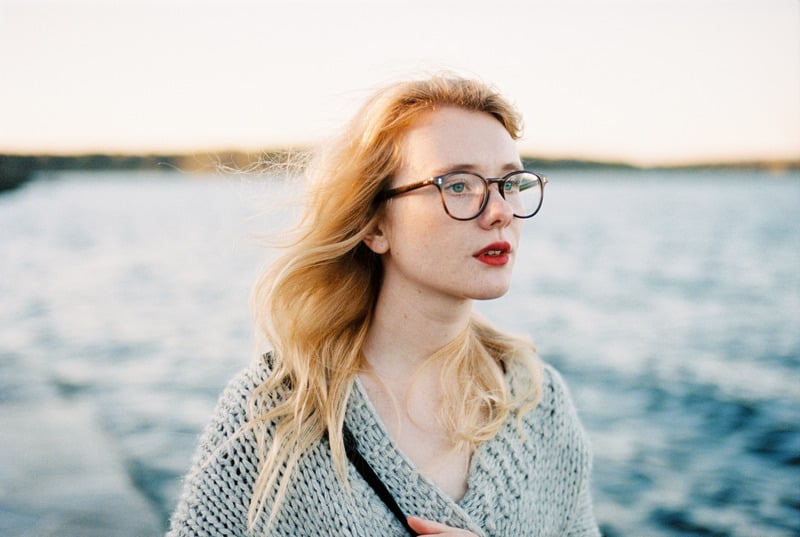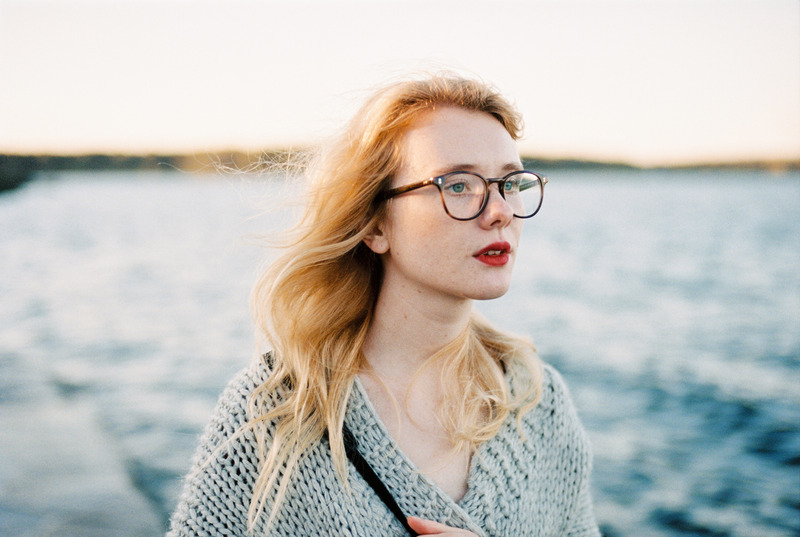 In the previous stage you were feeling strong to find true love. On this stage, you sense the existence of your twin flame or twin soul.
It is a beautiful phase in which you will feel the soul split and a twin flame connection intuitively. You feel connected and are certain that you have met your twin flame before!
A sense of calm resides in your heart. You realize the presence of a true twin who is destined to be your life partner.
In this phase you start looking for twin flame signs and they appear before you. The flame signs predict that the person is about to enter your life.
Often in this stage twin, you catch a glimpse of your twin soul in a dream or in real! You start believing in Universal laws such as the law of attraction.
Twin Flame Stage #3 – Love Actually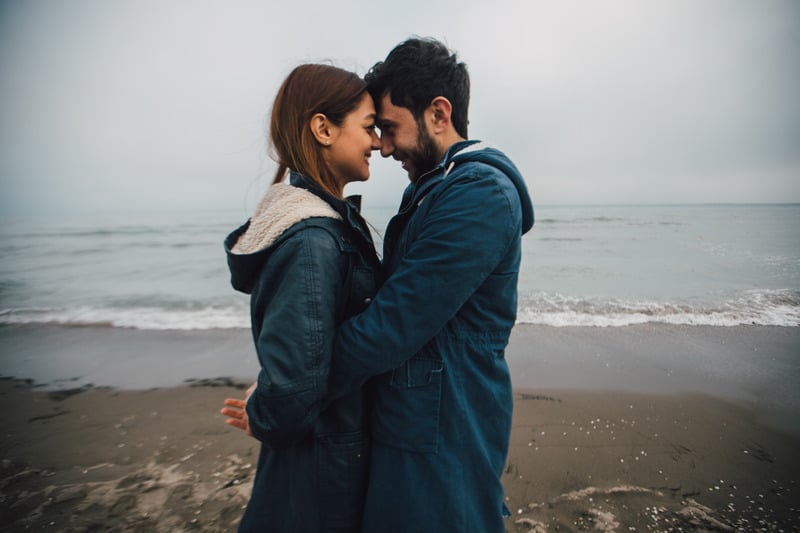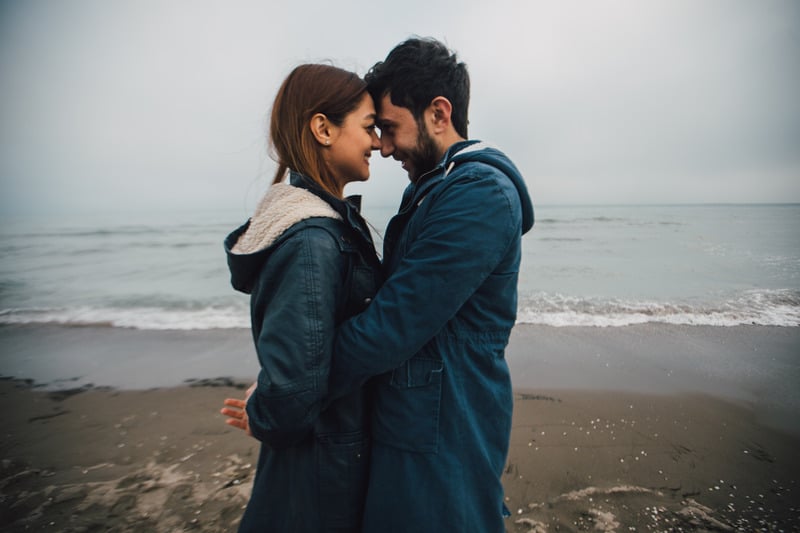 This is the stage when you actually meet your twin flame! It appears that magic has happened and all forces of the Universe have worked together to allow your meeting with this person.
Meeting your twin flame is like no other relationship you had before. In the first instance, you feel a strong connection. It's not a simple physical attraction. You feel like a magnetic attraction drawing you closer.
You don't feel any doubt at all. It is like you want to open your heart to this person. Both of you feel a sense of comfort and warmth. In this stage of a twin flame connection, you reach a level of consciousness.
The soul connection immediately after meeting your twin creates a strong bond. You want to stay in the present moment because you love each and every second now!
Twin Flame Stage #4 – Cinderella-type Romance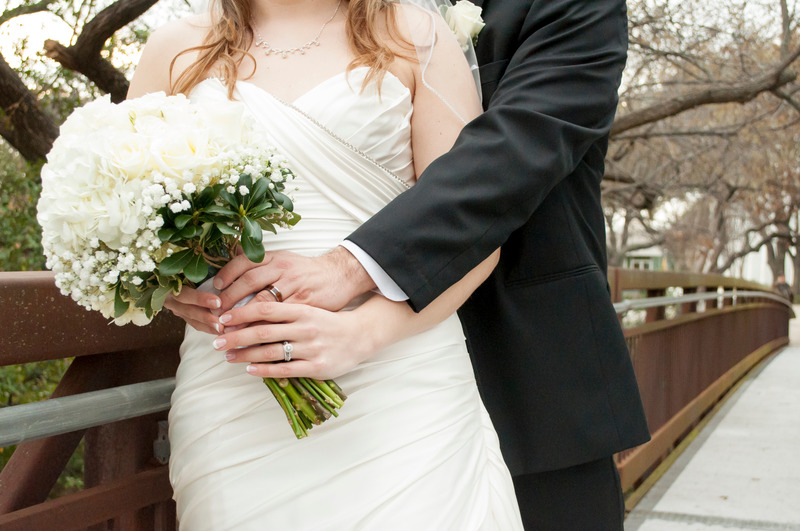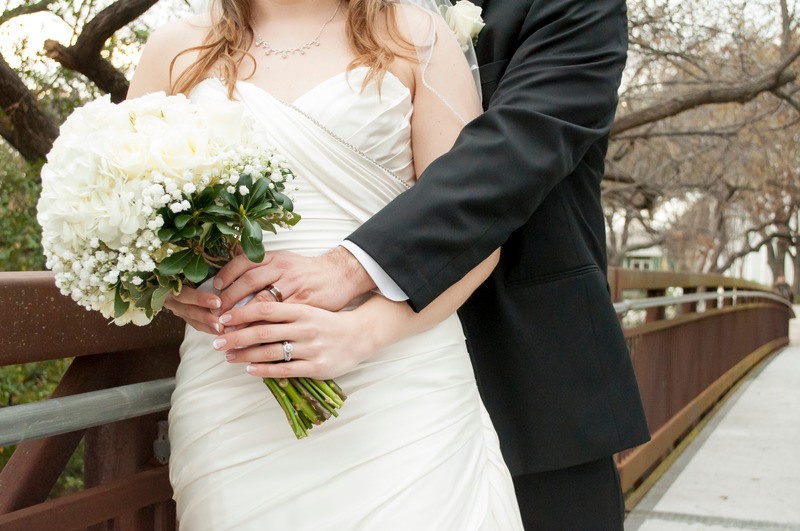 This is where the fairy tale romance begins! You are deeply connected with your twin through magnetized energies.
In this type of relationship you sense that your energies meet like with no one else in the world! You realize that you can never have a grander romantic relationship than this one.
Your twin soul understands you more than anyone else. Even your closest family member can't match you like your twin! You have this sense of living happily ever after with this person.
In this stage, you are in the sweetest phase of the relationship. You connect with your twin flame-like energies of the divine.
Twin Flame Stage #5 – Restlessness and Turmoil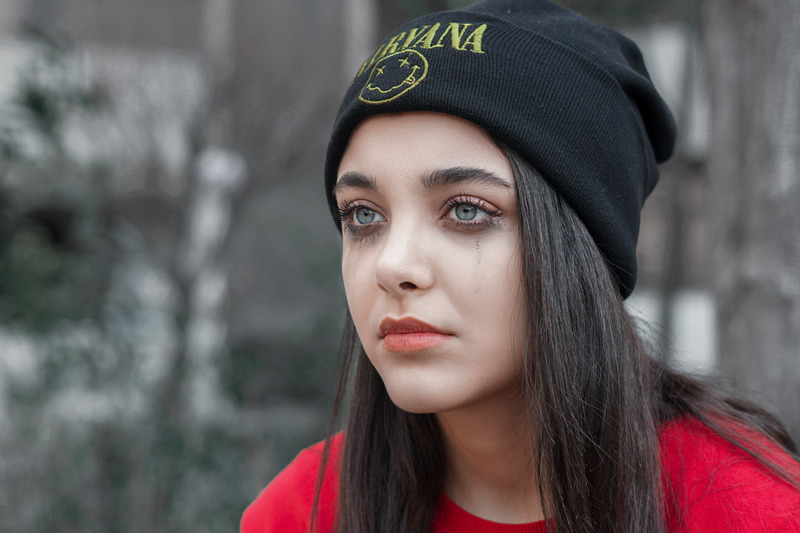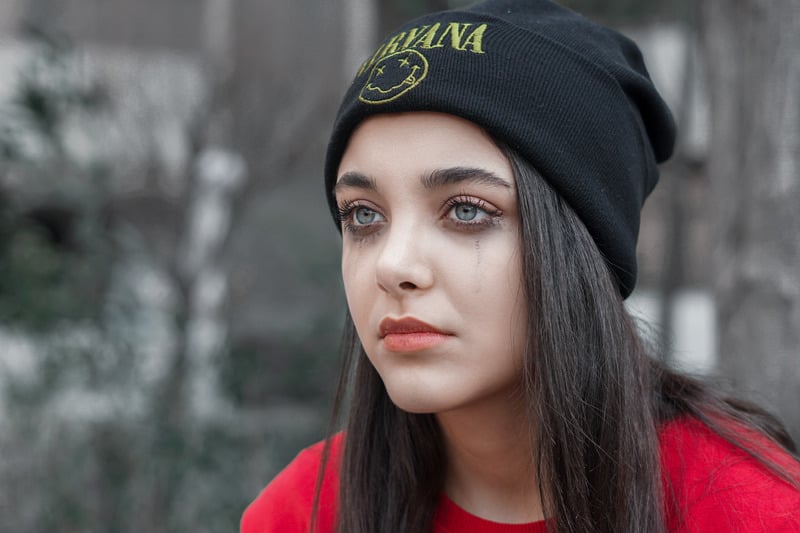 Contrary to popular belief, there can be turbulence in a twin flame relationship! After you met this person you had believed it to be a divine intervention but now you feel lost.
This is a phase where you experience restlessness and moving energies between you and your twin. Often in this stage separation with your twin flame occurs. But don't worry – it is not the end of your relationship.
Twin Flame Stage #6 – The Run & Chase begins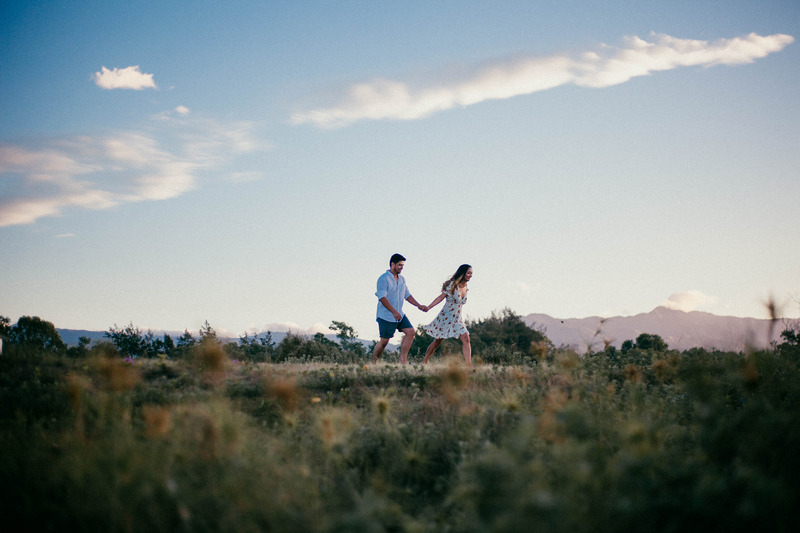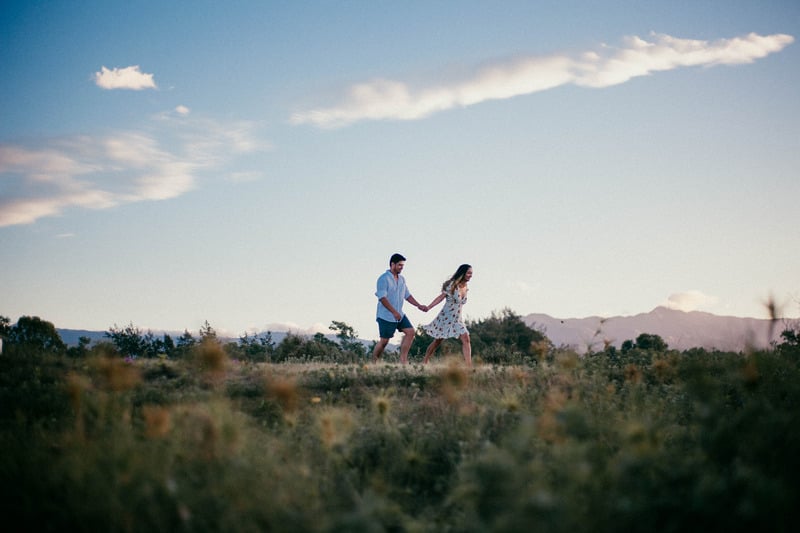 In this stage of twin flame journey, one (sometimes both) of you want to separate the connection. You feel unloved or even hurt at this point.
It could be because one of you is emotionally or spiritually immature than the other. The more persistent one or the chaser will want to win the other (the runner) back.
In a later section we have mentioned why twin flame separation happens. At any rate, if not reconciled this could be the end of the relationship. The twin flame connections remain, only the relationship is broken.
Twin Flame Stage #7 – Surrender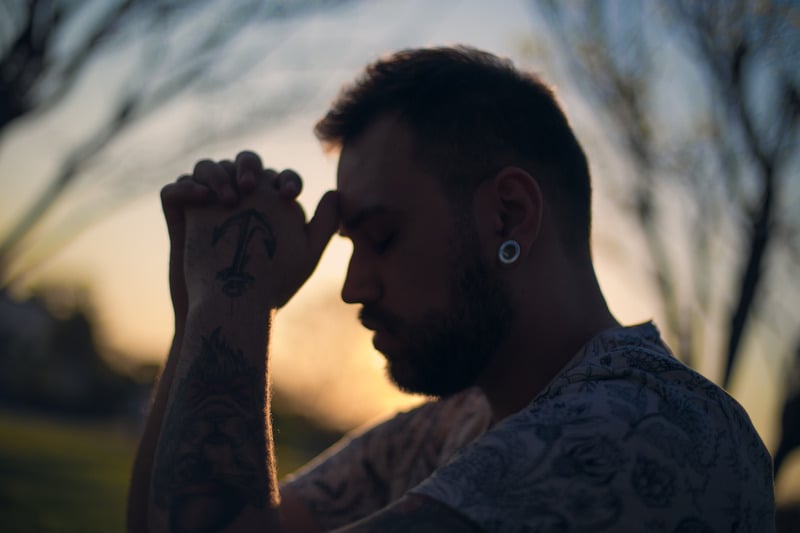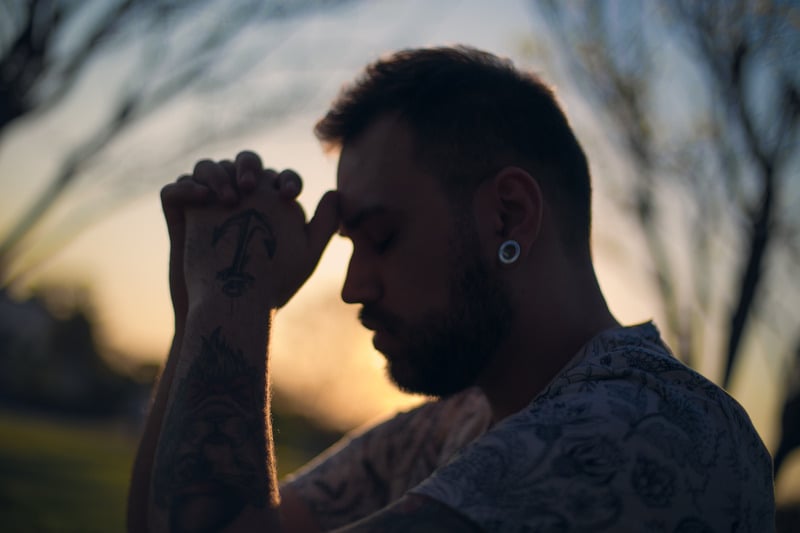 In this phase of relationship the twin souls let go of any expectations. You surrender to God and believe that a decision would be taken by the divine power in your best interests.
You have silent unspeakable memories that torture you sometimes. Although you are now calmer and have patience.
The separation gives them time for reflection of themselves. You start reflecting on your mistakes and repent. You want another chance but at the same time you trust the divine power. At this phase, you rely on your destiny and if this is the true love for you.
Twin Flame Stage #8 – Oneness or the Twin Flame Union happens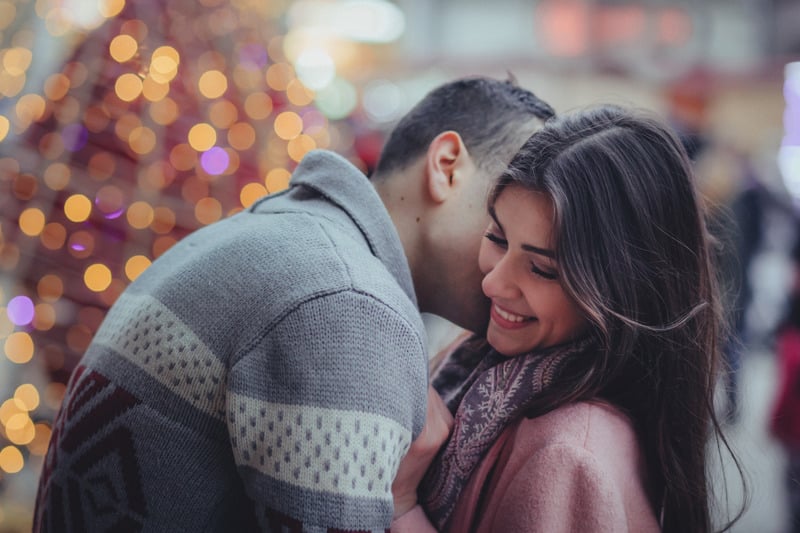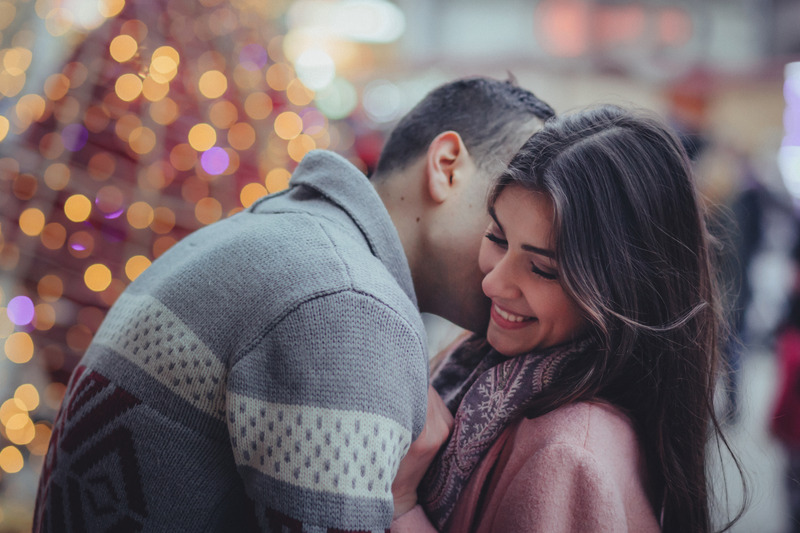 This is the last stage and not all twin flame relationships come to this phase. It is the stage of twin flame reunions. They feel that they are joined by a strong divine connection.
You have waited for long that your tired eyes understood the value of patience and perseverance. It is the start of soul journeying together. Twin flame reunion is the perfect union that occurs in this world.
It feels good to such an extent that it cannot be described but only experienced. The union with your twin flame helps you identify the purpose of the twin flame relationship. There is a reason why you had this flame union.
This is the phase to meet your soul purpose and proceed in the spiritual path. It is because twin flame union takes place not just for romantic partnership but there is a greater cause for your union.
25 Twin Flame Signs
---
Not all human souls that gel together could be your twin soul! There are many false twin flames as well. (We recommend you to do the Twin Flame Test below!) Again not all twin flames are romantic partners. But when they are, obviously the question comes if there will be a union between them.
Finding your twin flame is life-changing but then what? When you have met your twin flame how will you understand if you are going to unite with them? For it's not a hard-and-fast rule that all twin flames will unite!
Here are 7 signs of a twin flame union.
1. You have started your journey to self-love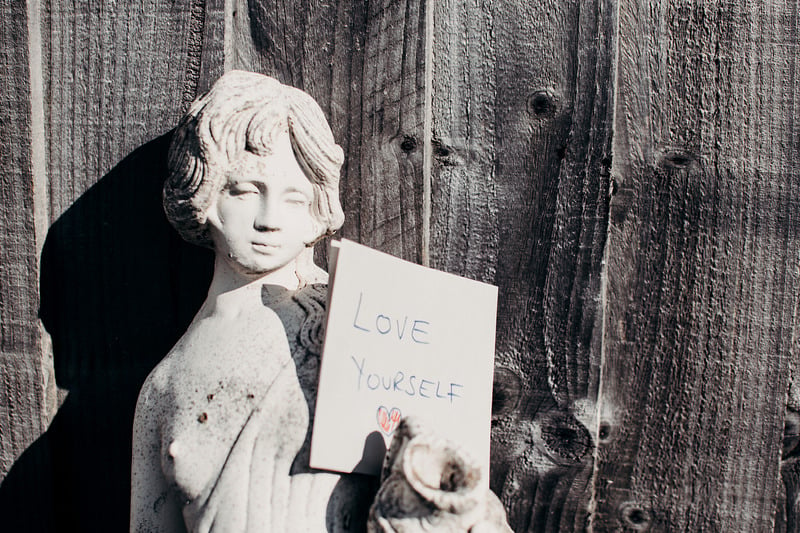 When twin flames are bound to unite it is observed that both of them have taken the path of self-love.
When both you and your twin flame have immersed in love and compassion towards self, you are ready at a soul level. Twin souls about to meet are not desperate to seek love from the other!
Because you are brimming with love, you give out love unconditionally. You feel complete on your own and vibrate on a higher energy level. From this level you just reciprocate each other.
2. You are committed to your soul purpose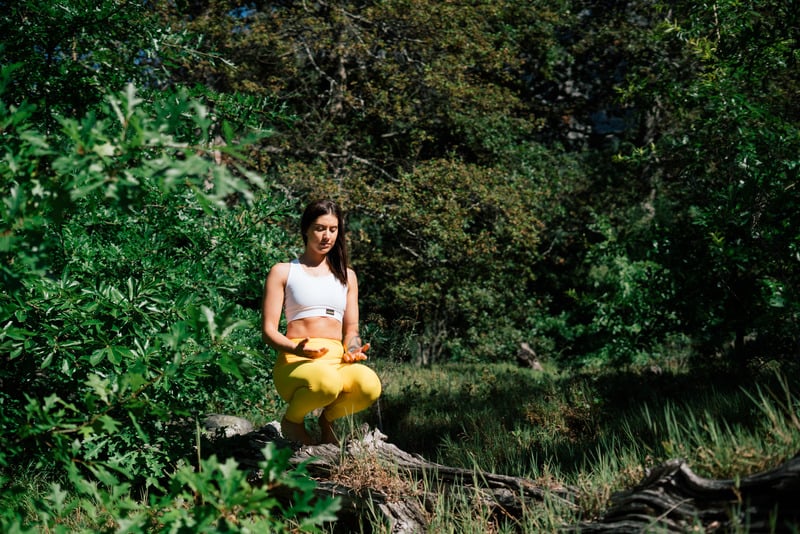 Are you both already working on your passion and doing things that you love? Congratulations! You are on your way to togetherness.
Twin flames who are ready to unite have learned their lessons, and evolved in soul level. When you are on this path of growth, it is absolutely a sign for union.
3. You are allowing your inner voice to guide you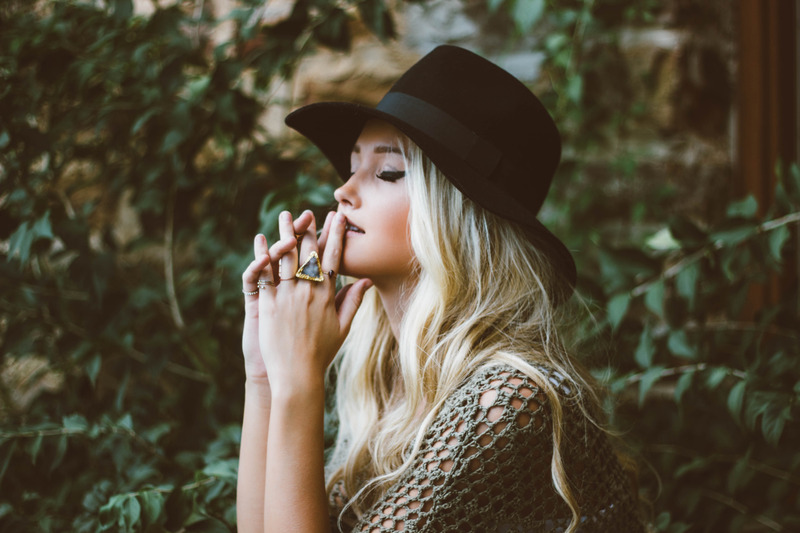 When twin flames are ready to unite, their intuition is working on the highest level. You just know what's right for you!
Inner guidance is assisting you in your endeavors. You are in a blissful state where things are happening rightfully in your favor.
The right people, resources, and opportunities are always coming your way and you are utilizing them without hesitation.
4. You let go of the desire to make it happen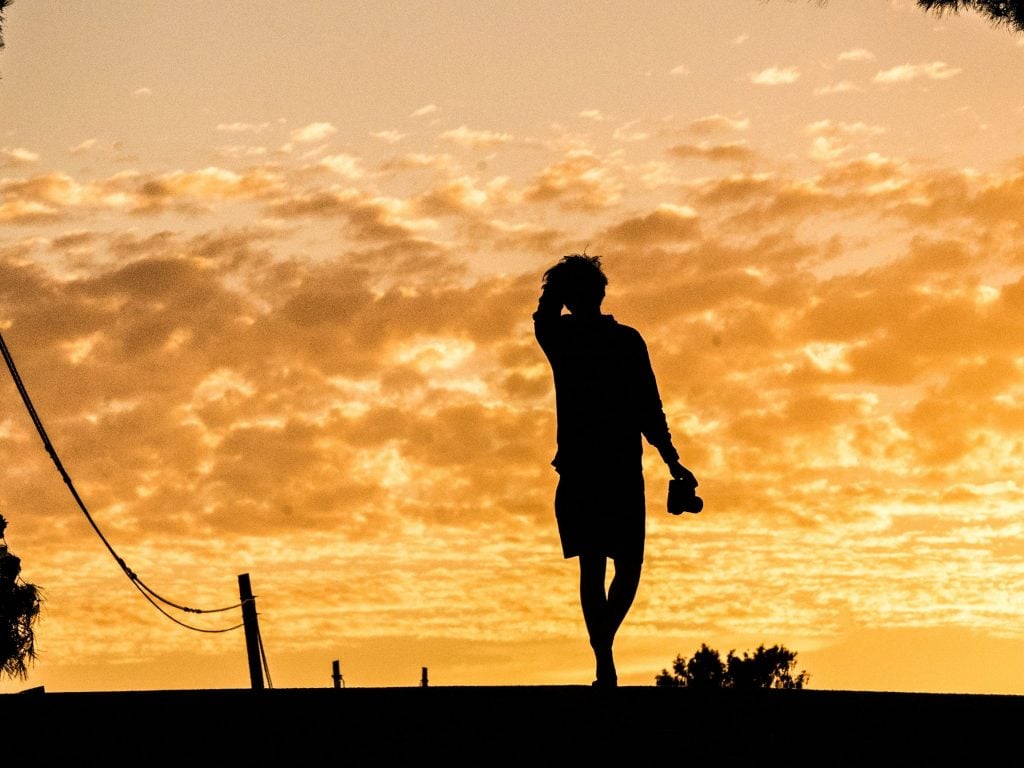 As humans, we are tempted to control situations. Before twin souls are ready they make a lot of self-growth. They do not force things to happen.
These twin flames believe in divine timing. An immense peace and a sense of detachment reside in twin souls.
5. You are on a spiritual journey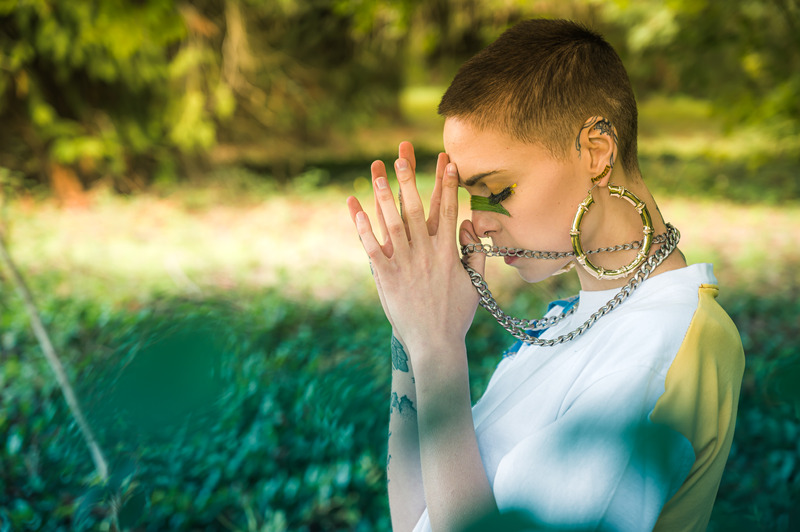 Twin flames union occurs after you have had a spiritual awakening.
Twin flames unite when they are in the ascension path of self-mastery.
So, if you and your twin flame are investing your time into spiritual growth it definitely denotes that you are prepared to come together.
6. You are self-reliant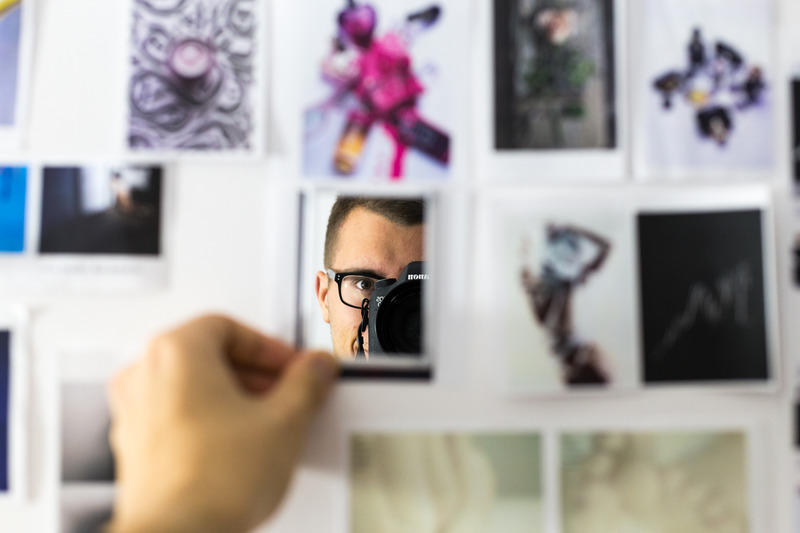 Whether you have met your twin flame or not, if you have started practicing all the above steps it signals that you are on your way to finding your flame and uniting with him/her.
Now that you are ready you start taking accountability for your own life. You give up blaming and whining and make peace with your life. This is a stage when you believe that you can create your own destiny!
7. You have a common mission to create some value for the world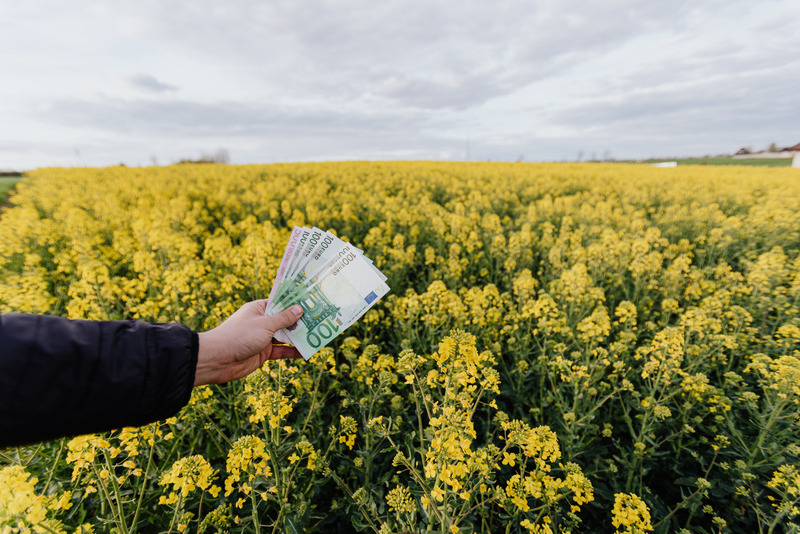 Do you have a common desire with your twin flame to help the world and its people? When a strong desire burns in your hearts to be useful to the world, you are most obviously here to be together.
Twin flames that have long-lasting relationships are tied together by a greater cause than just romantic love!
8. Synchronicities start happening in your life
This is a strong sign that you have or about to have a Twin Flame relationship. You are getting puzzled by the flow of events that you cannot explain. It's become a usual thing for you to see angel numbers like 1111, 2222, 4444, 8888 etc.
9. You empathize with people
Your soul starts evolving before entering a Twin Flame relationship. If you have become more compassionate towards others it's a good sign. Before you find your twin flame you become an empathetic soul. It is said, your soul starts preparing itself before the twin flame union.
10. You focus on self development
It's normal for you to focus on self growth if you are about to enter the twin flame stages. Your soul senses the union beforehand and it takes you through a process of self discovery and growth. The process could include deep self reflection, thirst for knowledge, updating yourself, and improving your personal and professional life.
11. A desire for romantic love
Maybe you have been looking for love for a long time but you were not sure what to expect in a relationship. Now, you are sure like never before. You realize that you deserve deep unconditional love. And you are fully ready to receive this love.
Never before in your life have you felt so sure about finding a life partner who would satisfy you physically, mentally and spiritually. You are not desperate to receive this pure, romantic love but you are confident he is coming to you.
12. You are glowing from within
Friends are curious about what you are doing to have this instant glow on your skin. Your physical appearance improves naturally. Not only that but your entire persona is now more attractive. Your smile, the way you carry yourself, the way you talk, everything about you becomes enticing.
13. You had a difficult childhood
You and your twin flame both had some challenges when you were little. Most likely both of you were raised in polar opposite ways. When you meet you will be able to mend each other's wounds.
14. One of you is more mature as a soul
In a Twinflame relationship one is an older soul with more wisdom and patience than the other. So, if you are more wise and calm you will serve as the counselor or confidant to your partner.
If you are a bit impatient and immature, do not worry, after he enters your life you'll do much better.
15. You are fine tuned to your energy
Before uniting with your twin flame you will be fine tuned to your energy. This means you would become more self-aware. If your twin flame has entered or is about to enter your life, you would be energetically at your best level.
You would be pursuing your passion, and expressing yourself to the fullest potential. 
16. You will start pursuing different hobbies
At this point, you will start pursuing different hobbies. Maybe you never had any interest in gardening but you start investing your time in nurturing the greens. This could be your twin's passion that you suddenly start pursuing. Similarly, you could be tasting new foods because that's what your twin loves to have.
17. You feel a strong physical pull to be physically intimate with someone
If your Twin Flame has entered your life you will want to be intimate with this person. And if you are not sure who this person is, you will still feel a strong urge to be physically intimate with this unknown person.
18. You will frequently have dreams at night about someone
Dreams are common in Twin Flame relationships. If you have a partner, you might find both of you are having the same dreams. Or you will receive a message from your Twin Flame in your dreams.
19. You will develop a strong intuition
If you are about to unite with your Twin your intuition would evolve. You would be able to understand so many things without even trying! Also, you could sense your Twin's thoughts at this point. You can tell if they are worried or happy. Your twin would sense you too!
20. You will start moving out of your comfort zone
When you are prepared to take your twin flame journey you have already stepped out of your comfort zone. You are already doing things that you have never imagined to do before.
Maybe some of your friends are so shocked by your constant transformations they are talking about you at your back. But you don't mind. You keep trying new things to challenge yourself and expand your experiences. 
21. You would be having the same thoughts at the same time
Even if you have not met your flame, you will go through the same thought or emotions at the same moment. You might be surprised why a certain thought appeared in your mind. But it's because your twin flame was thinking that too!
22. You feel it's safe to be yourself
Now that you have to be comfortable with your Twin Flame, you will start becoming more at ease around people. You show up your authentic self. Even if you were shy, now you start shedding your cocoon.
23. You express your sexuality with confidence
Now that you are ready to receive romantic love, you are brimming with your sexuality. You start showcasing the masculine or feminine energy whichever is dominant in you. At this point, you won't shy away from exhibiting your sensuality.
24. You attain a state of consciousness
Soulmate Twin Flame relationships happen when you are spiritually awakened. To attain this kind of a relationship the soul has to go through a journey. Your perfect match appears before you when you are in a deep connection with yourself, when you are in a higher vibration. At this stage, you feel complete and have attained a state of consciousness.
25. You are doing or interested in energy works
When you are ready for the twin soul connection you are either practicing some energy work or you are learning about it. You could be visiting an energy healer for Tarot, Reiki or consulting your zodiac sign. In some way, you have become deeply interested in these ancient practices.
Twin Flame Relationship
A twin flame appears when you least expect them. Although you can see some of the signs discussed in the previous section. But the romantic twin flame enters your life all of a sudden. Sometimes, you feel the instant spark. While it can be that you hate each other in the first interaction. This is because often the twin flames are polar opposites.
They might have to heal each other's wounds and so they are a contrasting pair. If this is the case, the Twin Flame relationship starts with a clash. They take time to know each other and then feel attracted to one another. Not necessarily, a twin flame relationship would start with "love at first sight".
On the other hand, the two polar opposites would try to repel each other and go out of their way. But destiny will pull them together and they will gradually evolve into a passionate couple who are inseparable.
Twin Flame Friendship
Not every twin flame relationship is about romantic love. Some twin flames are best friends. When your twin flame appears in your life as a friend, that relationship usually lasts forever. Twin flame lovers can part ways but twin flame friendships are long lasting. This kind of bonding can also be formed by siblings, or with a parent.
How to Find your Twin Flame
Meditate
Practice Self love
Follow your passion
Focus on personal development
Take care of your health
Follow a holistic lifestyle
Pay attention to your gut feeling
Spend time in nature
Try new things (go out of your comfort zone)
Smile (keep smiling to raise your vibration)
Twin Flame Test or The Twin Flame Reading
---
Twin flame relationships are not the same as soulmate relationships. It is a kind of relationship where your twin is a reflection of your soul. You can have only one twin flame in your life although several soulmates.
Soulmate or twin flame relationships are rare. To know if he/she is your true twin flame, you can take a flame reading.
These twin flame love readings are psychic readings. The psychic will do a test to find if you have met your twin flame. You can book twin flames reading online.
Twin flame relationships are never easy rides. There will be tensions involved, constant push, and pull between you two. Therefore, you must have patience and perseverance to handle the situations.
Your twin flame will help you to rise and shine as a person and as a soul. Everyone who has met with their twin flame wants to enter the last phase.
This last phase involves the twin flame reunion and entering a common mission to serve the world in some way.
Use this test below to check whether you are close to the final stage of the twin flame relationship.
How to tell if someone is your Twin flame? – Watch this video!
The Mirror Exercise To Heal Twin Flame Blockages
---
As already said, twin flames can experience highs and lows in their relationship. The mirror exercise can help heal the twins or mirror souls.
This exercise is based on the fact that the experiences we face in the outer world are actually the reflection of what goes on in our inner world.
This includes four steps. Do these steps in a journal.
Step 1 Write down everything that is causing upset in your relationship
Just pen down whatever comes to your mind in detail. Even if it appears like, "meeting my twin flame was the biggest mistake in my life" – write it down.
Step 2 Write down why you are feeling those emotions that you wrote in the previous step
Try to find out what's going inside your mind. Because the results you are getting are because of your internal thought processes. For instance, "I am worried that he will leave me."
Step 3 Ask yourself if what you declared in the previous step is true
Be ruthlessly honest while answering.
Step 4 Close your eyes and visualize
In step 3 if you have found that something within you is truly upset, visualize, and feel that the anxiety is ebbing away. Shower yourself and your twin flame some love and affirm that you are whole and perfectly loved by your twin soul.
Twin Flames Separation
---
There are 5 reasons why twin flames separate.
1. Either or both of them are not on the same spiritual level.
2. A lack of self-love in one or both of them.
3. Either or both of them have not entered the path of personal growth and so have not learned major life lessons.
4. Their physical body and mind are still in trauma that needs to be healed first.
5. It's not the perfect time for the twin flame union.
Twin Flame Tattoo
Many people opt for twin flame tattoo once they find their twin flame. You can find various "twin flame tattoo designs" on Instagram or Pinterest. Here are the sample twin flame tattoo designs –
Twin Flame Quotes
1. "Trust that the Universe will bring you together with your twin flame."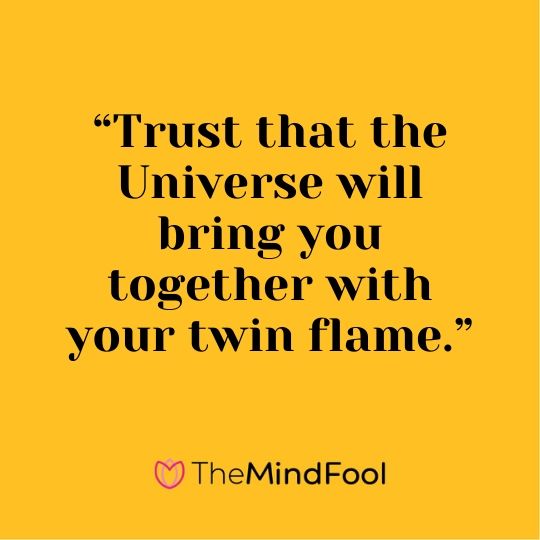 2. "The bond between the twin flames is a sacred one. It's an alchemical marriage of the highest order."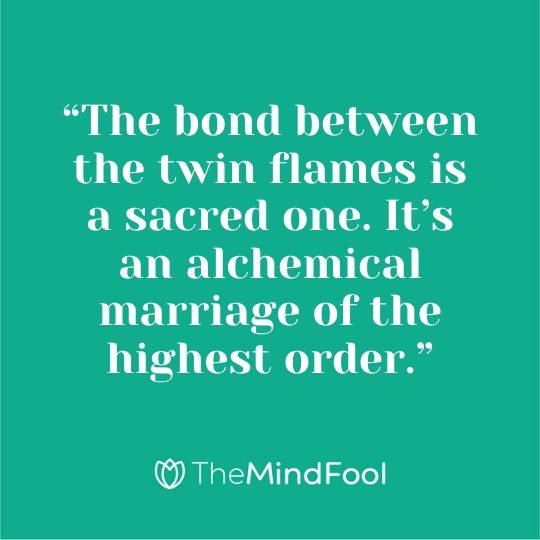 3. "I have met my twin flame and meeting our spirits began to free our soul."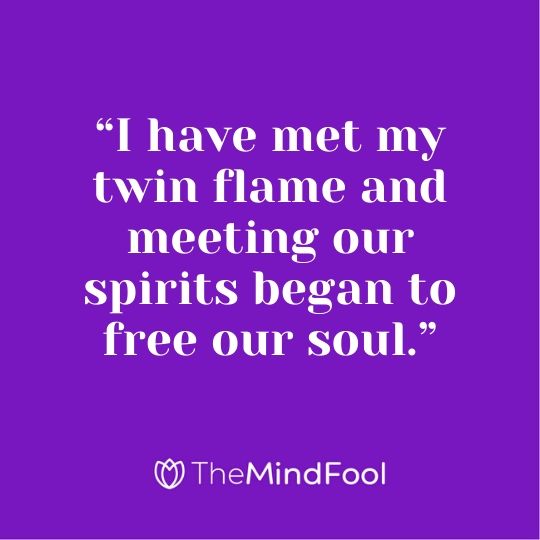 4. "I recognized you by my heart."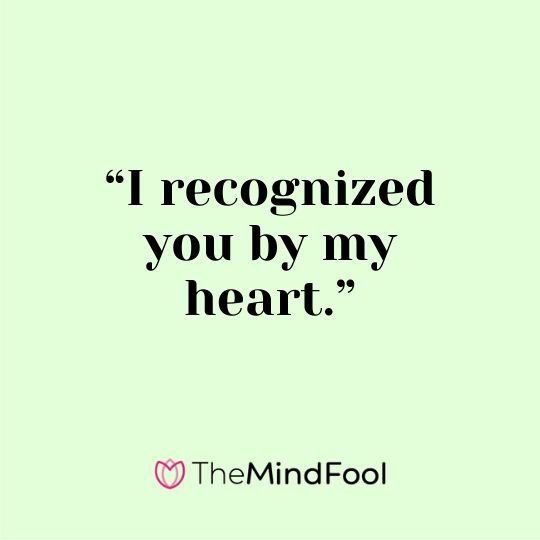 5. "Our spirits began touching each other in this life and every life."
6. "Twin flames know the dimensions where they will always find each other!"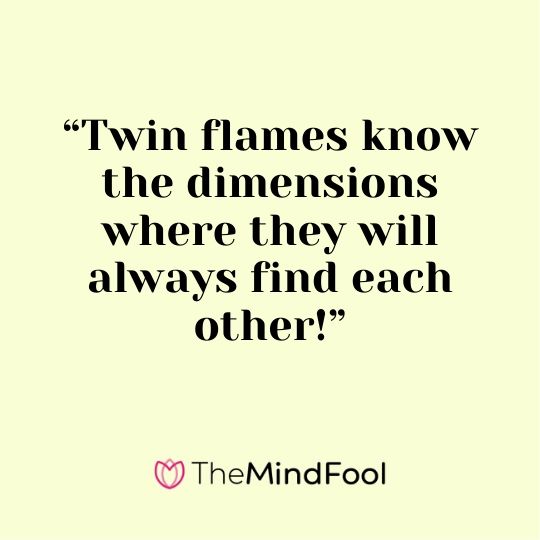 7. "There is nothing more exhilarating for souls than to feel loved and connected."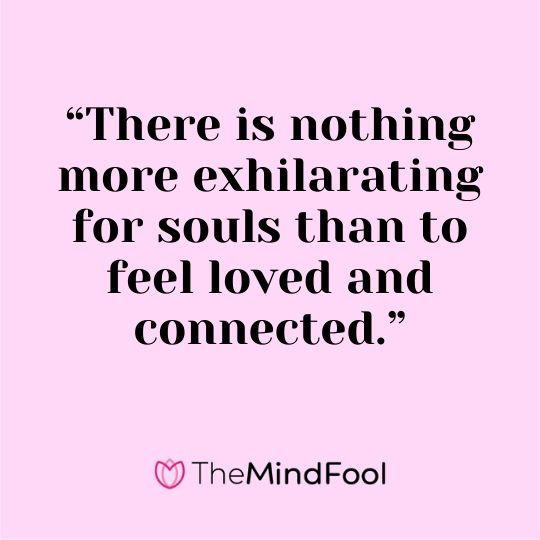 8. "Many lifetimes will pass but your heart will always be most precious before my eyes."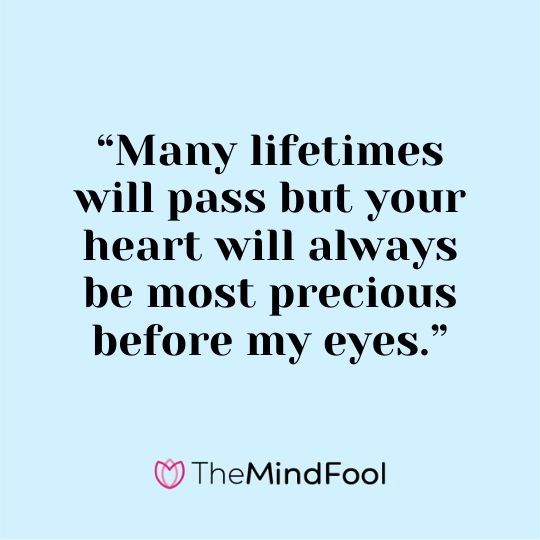 Closing Thoughts
Twin flame relationships although rare can happen with you. You can meet your twin flame if you have made a soul contract before taking birth. A twin flame is a kindred spirit you meet once in a lifetime.
Frequently Asked Questions
---
Do twin flames marry each other?
Twin flames might or might not get married! If they have made a soul contract to get married before entering this life journey they will definitely marry. If not they will certainly pass the twin flame test without getting married to each other. Also, twin flame relationships could be brief or a long one depending on the soul contract.
What is the symbol for twin flames?
The symbol for twin flames is represented by a circle containing two flames and an infinity symbol. Inside the circle is a triangle. Within this triangle there are two flames above and an infinity sign below. This symbol represents two flames unifying into one.
How to find your twin flame?
Don't be anxious about how to find your twin flame because you shouldn't seek out for a twin flame. Your twin flame is a part of your soul and to find that person you must be willing to go inward. Do a lot of introspection. Walk on the path of spirituality, do the inner work and your twin flame will arrive at the appropriate hour.
 What is the number for twin flames?
The number 11 is considered to be the number for twin flames. It is believed that the number 11 or 1111 are the signs of twin flame. Seeing these numbers frequently could mean that you have met or about to meet your twin flame. November 11, is considered to be an auspicious day to form a twin flame bond.
Can the twin flame bond ever be broken?
Twin flame bonds can break. Often they meet to teach each other a valuable journey without staying with each other for long. Depending on the stages of twin flame relationships, there could be a peaceful separation or twin flame fights. It could be that the two souls go through a twin flame final stage and part their ways permanently.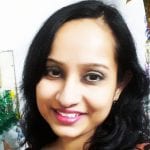 Ishita Ganguly
Ishita is a published author, poet and freelance writer. Being an avid reader from early childhood, she has always loved books more than anything else in the world! At the start of her career, she has worked in the corporate as well as the academic sector being a double master's degree holder - M.Sc and MBA. But now she is a fulltime writer. She believes words have immense power and writers can make a huge impact in the world! She wants to bring positivity into the lives of the readers through her association with TheMindFool.