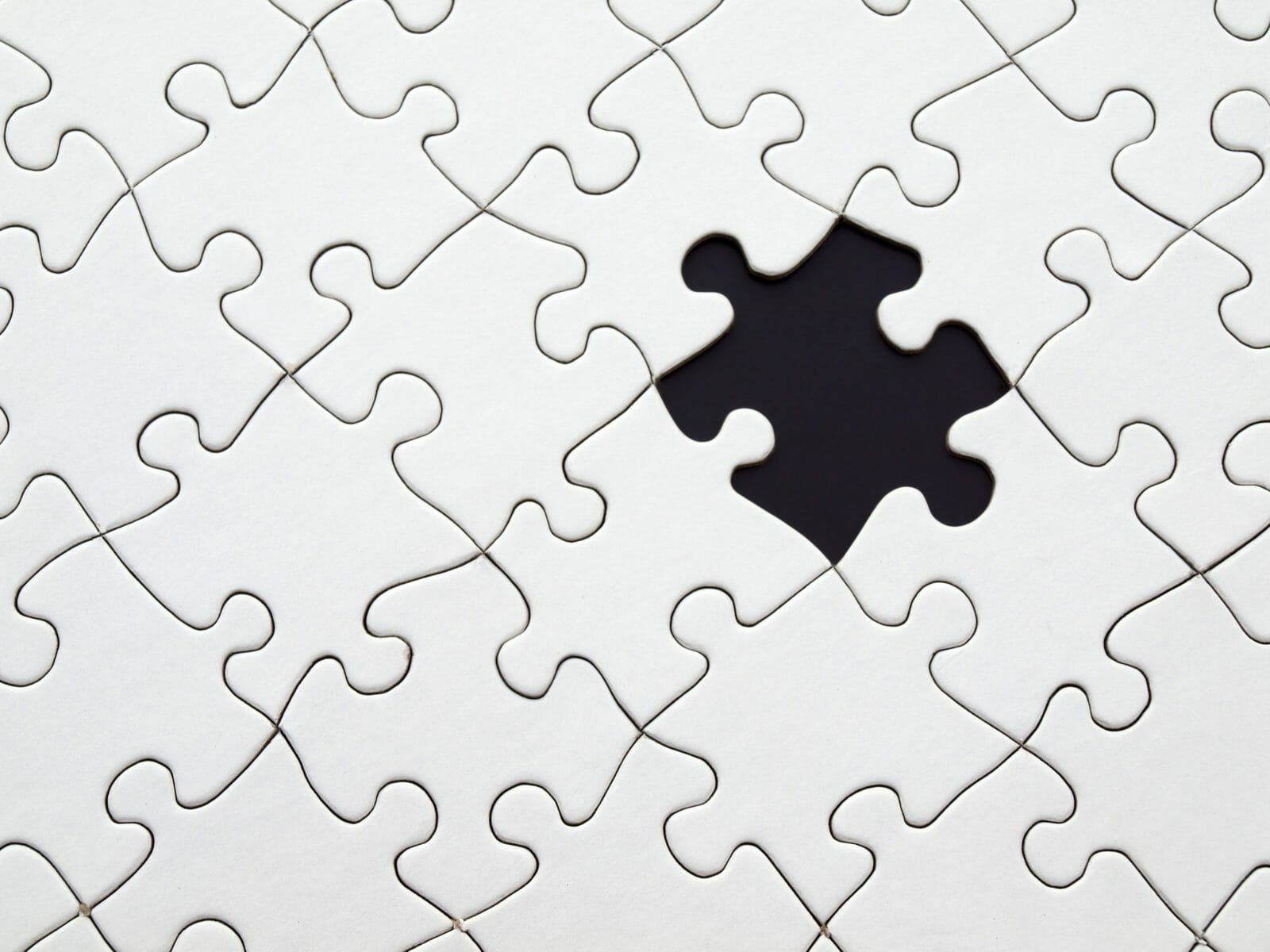 We live in an era of a hectic schedule. Every day we stay engrossed in personal and professional tasks. Amid this real world, we fail to attend some important events of our loved ones. And this situation leads to a modern problem called FOMO (fear of missing out). FOMO arises out of anxiety when you miss out on an activity. You start nagging that others lead a better life than you.
A study by the American Psychological Association cites that FOMO has a negative outcome. It leads to depression, physical symptoms, and less mindful attention. Also, due to the rise in social networking, FOMO has become more common. So, hereby we are listing few symptoms along with remedies too!
What Does FOMO Mean?
---
FOMO was first identified by Dr. Dan Herman in 1996 who was a marketing strategist. Furthermore, in 2000 he published an academic paper called 'The Journal of Brand Management'. He came across this phenomenon while customers spoke about products at focus groups and during interviews. Since then, Dr. Herman continued his research on FOMO as a socio-cultural phenomenon. He also found it to be a new development in consumer psychology.
But author Patrick J. McGinnis coined the term FOMO and made it popular in 2004. While studying at Harvard Business School, he published an op-ed for the magazine 'The Harbus'. Along with FOMO he also developed FOBO (fear of a better option) and highlighted their role in his school life.
Signs and Symptoms of FOMO (Fear of Missing Out)
---
If the answer to most of the questions is 'YES', then you must go ahead and explore remedies in our article.
Do you fear that others have a better life than you?
When friends are partying without you. Does it bother you?
Do you feel like sharing all social activities on social media?
Do you get aroused by posts shared by your friends? Especially about party, celebrations or their success?
Even when you are enjoying a vacation or party. Do you feel like keeping a check on your friends to know what they are doing?
Do you eat out of stress?
Is a constant checking of mobile phones and social network sites on your to-do-list?
When you are sad, do you shop online?
Do you regret not meeting your friends?
Do you think you lack in the race to success?
Do you start feeling anxious when you are unaware of a friend's whereabouts?
Do you feel distressed when you can't afford certain things?
Do you expect constant attention from friends and family?
Are you evaluating every post seen on a social network?
If you have maximum 'Yes', yet there's no need to panic. We are listing some of the best measures for you to cope up with major FOMO.
6 Ways to Overcome FOMO
---
A study suggests that FOMO has an adverse effect on life satisfaction. People with FOMO felt dissatisfied and incompetent towards life. So, to cherish a satisfying event lets unravel ways to stop FOMO from hampering our lives.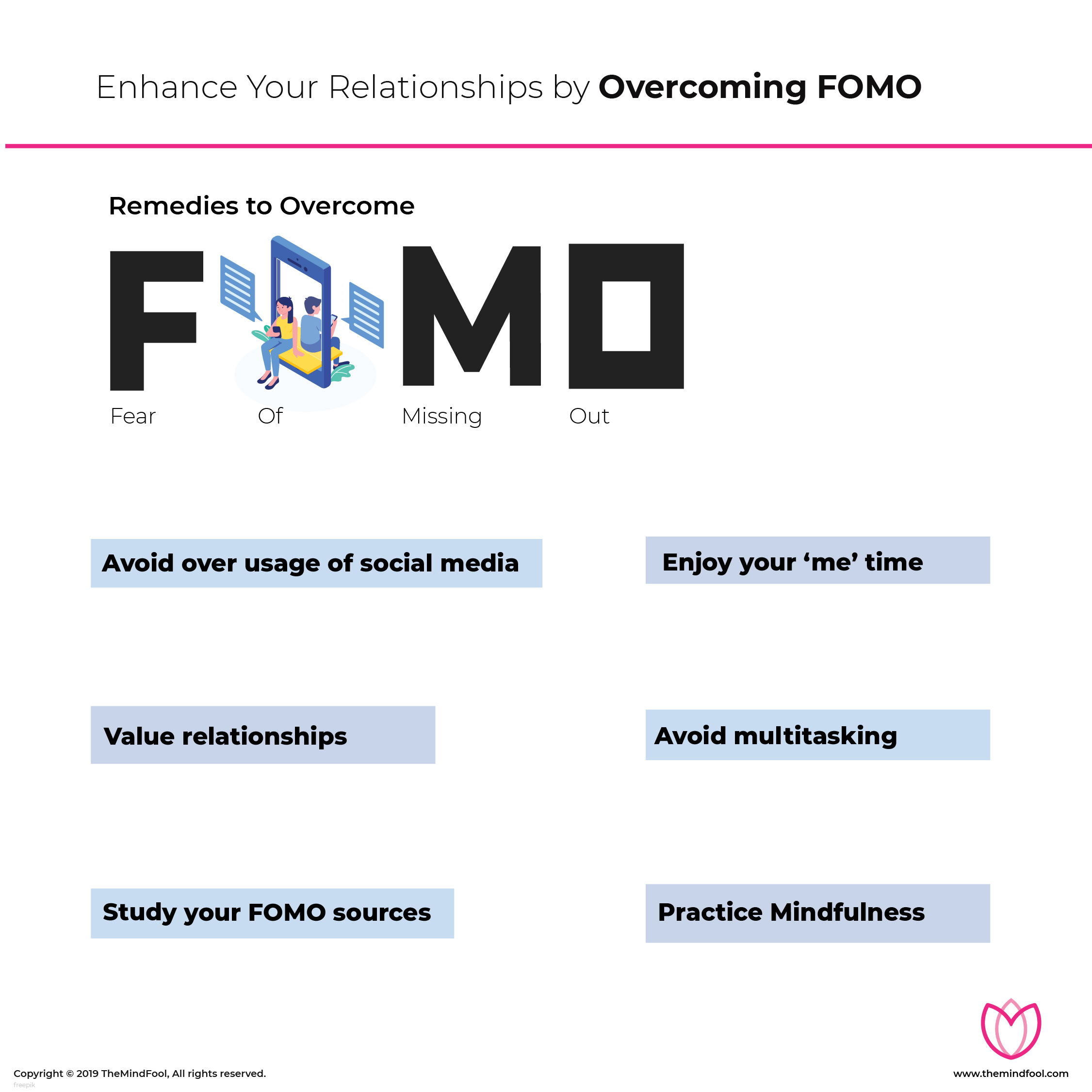 1. Avoid over usage of social media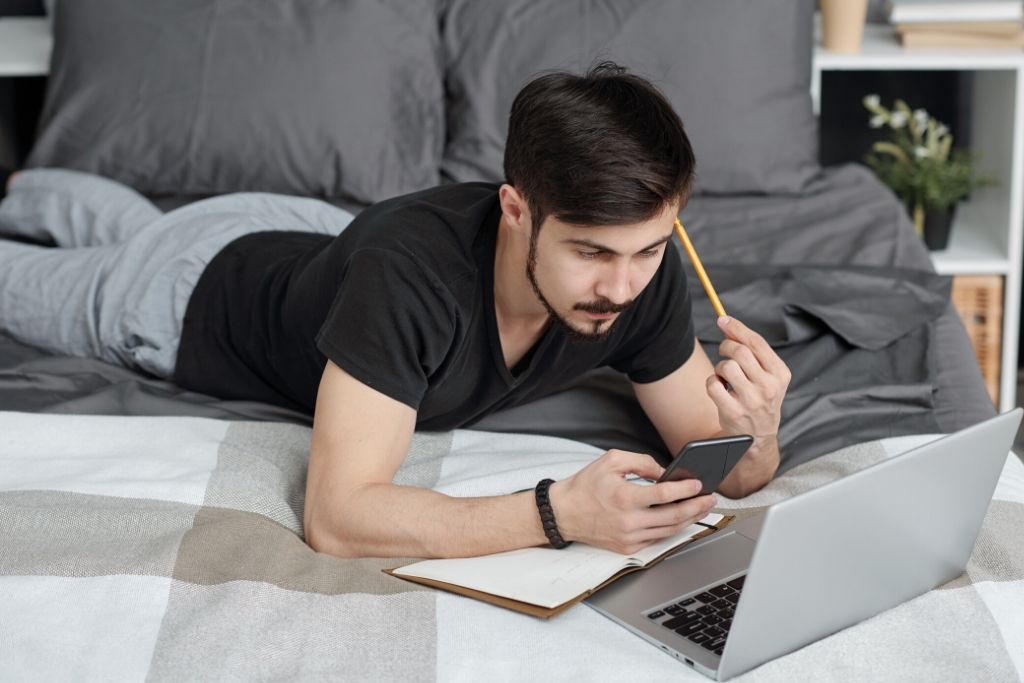 SUMMARY
Connect with old and new friends. But limit yourself to a certain period. Spending odd times on social media is no good. It leads to anxiety and depresses you to the core.
Social media is boon to connect with old friends and cherish memories. It is a great source of learning as well as meet new people. But social media obsession has an adverse effect as it leads to social anxiety. Also, never-ending updates, invites, comments, and feedback can create pressure.
So, suppress media engagement as far as possible. Don't stop it completely but you can keep a check on the hours spent on social media. Instead of browsing all through the night, it's advisable to enjoy a sound sleep.
2. Enjoy your 'me' time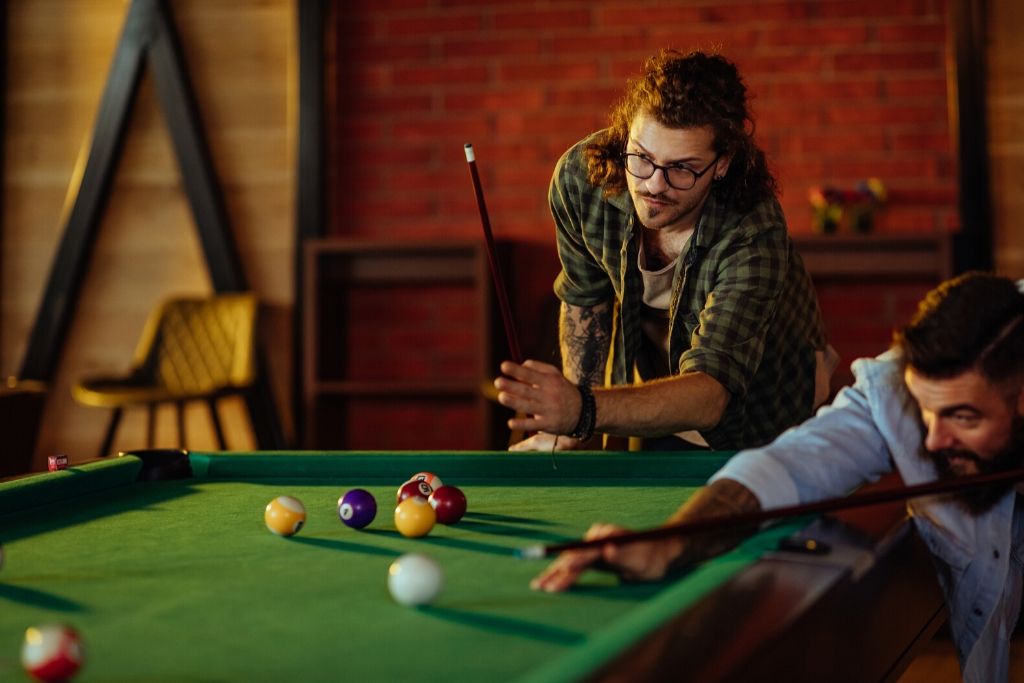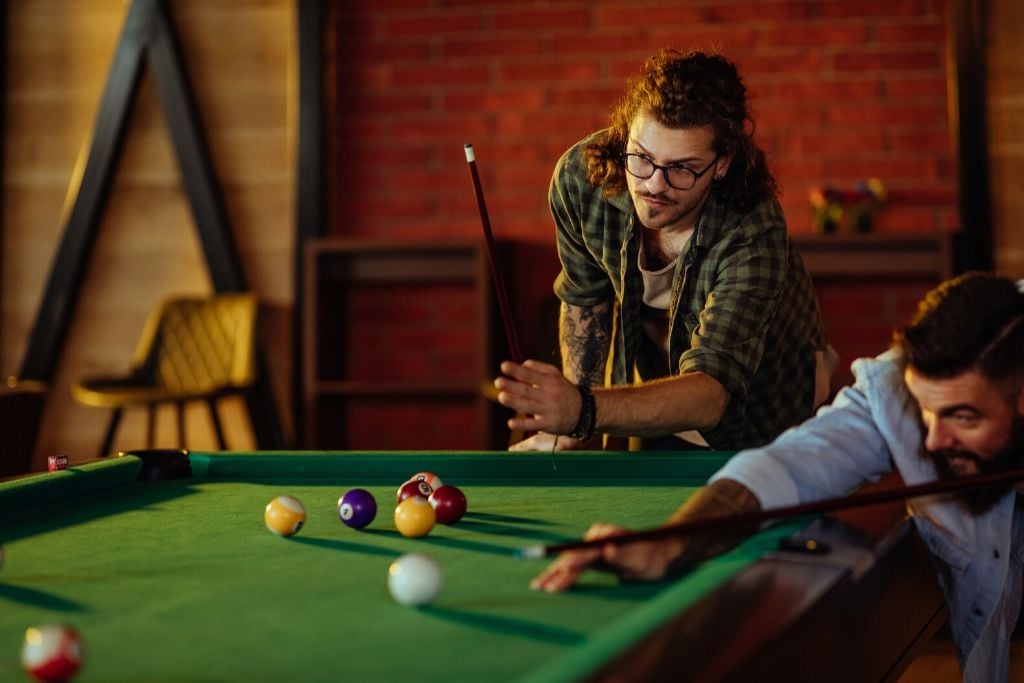 SUMMARY
To prove to the world, we are on a run undertaking tasks. Instead, take a break, relax and think about the good times that lie ahead. Pamper yourself with activities you love the most.
To prove to the world, an individual tends to undertake a range of activities. And all this at what cost? For a meager appreciation or a reward. This is the time when the individual starts experiencing FOMO. So, to break through this situation, it is necessary to enjoy some 'me' time. There are might be a million things going on in your head. But you need to calm down and take a break from this chaotic situation.
Take rest, read a book, listen to favorite music, and undertake activities that give mental peace. Make a to-do-list and invest your time in productive activities. While doing this activity, you will start loving yourself and you'll start losing FOMO.
3. Avoid multitasking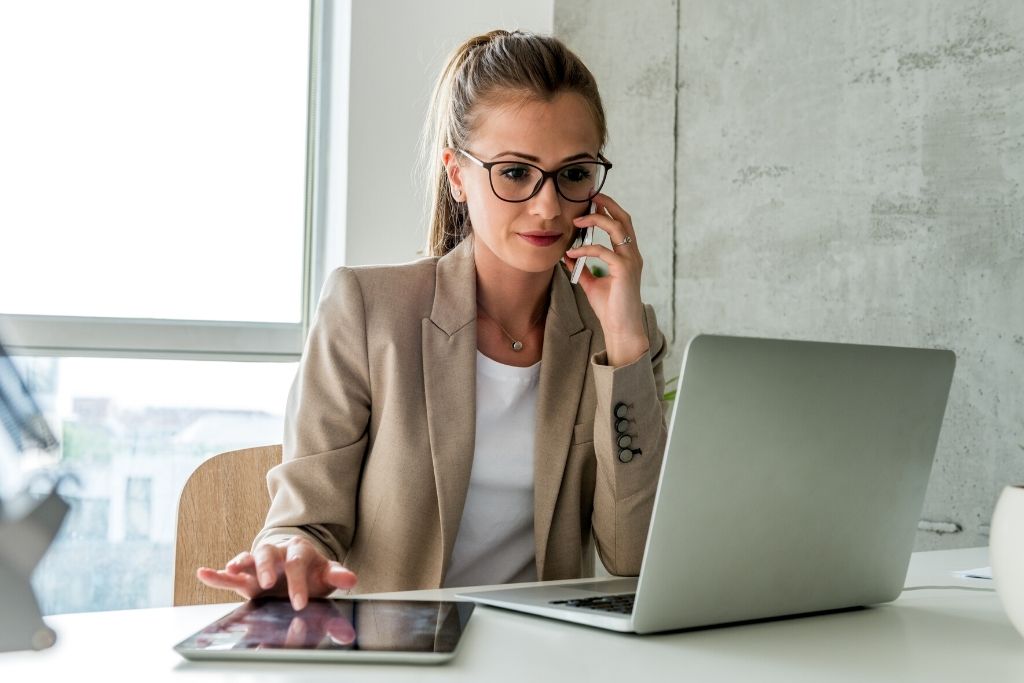 SUMMARY
When you invest yourself in too many tasks, then it may lead to mismanagement. Instead, focus on one task, dedicate entire time and witness the productive results.
According to Edward Hallowell multitasking is a "mythical activity" wherein people believe they can undertake two or more tasks simultaneously. Also, there's a study that reflects people who work faster if interrupted on a regular basis. But it comes with a price – stress, frustration, tight deadlines and workload.
Instead of stressing your brain, isn't it great to undertake one task at a time? With this, that task will have your complete attention. And you will produce great results with an increased satisfaction level.
4. Value relationships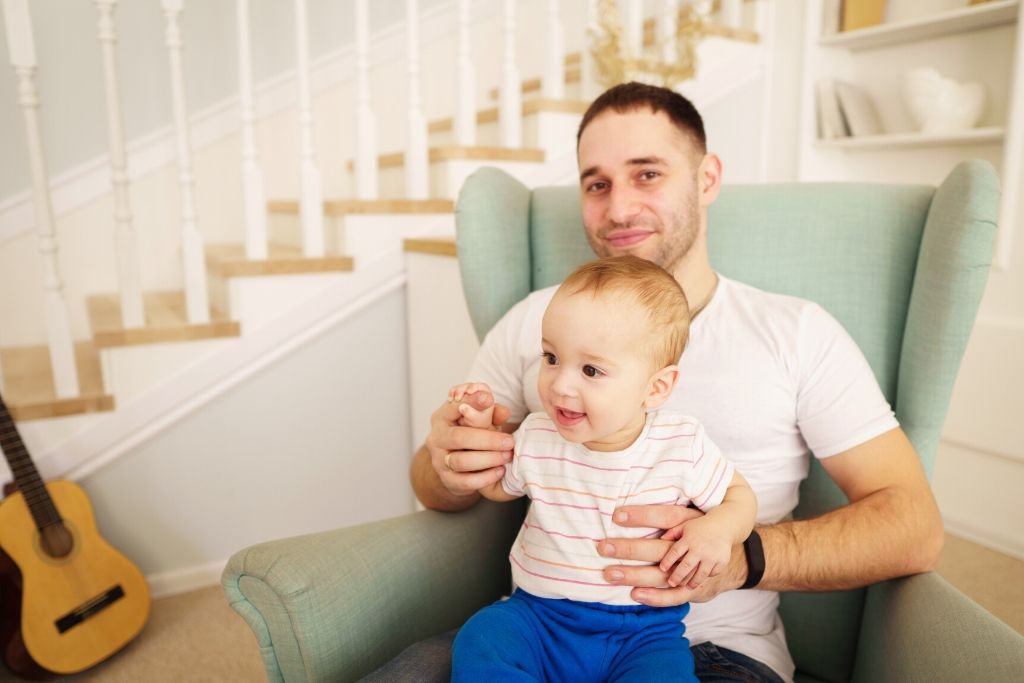 SUMMARY
For your well-being, cherish relations that give a happy experience. If you are looking forward to absolute fulfillment, then cultivate true bonds
When in trouble, virtual friends never help than the ones who are present with us. So, cherish the relation you share with your family and friends. Plan trips, outing, parties for your dear ones. Invest ample time and energy for the well-being of yourself. If you are feeling low, talk to your loved ones.
This satisfying event is the best antidote to a happy life. And the best way to control FOMO. Also, start saying 'no' to things that you find irrelevant. With this, you'll be able to judge people who care for you!
5. Study your FOMO sources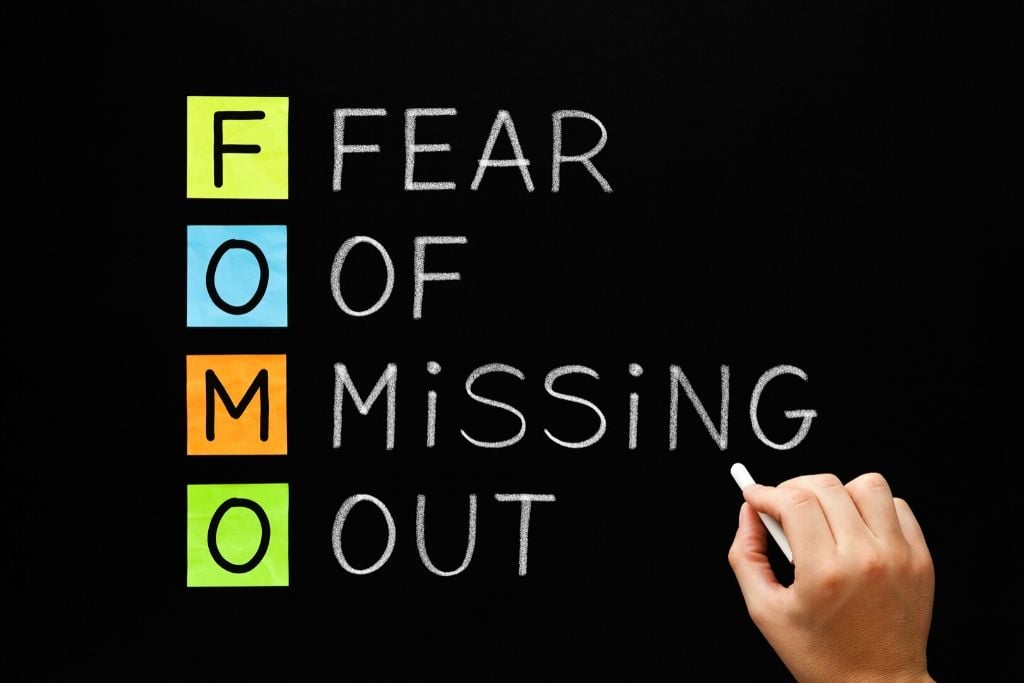 SUMMARY
Try and find sources that disturb you and lead to FOMO. FOMO can arise because of jealousy or comparisons. When such feelings arise, suppress them at the earliest.
There are times, a person tends to get jealous witnessing the happiness of others. And this is the time when FOMO arouses. So, start making peace with unhappy situations and try to change them. What if you can't take a luxurious vacation? But you can definitely visit a lake, park or plan a day trip.
Whenever you start making comparisons. Stop yourself and become self-aware about the situation. With this, you'll be able to put an end to your behavior.
6. Practice Mindfulness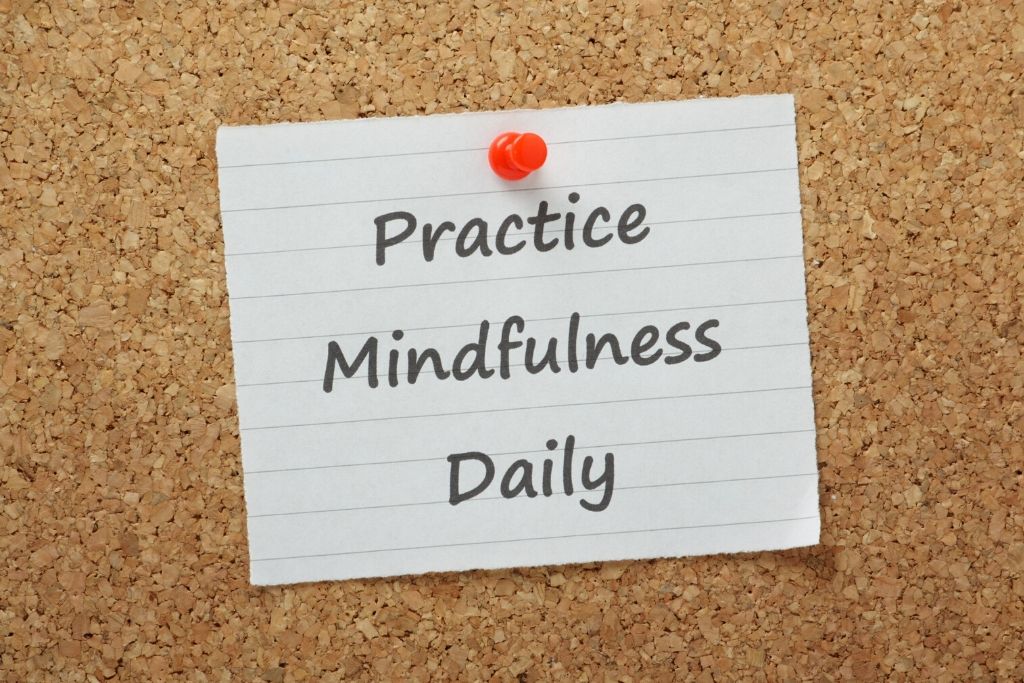 SUMMARY
Mindfulness helps you to know your feeling. It helps you in making the right decision. So, evaluate your needs and act in the present situation.
When your friend invites you for a party, your initial feeling is 'no'. But with FOMO, you tend to agree to everything that people say. So, this is the time to know about your likes and dislikes. And this is when mindfulness steps in! It helps in knowing yourself and makes you aware of the present situation.
And all this without judging your feelings and emotions. With mindfulness, we live in the present and helps to make a quick decision.
TIP
Start meditating before undertaking any task. Start your day by spending some time on deep breathing. Don't just get up and get ready. Rather, it's best to know how you are feeling!
Closing Thoughts
It might be difficult to get over FOMO with ease. But regular practice can help to keep it in control. Moreover, with our tips, you can enjoy the calmness and you won't feel left out for any event. So, keep your head high and enjoy every moment as it comes!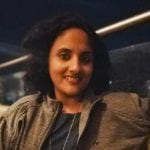 Neelambari B
Neelambari started her rollercoaster ride as a journalist at Pune Mirror (Times Group). After which she started exploring the world of content writing. Today, she boasts more than five years of experience filled with creativity and diversity. During this tenure, she explored various mediums like articles, blogs, social media posts, website content, and much more. And this content ranged from Gynecology, Ayurveda, Dental health to nutrition. However, she enjoys the most writing about Psychology and other medical streams. She loves writing and aims to bring positive changes at least in some lives with her articles on www.themindfool.com